Sprinkled around the planet, you'll find a smattering of unique locations with outstanding universal value. Some are a testimony to man's creativity while others are sanctuaries of unspoiled natural landscapes. All are our legacy from those who have gone before.
These special places have earned their place on the list of UNESCO World Heritage Sites, created by the cultural arm of the United Nations.
Although some of these destinations may be international destinations on every tourist's radar, most are not. A few are so remote and unheard of that they see only a handful of visitors per year. No matter where they are on the globe, they are always worthy of a visit.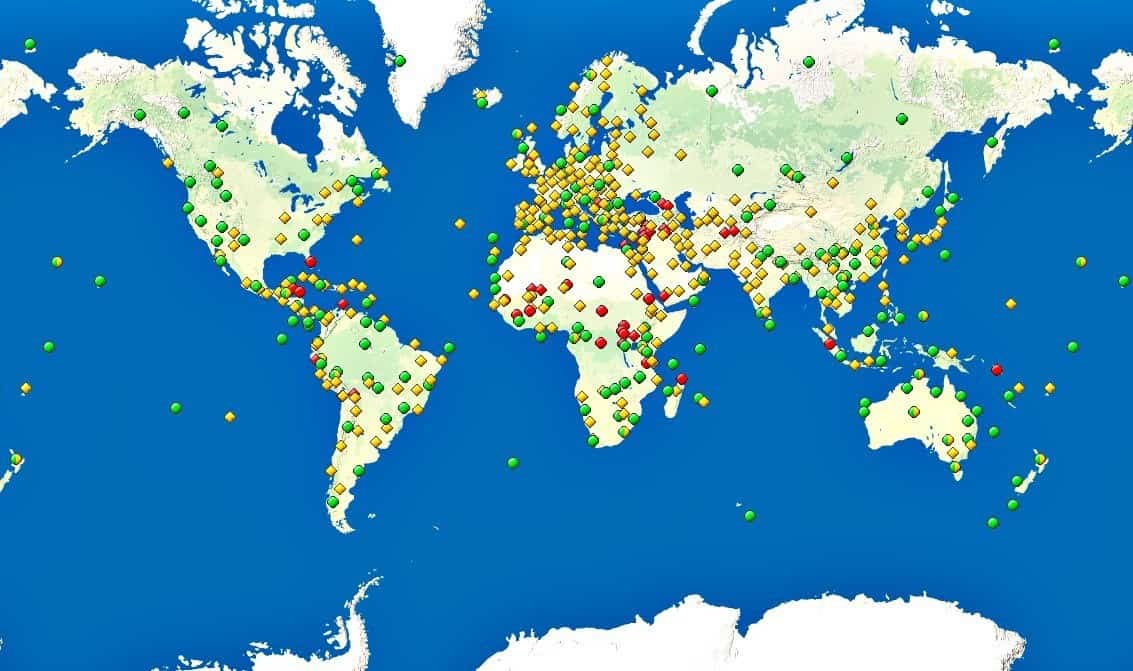 Why bother visiting?
In our lifetimes, we have seen ruins abandoned millennia ago, natural landscapes that inspired our awe, and ancient city centers that begged us to spend time within their walls. Once we realized how many of our favorite places were actually UNESCO World Heritage Site status, we began to seek them out.
These days we prepare our itineraries with an eye to any UNESCO sites that might be near our destinations. We have never been disappointed, but we have been surprised. One of the pleasures of visiting World Heritage Sites is discovering great places we never would have visited otherwise.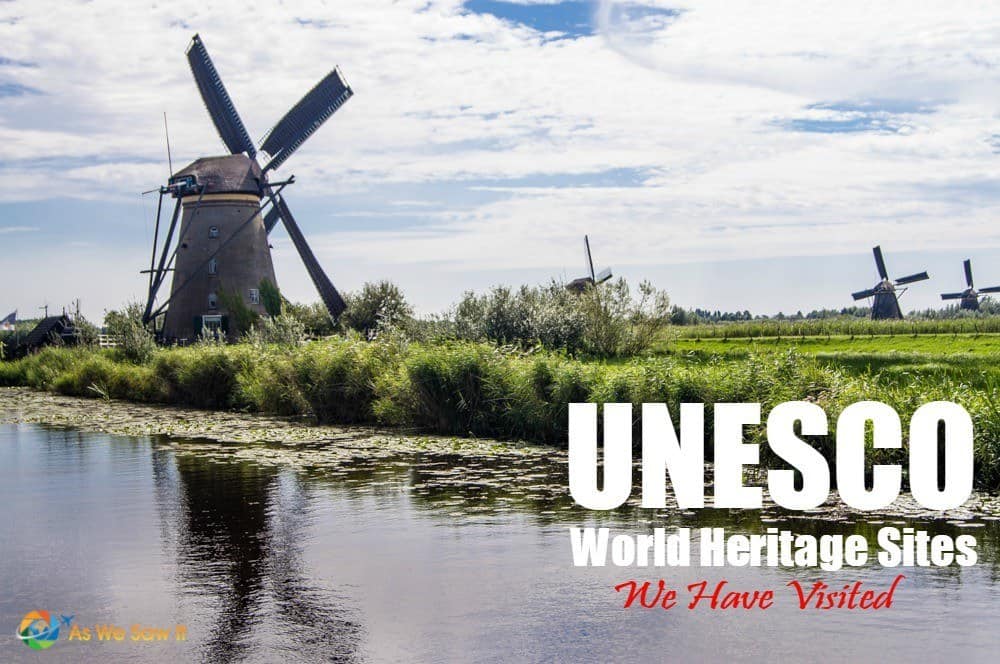 Our UNESCO World Heritage Site list (as of 2017)
Here is a list of the World Heritage Sites we've been to, along with links to help you find any related articles on AWSI or photo galleries. Perhaps you'll want to visit some of them yourself.
Browse through our travel photo galleries here.
---
Total World Heritage Sites: 1073
Sites visited: 100
Sites covered: 50
Africa
Egypt
Ancient Thebes with its Necropolis
Historic Cairo
Memphis and its Necropolis – the Pyramid Fields from Giza to Dahshur
Nubian Monuments from Abu Simbel to Philae
Wadi Al-Hitan (Whale Valley)
Americas
Colombia
Curaçao
Dominica
Ecuador
Qhapaq Nan – Andean Road System
Sangay National Park
Jamaica
Blue and John Crow Mountains
Mexico
Panama
Fortifications on the Caribbean Side of Panama: Portobelo-San Lorenzo
United States of America
Everglades National Park
Independence Hall
La Fortaleza and San Juan National Historic Site (in Puerto Rico)
Mammoth Cave National Park
Monticello and the University of Virginia in Charlottesville
Redwood National and State Parks
Statue of Liberty
Yellowstone National Park
Yosemite National Park
Asia
Cambodia
China
Indonesia
Israel & Palestine
Bahá'i Holy Places in Haifa and the Western Galilee
Biblical Tels – Megiddo, Hazor, Beer Sheba
Masada
Old City of Jerusalem and its Walls
White City of Tel-Aviv — the Modern Movement
Iraq
Jordan
Baptism Site "Bethany Beyond the Jordan" (Al-Maghtas)
Petra
Quseir Amra
Um er-Rasas (Kastrom Mefa'a)
Wadi Rum Protected Area
Malaysia
Melaka and George Town, Historic Cities of the Straits of Malacca
Singapore
Australia & Pacific (Oceania)
Australian Convict Sites
Greater Blue Mountains Area
Europe
Andorra
Madriu-Perafita-Claror Valley
Austria
Croatia
Czech Republic
France
Paris, Banks of the Seine
Mont-Saint-Michel and its Bay
Palace and Park of Versailles
Germany
Roman Monuments, Cathedral of St Peter and Church of Our Lady in Trier
Greece
Hungary
Holy See
Italy
Luxembourg
City of Luxembourg: Its Old Quarters and Fortifications
Montenegro
Netherlands
Portugal
Monastery of the Hieronymites and Tower of Belém in Lisbon
Spain
Monastery and Site of the Escurial, Madrid
United Kingdom of Great Britain and Northern Ireland
Palace of Westminster and Westminster Abbey including Saint Margaret's Church
Maritime Greenwich