Let's play a game. When I say "Vatican City," what's the first thing you think of? Does it have something to do with the Catholic church?
It should. After all, the Vatican City is the spiritual and administrative center of the Roman Catholic Church and the Pope's official residence. It's known as the Holy See, and it's one of the top attractions in Rome.
If it's on your Rome itinerary, read on for a list of the best things to do in Vatican City. We're here to help.
After all, this website is all about helping you get the most out of a trip. 🙂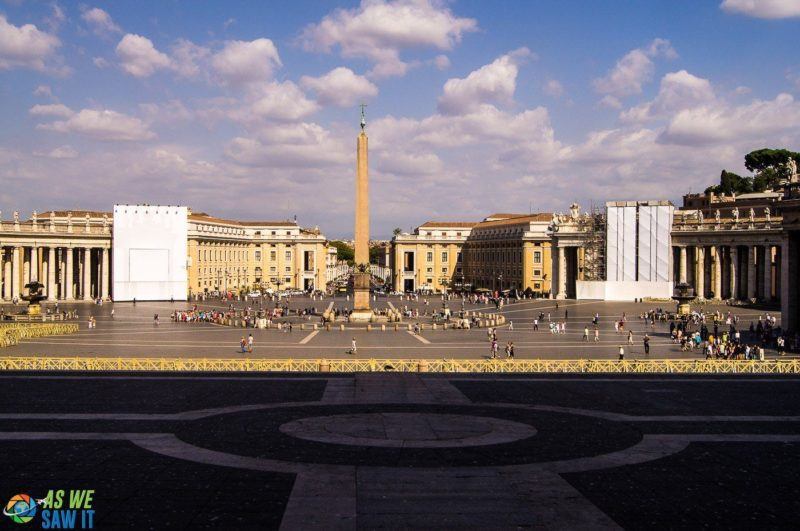 One day at the Vatican
The first time we went to Italy, we only had a week. I don't know what we were thinking. Do you know how many fantastic places there are in Italy?
Believe us, deciding how to spend one week in Italy is a challenge. With all the history, art and culture on offer, how do you choose which points of interest to see? I mean, it is impossible to fit over 2000 years of history into seven days!
It was hard to settle on the places to visit, but ultimately, our final, 7-day Italy itinerary consisted of:
Even with so little time available, one week in Italy was totally worth it. The key was planning ahead so we wouldn't be stuck on time wasting ticket lines. And believe us, some Vatican attractions have seriously long lines!
Speaking of which, if you can afford more time to see the Vatican, we envy you. The Vatican Museums have enough to keep a person busy for days!
But I digress. Back on topic, you're here to discover the best things to do in Vatican City. So here's our list of what to see put on your itinerary, along with a bit about the Vatican itself.
ⓘ TIP: If you'll be visiting Rome for a few days, be sure to check out the helpful travel planning links at the end of this article.
Best Vatican City attractions
Touring the Vatican is one of the top things to do in Rome, even for people who aren't Catholic. Inside its protective walls is a treasure trove of cultural and religious artifacts, as well as vast collections of world class art. Whether or not you count yourself among the faithful, you won't be disappointed.
If you're wondering what to do in Vatican City once you get there, we've got good news for you. It's small and yes, you can tour the Vatican in one day. Well, as long as you don't try to see everything in the Vatican Museums. But we'll get to that.
So here's what to put on your Vatican itinerary.
1. St. Peter's Square
St. Peter's Square, known locally as Piazza San Pietro, is the massive plaza located in front of St. Peter's Basilica. This piazza is large enough to hold as many as 400,000 people. Like the basilica, it was named after Saint Peter, the apostle whom Roman Catholics claim as their first pope.
According to tradition, this is where Peter was crucified, and that could very well be true. Historically, it's likely that almost all Christians in Rome were martyred in the Circus of Gaius/Nero—the site where St. Peter's Square now stands.
The square contains two beautiful fountains, but it's an ancient Egyptian obelisk that competes with the basilica as the square's focal point. Caligula brought the obelisk from Egypt to Rome in 37 AD, and it was standing nearby when Peter died. (It was moved to its current site in 1586.)
A century later, Pope Alexander VII commissioned Gian Lorenzo Bernini to create a plaza large enough "so that the greatest number of people could see the Pope give his blessing, either from the middle of the façade of the church or from a window in the Vatican Palace."
Bernini surrounded the plaza with a colossal colonnade, built to embrace visitors in "the maternal arms of Mother Church."
2. St. Peter's Basilica
St. Peter's Basilica is the largest and one of the best known churches in the world. A church has been standing on this site since the time of Roman Emperor Constantine the Great. St. Peter's Basilica is a pilgrimage site for many Catholics. This is the second St. Peter's. It was built in the 1500s to replace the original St. Peter's Basilica, which was constructed in the fourth century.
People often mistakenly think that St Peter's is the cathedral of Rome, but it's not. A cathedral is the seat of a bishop, and Saint Peter's does not have a bishop. St. John Lateran (San Giovanni in Laterano) is Rome's cathedral.
The original basilica was built over the historical site of the Circus of Nero, where the Romans martyred thousands of Christians in the first century. According to ancient writers, Jesus' disciple Peter and many other well-known Christian leaders were martyred here. (St. Paul was also martyred in Rome, but not at the Circus, as he was a Roman citizen.)
The basilica's interior is decorated with magnificent monuments, many of which were created by the great Bernini. The high altar of the basilica, known as St. Peter's Baldachin, is the best of them. Due to the size of the space, it's hard to tell that the altar is actually 10 stories tall.
Make sure you climb all the way to the top of the dome. Designed by another great, Michelangelo, it offers unparalleled 360-degree views of St Peter's Square and the city of Rome.
One of the basilica's bronze statues is reputed to be of St. Peter. His feet are shiny and worn by centuries of devotion.
Not to be confused with the Vatican necropolis, the Vatican Grottoes beneath St Peter's Basilica contain the tombs and sarcophagi of numerous popes, as well as several huge columns from the original 4th-century basilica. The entrance is in the Pier of St Andrew near the high altar. Entrance is free and it is forbidden to speak inside.
How to visit St. Peter's Basilica
Hours: Open daily, 07:00 – 19:00.
Admission: Free, no ticket required. However, there's a fee for the Sacristy and to climb the dome.
Sacristy and Treasury Museum: Open from 09:00 – 18:15, from April to September and from 09:00 – 17:15, October to March. €7 to enter. The entrance is inside St. Peter's Basilica.
St. Peter's Basilica Cupola: Open daily 08:00 – 17:00, open until 18:00 April 1- September 30. A ticket costs €6 euros if you climb all the way up (551 steps). Or you can pay €8 to take an elevator. The elevator doesn't go all the way up; it's another it's 320 steps to the top from there. But the view is worth it. Allow about an hour for the experience.
ⓘ TIP: You can avoid two long security lines by visiting the museum first. There's an entry to St. Peter's Basilica directly from the Sistine Chapel.
3. The Vatican Museums
These museums are Vatican City's national museum of art. Pope Julius II was an art lover and became the patron of Michelangelo, Bramante and Raphael, as well as of Bernini, the architect responsible for St. Peter's Basilica.
Pope Julius needed a place to house all of his treasures and founded the Vatican Museums in the early 16th century. It now ranks as the 5th-most-visited art museum in the world.
Ever since his reign, popes have collected art, and so as a result, the Catholic Church actually owns some of the best-known classical sculptures and masterpieces of Renaissance art in the world.
The Vatican museum complex is so massive that most of the rooms are closed to the general public. Even if every room were available, there is only enough space to display a portion of the Vatican's treasures. It's that big.
According to a Vatican authority, if you were to spend one minute viewing every item on display, it would take you 11 years to see it all.
The Vatican Museums are overwhelmingly impressive, even though we only had time to view a tiny fraction of the works on display. Which brings me to my biggest regret: we did it all on our own. Sure, we saved some money, but if we'd taken a tour we could have seen more in less time. Wasting so much precious time backtracking was probably the main reason we had such sore feet.
At least we were smart enough to buy fast-track skip-the-line tickets to get in. There's a lot to be said for not wasting time on vacation.
ⓘ TIP: There aren't many toilets in the museum, so use it before you enter.
How to visit the Vatican Museums
The Vatican Museums are behind St Peter's Basilica to the right. To get to the Vatican Museums, you have to walk around the Vatican walls from St Peter's Square, about 5 minutes.
Open: Mon-Fri 10:00 – 13:45 during November – February (Christmas hours 8:45 – 16:45). During March – October the Museums are open Mon-Fri 10:00 – 16:45 and Sat. from 10:00 – 14:45. Closed on Sundays. Entrance to the Museums ends 75 minutes before closing time.
Admission: General tickets are €17,00 and include entry to the Sistine Chapel. On the last Sunday of each month the Museums can be visited free from 09:00 to 13:45. (Crowded; try to avoid!) Guided tours are also available. And it bears repeating: get exclusive access and skip the long ticket line by buying your ticket online ahead of time. I can't stress this enough!
Two tours to consider:
ⓘ TIP: Avoid visiting on the last Sunday of the month, when entry is free. The museums are so crowded that it's hard to see anything at your leisure.
4. Sistine Chapel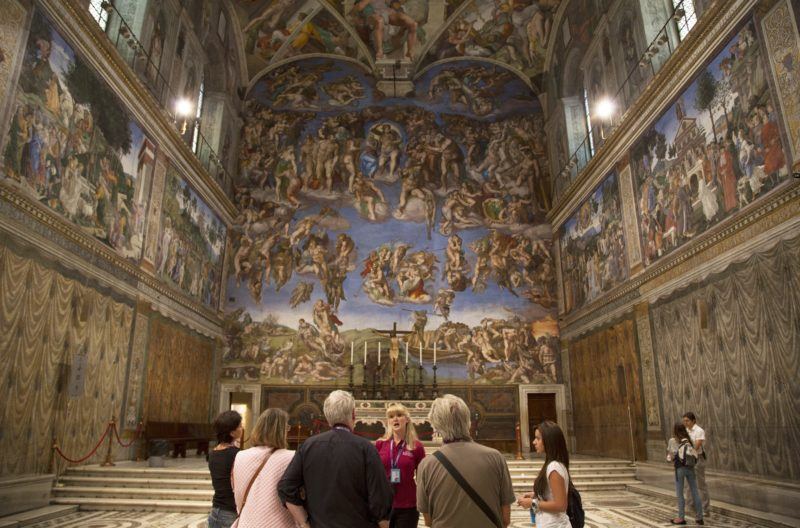 Considering that how incredible the Vatican Museums are, it's a wonder why so many people try to see the Sistine Chapel by itself. In any case, you'll often see it as a separate Vatican site, so I am doing the same.
The chapel full of Michelangelo's paintings. That said, it is best known for the Creation of Adam on the ceiling.
Don't expect to take your camera into the Sistine Chapel and snap your own photo of the Almighty reaching out to touch Adam's finger. Absolutely no photography or video is permitted in the room.
The reason is not so that they can protect their precious frescoes from flash damage. Nope, not at all. Truth be told, nobody has used flashbulb technology for decades. People use LEDs these days (which, we should mention, are the same lighting technology that they use to illuminate the artwork). So don't believe that tripe.
When the Vatican decided to restore Michelangelo's frescoes back in 1980, the price tag was so high that they had to seek outside funding for the project. The highest bidder was Nippon Television Network Corporation of Japan. In return for funding the $4.2 million project, they received the exclusive rights to photography and video of the restored art.
Here's what they don't tell you: Nippon's exclusivity expired three years after the Sistine Chapel's restoration was completed. We wouldn't be surprised if the current "no photos" rule exists solely to encourage purchases from the museum gift shop. Hmph.
How to visit the Sistine Chapel
The Sistine Chapel is a small part of the extensive Vatican Museums.
Admission: Included with your Vatican Museum ticket.
Want to read this later? Save it to Pinterest!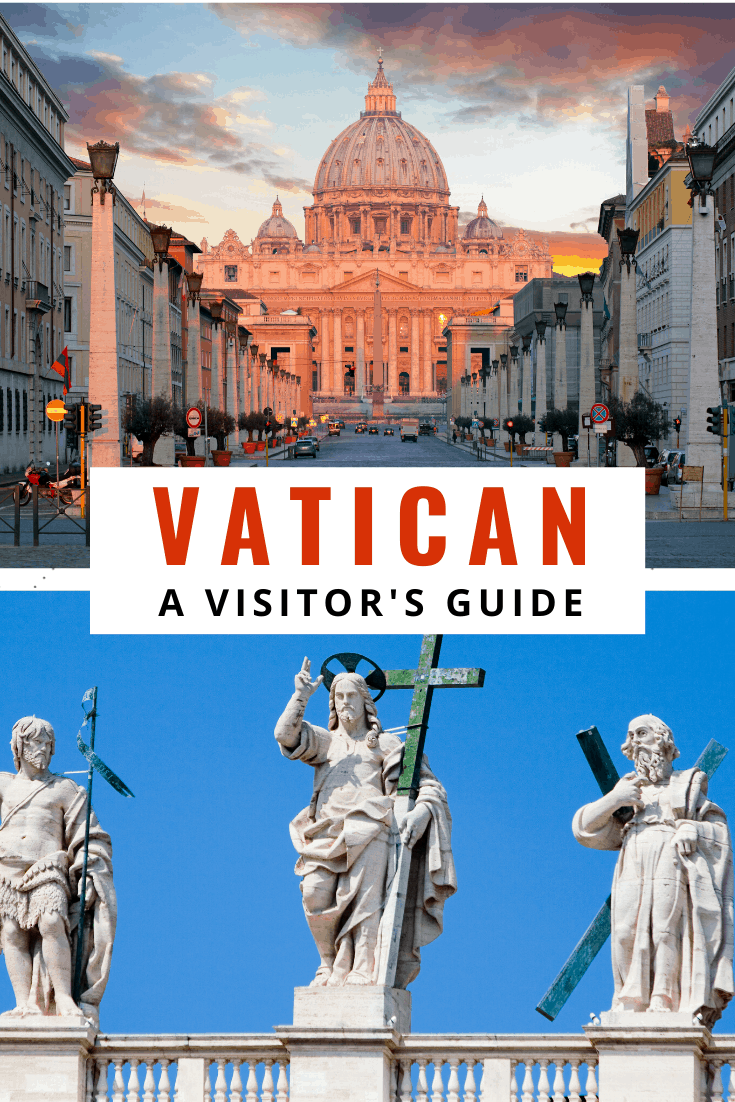 5. Vatican Scavi necropolis
We are so glad we were able to take this Vatican City tour. It was the highlight of our entire day in the Eternal City. And that's saying a lot!
The Vatican Necropolis began as a humble cemetery in the first century. It was a convenient place to bury Christians who were martyred at the Circus of Nero. The apostle Peter was one of these martyrs, so his body ended up here.
Constantine, the first Christian Emperor of Rome, had a bad habit of covering up religious sites with churches, and St. Peter's supposed resting place got the same treatment. Pope Julius II replaced Constantine's church with the one we know today, and positioned the high altar over the spot where Peter's body was said to be.
In the 1940s, Pope Pius XI commissioned a series of excavations (scavi, in Italian) beneath the floor of St. Peter's Basilica to try to pinpoint the saint's tomb.
They uncovered over 20 mausoleums, some containing hundreds of bodies, as well as from papal tombs to an ancient Roman street. But here's something they don't tell you: Whether or not the Scavi contain St. Peter's real remains has never been settled, even within the Vatican.
How to visit the scavi (Vatican Necropolis)
The Vatican Scavi Tour is one of the toughest tickets to come by and one of the most exclusive tours in all of Rome. Only 250 people are allowed through each day, due to the tight space as well as a desire to limit temperature and humidity levels. Compare that to the 30,000 who visit the Vatican Museums!
You can either take a private tour like this one, or request permission to tour it. See the official Vatican Scavi website for details on how to do that.
You must request a reservation ahead of time – spots fill up months in advance.
If your requested time is available, they will require payment immediately.
Visitors must be over 15 years old –

no exceptions

.
The guided tour lasts about 1½ hours.
Arrive 15 minutes ahead of time, to clear security.
No cameras of any type are permitted. (It is completely impossible to sneak a photo. Believe us, we tried.)
You do not need to be Catholic for this tour.
ⓘ TIP: Avoid this tour if you have difficulty with stairs or tight spaces!
6. The Swiss Guards
Don't let the frou-frou of those vibrant Renaissance uniforms fool you: Every Swiss Guardsman has served in Switzerland's army, and they are well trained in firearms and martial arts.
Swiss Guards have such a stellar reputation that they have been protecting the Pope and the Apostolic Palace since 1506.
In May 1527 the army of Emperor Charles V stormed Rome. Heavily outnumbered, the Swiss Guards fought the army on the steps of the High Altar of the Vatican while the Pope escaped through a secret passage to the Castel Sant'Angelo. Only 42 of the 189 Swiss Guards survived, but the Pontiff was saved.
Swiss guardsmen are quite serious about their duties. Even when on tourist duty, you'll find them outfitted with medieval halberds (a spear-axe combo), swords and pikes. They might not appear very threatening but believe me, those ancient weapons aren't just for show. Every Swiss guardsman is well trained in each one. They're not afraid to use it, so don't try any funny business or you may find yourself at the wrong end of a 9-foot pike.
How to become a Swiss Guard
To be a Swiss Guardsman, you must be:
single
a citizen of Switzerland
a Roman Catholic
male
between the ages of 19-30
a former member of the Swiss military and
of excellent conduct and reputation.
Those who are accepted get great benefits: 1300 Euros per month (about $1600) plus overtime. They pay no tax, get free accommodation, and eat free, delicious, Swiss-Italian food cooked by Polish sisters. Their tour of duty lasts for two years.
As for meeting a Swiss Guardsman, they will talk to you, but don't expect them to be tour guides or pose for photos. They won't let anything stand in the way of duty.
7. Papal apartments
Okay, so maybe you can't actually visit the private area where the Pope lives, but you can see the Papal Apartments from the plaza! One of his windows overlooks the square, and this is where the pontiff stands when he addresses the crowds of pilgrims.
How to see the Pope
If you're among the faithful and want to see the Pope, the Holy See is the easiest place to do it. He speaks to the crowds twice a week whenever he is in town.
Just remember that you'll need to be dressed appropriately, or you'll be turned away.
Wednesdays – 10:30 AM
Seats are on a first-come, first-served basis. Arrive 3 hours early to get a good seat.
General Audiences last for about 2 hours.
You will need a ticket. TICKETS ARE ALWAYS FREE, but must be requested and picked up ahead of time.
Sundays – 12 noon
You DO NOT need tickets for the Sunday Angelus.
On Sundays the Pope appears in his apartment window on St. Peter's Square. He speaks for around 15-20 minutes.
Sundays, he gives a short speech, recites the Angelus, and ends with the Apostolic Blessing. He may also greet the crowds in various languages.
For the Pope's current schedule and details on getting an audience ticket, you can find the information here.
ⓘ TIP: You'll need a ticket to claim a seat. However, when the Pope is holding audience outdoors, there is always standing room at the back of the Square for those without one.
If you'd like to upgrade your experience
There are guides who will reserve your ticket and select the very best viewpoint, so you can fully appreciate this inspiring ceremony. As part of this service, your guide will prepare you for the Pope's entrance by explaining the rich history and traditions behind the Papal Audience, and the Papacy itself. Learn more here.
What to wear at the Vatican
Vatican City has its own dress code. While it is unlikely you would be hassled for walking around St. Peter's Square in shorts or spaghetti straps, the officials will turn anyone away at the door who they deem is not dressed respectfully.
Remove hats indoors.
Shoulders must be covered. No sleeveless tops, tank-tops, sundresses or halters. A scarf/pashmina is acceptable as a cover up.
Knees must be covered. No cut-offs or short skirts. No shorts, either. Women can wear tights to comply with this rule. Or, you can wear zip-off pants (the ones that convert to shorts with zippers around the knees) and reattach the lower legs as needed.
Wear good walking shoes. Many people spend a whole day on their feet in the Vatican City, which means lots of hard surfaces and waiting in lines.
How to get to Vatican City
The easiest way to get to Vatican City by public transportation is to take the metro. Take Metropolitana Line A to the Ottaviano "San Pietro" stop.
Plan your Vatican trip
You really need to plan ahead for your time in the Holy See, especially if you want to see the pope or visit the Scavi. Reservations are essential for certain things, and some Vatican attractions are closed on certain days.
Read all our Rome & Vatican articles: Best Things to See in Rome in 2 Days, How to See Rome on Your Own from Civitavecchia Cruise Port, Things to Know Before Visiting Vatican City, Best Things to Do in Vatican City, and Guide to the Vatican Museums.