We love it when readers reach out with questions. One of our favorites came from a fellow traveler who wanted advice on how to spend a day in Rome from the Civitavecchia cruise port. She had a clear goal in mind: to visit the awe-inspiring Sistine Chapel and experience the grandeur of the Colosseum, all in one day. However, she also wanted to avoid the overwhelming crowds that often accompany organized cruise excursions.
As I began to delve into the topic, I realized that many other people might have the same burning question. How can you make the most of a limited time in Rome, starting from the Civitavecchia cruise port, without sacrificing the quality of your experience?
In this article, I will share my personal insights and practical tips to help you navigate the Eternal City on your own terms. I'll answer questions like:
How to see Rome in a day on a cruise
How do I get to Rome from cruise port?
How much time to spend in Rome from cruise ship?
I'll also share tips for touring Rome on your own from Civitavecchia, as well as links to relevant tickets and tours.
ⓘ TIP: If you'll be visiting Rome for a few days, be sure to check out the helpful travel planning links at the end of this article.
How to tour Rome from cruise ship
Rome, the capital of Italy, is a city brimming with history, culture, and world-renowned landmarks. It is a destination that holds countless treasures, but it can also be overwhelming for first-time visitors. When you only have a day to explore, it becomes essential to plan your itinerary wisely and make strategic choices to optimize your time.
Unfortunately, the cruise port is 40 miles (62 kilometers) from Rome, so getting into the city takes time. If your ship will be docked at Rome cruise port for one day, you should probably spend all your precious time in Rome. Save exploring Civitavecchia for a cruise that begins or ends there, so you can stay overnight and explore.
Rick Steves' Mediterranean Cruise Ports is perfect for independent cruisers. It covers how to spend one day in various ports: itineraries, must-see spots, places to eat, local currency, how to get into town, even self-guided walks and tours.
So, let's dive in and discover the wonders of Rome!
How to see Rome in a day on a cruise
Let's begin with how to see Rome on your own from Civitavecchia. What are your options for visiting Rome from the cruise ship?
1. Take a cruise ship shore excursion
Pros: The official cruise ship Rome excursions are plug-and-play convenient, because they make all the arrangements and it's added to your bill. Plus, if a cruise tour has a delay getting back to the ship, the ship will wait for you.
Cons: This is the most expensive option, and you will be sightseeing with a busload of other tourists.
2. Buy your tickets yourself
Pros: The cheapest option. You book your own transportation, buy your own tickets, and use a guidebook to decide what to see in Rome.
Cons: It's your responsibility to be back on the ship in time.
3. Book your own guided tour of Rome
Many cruisers book their own guided tours, saying it's worth the added expense for a once-in-a-lifetime trip. A guide will take you on a well-planned route that will cover top attractions and maximize your valuable sightseeing time.
Among the countless operators that offer tours in Rome, we can recommend Get Your Guide, Viator, and Take Walks (Walks of Italy) from personal experience. You're bound to find a few Rome tour options that you'll enjoy.
ⓘ BUDGET TIP: If you're traveling with others, some tours charge one flat fee for your group, not per person. Here is one we like. If traveling solo, check your Roll Call on cruisecritic.com. People often want to form a group and split the cost of a group tour.
Check the itinerary carefully to ensure it's what you want. If you don't care to go inside the Colosseum, some tours have that option.
Things to know:
Tours range in price and often cost the same as cruise excursions.
There will be fewer people on tours you book yourself.
Some tours pick you up at the port, while other tours begin and end in Rome.
Tours that depart from Civitavecchia cater to cruise schedules. They will make sure they get you back to the ship on time because their reputations depend on it!
Tours that start in Rome are more varied and suited to a wider range of interests.
Here are two tours that begin in Rome:
ⓘ TIP: You'll be on your feet all day, so make sure to wear comfortable shoes. Be sure to bring a hat, sunglasses, water, and sunscreen, and wear clothing that covers shoulders and knees if you plan to enter St. Peter's Basilica.
How do I get to Rome from the cruise port?
1. Car
Don't waste your time renting a car if you plan to spend your entire day in Rome. Driving in Rome is a nightmare, parking is expensive, and you'll waste precious sightseeing time if you don't know the streets. If you need a car for other reasons, you can check prices here.
2. Train
Civitavecchia train station is near the port. To make the most of your time, purchase your train tickets in advance so that you can bypass the crowds and be on your way. Book the high-speed train to Rome and back; the regular one takes much longer. You don't want to spend your precious sightseeing hours traveling to and fro!
3. Coach transfer from Civitavecchia Port
If you just need round-trip transfer between Rome and the Civitavecchia cruise terminal, this is for you. These buses take you there andback, with 6-8 hours to explore the "Eternal City" as you please. The trip will take 60-80 minutes each way and can be cheaper than the cruise's line transfer service.
How much time to spend in Rome from the cruise ship?
As you begin your planning, factor in 1.5 hours to get to Rome from the cruise ship port. Budget 2 hours to get back to the ship, due to Rome's typical delays and strikes as well as clearing the security line at the port. You'll end up with 6-8 hours for sightseeing.
Regardless of when your ship docks, it takes time to get a seat on the port shuttle and then walk to the train station. So, you likely won't board the train in Civitavecchia until 8:30 a.m. or later. Anticipate that you'll be sightseeing by around 10:00-10:30.
The primary concern is getting back to the ship in time – you don't want the ship to leave without you! Assuming your "Back on Board" time is 6:00, we recommend heading back no later than 4:00 pm. Agree ahead of time with your travel partners when to head back, to avoid the temptation to see just one more thing and lose track of time.
ⓘ TIP: Your cruise ship's Daily Newsletter will have a phone number of who to contact in an emergency. Take it with you every day and save the number to your phone. If you are delayed or something happens, you can let them know your status and find out what to do.
Visiting the Colosseum on a cruise
If you intend to visit the Colosseum, you'll want to go to the Colosseum first, while it's cooler. Be sure to read our Roman Colosseum article to get the top tips for visiting this iconic site.
The distance from the cruise port to the Coliseum is 62 km/38.5 mi, or 80.6 km/50 mi by car.
To get from Rome cruise port to the Colosseum, take the express, high-speed train from Civitavecchia to Roma Termini station (60-90 minutes). Then, take the metro line B and get off at the "Colosseo" stop (9 minutes). You can buy train tickets when you arrive at the Civitavecchia train station, or if you prefer, you can buy your tickets in advance online. The official website is Trenitalia, though we think Omio is more user-friendly and has better customer service.
The most important thing to know is that all Colosseum tickets have a scheduled admission time, and morning tickets are in high demand. So, if at all possible, get your Colosseum tickets as soon as you book your cruise. Try to get a 10:45 or 11:00 slot.
How much time to visit the Colosseum?
It will take you around an hour to explore the Coliseum on your own, including time for selfies and other photo opportunities. Guided tours generally last about 90 minutes.
Your ticket includes free admission to the Forum and the Palatine Hill. if you want to see those as well, allow another 1.5 to 2 hours to visit the Roman Forum, and an extra hour for the Palatine Hill. They are only steps away from each other.
Book a guided tour if you want to see it all in the least amount of time. Most tours last 2½ – 3 hours.
Visiting the Vatican on a cruise
If you want to spend your day in Rome at the Vatican, the best way to get from Civitavecchia Port to Vatican City is by train. Buy a return (round-trip) ticket from Civitavecchia to Stazione Roma S. Pietro. Trains run every half hour and the journey takes about 43 minutes.
You can buy your ticket at the Civitavecchia train station, or if you prefer, you can buy your tickets in advance online. The official website is Trenitalia, but refunds can be hard to get. Omio's website is more user-friendly and their customer service is much better.
How to get to the Vatican from the Colosseum. Take Line B towards Rebibbia. At Termini station, switch to Line A towards Battistini and get off at Ottaviano. The trip takes 15-20 minutes.
ⓘ TIP: Be sure to stop for lunch before entering the museums.
How much time to visit the Vatican Museums?
The Vatican Museums are extensive. Plan to spend at least 3-4 hours to walk through the most important rooms and visit the Sistine Chapel. Check out our guide to visiting the Vatican Museums for more.
Most guided tours last for 3 hours and include the highlights.
How to skip the line at the Sistine Chapel. The only way to avoid the ticket line is to buy skip the line tickets to the Vatican Museums beforehand. You'll save time getting in, although there's no shortcut straight to the Chapel.
How to see the Sistine chapel
The Sistine Chapel is part of the Vatican Museums. You can't get a separate ticket for the Sistine Chapel alone.
If you ONLY want to see the Sistine Chapel, you will need to walk through the entire museum to get there. It's the final room. If you don't stop to see anything else on the way, it will take 1-2 hours to navigate from the entrance to the chapel, depending on the crowds.
ⓘ TIP: This world class museum complex is full of famous works of art. It's so massive that it would take days to see it all. You can take virtual tours of many rooms online.
Also, as you exit the Sistine Chapel, you'll be at St. Peter's Basilica. You can avoid going through security again if you enter the Basilica directly from the Chapel. This is where Michelangelo's famous Pieta statue is located.
Can you see the Roman Colosseum and the Vatican in one day?
Yes. It is possible to see both the VaticanMuseums AND the Colosseum in one day. However, you must purchase both entry tickets online before you arrive. Not only are Colosseum tickets in high demand, but it can take hours to get through the super-long ticket lines at the Vatican Museums.
Keep in mind that the Vatican Museums and the Colosseum are located on opposite sides of the city. As they are on different metro lines, it will take a while to get from one to the other.
ⓘ TIP: Use our article 7 Things to See at the Vatican to look around, or head back to the ship early and check out Civitavecchia.
If this post was helpful, please share it with your friends. Are you on Pinterest? Remember to pin this image!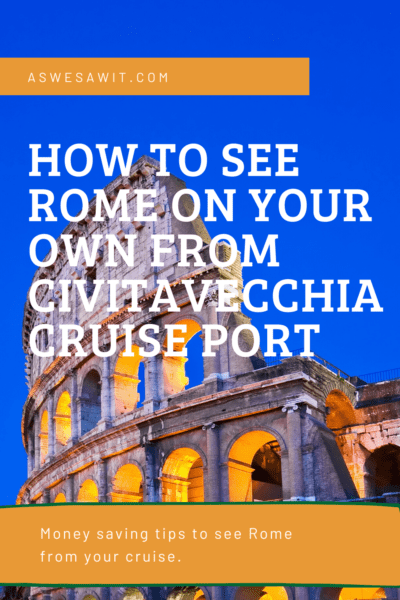 Thoughts about seeing Rome on your own from Civitavecchia
Should you decide to focus on one sight, this Cruise Port Guidebook will be super helpful. It has maps of the major tourist attractions in Rome so you can plan your route.
Free sights near both the Colosseum and Vatican City include the Spanish Steps, Trevi Fountain, Pantheon, Plaza Navona, Campo de' Fiori, as well as many wonderful churches. What's best of all, they have no lines.
Take Walks offers experiences that will fit into your time in Rome. Here is a sampling:
No matter what you decide to do, don't forget to grab some gelato along the way!
ⓘ TIP: For what it's worth, we regret not booking a guided tour when we visited the Forum/Palatine Hill/Colosseum. We had read up on it beforehand, but a guide brings everything to life…and can save a lot of wandering around. We would have gotten so much more out of it if there had been someone who could point out the significant stuff and answer our questions.
Priorities vary. Some people are happy with visiting just one sight, while others squeeze as much as possible into one day. In, out, back to the ship happy.
You might want to check Rome off your Bucket List or look at a one-day visit as a sampler and immediately begin planning a return trip.
Romans think Rome is meant to be savored, and spend hours eating a simple meal. And no wonder… With 28 centuries of history, there's no end to the things to see in Rome. No matter how much you manage to see and do, you'll leave wanting more.
ROME TRAVEL PLANNING ESSENTIALS
✔ Travel Guide: This Italy travel guide is a top seller on Amazon. If you're only visiting Rome, Rick Steves Rome is better.
✔ Visas/ETIAS for the EU: Find out what you need, and apply here.
✔ Travel Insurance: Covers lost bags, delays, injuries, and more. We like SafetyWing
✔ Currency: This free app calculates exact currency exchange values.
✔ Flights: Rome's airport is FCO. Check flight prices here.
✔ Airport transfer: Prebook transportation to your hotel
✔ Accommodation: For Rome, check Booking ● Vrbo ● HostelWorld. For Vatican City, click here.
✔ Getting around: Fastest by metro or on foot. Outside of the city, take the train, use Flixbus, or rent a car.
✔ City Discount Card: The OMNIA Vatican Card and Roma Pass includes the most attractions.
✔ Tickets & tours: GetYourGuide and Take Walks offer a wide variety of options.
✔ Organized trips: G Adventures has insanely affordable small-group tours + guaranteed departures.