Civitavecchia, Italy, gets thousands of visitors a day even though is not known as a tourist destination. As a matter of fact, you wouldn't even find it listed in most tour books were it not for its location. So the question is, What's the attraction and why do so many people visit?
Here's a hint: Rome is not on the water.
Situated on the Tyrrhenian Sea, the town dates back to Etruscan times. Around 100 A.D, after the Etruscans were absorbed by the Romans, Emperor Trajan built the harbor, with the goal of creating a port for Rome. He gave it the name Centum Cellae, and the port reached its peak of its magnificence in the Imperial age.
Rome's port
All Rome-bound ferries and cruise lines dock at Civitavecchia. Most people head straight to the train station but actually, there is really no need to hurry off. Nor is there any reason to rush into town only a few hours before a cruise begins. There is plenty to see and do in the port as well.
Civitavecchia (pronounced chee-vee-ta-VEK-ee-uh) is an excellent option for anyone who wants to enjoy a tranquil day meandering instead of dealing with big-city Rome's hustle and bustle. Super clean and pleasantly relaxing, it has a well kept promenade along the sea and is chock full of shopping opportunities and open air cafes.
Three days in Civitavecchia
A while ago, we found an incredible deal on an 11-day Mediterranean cruise that began in Civitavecchia (Rome) and ended in Piraeus (Athens). Eight fabulous ports in four countries along the Adriatic. The deal was too irresistible to pass up.
As with any cruise, we had two options:
Arrive in Civitavecchia the morning of the cruise via morning train, then hope there are no delays or problems en route.
Arrive in Civitavecchia a few days early, then explore the Italian port at our leisure and enjoy some fine Italian cuisine.
Which would you choose?
If I were to have one regret about our time in Civitavecchia, it would be that we never left the city. The entire area is full of Etruscan sites and we both love ruins and ancient history. We could have toured Tarquinia and Cerveteri, two UNESCO World Heritage sites, or traveled to nearby Tuscania to explore on our own. (Speaking of which, we have an interesting article about Tuscania on our site, thanks to a guest author who lives there. You'll enjoy it.)
Even without leaving Civitavecchia, we could have seen Terme Taurine ("Trajan's Baths"), Trajan's well preserved villa and thermal baths. Or we might have indulged ourselves by soaking away our own aches and pains at the nearby Ficoncella hot springs. Sadly, we didn't visit either of those, either.
Civitavecchia kept us busy enough.
Getting to Civitavecchia
Civitavecchia is on the western coast of Italy, about 80 km (50 miles) northwest of Rome and even closer, straight up the coast, from Fiumicino (the airport). Train service from the airport is easy enough. From Fiumicino Airport station take the train to Rome city center, get off at "Trastevere Station" and changed the line in the direction of Civitavecchia.
Our train stopped, spit out its passengers, and we followed the suitcase-toting throngs out onto the street, then joined the flow as it turned right toward the cruise ships. The waterfront obviously watches thousands to and from the ferries and cruise ships every day. (The port is not far from the train station.)
Our Civitavecchia walking tour
It was an easy 100-yard walk to our hotel, which was right on the main street. The front desk offered free maps of the city, with two walking tour itineraries to choose from, historical and religious. We enjoy both ancient ruins and visiting churches (so much art!), so we decided to combine them by plotting our route over a relaxing meal. Before long, we had a map full of lines and a day to look forward to.
Follow along and I'll walk you through Civitavecchia, as we saw it.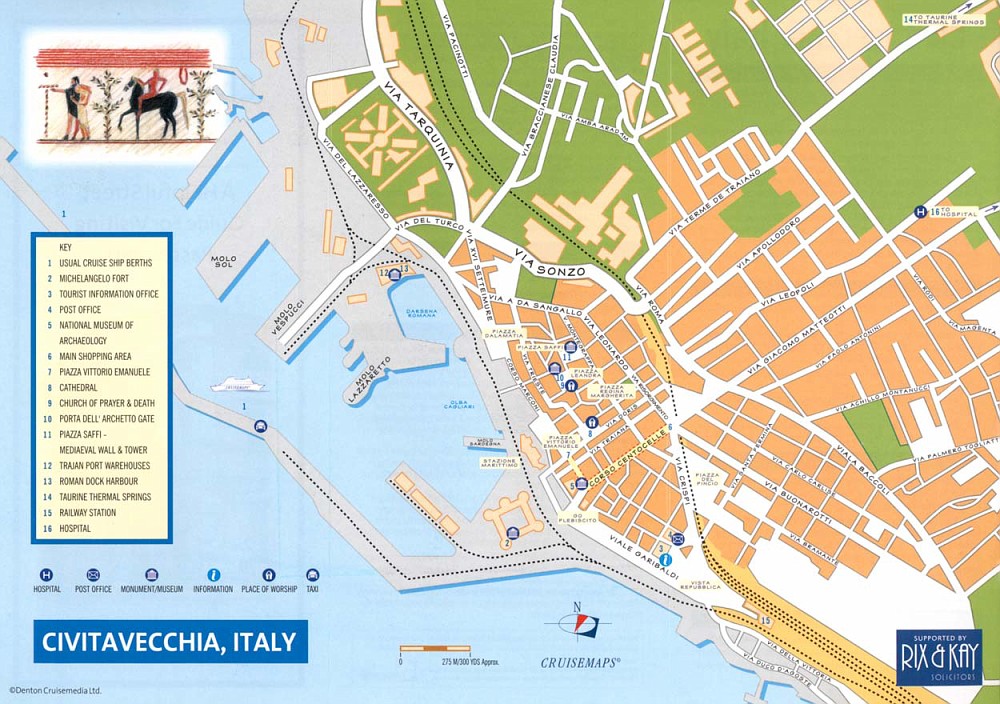 Il Ghetto di Civitavecchia
Pope Innocent XII built the ghetto at the end of the 17th century to host the Jews … who never came. With all its old buildings, Civitavecchia's not-so-Jewish ghetto is picturesque and full of life, yet it's an area where we saw few tourists.
The heart of the gnetto, Piazza Fratti, became our favorite spot in town, mainly because it offered authentic and quality food at a reasonable price along with local patrons. When we entered and were greeted in Italian, we knew that we would be eating at a place that catered to locals, rather than tourists. What that told us was that we'd get authentic flavors, cooked by a chef who cared about getting repeat customers. Naturally, we ate two dinners and one lunch there.
Knowing Italians eat dinner after 7:30 and take all evening socializing over their meals, we arrived earlier. It was the easiest way to ensure we would find an available table.
Tip: If you are unsure which restaurant to choose, opt for the most crowded one, away from tourist areas. A busy eatery is a good indication that the locals like the food.
Corso Centocelle
Not far from the shuttle terminal is the main pedestrian walkway, Corso Centocelle. It is usually crowded with tourists spending their shore time in its numerous shops, buskers hoping for a tip, and quality al fresco dining.
Keep your eyes open while you're walking along the Corso. During its modernization, the construction crew discovered a number of Etruscan ruins buried under the pavement. The ruins are on display, exposed under glass here and there underfoot.
The other don't-miss sight is the Trajan Theater.
Piazza Regina Margherita
At the far end of the walkway is the square for Il Mercato, Civitavecchia's traditional market. We were fascinated by the local products that were there and purchased some local cheeses to snack on.
Then we went in search of the nearby fish market, which our desk clerk had recommended. It was only late morning and they were already closing up.
After a wander through to see what they were hawking we were surprised to find another market on the other side, selling a variety of meats including (ew!) horse.
Chiesa della Stella
This church is the starting point of Civitavecchia's traditional Good Friday procession – one of the annual events that the entire town participates in. Inside are frescoes by a local artist, a valuable wooden crucifix from the 1700s and a statue of Our Lady of Mercy.
Piazza Leandra
Nearby is Civitavecchia's historic center, centro storico, which is almost completely free of tourists. One of the ancient spots, Piazza Leandra, enchanted us with all its well-trod cobbles, weathered green shutters and laundry hung out to dry.
We especially liked an old stone tower that was sandwiched between two old houses. Quite obviously, it had been part of Civitavecchia's original wall. We descended its passageway to the other side and found a lower area complete with buildings that had been built into the wall.
Santa Maria dell'Orazione e Morte
Like many others in town, this Baroque church has beautiful frescoes on its walls, but it is probably the only one that has a balustrade from the stern of a boat inside. It is also home to the wooden statue of the resurrected Christ that is carried in the Easter Procession.
Our map called this church "a true Roman basilica in miniature" because of its elegant elliptical shape and its dome, which was painted in 1788 by Giuseppe Errante.
Darsena Romana
The Roman dock that was built back in Trajan's day still exists, though not much else. Civitavecchia was almost completely destroyed in World War II.
Our map mentioned two older structures: a fortress called "La Rocca" and "il lazaretto," a hospital for contagious diseases. It took a while to get there and once we arrived there wasn't much to see. We were thwarted by fences, maybe due to the severe bomb damage they received during the second war.
Principe Tommaso promenade
From there we passed through the harbor and marina, along the "Principe Tommaso" promenade and past a 17th century defense wall that was built by Gian Lorenzo Bernini. Yes, that Bernini, the same person who designed St. Peter's Basilica. Why would a famous artist work on a mundane city wall? Because Pope Urban VIII told him to. (He wanted to protect the city from naval attacks and I guess he trusted Bernini to do it well.)
Abeautiful mask-shaped, travertine fountain, known as the fountain of Vanivitelli, is the only decoration on the wall.
Forte Michelangelo
Forte Michelangelo is impossible to ignore, partly because it's so imposing but also because the shuttle drop off point for the cruise ships is directly in front of the fort. The fortress has 6-meter-thick walls and is still in perfect condition, though it no longer has the moat that once surrounded it.
Forte Michelangelo was commissioned by Pope Giulio II in the early 1500s, but the fortress got its name because Michelangelo had designed its central tower. Like all other forts it surrounds a central courtyard.
Thinking it was a museum, we walked through the old entrance expecting to pay an admission fee. No one was around, so all we got to see was the courtyard and the bronze pulley that was once used to lower and raise the bridge. We later learned that the building was badly damaged by World War II bombing and restored in the 1950s. Today, it's used for exhibitions and cultural events. No wonder we couldn't get in, haha.
St. Francis Cathedral
Through the gate we walked, back into the city teeming with shops displaying their wares outside their doors. Making a U-turn, we detoured back to the city Cathedral in Piazza Vittorio Emanuelle, which reportedly has a fresco depicting St. Francis receiving the stigmata. Another disappointment: The doors were closed and we couldn't enter.
Perhaps we'd have more luck at our next destination, nearby Chiesa della SS. Concezione. This 18th century church, they say, has a painting of Our Lady of Mercy that has moved its eyes. But no, that was closed as well.
Well, at least the war memorial is always visible.
Unconditional Surrender on the Promenade
No one in Civitaveccia visitor can miss the colorful, larger-than-life statue of a Navy sailor kissing a nurse on the seaside promenade. It is called "Unconditional Surrender." This statue is one of many around the world that depict the famous Eisenstadt photo taken at the end of World War II in Times Square.
The warm breeze and calm ocean beckoned us to the water's edge, where fishermen angled for a bite. It's quite relaxing to sit and watch them cast and reel, cast and reel. Then Dan had me sit on the rocks to pose for a photo.
As the sun approached the horizon, we walked the length of the promenade, enjoying the peace and quiet. At the other end, we found a beach, a pier, and a collection of eateries. Verdict: For a day in the sun, the pristine, sandy beach is worthy, but the graffiti-covered pier looks better from a distance.
Tip: Late afternoon is time for aperitivo, so we suggest entering a bar to join other Italians and enjoy a glass of wine (or something more to your liking).
Where we stayed
Dan booked us into Hotel De La Ville Civitavecchia, a large 19th-century mansion-turned-hotel located right on the waterfront promenade. It looks luxurious from the outside and feels even more so once you pass through its doors. In the foyer are huge urns of flowers, white-and-black marble underfoot, and an elevator and carpeted marble staircase leading up to the guest rooms.
An elegant, four-star hotel at an affordable price, it was so conveniently located that all passengers walking from the train station to the cruise port passed right by the front doors. The windows in our room opened out to a wonderful sunset view of the Tyrrhenian Sea, but our favorite part of the hotel was the taverna-cum-breakfast room in the vaulted cellar. It was built within the walls of ancient Roman baths. Highly recommend it!
Inspired?
Plan
Civitavecchia's tourism website is full of in-depth information to begin planning your own trip. In port, you'll find Civitavecchia's 

Tourist Information Office

 next to the port's south entrance. This is where you can pick up a city map, ask questions, get directions, and book excursions.
Rome2Rio will tell you how to get anywhere by plane, train, bus, ferry and automobile.
Get Your Guide offers an array of Civitavecchia tours and excursions.
Find out if you need a visa to Italy here.
Research your lodging options here.
There's a free itinerary app called TarGet Civitavecchia for iPhones. (Please let us know if you find a similar app for Android.)
See
For more sightseeing of this ancient port, take a look at our Civitavecchia photo gallery.
Google's satellite photo map gives a clear aerial overview of Civitavecchia's waterfront, You can clearly see Forte Michelangelo and the port entrance on the left, with the main waterfront promenade along the beaches and the railroad station on the right.
Read
Here are some related books and articles for further reading: