Civitavecchia, Italy gets thousands of visitors a day … yet it is not known as a tourist destination. As a matter of fact, were it not for its location, you wouldn't even find it listed in most tour books.
So, the question is, What's the draw?
Here's a hint: Rome is not on the water.
Civitavecchia, Rome's cruise port
Fronting the Tyrrhenian Sea, Civitavecchia (pronounced chee-vee-ta-VEK-ee-uh) dates back to Etruscan times. Around 100 A.D, after the Etruscans were absorbed by the Romans, Emperor Trajan built the harbor, with the goal of creating a port for Rome. He gave it the name Centum Cellae, and the port reached its peak of its magnificence in the Imperial age.
Things haven't changed all that much since then. All Rome-bound ferries and cruise ships dock at Civitavecchia, just as they have for the last 2000 years. If your cruise begins in Rome, you will be leaving from Civitavecchia.
ⓘ TIP: If you'll be visiting Rome for a few days, be sure to check out the helpful travel planning links at the end of this article.
When should you arrive in port for a cruise?
It's not a good idea to arrive in port the day of your cruise. You don't want to risk missing the ship because of a flight delay or traffic problems, and besides, train strikes are a regular occurrence in Italy.
If you don't want to be a ball of nerves before departure, it's much better to arrive a day or two in advance. That gives you the opportunity to explore the area. You can enjoy local attractions, try different restaurants, and immerse yourself in the destination.
In our case, we arrived two days beforehand. Being such an ancient town, we thought it would be fun to get away from the tourist areas and see if we could find any old walls are buildings. We also wanted to know if there were any things to do in Civitavecchia that would be fun for people who weren't going on a cruise.
Getting to Civitavecchia port from Rome
Civitavecchia is on the western coast of Italy, about 80 km (50 miles) northwest of Rome and straight up the coast from the airport. Plenty of transfers are available from the airport, both private and shared. This shared shuttle service is one good option.
If you prefer train travel, take the Leonardo Express to Termini Station in Rome, then take an express train to Civitavecchia. This article explains how to get to the port from the train station. It's not far.
If you're in Rome, this shuttle bus service departs from Roma Termini railway station and drops you off directly at the port.
Are there any things to do in Civitavecchia cruise port?
Lots of people don't fancy dealing with big-city Rome's hustle and bustle and would prefer a more tranquil day in port.
Super clean and pleasantly relaxing, ancient Civitavecchia is great for meandering through centuries-old streets. But it has a modern vibe as well. There's a well-kept promenade along the sea, and the city is chock full of shopping opportunities and open-air cafes.
So, relax. There are so many things to do in Civitavecchia and the surrounding area that you don't need to join the masses and rush to a Rome-bound train for a day of sightseeing. Read on for some great ideas, as well as our Civitavecchia itinerary.
You're welcome. 🙂
Civitavecchia walking tour itinerary
The hotel had free maps of the city, with two walking tour itineraries to choose from: historical and religious. It's hard to choose if you enjoy both ancient ruins and visiting churches (so much art!). Instead, we chose to combine them, plotting our route over a relaxing meal.
Before long, we had a map full of lines and a day to look forward to.
Civitavecchia cruise port map
Your hotel will have a more detailed map of the downtown area. Ours was all marked up, so here's one that will give you an idea of how the city is arranged.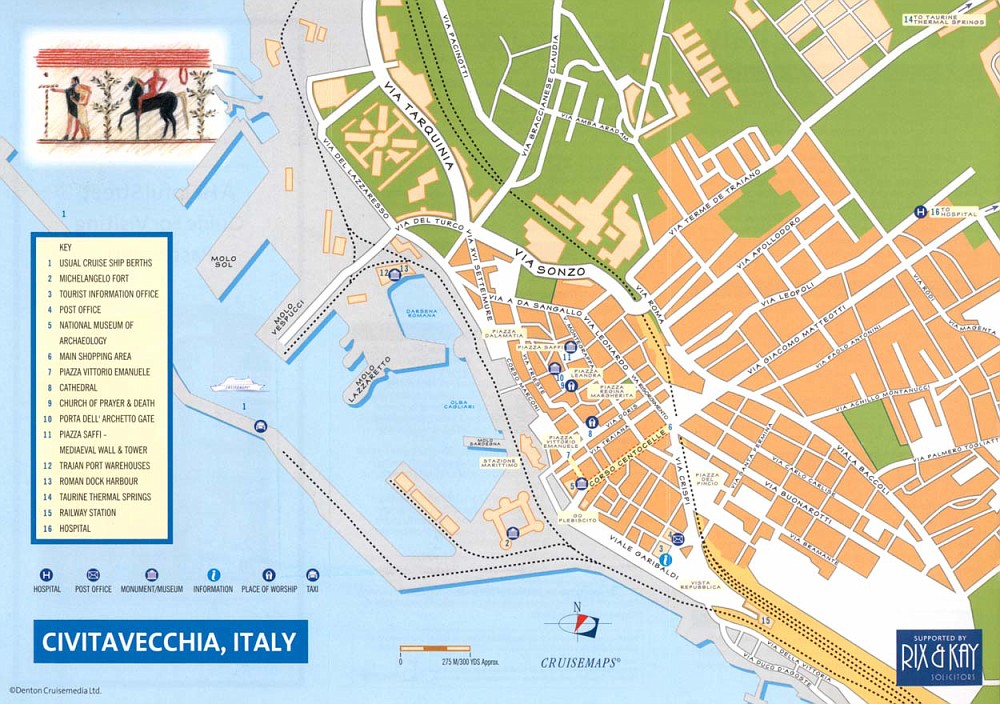 Follow along and we'll walk you through the best things to do in Civitavecchia, as we saw it.
1. Il Ghetto di Civitavecchia
Pope Innocent XII built the ghetto at the end of the 17th century to host the Jews … who never came. With all its old buildings, Civitavecchia's not-so-Jewish ghetto is picturesque and full of life, yet it's an area where we saw few tourists.
The heart of the ghetto, Piazza Fratti, became our favorite spot in town. When we entered and were greeted in Italian, we knew that they catered to locals, rather than tourists. What that told us was that we'd get authentic flavors, cooked by a chef who cared about getting repeat customers.
Over the years, we've found that off-the-beaten-path restaurants with local patrons generally have more reasonable prices, as well. So naturally, we ate two dinners and one lunch there.
Italians eat dinner after 7:30 and take all evening socializing over their meals. So we arrived earlier. It was the easiest way to ensure we would find an available table.
ⓘ TIP: Always opt for the most crowded restaurant. Sure, you may wait to be seated, but a busy eatery is a good indication that the locals like the food.
2. Corso Centocelle
Not far from the shuttle terminal is the main pedestrian walkway, Corso Centocelle. It is usually crowded with tourists spending their shore time in its numerous shops, buskers hoping for a tip, and quality al fresco dining.
Keep your eyes open while you're walking along the Corso. During its modernization, the construction crew discovered a number of Etruscan ruins buried under the pavement. The ruins are on display, exposed under glass here and there underfoot.
The other don't-miss sight is Theatre Traiano. Named in honor of the city's founder, Trajan Theater is the principal theater of the city, and its neoclassical façade dates from somewhere around 1800. The building was completely restored and modernized in 1999, and now the auditorium can seat almost 650 people.
ⓘ TIP: If you enjoy events and shows, check the playbill to see what is going on for the evening. The theater offers both local and international entertainment.
3. Piazza Regina Margherita
At the far end of the walkway is the square for Il Mercato, Civitavecchia's traditional market. It's fun to wander through local markets to see what appeals to the locals.
As with most local markets, you can usually find something new to try. We purchased a variety of new-to-us cheeses to snack on, then went off in search of the fish market that our desk clerk had recommended. He forgot to mention that they are only open in the mornings. By the time we got there, they were already closing up, but a few stalls were still doing a brisk business to late comers.
Exiting on the other side, we found the meat market. Just so you know, they offera variety of meats – including horse. Yuck.
4. Chiesa della Stella
Chiesa della Stella church is the starting point of Civitavecchia's traditional Good Friday procession. The entire town participates in this annual event. It's a big deal, so don't miss it if you're in town on Good Friday.
Inside, you'll find frescoes by a local artist, a valuable wooden crucifix from the 1700s and a statue of Our Lady of Mercy. That is, if you can get inside. It was locked up tight when we were there.
5. Piazza Leandra
Civitavecchia's historic center, centro storico, is almost completely free of tourists. This makes for some nice atmospheric shots. Ancient Piazza Leandra enchanted us with all its well-trod cobbles, weathered green shutters and laundry hung out to dry.
We especially liked an old stone tower that we discovered, sandwiched between two old houses. Quite obviously, it had been part of Civitavecchia's original wall.
If you venture through the tower's passageway, you'll find that you've descended to a lower level on the far side. The stone wall can still be seen on this lower level. Shop and building entrances haven't changed much over the centuries. Kind of cool!
6. Santa Maria dell'Orazione e Morte
Our map called Santa Maria dell'Orazione e Morte "a true Roman basilica in miniature." Dating from the late 1700s, It has an elegant elliptical shape and a dome, which was painted by Giuseppe Errante.
Like many others in town, this Baroque church has beautiful frescoes. However, it is probably the only church that has a balustrade from the stern of a boat inside, and that is what it is best known for. It is also home to a wooden statue of the resurrected Christ, which they carry in the Easter Procession.
7. Darsena Romana
The Roman dock that was built back in Trajan's day still exists. Not much else from that era has survived, though, because Civitavecchia was almost completely destroyed during World War II.
8. La Rocca and Il Lazaretto
Our map mentioned two older structures: a fortress called "La Rocca" and "Il Lazaretto," a hospital for contagious diseases. Like the rest of Civitavecchia, both suffered severe bomb damage during World War II, so not much of them remains.
Our map was deceptive: Both buildings are way out on the edge of the water and take a long time to get to. We were thwarted by fences, detours and dead ends, and once we got to the perimeter, we couldn't find any way to sneak in. The buildings may be in ruins, but the fences seem to be carefully maintained. Darn.
Don't waste your time trying to get there. To be honest, the views are just as good, if not better, from your ship.
9. Principe Tommaso promenade
So, back to the mainland, through the harbor and marina, along the "Principe Tommaso" promenade and past a 17th century defense wall that was built by Gian Lorenzo Bernini.
Yes, that Bernini, the same person who designed St. Peter's Basilica. It might seem surprising that such a famous artist would deign to work on a mundane city wall, but because Pope Urban VIII told him to.
Apparently, the pope was concerned about enemy landings and wanted to protect the city from naval attacks. Maybe he trusted that Bernini would do the best job of anyone.
10. Fountain of Vanvitelli
In the center of the wall, you'll find a beautiful travertine fountain, with water coming out of the mouth of a faun. Pope Benedict XIV commissioned the fountain in 1740, and it's the only piece of artwork on the entire wall.
The fountain was named for its designer, Luigi Vanvitelli. Few visit these days, but it used to be a meeting place for the locals.
11. Forte Michelangelo
Forte Michelangelo is Civitavecchia's most imposing building, which makes it a convenient shuttle drop off point for shuttles from the cruise ships. The fortress has 6-meter-thick walls and is still in perfect condition, though it no longer has the moat that once surrounded it.
Forte Michelangelo was commissioned by Pope Giulio II in the early 1500s, and earned its name because Michelangelo had designed its central tower. Like all other forts, it surrounds a central courtyard.
The building's entryway fooled us into thinking it was a museum. But just so you know, it's not. We walked through the old entrance expecting to pay an admission fee, but the place was deserted. All we got to see was the courtyard and the bronze pulley that was once used to lower and raise the bridge.
We later learned that the building was badly damaged by World War II bombing and restored in the 1950s. Today, it's only used for exhibitions and cultural events. Nothing to see here. Move along.
12. St. Francis Cathedral
Back we went, past the shuttle buses and tourists buzzing around souvenir shops and ice cream stands. We U-turned back to the Cathedral in Piazza Vittorio Emanuelle, because we had read that it has a fresco depicting St. Francis receiving the stigmata. Another disappointment: The doors were closed and we couldn't enter.
Perhaps we'd have more luck at our next destination, nearby Chiesa della SS. Concezione. Word has it that this 18th century church has a painting of Our Lady of Mercy that has moved its eyes. But no, that was closed as well.
At least the war memorial is always visible.

So much for sightseeing in Civitavecchia town. Let's see what attractions the waterfront has to offer.
13. Civitavecchia waterfront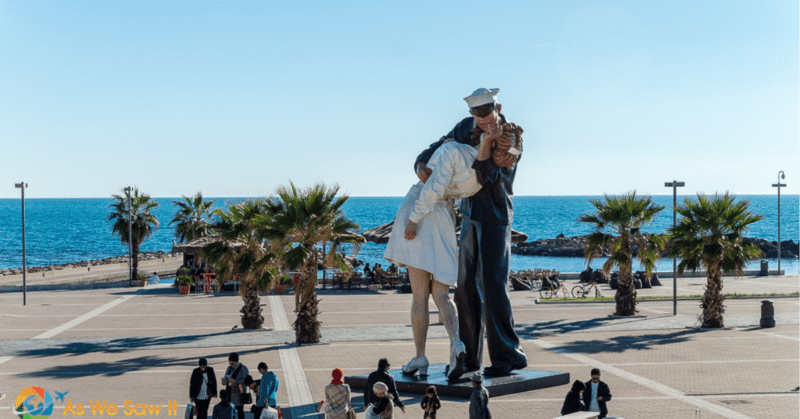 No Civitaveccia visitor can miss "Unconditional Surrender." It's a colorful, larger-than-life sculpture of a Navy sailor kissing a nurse, and it is front-and-center on the seaside promenade.
Does the statue look familiar? This is one of many around the world that depict the famous Eisenstadt photo that was taken in Times Square at the end of World War II.
The warm breeze and calm ocean beckoned us to the water's edge, where fishermen angled for a bite. It's quite relaxing to sit and watch them cast and reel, cast and reel. Then Dan had me sit on the rocks to pose for a photo. It's hard to smile when the blinding sun is shining in your eyes.
As the sun dropped toward the horizon, we walked the length of the promenade, savoring the relative peace and quiet away from the tourist area. We ended up at the far end of Civitavecchia beach, where we found a pier and a collection of eateries.
Verdict: For a day in the sun, the pristine, sandy beach is worthy. However, the graffiti-covered pier looks much better from a distance.
ⓘ TIP: Late afternoon is aperitivo time! We suggest entering a bar to join other Italians and enjoy a glass of wine (or something more to your liking). Maybe try a refreshing Aperol Spritz; it's quite popular in Italy.
Regrets after visiting Civitavecchia
There are a couple of things I'd like to have changed about our time in Civitavecchia. For one thing, it would have been nice to get out of town. The entire area is full of Etruscan sites, and we both love historic ruins and ancient history.
Another big mistake we made was not buying a travel guide like this one before our cruise. Considering the once-in-a-lifetime itinerary, the $20-odd investment would have been worth it.
Those travel guides have a lot of cultural insights and useful travel tips. And it sure wasn't fun to later realize that we'd missed a few truly interesting spots on the cruise.
Still, we enjoyed exploring Civitavecchia. It's a pretty cool town.
Shore excursions in Civitavecchia
What if Civitavecchia attractions are not your thing? Sometimes spending time exploring a cruise port doesn't hold a lot of appeal. Or maybe you've been there before and want to do something new. We get it. We've been there ourselves. 🙂
We've linked to itinerary ideas throughout this article for your convenience, and here are some more. You can book them through Get Your Guide. That's the company we prefer when we travel; we've never been disappointed with one of their tours.
The way we see it, there's nothing like getting someone knowledgeable to show you around, and it's nice having someone else make all the arrangements. Besides, memorable experiences help to create memorable holidays.
Where to stay in Civitavecchia
Dan booked us into Hotel De La Ville, a large 19th-century mansion-turned-hotel that overlooks the waterfront and is an easy 100-yard walk from the train station. The hotel looks luxurious from the outside and feels even more so once you pass through its doors.
Talk about ambiance! The room's windows opened out to a scenic sunset view of the Tyrrhenian Sea, but our favorite part of the hotel was the taverna-cum-breakfast room in the vaulted cellar. It was built within the walls of ancient Roman baths.
Highly recommend it!
Plan your Civitavecchia visit
Civitavecchia's

Tourist Information Office

is next to the port's south entrance. This is where you pick up a city map, ask questions, get directions, and book excursions.
Lodging: We stayed at Hotel De La Ville Civitavecchia. For more accommodation options, click here.
Transportation: Civitavecchia is best traveled on foot. To travel outside of town, you can find and rent a car here.
Currency: This website will help you calculate exact currency exchange values.
For more sightseeing of this ancient port, take a look at our Civitavecchia photo gallery.
Google's satellite photo map gives a clear aerial overview of Civitavecchia's waterfront, You can see Forte Michelangelo and the port entrance on the left, with the main waterfront promenade along the beaches and the railroad station on the right.
Save this Civitavecchia port guide for later!
Please help your fellow cruise lovers—share this article in your favorite cruise forum or Pin board.