One day, while cruising the internet, we discovered an unbelievable deal on what might have been the best Mediterranean cruise ship itinerary we had ever seen: 10 Adriiatic cruise ports and four countries in 11 days. Who could resist such an opportunity?
All we'd need to do was focus on enjoying ourselves while sailing the Mediterranean Sea from Rome (Civitavecchia) to Athens (Piraeus). We delighted in every destination and site, especially because almost every one was new. We'd only been to one of them before (that would be Venice).
10 Adriatic cruise ports you need to visit
Anyway, this article is a summary of the 10 Mediterranean cruise ports that our cruise ship docked at along the way. Holland America really did its research; every one is worth visiting!
I've included links to related stories and the best tours you can take at each port.
1. Civitavecchia, Italy (Rome Cruise Port)
Civitavecchia is the seaport closest to Rome and is one of the Mediterranean's largest cruise ports. Strictly speaking, Civitavecchia is not an Adriatic seaport. It lies on the Tyrennhian Sea, which borders Italy's western coastline. However, I've included it because most Mediterranean cruises begin or end there, no matter the itinerary.
Because we had never been to this part of Italy before, we arrived a few days early so we could take a look around the city before departure. Also, it was added insurance that a train delay on the day of the cruise would not cause us to miss the sailing.
Things to do in Civitavecchia
There's so much to enjoy in Civitavecchia that we never bothered to leave the city, even for the two nearby thermal baths that date from the time of Christ. If you don't want to look around the ancient town, other popular activities include:
See pre-Republic ruins and uncover the Etruscan heritage of Italy on an excursion to Tuscania and the Tarquinia necropolis.
Take a day trip to Rome to see the impressive Colosseum, Arch of Constantine and Imperial Forum, and then marvel at artistic masterpieces in the Vatican Museums.
Spend the day in the beautiful Tuscan countryside to visit a local winery, the Archeological Park and Tomb of François, and enjoy a full Tuscan lunch.
2. Venice, Italy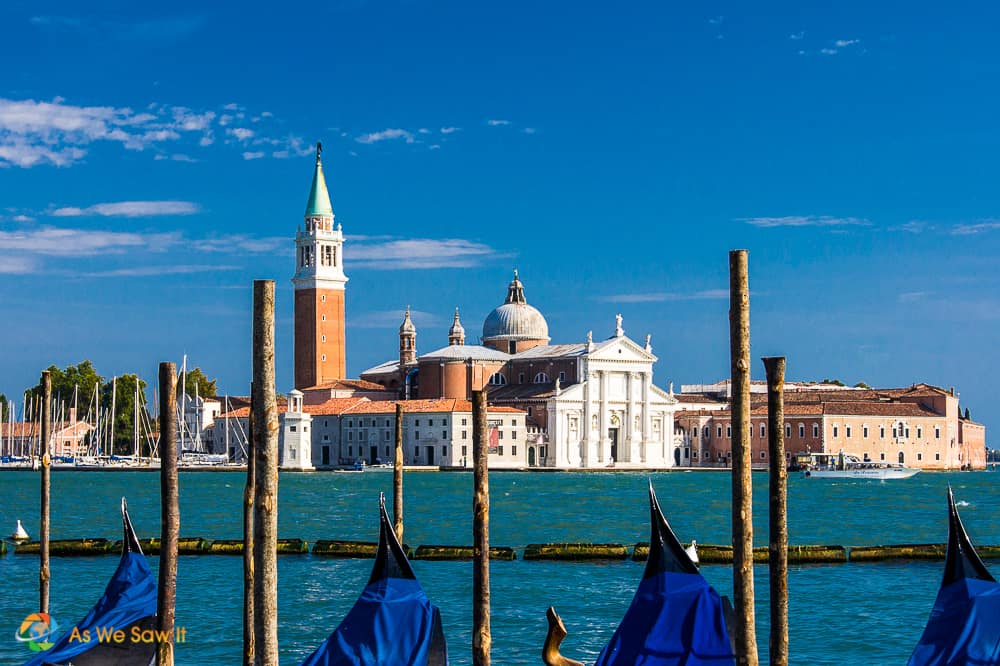 Venice, that iconic city of canals and gondolas, was literally built out of the marshes of the Adriatic. It is the most popular Mediterranean cruise port of all … even more so than Rome.
One of the most romantic cities in the world, Venice offers picturesque scenery and classic artwork at every turn. It has often been called the "home of the Renaissance" and was named a UNESCO World Heritage Site in 1987. From the Grand Canal to the Doge's Palace in St. Mark's Square, every canal, bridge, and building seems to be a masterpiece of architecture and every dish promises to be a masterpiece of cuisine.
Things to do in Venice
Popular activities include:
Chic shopping on Rialto Bridge or at Piazza San Marco.
A once-in-a-lifetime gondola tour, to get a canal-level view of Venice and its sinking buildings.
Visiting the famous Bridge of Sighs and the Doge's Palace.
If you've already been-there-done-that in Venice, visit another island in the Venetian Lagoon. You can take a vaporetto and explore an island on your own, or book a tour like this one and see a few islands in a few hours.
For an authentic souvenir of Venice, the island of Murano has produced exquisite Venetian glass for centuries (vases and jewelry are popular mementos)
The colorful island of Burano is ideal for photography. This is where you need to shop if you're looking for authentic, handmade Venetian lace.
3. Ravenna, Italy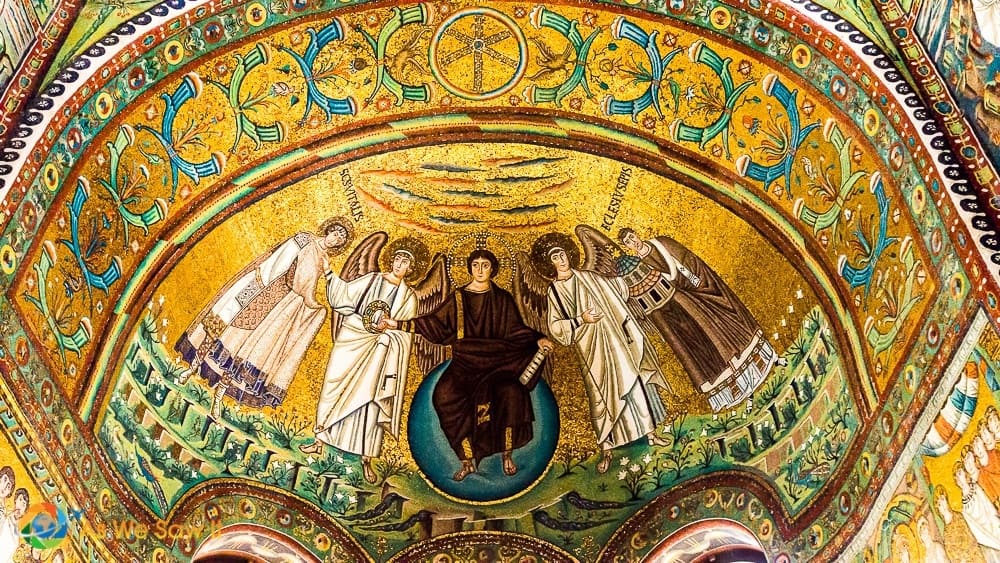 It's a shame more Adriatic ocean cruises don't stop at Ravenna and that it isn't a well-known tourist destination. Once the capital of the Western Roman Empire, Ravenna is famed for its exquisite Arian and Byzantine mosaics. Eight locations are so special they have been designated a UNESCO World Heritage Site.
Take the Basilica of Sant' Apolinare, for example. What may look like a lovely collection of tiny, bright tiles on close inspection will, when you step back, transform into a vivid image of a sea voyage, an image of Jesus, or a choir of angels. Waxing philosophical for a moment, I guess everything resolves into clarity if you can just achieve the proper perspective.
Another interesting fact: Italy's great Dante Alighieri (author of The Divine Comedy), is buried in Ravenna, and you can visit his tomb (free).
What to do in Ravenna
We took the hop-on/hop-off bus in Ravenna, but the infrequent schedule was so frustrating that we ended up walking to many sites. If you hire a guide, you'll save time and see more.
Notable out-of-town excursions include Bologna, Ferrara, and the Ferrari museum.
You can even leave Italy and tour San Marino, the world's oldest surviving republic. San Marino has remained free since 301 A.D., even during the Renaissance and World War II. This tiny country, which covers a total area of only 23 square miles and has a population of only about 22,000, is completely landlocked by Italy. Click here to learn more.
4. Dubrovnik, Croatia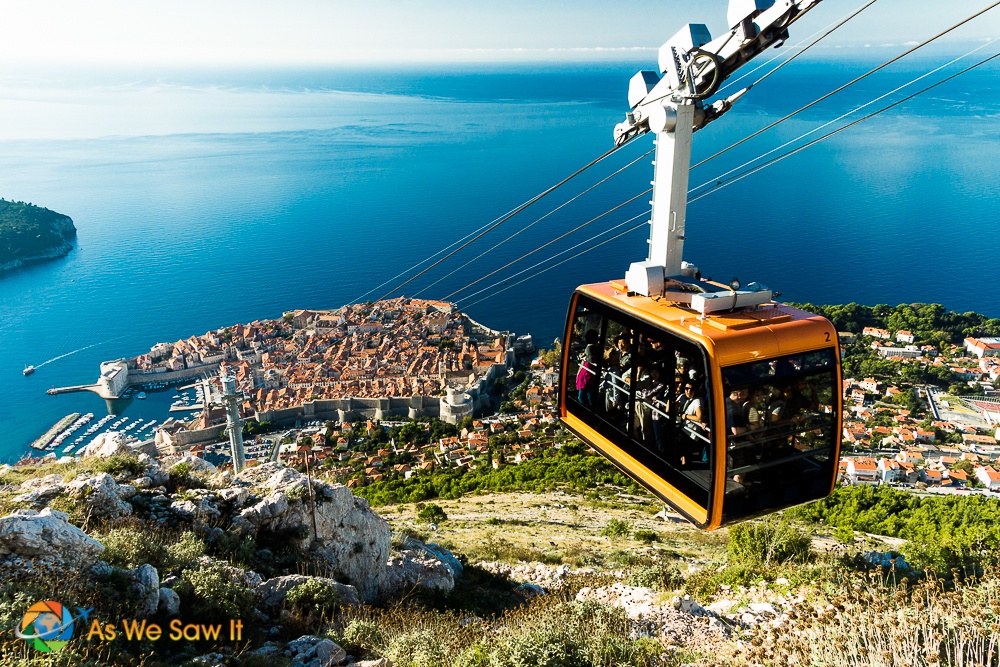 Dubrovnik is one of the most popular Mediterranean cruise stops and competes with Venice for port activity. However, even though Venice once controlled the Dalmatian coastline, the two cities couldn't be more different. Dubrovnik's striking red-tiled roofs and impressive 12th-century defensive walls have made it one of the finest and best-preserved medieval cities in the world.
Dubrovnik is full of quaint bazaars and markets, Baroque churches, museums, palaces, and monasteries. Take time to meander through the less crowded side streets that have been polished smooth over centuries of use, and stop for a bite to eat at a local restaurant or café to people watch.
Climb the steps to the top of the walls (admission charge) and walk around the perimeter of the city. They will offer a unique perspective of Old Dubrovnik and the Adriatic. Just remember to wear a hat and sunglasses, and bring water. The city's pale stone walls radiate heat and reflect sunlight.
What else to do in Dubrovnik
Take a Game of Thrones tour and see where King's Landing scenes were filmed. (You may even hear stories from behind the scenes; some of the tour guides were Game of Thrones extras and stand-ins.)
The best views of Dubrovnik and the Adriatic are, without a doubt, from the top of Mount Srd. Take a cable car to the top (or hire a driver, as we did), enjoy the restaurant at the top, and give your camera a workout.
Soak up the sun at the city's nearby beach
Enjoy the local atmosphere in Cavtat, a picturesque resort town.
Cross the border into Bosnia and Herzegovina to visit the religious pilgrimage site of Medjugore and take in the stunning natural beauty of the town of Mostar, with its iconic bridge arching over the meandering river below. (Bring your passport!)
5. Split, Croatia
Split, the second largest city in Croatia, began in the 6th century BC. It has endured everything from Greek rule to Roman domination to post-war Socialist politics and is now a powerful port and tourist destination.
With a history like that, it's no surprise that Split's historic center is a UNESCO World Heritage Site. Here you'll find historic Diocletian's Palace, the old Castle market, and plenty of buildings sporting Roman or Venetian architectural styles.
Things to do in Split, Croatia
Take a brief tour of the city on the free walking tour (be nice and tip the guide well).
Check out the local farmers' market for some fresh fruit, olives, or a sample of the local cheese.
Look for a wine shop that offers tastings or just order a glass with your meal. We discovered one in a hidden corner of the city and can't say enough good things about Croatian wines. Few if any Croatian wines are available in the U.S. American wine distributors are missing a golden opportunity, that's for sure.
Sail by catamaran to Hvar and Pakleni Islands. Explore Hvar's old town and stop to swim in peaceful bays before returning to Split as the sun sets.
6. Kotor, Montenegro
You'll find plenty of natural beauty, Venetian architecture, and ancient history in Kotor, Montenegro. The town lies on the Bay of Kotor, a secluded inlet, partially hidden from the Adriatic by towering limestone cliffs. Kotor earned its status as a UNESCO World Heritage Site both for its medieval city and its picturesque landscape. It could easily be called the most beautiful town in Montenegro.
Kotor was settled during ancient Roman times (168 BC) and its historical sites abound. The two most outstanding spots are Cathedral of Saint Tryphon in the old town (built in 1166) and the ancient walls that surround the city. The walls were built for protection by the Republic of Venice.
Things to do in Kotor
Kotor's main square, Piazza of the Arms, has a beautiful old stone clock tower and offers a variety of excellent restaurants, cafés and shops that will keep you busy for quite a while. But please, don't miss the less touristed side streets, where you can often find even better prices, more attentive service and more authentic local dishes.
Wine lovers, rejoice! Local wineries produce absolutely amazing wines at incredibly low prices.
There's a hop-on/hop-off tour bus that runs between Kotor and Perast.
In Perast, you can enjoy a short cruise to Our Lady of the Rocks, a manmade island in the bay. Legend has it that the island was formed over centuries by seamen who tossed rocks in the sea to keep an ancient oath. Today, the islet has a small church and historic paintings, including a 17th century baroque masterpiece from Perast.
You can also take a highly-rated private tour to visit some fascinating towns along the bay.
7. Corfu, Greece
The second largest Greek island in the Ionian Sea, Corfu (or Kérkyra, as it is locally known) serves both as a major tourist destination and a producer of olive oil and local wines. Its neoclassical houses and ancient fortifications dating from the Venetian era, are what gave Old Town Corfu its status as a UNESCO World Heritage Site.
Corfu is the perfect place to wander. Meander along ancient bougainvillea-laden cobblestone streets, among buildings sporting Venice's characteristic arches, and visit Greek churches such as the church dedicated to Our Lady of the Cave or Saint Spyridon church, where the body of the island's patron saint lies.
Whether you take the HOHO sightseeing bus or explore the town on foot, make sure you cross the moat to visit Kerkyra's ancient Palacio Frourio (old citadel). It was built by the Venetians and is now used for cultural events and concerts.
What to see in Corfu (Kerkyra)
Nearby Achilleion Palace is a favorite with cruisers. Also known as Sissy's Palace, it is full of magnificent statues that honor the strong and brave Achilles, warrior of the Trojan War. Cruise ships offer tours, or you can visit on your own.
To get a break from all the UNESCO sites and tourist-packed attractions, spend all or part of your day at a local beach. Glyfada beach is well known for its crystal clear waters, while the large surface of soft sand is surrounded by tree-covered cliffs and imposing rocky formations.
Visit award-winning Governor's Olive Mill, take a guided walk through the ancient olive groves, and learn how to taste and recognize high-quality olive oil just as the professionals do.
ⓘ TIP: For an authentic taste of Greece, order horiatiki salata for lunch. It's a true Greek salad. We liked it so much that we had it every day and never got tired of it. To find out what makes it special, read my recipe for authentic Greek salad.
8. Katakolon, Greece
If you want to experience a sleepy Greek town, visit Katakolon on a day when no cruise ship is expected. Only 612 people live in this tiny port town, so there's little activity unless a cruise ship docks.
Katakolon cruise port is known as the gateway to one of Greece's most legendary sites. Mount Olympus was the most sacred site for the ancient Greeks, who believed it was the home of the gods. It was also the birthplace of the modern Olympic Games (776 B.C.). Many of the structures that can still be seen today date even further back than that.
What to do in Katakolon
Most cruise passengers opt for the bus excursion to Mount Olympus, but you can take the train there on your own if you're on a budget. If you'd like a guided tour but don't fancy being part of a tour group, you can also book a private tour and share the price with two or three others.
Katakolon has an interesting museum as well as a tourist train that runs around the area. We took it out to a little beach and enjoyed a delightful lunch along with a lovely view of the Adriatic. If you're a beach lover, this might make a nice option in the warmer months.
The tourist train also stops at Mercouri Estate.

This working farm and winery has been family-owned for nearly 150 years. Use the opportunity to sample some of Greece's delicious wines.
9. Nafplio, Greece
Nafplio, also known as Nafplion, was one of our favorite Adriatic cruise ports because of its stunning scenery and fascinating past.
The Byzantines took control of it in the eleventh century, followed by the Venetians, the Ottomans, and finally, the French. After the Greek War of Independence, Nafplio was the first capital of the newly born Greek state from 1823 to 1834).
As one of the largest Mediterranean cruise ports, Nafplion offers passengers a wide range of entertainment options. Clear waters, endless adorable shops, and miles of scenic walking trails await you, not to mention the town beach, where you'll frequently spot locals casting for everything from flying fish to octopus.
There's lots to see, as well.
What to do in Nafplio
The impressivie Palamidi Fortress that looms over Návplion played a large role in the Greek independence effort of 1822. It's worth a visit for the views, if nothing else.
At the castle of Acronauplia, the oldest part of Návplion, you will see stone walls dating back to pre-classical times.
For history buffs who like archaeological sites, the UNESCO World Heritage Site of Mycenae is just a short bus ride away. Or you can book a half-day tour that includes an olive oil tasting along with a visit to Epidavros, another World Heritage Site.
Local guides can take you on a walking tour through Nafplio and show you its most picturesque alleys and important sites. Afterward, walk through the beautiful old town on your own to check out its many intriguing museums and inviting restaurants.
If you enjoy olive oil, wine, honey, olive oil or cooking, get to know Greek gastronomy via culinary tours around Nafplio.
10. Piraeus, Greece (Athens Cruise Port)
Our tenth and final Adriatic cruise port was Piraeus, which serves Athens. As soon as we disembarked we headed straight to the capital city. Athens was the epicenter of the classical world in the 4th and 5th centuries B.C., and much of its rich history and culture has survived until today. The city's major must-see is the Acropolis, which can be seen from everywhere in the city. Due to its historic significance, it too is a UNESCO World Heritage Site.
Visit the Acropolis to get a closeup look at the Parthenon, the temple of Athena Nike and the stone amphitheater called the Odeon of Herod Atticus. While there you can also climb Mars Hill, where the apostle Paul addressed the leaders of Athens (see Acts 17:16-34).
We also really enjoyed the Monostiraki neighborhood, the National Archaeological Museum and watching the Changing of the Guard at Syntagma Square. Highly recommend all three.
Best time of year for a Mediterranean cruise
If you plan to visit any of these cruise ports, you should know that the region gets unbearably hot, unreasonably expensive, and extremely crowded in the summer. Spring and fall offer lower temperatures, better prices, and fewer crowds.
Ready to go?
Whether you're looking for an adventure or a peaceful respite, the Adriatic Coast has something perfect waiting for you. Soak up the sun on one of Croatia's many gorgeous beaches, explore Venetian canals lined with centuries-old buildings, or take a hike in the stunning Italian Alps.
No matter what you choose to do, you're sure to have an amazing time cruising along the Adriatic Coast!
ⓘ TIP: Book some extra time in Athens so you can explore the city and visit one of the famous Greek islands.