We often link to affiliate products and services that we believe will benefit our readers. As Amazon Associates, we earn from qualifying purchases. Learn more here.
Partially hidden from the wide, blue Adriatic by towering limestone cliffs, Kotor, Montenegro is a treat for the eyes. Actually, it's one of the most beautiful places on the Mediterranean, and the best way to approach its shores is through its ancient bay. Try to spend a day there. Or more; it's worth it.
If you're approaching from the Adriatic Sea, it feels almost as though you are cruising through a Mediterranean fjord.
ⓘ TIP: If you 'e lucky enough to arrive by cruise ship, wake up early so you can enjoy the remarkable scenery on the way in. If you like to shoot landscapes, be sure to keep your camera handy as well. It will take at least an hour for the ship to navigate there from the open Adriatic.
One day in Kotor, Montenegro
This article is based on our own one day itinerary, and includes all the best things to do in Kotor.
We feel that Kotor is one of the most beautiful places in Europe. In some ways, we enjoyed it more than our previous cruise stop in Dubrovnik. It doesn't take long to see that Kotor is no "little Dubrovnik." Not by any stretch of the imagination.
Maybe that's why so many Dubrovnik visitors include a day trip to Kotor as part of their holiday. Kotor feels more lived-in and authentic than Dubrovnik and it lacks its prettified-for-tourists vibe.
Too, thanks to the picturesque Balkan mountains reflected in the mirrorlike waters of Boka Kotorska—what the locals call the Bay of Kotor—this destination has a special appeal Dubrovnik will never have: raw, natural beauty.
Whether you're visiting Kotor as part of a cruise or arriving by land, it won't take long to see why UNESCO designated Kotor's medieval city and picturesque landscape a World Heritage Site. The town and its surroundings are stunning.
Gorgeous.
Amazing, even.
I can't find the words to adequately describe a place with this much beauty. I don't know who said it, but if "a picture is worth a thousand words," this article is our essay.
ⓘ TIP: If you hate those crowded cruise ship excursions as much as we do, Get Your Guide offers a half-day private guided tour of Perast and Kotor. It comes with a convenient port pickup and drop-off.
1. St. John's Fortress
The most stunning view of Kotor is from St John's Fortress, up on the hillside. Or at least, that's what we heard from fellow passengers who did the hike. To be honest, we didn't have the stamina or desire to endure the steep, 1350-step climb to the top, so we chose to see the fortress from Old Town Kotor, down at water level.
If you're fit, the hike takes around 45 minutes. If you're unfit, there are plenty of places to stop and rest as you go up, but it will take a lot longer. You'll have to determine if that's how you want to spend a large chunk of your one day in Kotor.
It costs €3 to enter. (The entrance is manned at 8 am; if you arrive before then, you can enter free.)
2. Bus tour around the Bay of Kotor
Kotor has an open top hop-on/hop-off tour bus that leaves every 30 minutes from in front of the city gate. It doesn't drive through the walled city, but it does drive all the way down the coastal road, with stops at Risan, Perast, Bajova Kula and Kotor.
It was worth the price of the bus ticket (€20 for adults/€10 14 and under). You get a narrated tour and you can use the buses as much as you like in one day. Plus, according to this site, it includes admission to the Roman Mosaics in Risan, entrance to the town museum in Perast, and a 45-minute walking tour of Kotor. It's a good deal. When we were there, we had to pay for our own admission to both museums.
Get your cameras ready for some amazing views!
If you get to Kotor early enough, the mist and early morning light will be perfect for photography. Don't waste any time; jump on the first bus you can and ride to the far end. Not only will you get some fabulous shots, you'll also hear the guide's narration about the area and its history.
ⓘ TIP: You'll get the best views of Kotor Bay if you sit on the left side of the bus when departing Kotor and on the right side when departing Risan.
The early morning mist that had welcomed us into the bay still hovered over the water. We passed a lot of fish farms along the way.
Aquaculture is a major industry, which is why so many of our photos have floats in them.
3. Risan, Montenegro
The tiny hamlet of Risan is a scheduled 20-25 minute stop, not a hop-off spot. Risan has a small excavation site that displays some nice Roman mosaics. As fans of ancient history and unknown sites, there was no way we would miss this! We followed the rest of the passengers inside and bought a ticket.
Inside, we were greeted by a young, knowledgeable guide who explained that our meager admission fees cover upkeep and further work. (As a new country, Montenegro doesn't have the budget to support excavations like this.) She took us through the site to show us the remains of a Roman house dating from the 2nd century A.D. and explained about how they had lived and what we were looking at.
Not much remains of the building's walls, but there are some intricate and fairly well-preserved mosaic floors. Unlike the way things are done elsewhere, it was easy to get close enough to really see the details and take pictures.
4. Perast
The bus stops at the town of Perast, so we hopped off to look around. We were curious to see what a coastal Montenegrin town might be like.
Aside from a few guest houses and restaurants, there didn't seem to be a whole lot to the sleepy waterfront. Perast is pedestrian-only and it only takes about ten minutes to walk from one end to the other.
Only later did we discover that there are dozens of things to do in Perast. It has 16 Baroque palaces, 17 Catholic churches, several important Orthodox structures, and a series of nine defensive towers. We probably could have found enough to do to fill a second day.
Walking through the town, we came across the small Perast Museum, housed in an old palazzo that dates from the Venetian empire. The previous owner had been a Montenegrin sea captain, obviously, because the inside was full of wonderful old furniture as well as detailed ship models.
It also contained exceptional paintings and old weapons that gave an idea of how the well-to-do lived its heyday. I thought the highlight was the second floor balcony. It offers a remarkable view of Kotor Bay and its two islands.
5. Kotor Bay cruise
Kotor Bay is so beautiful that you can lose track of time just enjoying the views. No wonder so many people spend a whole day on the water.
We caught a cheap-and-cheerful local boat from Perast to save time to see other things. However, many companies offer scenic boat tours and cruises on Kotor Bay.
The beauty of a Kotor Bay cruise is that you'll get a completely different view of the coast. You'll see fishing villages tucked into pockets along the coastline and see stone houses hiding among mountain greenery.
It's a breathtaking experience.
While most boat tours include Our Lady of the Rocks, where else you go will depend on your preferences. Kotor cruises visit places like:
Blue Cave
Lustica Peninsula
Mamula Island
boat-access only beaches
Some tours will even take you to caves where the army used to hide submarines!
It's easy to book a Kotor cruise at the last minute; the tourist office near the city gate has a list of providers. Cruises can run anywhere from 2 to 12 hours in length.
Note that if you have specific sights you want to see or have limited time, it would probably be better to book the tour you want before you arrive. That way, you would be guaranteed a seat.
Here's a place to start your research.
6. Our Lady of the Rocks
If you do hop off in Perast, it's worth catching a boat out to the islands. The first of these islands is called Sveti Dorde (Island of Saint George), and it is the only natural island on the Bay of Kotor. Its most striking features are the Benedictine monastery of Saint George, which dates from the 12th century, a 9th century abbey, and an old graveyard for the old nobility of Perast.
Sadly, Sveti Dorde is closed to visitors and you can only see the buildings from the water.
As sad as it seems. There is a second island nearby, and this one can be visited. The island is called Our Lady of the Rocks and even though it was man-made ages ago, the scenery made us glad we had decided to pay for the boat ride. The views were beyond incredible.
Legend has it that the island began on July 22, 1452, when two sailors passed the Monastery of St. George as they returned from a difficult voyage. As the story goes, they discovered an icon of the Madonna and Child resting on a rock in a shallow area near the island. They considered this a sign that the Almighty had guided them home, and so they pledged an oath to build a church on the spot.
After every successful voyage, local sailors and fishermen would lay a rock in this very spot in gratitude for a safe return. This tradition continued down the centuries and eventually the many rocks grew into this islet. As is typical in Catholicism, they built a church on the spot.
The custom of throwing rocks into the sea is alive even today. Every year on the sunset of July 22, local residents celebrate an event called fašinada by taking their boats out to the island and dropping rocks overboard.
The view from the upstairs ruin is stunning.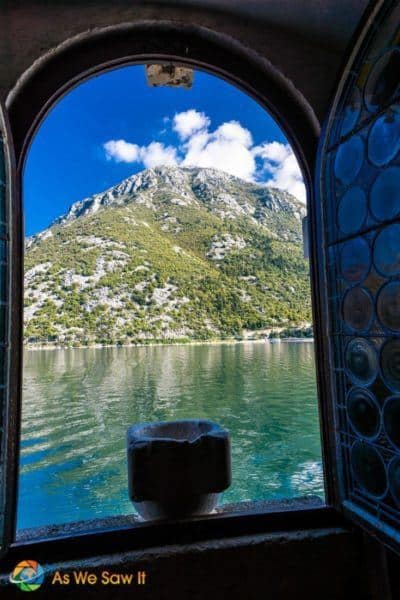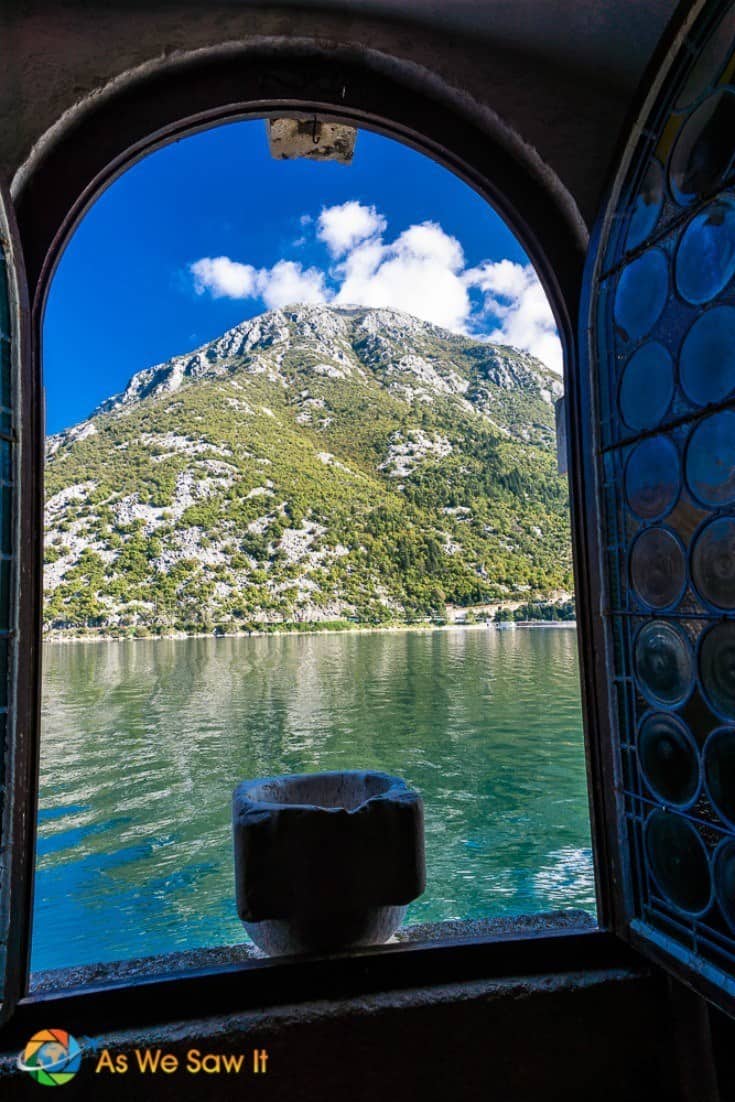 Inside the small Roman Catholic church are many historic paintings that were donated by the area's devout, including a 17th century baroque masterpiece from Perast.
The rest of the church is beautiful as well.

7. Kotor Old Town
Back in Kotor, we went in search of the 45 minute walking tour of Kotor. It was supposed to be included with our bus ticket, but we never found the guide.
As soon as you walk through its gate, you'll find yourself in a world filled with natural beauty, Venetian architecture, and ancient history.
Kotor was settled during ancient Roman times (168 BC) and historical sites abound. Two outstanding ones are Cathedral of Saint Tryphon, which was built in 1166, and Kotor's ancient walls. The walls, which stretch for 4.5 km (3 mi) directly above the city, were built for protection by the Republic of Venice.
Those Venetians went everywhere along the Adriatic!
ⓘ TIP: We get it. Not all of our readers share our fondness for walking around a new town and exploring back streets. Some people would prefer to have a focused guided tour and spend the remainder of their day in Kotor doing other activities, like shopping or trying the local foods in a series of restaurants. If that's you and you have 90 minutes, this Kotor Old Town Walking Tour is quite affordable.
8. Old Town Kotor main square
Kotor's main square, Piazza of the Arms, has a beautiful old stone clock tower and offers a variety of excellent restaurants, cafés and shops that will keep you busy for quite a while.
ⓘ TIP: The less touristed side streets offer better prices, more attentive service and more authentic local dishes.
9. Venetian architecture
Many of Kotor's buildings have its typical arches and balconies. This stands to reason, considering how well preserved the city is—and how long the Venetians were there.
If you'd like to see more of the city, we'll link to our photo gallery below.
Kotor's churches
Here are a few photos from churches we visited in Kotor. They are full of beautiful icons. Orthodox Christianity is the dominant form of religion in Montenegro and the artwork is beautiful.
We found it interesting that Orthodox churches do not have pews. As we understand it, the congregants stand during services.
11. Wine tastings
We also discovered a tasting room for a local winery. Most of the world doesn't know that Montenegro produces absolutely amazing local wines at unbelievably low prices. Montenegrin wine is a treasure and we think it's a shame that the world is missing out.
Sorry, no photos. We were preoccupied. 🙂
How to get to Kotor
By air.
Yes, you can fly into Kotor. Thanks to a thoughtful reader, I now know that Kotor's airport code is ZKQ. However, it seems impractical to fly if you are nearby. The roads are well maintained and often hug the coast. It would be worth a drive, just for the views!
By land.
It's easy to drive to Kotor from Dubrovnik, as they are only 94 km/58 mi apart. Just don't forget to bring your passport!
You can easily rent a car and drive to Kotor from Dubrovnik.
You can also take a bus, which would allow you to relax and enjoy some beautiful views.
Another option is to take a day trip to Kotor from Dubrovnik. Plenty of options are available, like this one.
Planning resources
Here are some resources to help you plan your trip.
Montenegro has many useful trip planning resources on their website.
Transportation – Rome2Rio shows how to get anywhere by plane, train, bus, ferry and car.
Where to stay in Kotor
Travel styles and budgets differ. Whether you prefer a hotel, hostel, or vacation rental, this map will help you find the best accommodation for your visit.
Guided day trips and tours – Get a local to show you around
If you'd prefer to relax and let someone else worry about the details, our affiliate Get Your Guide offers some excellent day trips and tours all over Montenegro.
We've linked to some Kotor tours throughout this article. Here is a sampling of other opportunities:
Montenegro in one day
We can't remember the last time we've seen a one-day tour of an entire COUNTRY. Okay, you can't see everything in one day, but this Great Montenegro Full-Day Tour sure comes close. If you've seen Kotor before, this is a wonderful opportunity to visit Montenegro's most popular and beautiful sites.
Keep in mind that this tour requires a full 12 hours. If you are in town on a cruise, be sure to ckeck your itinerary carefully. You don't want the ship to sail without you!
See more
Want more sightseeing? See our Montenegro photo album..
Read more
Online
On Amazon
Amazon offers a number of travel guides. Here are three to consider: