Don't let its inhospitable name fool you: If you're visiting Croatia, you need to spend at least one day in Split. It may not be as well-known as Dubrovnik, its neighbor to the south, but Split is actually Croatia's second-largest city and second-most popular destination.
What makes Split so popular
Since it first began as the Greek colony of Spalato in the 4th century BC (blame the Greeks for its unfortunate name) it has endured everything from Roman rule to Venetian domination and post-war Socialist politics. The sum total of all this is why Split is a UNESCO site:
The ruins of Diocletian's Palace, dating from 305 A.D.
The Cathedral of St. Duje (Dominius), built in the Middle ges by reusing materials from Diocletian's mausoleum.
12th- and 13th-century Romanesque churches
15th-century Gothic palaces
Renaissance and Baroque palaces
No wonder it is such a powerful port and popular tourist destination.
One day in Split
Our Adriatic cruise itinerary included a day in Split. Not knowing much about the city beforehand, when we arrived at the waterfront we had just two things planned:
See Diocletian's Palace – one of the best preserved Roman ruins in the entire world and
Take a walking tour of the town.
Little did we realize that by doing the first, we'd automatically be doing the second.
Riva, Split's waterfront
As we approached by ship's tender the palm-laced harborside promenade glowed invitingly, a brilliant white in the morning sun. We envisioned a relaxing beginning to our day, enjoying a cup of coffee at a waterfront cafe and people-watching until our free Split walking tour began. Our hearts sank as we stepped off the boat and saw the crowds. Sure enough, nary a table was to be found.
No wonder: We later learned that Riva is a popular spot for locals as well as tourists. Apparently it's a good place to wait for those who plan to take ferries to nearby islands. Sighing audibly, we created an impromptu Plan B.
Onward through the city walls
Midway along the Riva is an opening in the city wall that is actually an entrance into the city itself. Or so it might seem. Actually, Split isn't a walled city with typical stone gates leading into a city square.
What might at first appear to be the walls of a city are in reality the walls of a building: Diocletian's Palace itself. Based on its massive size, it might be more accurate to call Diocletian's Palace a walled city rather than a palace.
When entering Split from the Riva, it is through the cavernous basement of Diocletian's Palace. Ancient stone stairs descend into a cool, dim marketplace echoing with the din of haggling shoppers and vendors. If you enjoy shopping, this is the place for you, jam-packed with local craftsmen and stalls offering everything from souvenirs to snacks.
The Perestil
Finally back up the stairs on the other side, we suddenly found ourselves smack-dab in the midst of Split's striking entrance court, known as the Peristil. Flanked by stairs and surrounded by dramatic columns, it's one of the most photographed spots in the city, a favorite of both tourists and eager hawkers.
With time to spare before our tour was to begin, we thought that the Peristil would be an ideal place to sit and people-watch. No sooner had we settled onto its steps, however, than a waiter appeared to take our order. Surprised, we took the opportunity to request the two coffees we'd not been able to enjoy on the Riva.
Tip: Don't eat here. Our server returned with two coffees that were not much larger than espresso-size, along with an exorbitant bill. We paid, of course, and then took our sweet time slowly sipping our drinks as we watched the passersby. After all, we'd paid for it.
If this post was helpful, please share it with your friends. Are you on Pinterest? Remember to pin this image!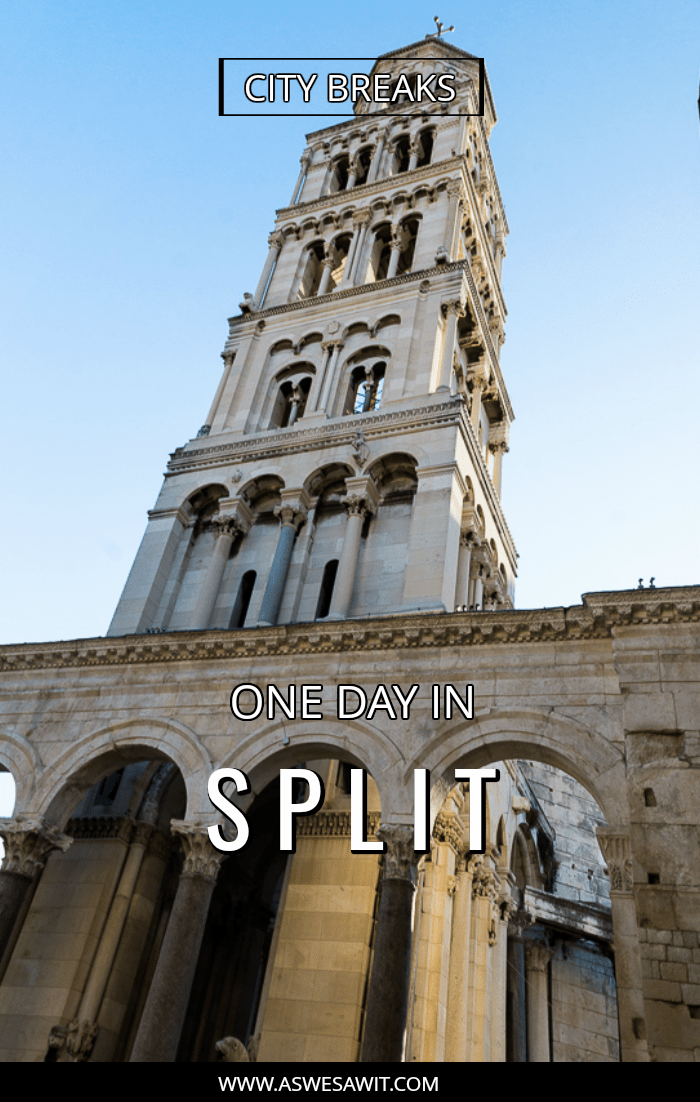 Free Split walking tour? It's a lie.
It's a good thing I read the fine print on their website: It would have been a shock to discover after we arrived that the "Free" Split walking tour really isn't. The "free" 90-minute tour actually costs 90 Kuna (which is €12 / $15)! Consider yourself warned.
I don't know about you, but I'd much rather take a tour from someone who's up front about the charges, like this one. Honesty should be rewarded, don't you think?
Diocletian's Palace
When Diocletian tired of being emperor of the Roman Empire, he decided to retire to his homeland on the Dalmatian coast. Unwilling to give up the hedonistic Roman lifestyle he'd happily grown accustomed to, he spent 10 years erecting a sprawling villa-cum-military camp for himself.
The walled complex he built is a mélange of imperial villa, Hellenistic town and Roman camp. That was more than enough room to house enough servants – and their families – to serve his penchant for all things decadent.
The palace is in rather good shape, partly because the locals moved in during the 7th century, correctly thinking it would be the best place to avoid invading barbarians. Diocletian's former home soon became a residential and commercial center and has been so ever since. Split's marble streets are lined with the major shops and lots of cafes, restaurants, souvenir shops and churches.
The Protiron
Directly above the stairway we'd taken from the basement shopping area is the Protiron, the entrance to the imperial apartments. It made an ideal "frame" as the emperor emerged to receive his adoring masses. Diocletian must have liked drama.
Thanks to UNESCO, the Palace ruins are being carefully maintained.
Klapa in Diocletian's vestibule
As we walked along we occasionally caught snippets of sweet, harmonic music on the air. Thinking it was our imagination, we dismissed it, but that soon changed.
As we entered the palace's vestibule, a group of men were performing for onlookers:
This was our introduction to klapa, a traditional form of a cappella singing in the area that is usually sung by men. The word klapa translates as "a group of friends" and its songs are usually about love, wine, homeland and sea. (Klapa is inscribed in UNESCO's Intangible Cultural Heritage of Humanity.) I later regretted not buying their CD; the sound was that mesmerizing.
Cathedral of St. Domnius
Diocletian despised Christianity and his reign (284−305) marked the final widespread persecution of Christians in the Roman Empire. It's ironic, then, that his mausoleum was later converted into a Christian church dedicated to Saint Mary, where his body remains to this day. Moreover, the adjoining bell tower is dedicated to Saint Domnius (Duje), one of the many victims of the emperor's purges. Together they form the "Cathedral of St. Duje."
The Cathedral of Saint Domnius is the second oldest structure used by any Christian Cathedral and has a small museum.
Tip: Climb the bell tower for wonderful views of the city and islands.
Narodni Square
Split's main square is not Diocletian's Peristil. Rather, it is the lively Narodni (Peoples') Square, more commonly referred to as the pjaca (piazza). Apparently the Italian influence did not stop when the Venetians left the area.
The pjaca was the center of medieval life and only the Town Hall (1443), with a loggia in the ground floor, has survived. But the pjaca's most unique feature is neither Split's town hall or its numerous cafes and shops. Rather, it is another remarkable landmark, one that most people rarely notice unless someone points it out.
On a Romanesque tower in a corner of the pjaca is Split's city clock, which dates from the 15th century and contains the remains of a medieval sundial. This is quite an unusual clock because the clock's face shows 24 hours instead of the usual 12.
Fish market
After our tour we found another Split landmark: its bustling fish market. This place is definitely worth a visit, just to watch the fishmongers and shoppers interact. We were astonished by the variety of seafood on the tables. They were selling just about anything that comes from the ocean.
Just as surprising is that the fish market has no flies. I'm not sure but that might be thanks to fumes from a nearby sulphur spa.
Tip: The fish market is open daily from 6.30 am – 2 pm.
Pazar
After the fish market we came across an outdoor "green market" outside the Palace walls. Pazar is one of the most colorful places in town and a great place to watch shoppers and vendors bargain over the wares.
Tip: Pazar market is a great spot to find fresh breads, fruit, olives, drinks, and local cheeses – all the makings for an affordable picnic lunch.
Lunch in Split
Preferring to relax over some fresh Dalmatian cuisine, we went in search of an available table at a busy restaurant. Food along the Dalmatian coastline is heavily influenced by Italy and naturally, seafood is especially popular. Dan ordered a lamb dish and I ordered pilchards grilled with local olive oil, garlic and lemon.
Tip: Choose a busy restaurant and don't overlook the non-touristy areas. That's where the locals eat … and they ought to know who makes the best food in town.
The streets of Split
After lunch we walked off our meal, aimlessly meandering with no particular destination in mind. (Okay, we did have a vague hope that we might find a place that offered Croatian wine tastings before we had to return to our ship.) Meanwhile, the city itself was a joy to see.
Wine tasting
We were thrilled when we found a wine shop hiding in a cul de sac. (We passed bya couple more shops while heading back to the ship.) Woo-hoo! This offered a unique chance to sample several grape varietals that are relatively unknown in the United States.
Oh. My. Goodness. No wonder a wine connoisseur had just purchased $10,000 worth! Methinks American wine distributors are missing a golden opportunity!
Tip: Order a glass of wine or two with your lunch, or better yet, consider taking a culinary or wine tour in Split.