A while back, we took a Mediterranean cruise and visited 10 ports, from Rome to Athens. We collected a few important tips for first-time cruisers while we were there and would like to share them with you.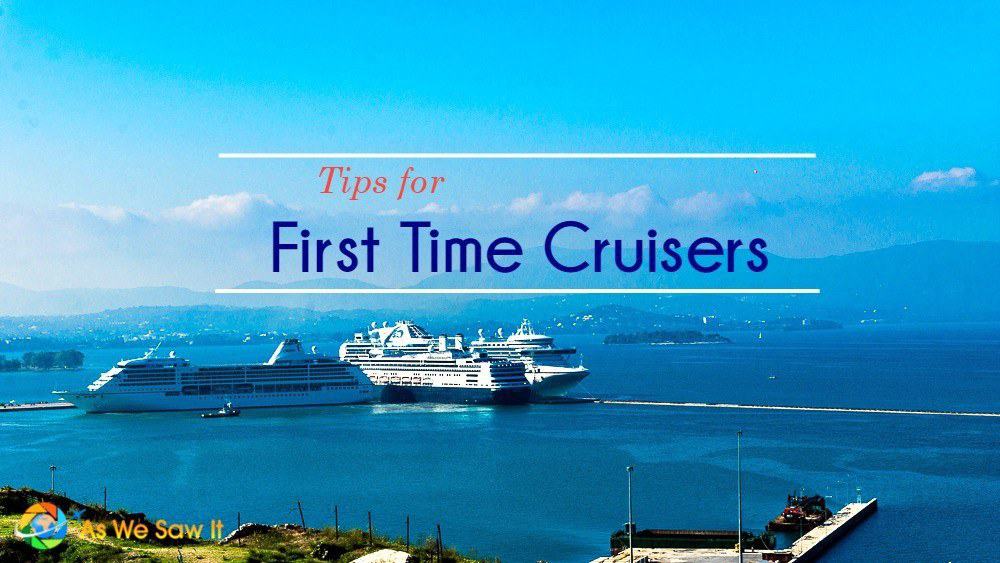 Choosing a cruise line
Check your passport right away. Renewals can take weeks. Be sure it expires at least 6 months AFTER you return from your trip.
Different boats for different folks. Partiers, families, seniors, luxury, budget … every cruise line has a different appeal, so you're bound to find one that fits your style. Use online cruise sites to get the real scoop. (Our favorite is Cruise Critic.)
Consider taking a short weekend trip to see if the chosen cruise line fits your style … before you waste money and time on a longer cruise you may not enjoy. (Added bonus: Some companies offer loyalty discounts to previous passengers.)
Choosing a cruise itinerary
Don't pick an itinerary just because it's cheap. Choose where you want to go because the ports intrigue you and it fits your schedule.
Check visa requirements for ports of call or you may be stuck on board. Some cruise lines offer "blanket" visas for people on their escorted tours.
Packing
Research what to do online before you go. Previous passengers will have a lot of helpful suggestions about which of the ship's excursions are worth it and which are fine to do on your own.
Find out if your cruise line has a formal night. If you want to eat in the dining room on those nights, you'll need to dress accordingly.
Use luggage with wheels and don't pack a lot. There are laundry facilities on board. Also, you're going to have to lug everything – along with your souvenirs – to your next destination.
Booking considerations
Request a stateroom on a low floor, mid-ship, if you get seasick. Although modern ships have phenomenal stabilizers that minimize movement, motion sickness pills bring peace of mind. Tip: Bonine (meclizine) doesn't make me as drowsy and lasts longer than Dramamine, IMHO.
Request a large table for dinner seating so you'll have interesting people to talk to. They like to share their experiences. Also, you'll be more likely to sit with someone you'll connect with.
On board
Don't forget to bring your passport and cruise documents with you! Without the required documents, you won't be permitted to board the ship.
Arrive early on the day of the cruise. You'll be able to explore the ship, settle in, enjoy a leisurely lunch on board, find your table for dinner, and relax with a drink as you wave goodbye to port.
Check out the spa and gym on the first day; they usually offer embarkation promotions. During the cruise, the best deals are usually available while the ship is in port.
Find out if tips are included in your fare. If not, cash tips are really appreciated. Some people tip their cabin steward on the first day in hopes that he might be extra helpful during the cruise.
Take advantage of "port talks." They're the best way to maximize your visit. You'll learn more about the region, how to get into town, don't-miss sights, local crafts and food, and more.
Plan the next day before bedtime. Check your program – delivered to your room the night before – and compare notes with your travel buddy about what you want to do, both on shore and on the ship.
Keep an eye on the clock if you're visiting port on your own. You don't want to see the ship sail from shore.
Check your balance halfway through. Those excursions, spa visits, slot machines, alcoholic drinks, photos, and so forth can add up quickly. You don't want a horrible shock to ruin the end of your cruise.
Enjoy the variety of cuisine experiences on board. You can get two entrees for dinner, enjoy the late-night dessert buffet, and order room service at no extra cost! (A tip for room delivery is always appreciated, though.)
Be aware that people CAN see in if you have a walkway outside your stateroom or if you're in port. So be sure that the heavier curtains are drawn after dark, not just the sheers.
Ask to disembark on your own at the end of the cruise, so you can leave on your own schedule, whenever you're ready.
Tip: For even more tips for getting the most out of your cruise, just google phrases like "tips for first time cruisers," "beginner cruise tips," or "cruise tricks," and you'll find pages and pages of good advice.
Have you been on a cruise? Share your best cruise tips below.
Inspired?
Here are some ideas to help you plan your own trip. If this article was useful, you can thank us by using these links to make your plans. Some of these companies will pay us a referral fee, at no extra cost to you.
Plan:
Lodging: Check hotel prices at HotelsCombined or Booking.
Transportation: This website shows how to get anywhere by plane, train, bus, ferry and car.
Private tours: Want a unique experience? We have had good experiences with Get Your Guide, a reputable source for booking a wide variety of local tours, attractions and activities. That's why we've chosen to affiliate ourselves with them. Find tours here.
See
For more travel inspiration, look for shots of your destination on our photo site.
Read
Other travel tips on As We Saw It include
Shop
Find our favorite travel gear in our Amazon shop.
Save this for later
Pin it to Pinterest
Share it on Facebook.