What if I told you that you can get a FREE mini-vacation on the way to your destination – and you wouldn't have to plan a bit of it? Intrigued?
If you've ever had to kill time during a long airport layover, it's not fun. Airport chairs are uncomfortable, shopping and food options are usually limited, and crowds and noise can become exhausting.
It doesn't have to be that way, though. There's a way to turn a long layover into a vacation.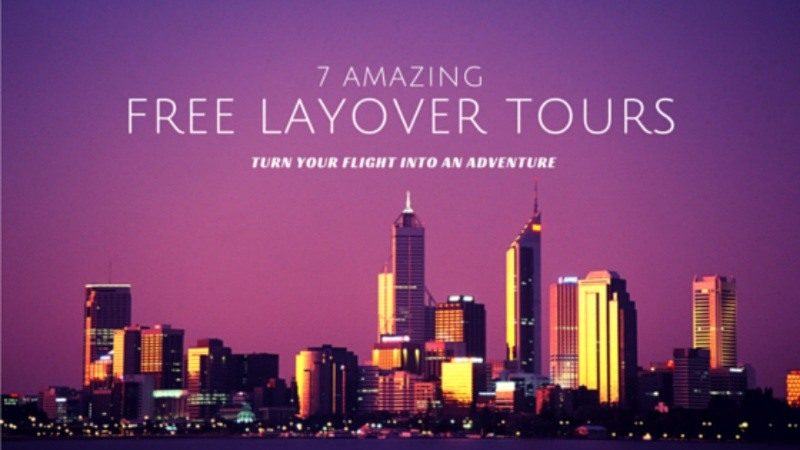 ---
Free transit tours – the secret to a long layover
What's the secret to a 2-for-1 vacation? Free stopover tours during a long layover! They are an inexpensive way to promote tourism and encourage more travelers to fly through a city's airport. Passengers are grateful for the invigorating relief from their long-haul trips, especially because they come at no cost and help prevent jet-lag. Win-win!
These free excursions are enjoyable ways to get a taste of a new city, with all transportation and logistics conveniently arranged by someone who knows the destination well. They will whisk you out of the airport to show you popular tourist attractions, and get you back to the airport in time to catch your next flight.
There's really no reason to waste hours of your life aimlessly walking around an airport until your next flight departs, if you can take advantage of your situation. It's so easy to do, as long as you ensure that your layover will be long enough to participate in a tour, at the time the tour is offered, and that you are eligible for the tour.
Here are some of the best airlines that offer free stopovers for transit passengers, plus links to their websites where you can find the most up-to-date booking details. Although transit tours are also available in many other cities, these are the ones that are completely free.
ⓘ TIP: If your travel plans don't include these cities, get out and explore on your own. We've booked layover tours all over the world and use Get Your Guide to find reliable tours.
---
Istanbul, Turkey – Atatürk Airport
Layover time needed: Layover must be between 6-24 hours.
Turkey' has many beautiful places to visit and is super affordable, making it a popular tourist destination. But even if you have a connecting international flight on Turkish Airlines, you can make use of the free Touristanbul service to discover Istanbul.
Trust us: This tour is enjoyable. In just a few hours, you will be able to see the most significant historical sights of a city that has been the center of world civilizations. Lunch (and sometimes breakfast) is included.

Available tours: Touristanbul offers 5 extensive tours, which last for 6 or 9 hours. The different tours cover the city's most famous sights, such as the Blue Mosque, Topkapi Palace and the Basilica Cistern.
How to apply: Sign up at the Hotel Desk in the International Arrivals Terminal of Istanbul Airport. It is located after passport and customs control next to Starbucks.
For more information: Click here for current details on the free Istanbul city tours.
Notes:
Travelers must apply for an evisa before arrival. CHECK VISA INFO HERE.
You must arrive at the tour desk at least 1 hour before the tour starts (8:00 am for the 9:00 tours and 11:00 am for the 12:00 tour). For tours ending at 15:00, flight departure time must be 16:30 or later. For the 6-hour tour ending at 18:00, flight departure time must be 19:30 or later. See the website's FAQ page for details.
If your layover is overnight, you are eligible for a free hotel stay instead. If you prefer accommodation, contact the hotel desk for terms and conditions.
Passengers may not get both free accommodation and TourIstanbul tours on the same journey.
---
Singapore – Changi Airport (suspended until further notice)
Layover time needed: Layover time must be between 5.5 hours and 24 hours for you to join one of their free 2.5-hour guided tours.
You may just be passing through, but this tiny Asian country definitely has a lot to offer. Singapore's multicultural sights, energy and electricity are enthralling.
There are two bus tour itineraries (seven times daily) which each include two short photo stops at famous landmarks; and one walking tour itinerary (two times daily) to Jewel Changi Airport, featuring some of its attractions
Passengers can join only one tour during each stopover.
Availability of seats is on a first-come-first-served basis.
Tour itinerary may change, depending on weather and traffic conditions.

Available tours:
Heritage Tour – The Heritage Tour brings you through the colonial and cultural districts – Chinatown, Little India, Kampong Glam – with a short stopover at the Merlion Park where you get a photo opportunity with the symbol of Singapore. The second stopover is at Kampong Glam, one of Singapore's colourful ethnic precincts.
Jewel Tour – Discover a wondrous world where nature meets retail through this 2.5 hours walking tour showcasing Changi Airport latest development, Jewel. Immerse into a lush green sanctuary as you hike through the Forest Valley, marvel at the Rain Vortex, and sample local delicacies at Five Spice. Traverse through Canopy Park and discover the many attractions housed within the park!
City Sights Tour – Stop at Merlion Park, where you can get a photo with a piece of history of the Lion City, the Merlion, against the magnificent cityscape of our world-class attractions in their night-lights – Singapore Flyer, Marina Bay Sands, the Esplanade, of all others. The tour also offers another short stopover at Gardens by the Bay.
Where to register: Both Terminal 2 and Terminal 3 have a Free Singapore Tour booth. In Terminal 2, it is on Level 2, Departure Transit Hall (next to Orchid Garden). In Terminal 3, you'll find it on Level 2, Departure Transit Hall (next to Discover Singapore).
For more information: Click here for current details on the free transit tours in Singapore.
---
Seoul, Korea – Incheon International Airport
Layover time needed: Layover must be at least 4 hours long. Tours last between 1 and 5 hours.
Instead of sitting at the gate and waiting for the next flight, turn your Korean layover into a cultural experience. The Korean Tourist Board offers exciting transit activities and tours at Incheon International Airport. They will give you an opportunity to experience some of the popular sights and sounds of Korea.
All of the free tours include an English-speaking tour guide, so even those who do not speak Korean can enjoy the tours without any difficulties.

Available tours: Choices include an Incheon City Tour, Seoul City Tour, Temple Tour, and several others.
For more information: Click for current details on the free stopover programs in Korea
Notes:
You must be eligible to enter Korea.
Incheon's tours are almost free – they charge a fee of $10 USD (10,000 KWD).
Availability is on a first-come-first-served basis.
Site admission fees and meals must be paid by travelers.
With the approval of the tour guides, you can get off tour bus and enjoy your trip by yourself.
Medical Tourism services are also available for transit passengers. Details here.
---
Taipei, Taiwan – Taoyuan International Airport (suspended)
Layover time needed: Layover must be at least 7 hours long.
Free half-day tours are offered on a first-come basis, and are limited to 18 passengers. You can choose between morning and afternoon departures.
Transit or transfer passengers with 7- to 24-hour layovers before their next connecting flight, who have valid R.O.C. visas or come from countries eligible for visa-exempt entry. (See website for details.)

Available tours:
Morning Tour – Shou Sin Fang Creativity Wagashi and Cultural Center, Sanxia and Zushi Temple.
Afternoon Tour – Chiang Kai-Shek Memorial Hall and Longshan Temple
Lantern Festival Tour – Daxi Old Street and Taiwan Lantern Festival
For more information: http://eng.taiwan.net.tw/tour/index.htm
---
Tokyo, Japan – Tokyo Narita Airport
Layover time needed: You'll need about 6 hours to do one of these tours.
If you have a layover at Narita Airport, choose from several tour options that let you tour Narita (Tokyo is too far away for a layover tour). You will experience Japanese warmth and hospitality along with some of our country's history and culture, as well as shopping. You will also experience Japanese public transportation firsthand.

Available tours: The Narita Transit & Stay Program offers three volunteer guided tours, and two self guided shopping tours.
Narita City – Narita-san Shinsho-ji Temple and Narita-san Omotesando Japanese culture experience
Shibayama Town – Discovery of aeronautical science history and aircraft pilot experience
Tako Town – Japanese Country Life Experience
Shisui Premium Outlets® Shopping Bus tour (self-guided)
AEON Mall Narita shopping & Wonderful "WA" experience (self-guided)
For more information: Click here for free layover tours at Tokyo Narita Airport.
---
Doha, Qatar – Hamad International Airport
Layover time needed: You will need a minimum of 6 hours for this tour.
Enrich every step of your journey with a complimentary tour of Doha, courtesy of Qatar Airways and Qatar Tourism Authority.

Available tour: One tour is available, departing four times a day. This tour takes you to all of the city's most famous sights, including the Pearl-Qatar artificial island, Katara Cultural Village, Souq Waqif Arabian market, and the Museum of Islamic Art.
For more information: See Qatar Airways' city tour page.
Notes:
Tours cannot be pre-booked. Availability is on a first-come, first-served basis.
A maximum of 22 passengers can be accommodated on each tour.
Visa is complimentary but eligibility is subject to immigration approval.
---
Salt Lake City, USA
Layover time needed: 2 hours
Do you have a layover at the Salt Lake International Airport? Well, you're in luck! You don't have to spend the afternoon watching planes take off. Why not check out the city and get a little sun?
As one person said, "Salt Lake is not New York. Why the heck would it want to be? It's frickin' perfect here."

Available tours: Free tour of Temple Square, in the heart of Salt Lake City.
How to book it: Walk over to one of the two information desks and get the pickup and dropoff schedule. A desk agent can show you where to catch the shuttle.
For more information: Click here for details on the free tour of Temple Square in Salt Lake City.
---
Things to know before you get a free transit tour
Scheduling: Take note of when you need to arrive for tours – some require you to show up 30 minutes to an hour beforehand. Similarly, ensure that your tour will arrive in plenty of time to clear customs and immigration before your next flight.
Eligibility: Check what documents you will need to take the tour. It is common to need proof of your previous and ongoing flight, such as an airline ticket.
Visas: "In-transit" passengers don't always t need a visa to take airport layover tours. Check their websites for list of countries eligible for visa-free entry.
Passports: You may need to hand over your passport for the length of the tour.
Money: If you plan to buy food or admission tickets on your tour, you will need local currency. Options are the currency exchange desk, an automatic teller machine or paying by credit card (bank fees vary).
Food: Apart from Istanbul, meals are rarely included. If you are a selective eater or your tour doesn't leave the bus, you might want to buy something at the airport beforehand. On the other hand, if you are adventurous, you may wish to hold out for a local market or food stall.
Luggage: Not all tours have room or allow you to bring your luggage with you. If they don't have storage facilities, you can store your carry-on with the airport's "Left Luggage" service (fee applies).
Have we missed any free layover tours? Do you have any tips to share?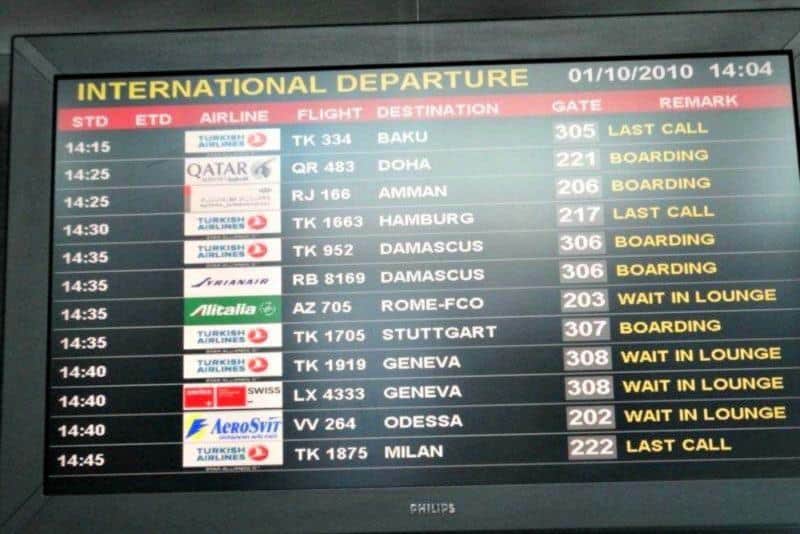 Other layover options
Get some rest.
Depending on your travel schedule, you may be able to get some shuteye. Many airports have transit hotels., conveniently located inside the terminal. You won't have to deal with immigration.
Get out and explore on your own.
This website shows how to get anywhere by plane, train, bus, ferry and car.
For inspiration, look for shots of your destination on our photo site.
Read more online:
Check out our recommended travel gear
Find our favorite travel gear in our Amazon shop.