We try to make travel easy, which is why this website has a lot of one day city itineraries that are perfect for first time visitors. Our philosophy is that if you fit the most popular attractions into a short window, that will give you more time to explore back streets and get a more intimate experience.
Besides, there's no point in poring over travel guides and spending hours planning your travel itinerary if you don't have to.
How to see a city in a day
For first-time visitors who want to get a quickie overview of a city's highlights, here are three quick and easy options. Which one you choose is mainly dependent on your budget and how much time you have.
The first two are best for those in town for less than 24 hours. The last option is best for those with more available time, and that's what we're talking about in this article.
Hire a guide for a private layover tour. Search for options here.
Seven airports offer free tours. Read about them here.
Take a hop on/hop off bus tour. It is an easy way to learn about the city and get free transportation to the "must-see" sights, all at one time.
ⓘ Read more: 7 Airports That Offer Free Layover Tours.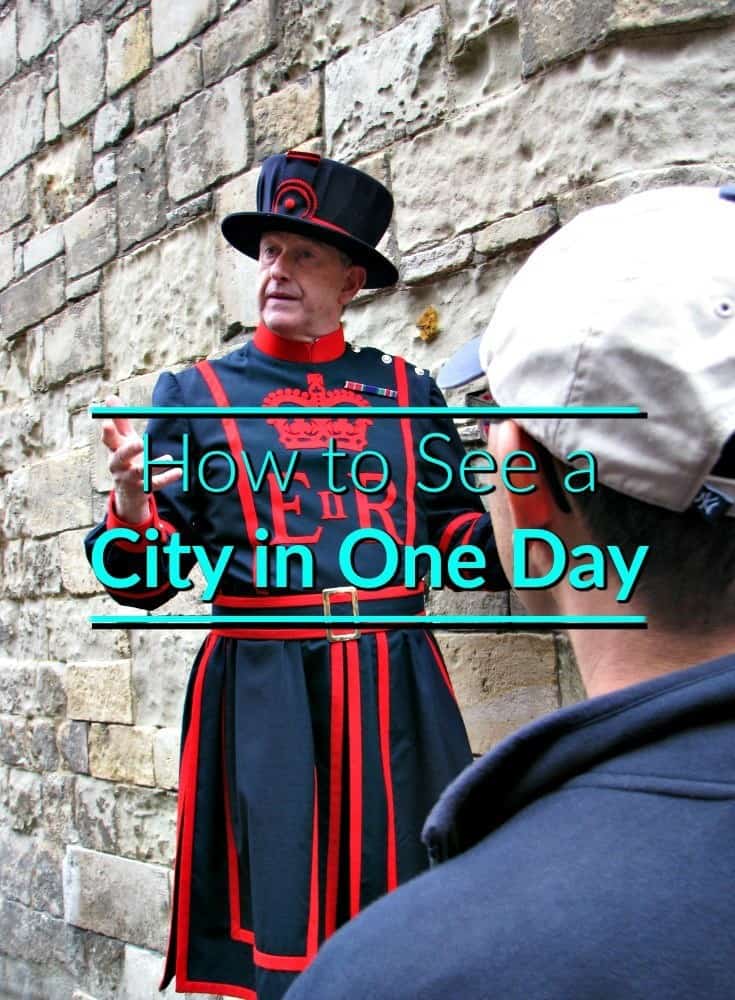 How does a hop on hop off bus tour work?
A HOHO tour bus is usually an open-top, double-decker variety that goes on a set loop around the city. Sometimes, they offer more than one city itinerary. It depends on the size of the city and how spread out the attractions are.
You'll receive a set of earphones when you begin your tour.
Find a seat, plug your earphones into the audio box and select your preferred language.
Listen to a recording that shares history and interesting facts about the sights you're passing.
When one of the attractions seems interesting, you hop off at the nearest stop to check it out. Afterward, simply return to the stop and hop on the next bus.
That's how the hop on hop off bus got its name. People call it the HOHO for short.
Tip: The provided earphones are uncomfortable and don't fit well. This makes it difficult to understand the narration. If you have a favorite pair of ear buds, bring them along. It will make your tour a lot more enjoyable. Just remember to take them with you every time you hop off!
Why take a bus tour?
The bus goes to parts of the city you probably wouldn't have time to see on your own.
The included narration gives you a good overview of the city's history in a short time.
It helps you understand the layout of an unfamiliar city and better gauge distances as you plan the rest of your sightseeing.
The route is intended for visitors, not locals, and stops are located near popular tourist locations.
The stops are varied and appeal to a variety of interests.
Tip: Don't take a bus tour if the traffic is bad; you'll waste too much time. Pop into a hotel and ask the concierge if there's a tourist map; it will show where all the attractions are.
One-day itineraries made easy
The tour company has already worked out the best way to see the most important parts of the city in the least amount of time. It saves a lot of time and effort by showing those sights that need little more than a drive-by (like Admiral Nelson's statue in Trafalgar Square). It also makes it more fun by taking you by others you may not have known about. The bus will stop at major locations so you can "hop off" to visit a site, then "hop on" another bus when you're ready to move on.
If you don't hop off, the entire route takes about 1.5 – 2 hours, traffic permitting.
These bus tours offer either a taped narration or a live guide. Buses with taped narration offer hookups with multilingual channels while live guides usually give the tour in English.
Tip: If you don't like the tour guide or sound system, take the first opportunity to hop off and wait for the next bus.
Plan your HOHO experience
How to find a HOHO bus tour:
Check the City Sightseeing website.
Web search "hop on hop off bus in [whichever city you are visiting]"
Don't fancy a bus tour? We have partnered with Get Your Guide to offer you unique tours, specially tailored to your interests. Click here for more information.
If a bus tour appeals, here are some tips:
Ticket prices vary but are generally competitive for all companies in a city. A rough budget is $30 per ticket, depending on location.
Some companies also offer a less expensive night tour, which might be ideal if your time is extremely limited.
Two-day tickets usually offer a better value, especially in large cities with multiple routes (north-south, east-west, historic, etc.).
Validity: Some tickets are valid for one calendar day while others are good for 24 hours, so check the terms carefully. To get the most value out of a day ticket, we recommend beginning early. On the other hand, if a ticket is good for 24 hours you can begin in the evening.
Hours: Be sure to ask when the last bus stops at your stop in the evening. Be prepared to get back to your hotel on your own if you lose track of the time. We got stuck on the other side of Prague when our driver kicked everyone off the bus at 6:00 p.m.
Check for bonus opportunities. For example, our Singapore and London tickets included a river cruise in the price of the ticket.