New York City is a vibrant and cosmopolitan metropolis with unrivalled adventures and activities to suit any visitor. No matter what time of year you visit NYC, you're sure to be dazzled.
Wintertime is no exception. In fact, many events only happen in New York City during winter, making it a truly unique time of year to experience the city.
Is visiting NYC in winter worth it?
If you enjoy culture, heritage, the arts, and places at the forefront of design, fashion, and innovation, you're bound to enjoy the Big Apple.
A trip to New York City in winter is worth it, if you're looking for a magical and festive way to spend the holidays. The city is transformed into a veritable winter wonderland that's buzzing with Christmas cheer and holiday glitter. And when the New Year has come and gone, there are still plenty of fun winter activities to enjoy.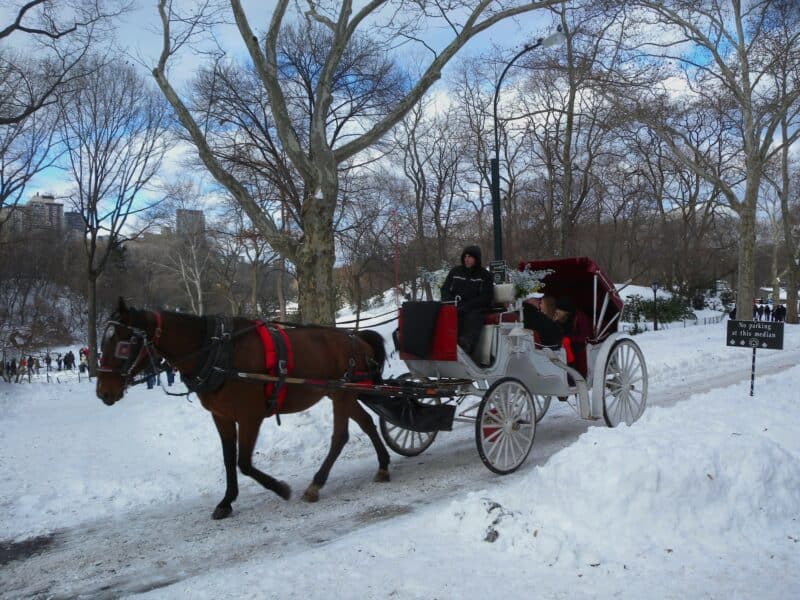 Why visit New York in winter
There are so many reasons to visit New York in the winter—so we've listed a selection of our favorite events and activities for you to enjoy. There's everything from open air ice-skating, festivals, and Christmas markets, to breathtaking displays, shopping, performances, restaurants and museums. And there are plenty of non-Christmasy, quirky things to do in NYC as well.
ⓘ BUDGET TIP: Looking for some fun things to do in NYC this weekend? You can save up to 65% on admission prices with the easy-to-use Sightseeing Day Pass. You can choose up to 12 attractions and have 30 consecutive days to visit them.
Where to stay in NYC
Hotels in New York City aren't cheap, so be prepared. Here are some of the best places to stay in Manhattan. Other boroughs in NYC are generally lower priced.
Plum Guide is your best resource for renting high-quality homes, condos, and apartments in New York City.
Things to do in New York City in December
Let's begin with what to do in New York City during the holidays.
1. Visit the Winter Village at Bryant Park
This winter wonderland in the heart of Manhattan is New York City's only free-to-enter ice skating rink. You can enjoy skating to retro music on Wednesdays, sip on a festive cocktail and indulge in delicious food at the Lodge Deck, try your hand at iceless curling at the trendy Curling Café – or spend time with friends inside your very own cozy igloo.
Bryant Park hosts hundreds of free activities, events, and classes throughout the year. Some that have occurred in the past include chess, game nights, and art workshops. Click here to see a list of upcoming programs.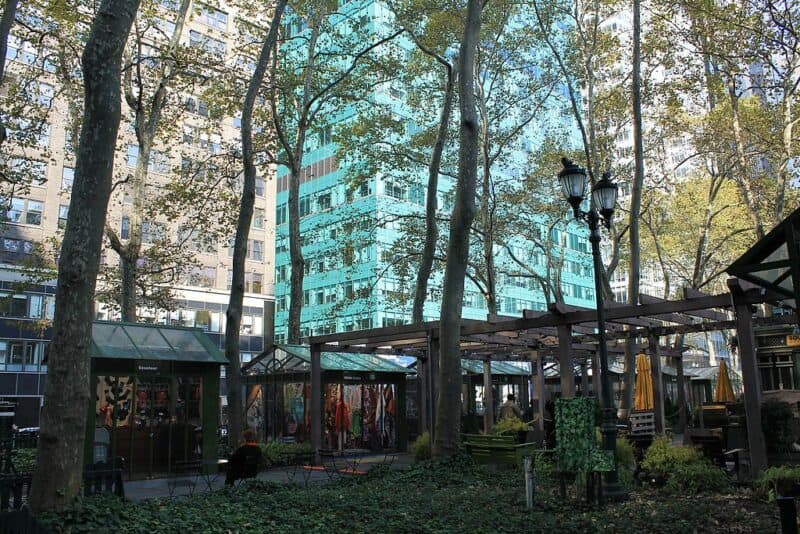 2. Holiday Train Show at New York Botanical Garden & NYBG Glow
One of the coolest attractions in NYC – particularly for families and children – is the Holiday Train Show at the New York Botanical Gardens (NYBG).
Featuring miniature recreations of iconic NYC landmarks like the Statue of Liberty, Ellis Island, and Brooklyn Bridge – all made from natural materials like bark and moss, the Holiday Train Show has model trains that zip along circuits as they take you on a visual journey around the city.
The New York Botanical Gardens belong on every New York itinerary during the holidays. After dark the area turns into a nighttime glowing spectacular of thousands of dazzling, colorful Christmas lights. Known as the NYBG Glow, this annual event also features activities like ice-sculpting and live performances.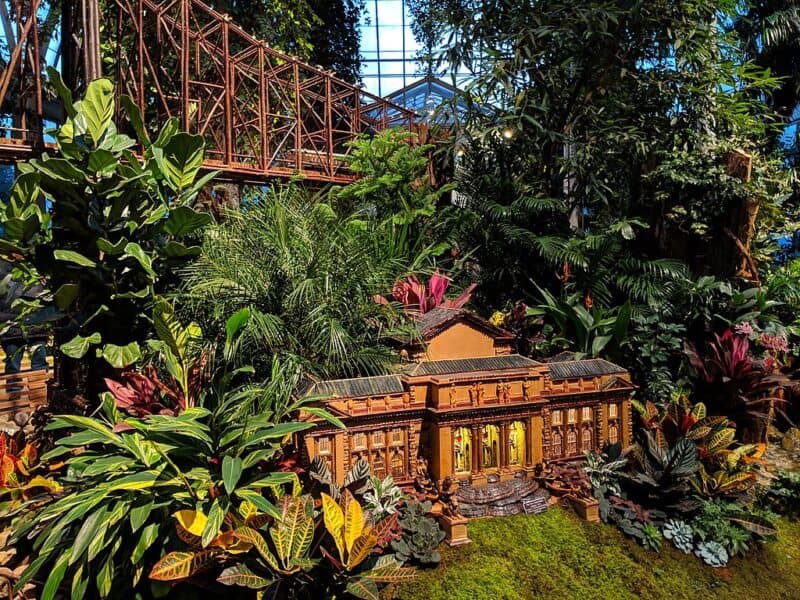 3. Christmas markets
Christmas shopping can be stressful, but you can make it a festive experience by visiting one of the various New York City Christmas markets. These are an opportunity to buy local, handcrafted and unique gifts while also sampling some great food and drinks.
Some of the top Christmas markets in the city include:
Bronx Holiday Market
Artists & Fleas in Soho
the open-air Chelsea Flea
Union Square Holiday Market
Grand Central Terminal Holiday Fair
Columbus Circle Holiday Market
and the Holiday Market at The Oculus.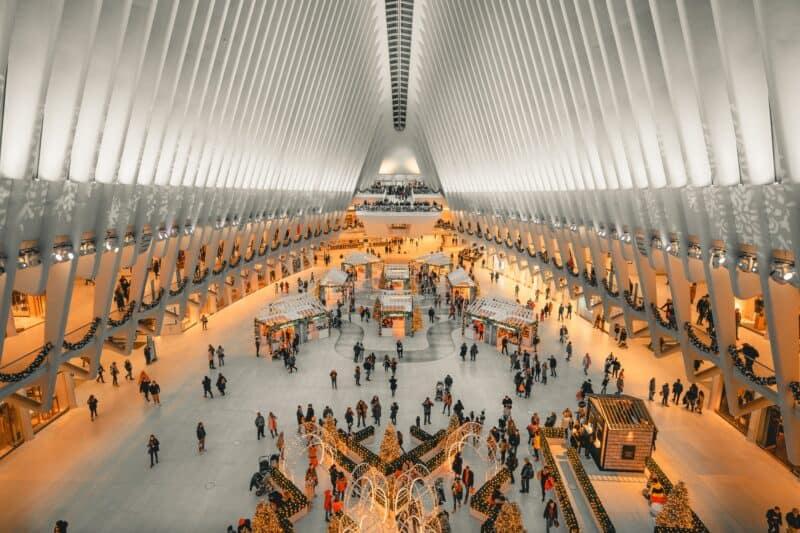 4. Window shopping on Fifth Avenue
The holiday season window displays on NYC's iconic Fifth Avenue are a sight not to be missed. The stores on this street (from Bloomingdale's down to Macy's) have some of the most well-planned and elaborate holiday displays you will ever see. The animated windows take window dressing to a whole new level.
We recommend going at night when all the festive lights add a magical flair to the displays.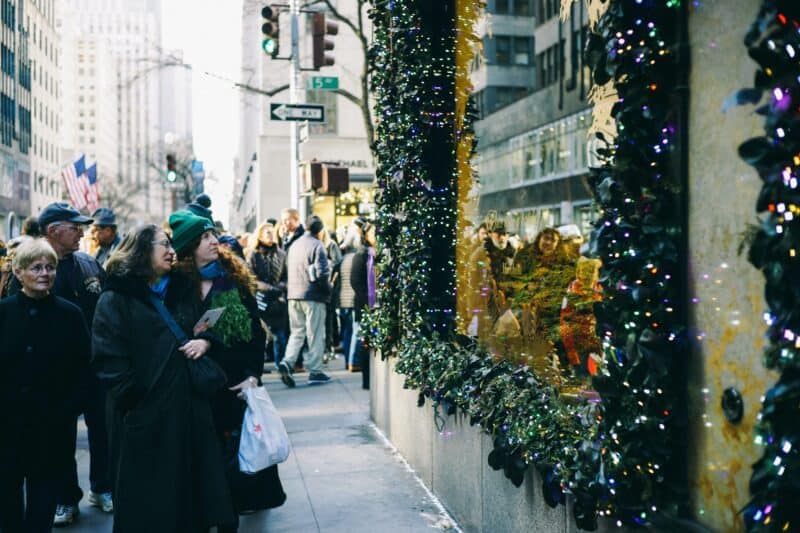 5. Hanukkah celebrations and menorah lightings – the world's largest menorah
Every year to celebrate the Jewish holiday of Hanukkah, public menorah lightings take place around the world. The world's largest menorah is near Central Park. Standing at 36 feet high outside the Plaza Hotel, this menorah lighting has been celebrated here annually for over 40 years.
Brooklyn's largest menorah is only slightly smaller, 32 feet high. Standing at Grand Army Plaza, it has been a tradition for nearly 40 years. Every night during Hanukkah, children receive special gifts while thousands celebrate with live music and hot latkes for all.
6. See the Christmas tree at Rockefeller Center
Winter in New York wouldn't be the same without the Christmas tree at the Rockefeller Center in Midtown Manhattan. For over 80 years, people have been coming to see the giant tree alight—it's one of the most quintessential NYC holiday attractions.
The tree lighting ceremony occurs the Wednesday after Thanksgiving and is televised nationally. This event marks the official beginning of New York's Christmas season, and the tree stays up until January 6 of the new year.
If you want to witness the ceremony, be prepared for crowds, standing, and cold weather. You'll need to get there before 3 pm for the 7 pm event.
ⓘ TIP: Alternatively, you can attend an exclusive tree lighting party and watch the event from a comfortable location. Tickets are hard to come by and expensive, but it's definitely a good way to impress someone special!
Another popular holiday tradition is skating on the Rockefeller Center's ice rink. There are many shops and nearby restaurants to enjoy while you gaze up at the tree, a magnificent symbol of the season.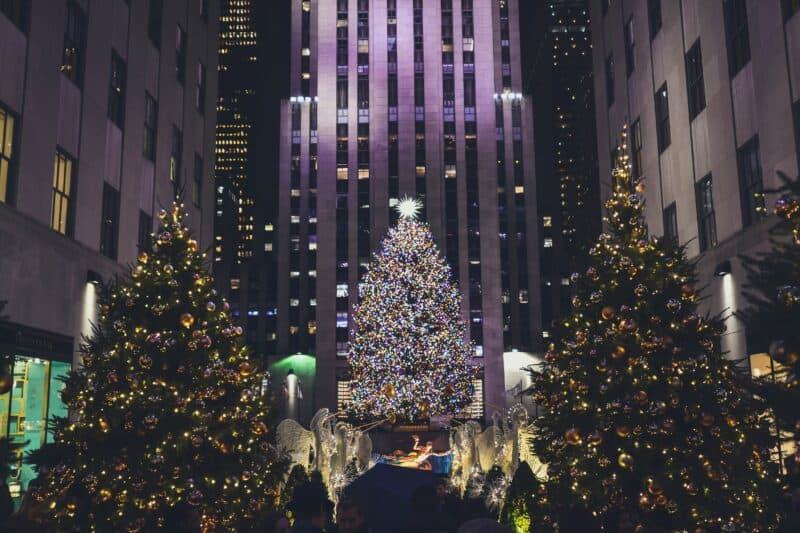 7. See the holiday lights at Dyker Heights in Brooklyn
If you're in Brooklyn and searching for "winter activities for toddlers near me" online, Dyker Heights will top the list.
Dazzling with spectacular decorations and festive lights, the houses at Dyker Heights in Brooklyn are definitely an attraction to remember.
Many families have an annual tradition of doing a Christmas lights walking tour of the neighborhood, which is located between 11th and 13th Avenues and from 83rd to 86th Street.
All those Santas, reindeer, snowmen, and festive décor are sure to make you feel like you've been transported into a Hallmark Christmas card.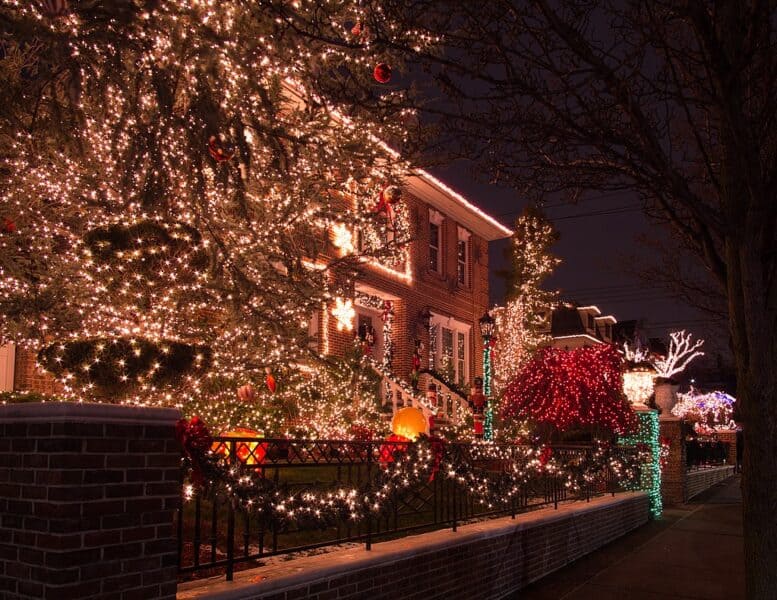 8. Celebrate Unsilent Night in Washington Square Park
If you're looking for cool things to do that are a little more arty and quirky, then you may be keen to participate in New York City's Unsilent Night, which is the brainchild of composer Phil Kline.
Participants usually meet at Washington Square arch, armed with a boombox or smartphone, and they all play four chosen tracks of music simultaneously while walking through the streets of the city. Unsilent Night usually lasts about 45 minutes and ends at Tompkins Square Park.
9. Radio City Christmas Spectacular
Another must-do is to watch the Rockettes live at the Radio City Music Hall perform their annual Christmas Spectacular. The extravagant Christmas-themed show always features Santa Claus, the Toy Soldiers, Nativity scene, famous NY department store windows, Rockefeller Christmas Tree and more.
These magical productions are world famous and a great way to experience the festive season in New York. Theater lovers can also take a guided tour of the art deco theater and meet one of the famous Rockettes.
10. Concert for the Winter Solstice at St. John the Divine
The annual Paul Winter celebration of the winter solstice at the St. John the Divine Cathedral offers a truly remarkable experience in one of the world's largest cathedrals.
Led by the award-winning jazz saxophonist, this spectacular event celebrates the shortest day of the year with dance, music and guest performances.
11. New Year's Eve Ball Drop at Times Square
A quintessential tradition during New York in winter is to watch the ball drop in Times Square when the clock hits midnight on New Year's Eve. Thousands of people gather in the square to watch the event and celebrate the new year, while many others watch it on television.
Before the ball drops, there are performances to watch which will keep you entertained as you wait.
Where's the best place to watch the ball drop in Times Square? One of the best places to watch the ball being dropped is between 42nd and 48th Streets, where Broadway and 7th Avenue intersect. It's best to arrive quite early to get a good spot to view the ball and entertainment – which means getting there at around 3pm. Use the bathroom before claiming your spot, as you won't be able to leave once you do.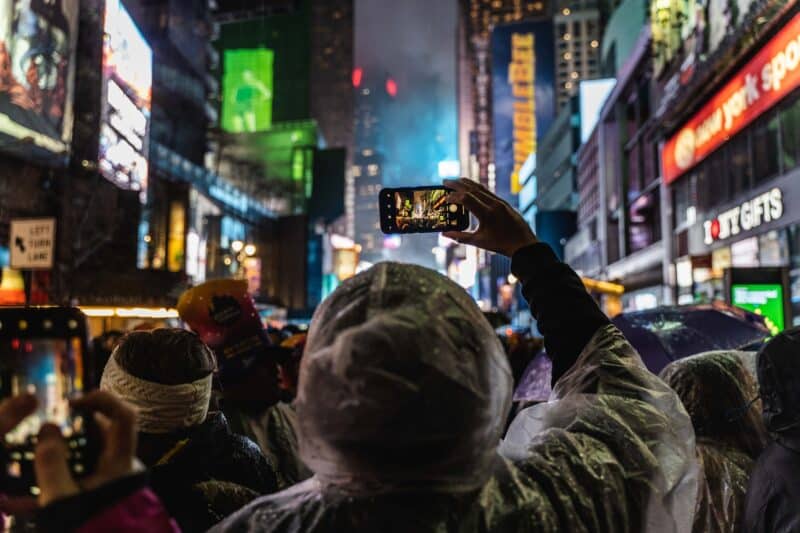 Things to do in New York City in January
12. Nibble on roasted chestnuts
If you're looking to connect with the nostalgia of wintertime in New York City, there's nothing quite like the smell of roasted chestnuts wafting through the air. Chestnuts have been imported from Italy for centuries and have become a beloved tradition.
You can find these smoky morsels sold by street vendors throughout the city. Their sweet, buttery flavor pairs perfectly with the chill in the air, and a bag makes a perfect hand-warmer as you explore the city.
But be warned: They can be addictive! Be sure to bring extra cash for seconds (and maybe even thirds).
13. NY Boat Show
Whether you're a boating enthusiast, an experienced boat owner, or you're keen to see some of the world's most incredible super-yachts – the New York Boat Show has something to offer everyone.
14. Go ice skating
If you're looking for active things to do in NYC, a favorite winter pastime is ice skating. There are many ice skating rinks in New York to choose from.
In addition to the rinks at the Rockefeller Center and Bryant Park, the Wollman Rink and Lasker Rink in Central Park are some of the most popular options. Conservatory Water offers free skating when the conditions allow. There's also a rooftop rink on the skyline at The William Vale.
Things to do in New York City in February
15. Celebrate Valentine's Day in NYC with chocolates, champagne, dinner cruises and more
If you're looking for ideas of how best to celebrate Valentine's Day on February 14th, then New York City won't disappoint. There are so many ways to spend a romantic day or night with your loved one – including a sunset cruise on the Hudson River that comes complete with chocolates and champagne.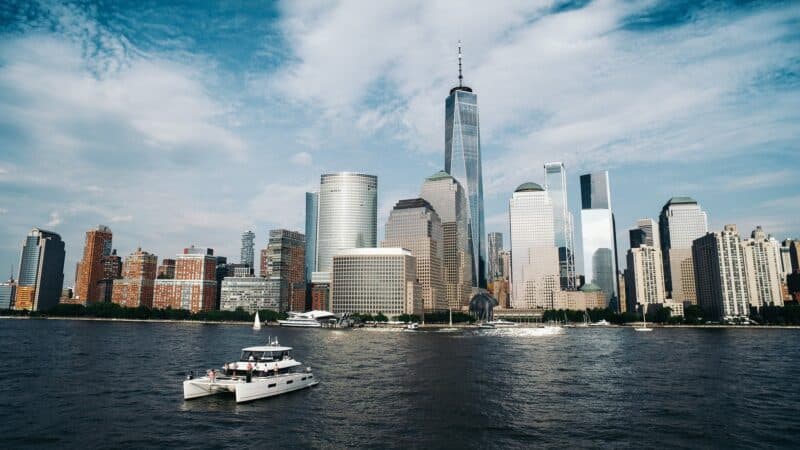 16. Take a carriage ride in Central Park
One of our favorite ways to see Central Park during winter is in a horse-drawn carriage. Cover up with a blanket and take a carriage ride through Central Park. It's a comfortable way to see the sights and get to know more about the history of the city.
Your coachman may even be able to customize your ride, should you want to see the Empire State Building or another major New York attraction.
17. Chinese New Year in Chinatown
Manhattan's Chinatown is the heart of the annual Lunar New Year celebrations, also known as Chinese New Year. These celebrations include a Lunar New Year Parade and Festival as well as a Firecracker Ceremony and Cultural Festival each year.
People travel from far and wide to attend the parade. It's a great way to learn about and celebrate Chinese culture and to enjoy the holidays with family and the entire community. The parade is quite an extravaganza – complete with floating dragons, marching bands, elaborately-costumed dancers and acrobatic performers.
18. NYC Restaurant Week
Hundreds of restaurants across the five boroughs of NYC take part in New York Restaurant Week in winter, which gives you an eclectic array of cuisines to choose from.
Whether you're having lunch or dinner, it's important to reserve a table beforehand. You don't want any disappointment during this busy time.
19. Glitz and glam at New York Fashion Week
Held annually in February and September, New York's Fashion Week is one of the trendiest events of the year. Although many of the shows are just for people in the industry, there are some public shows that you can buy tickets to attend.
If you're feeling inspired to buy some of the latest fashions, NYC has some of the best designer shops in the world and many of them organize their own events to celebrate New York Fashion Week.
Other things to do in New York in winter
20. Visit NYC museums
Home to some of the world's best curated and most extensive collections, New York City has so much choice when it comes to museums. The most popular ones include:
Metropolitan Museum of Art
Museum of Modern Art (MoMA)
Solomon R. Guggenheim Museum
Frick Collection
American Museum of Natural History
Jewish Museum.
ⓘ TIP: Admissions can add up, but some entry fees are covered by Sightseeing Day Pass mentioned above.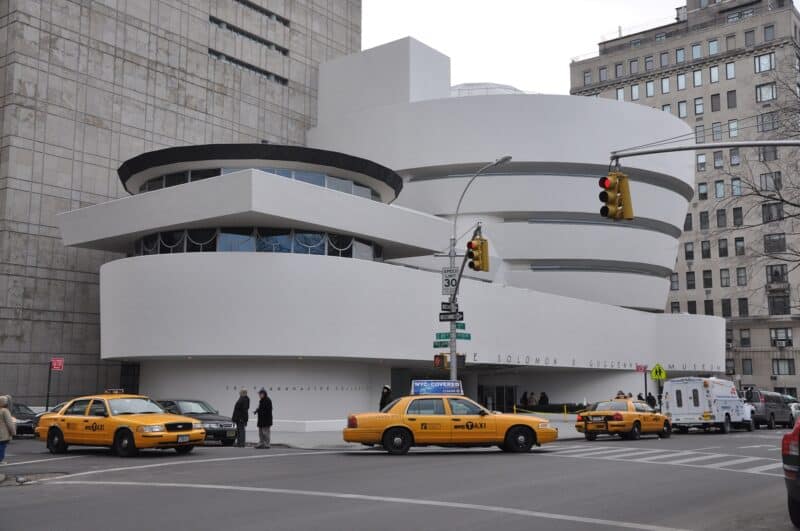 21. Be dazzled by Broadway shows
New York City is brimming with cultural activities and one of the highlights is going to see a show on Broadway. There are usually hundreds of musicals and theatre productions on show each year with over 40 performance venues.
Some of the most popular Broadway shows are The Lion King, Hamilton, Aladdin, Chicago, and Wicked. Tickets sell out quickly, so be sure to buy yours ahead of time.
Also, if you want to kick it up a notch, you can visit the Broadway Museum to learn more about what goes into producing a Broadway hit.
22. See the New York City Ballet
If you enjoy watching dance performances, the New York City Ballet has some of the best classical and contemporary ballet shows and dancers in the world.
Tickets sell out fast so be sure to book early.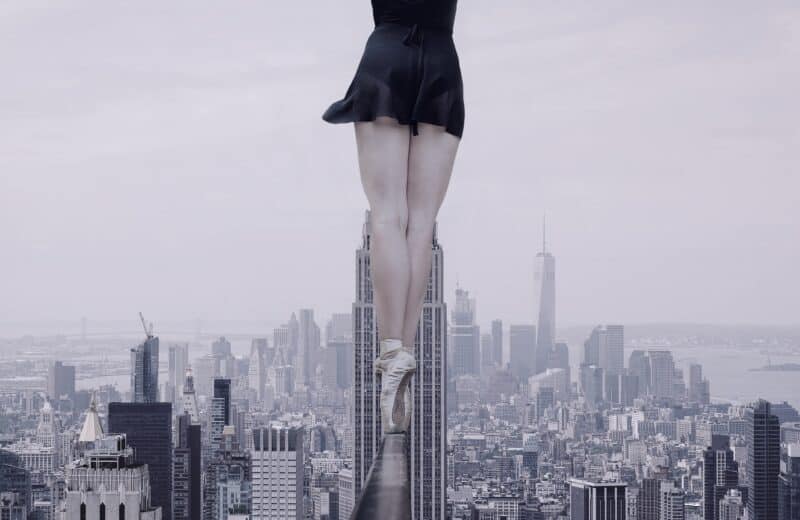 23. Go shopping for bargains at Brooklyn's largest flea market
if you love searching for treasures, then you're sure to enjoy the Brooklyn Flea – a range of outdoor markets in Williamsburg.
Bargains abound here in Brooklyn's hippest neighborhood, which is known for trendy shops and artisanal markets. So whether you're looking for antiques, furniture, vintage clothes, jewellery, art, or vinyls – you're certain to find something charming and special.
24. Take a food tour of NYC
New York City is a foodie's dream. It has a vibrant and eclectic mix of cultures and cuisines, where visitors can indulge in some of the best street food and world-class restaurants across the five boroughs.
This is a great place for a food tour. Your guide might introduce you to New York bagels, egg creams, or Katz's Delicatessen, where the sandwiches are big enough to share. Their pastrami is so legendary that it's shipped nationwide.
Some of the best NYC food tours include:
25. Sip high tea at the Russian Tea Room
Feast on delectable assortments of teas and treats (including caviar on blinis) at the Russian Tea Room in New York City, and enjoy the opulent and luxurious decor.
This NYC cultural institution is world renowned and has a magical private event venue, some of the finest selections of vodka and they also cater for vegetarians and those who are gluten-free.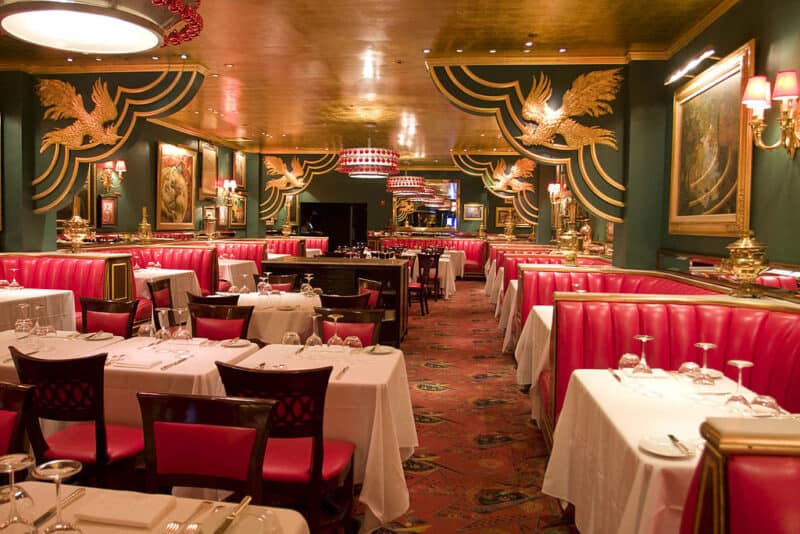 How to dress for winter in New York
If you are used to living somewhere with cold, snowy winters then you will likely be quite prepared for a winter in New York. But if you're used to a warmer annual climate then you may need to buy a few important items of clothing to keep you warm.
Dressing for cold weather is easy. The most important thing is to wear multiple layers instead of one single, heavy piece of clothing. That way, it will be easy to strip off various layers when you go indoors or the temperature changes.
While a warm winter jacket is an absolute necessity, a thin down jacket or woollen sweater is also a great idea for layering. Gloves, a scarf, a hat and warm socks are also imperative – as is an umbrella.
You'll also need some warm, waterproof and comfortable boots – whether it's snow boots or waterproof leather boots. Thermals will also go a long way to keeping you warm – especially if you plan to do lots of walking around the city.
ⓘ TIP: Visit our Amazon shop to find a collection of cold weather travel essentials for men and women. Everything is based on what we've personally used.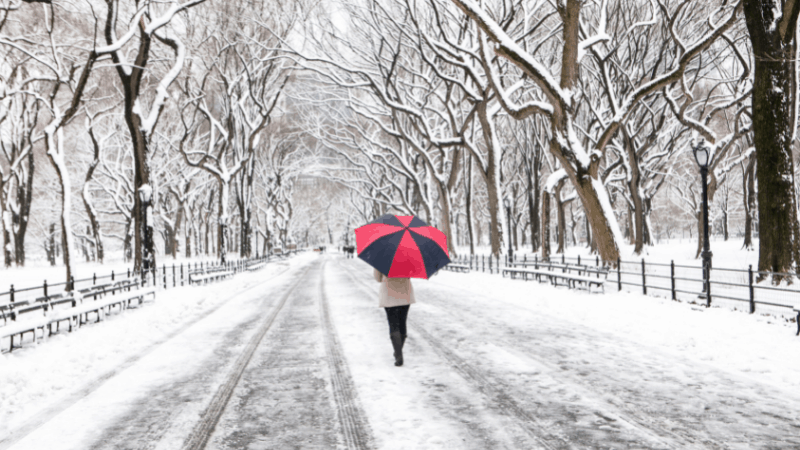 Winter weather in New York City
Winters in New York can be bitterly cold when it's snowing (often dripping below zero degrees) and very wet when it's rainy. Winter can also be quite cloudy and windy as well.
Average daily temperatures in NYC during winter are just above freezing – ranging from around 37.4 °F in December to around 34.7 °F in February. However, temperatures can also drop dramatically at times to as low as 5 °F. The windchill can also be quite severe and snowstorms do happen. Average rainfall in winter is around 3.9 inches in December dropping to about 3.1 inches in February.
ⓘ TIP: With 360-degree views from the top of the tallest building in the Western Hemisphere, One World Observatory tops the list of things to do in Tribeca—and maybe all of the city. But it's best to visit this attraction in the summertime. Unless it's a super clear and sunny winter's day, the cloud cover will ensure that you won't see a thing.
Save this for later — pin it!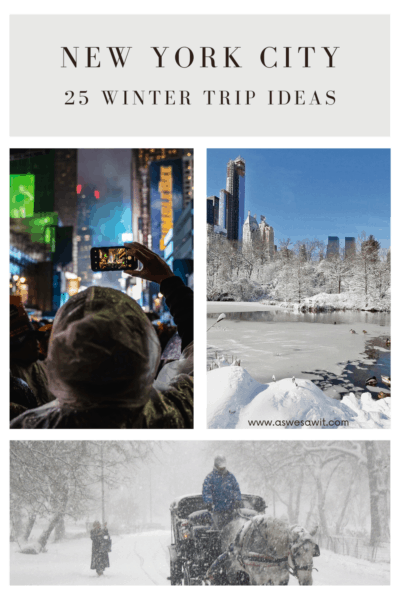 Winter holidays in New York City
New York City has always been one of our favorite places to spend the winter holidays. There's so much to do that you will never get bored. In fact, you'll be constantly surprised and in awe of how much one city has to offer.
ⓘ Need some more wintertime destination inspiration? If you're an American, we've covered the best New England winter getaways, things to do in NYC in winter, warm winter vacations in the USA, and the top day trips from Orlando and Miami. For winter in Europe, read about the best European Christmas markets, Christmas in Crete, and places to visit in Europe in December, We also have cold-weather guides to Vienna, Munich, Salzburg, Hallstatt, Zagreb, and Ljubliana, as well as a winter packing list. We're here to help you enjoy traveling in the winter!