If you're visiting New York City any time of year, you may be surprised by all the things to do in NYC at night. The Big Apple is home to so many tourist attractions, landmarks, exciting adventures, and activities – that you will probably want to spend some evenings out and about to experience all the city has to offer.
When it comes to places to go at night, NYC never disappoints. Even if you're a local, the Big Apple has a host of enchanting, and exhilarating things to do to keep you busy all year round.
In this article, we'll look at the top 21 things to do at night in New York City. Date night awaits!
ⓘ BUDGET TIP: If you're looking for more things to do in NYC at night, the Go City Pass gives you free admission to almost 100 NYC attractions, including many that are mentioned in this article.
1. Walk along the High Line at night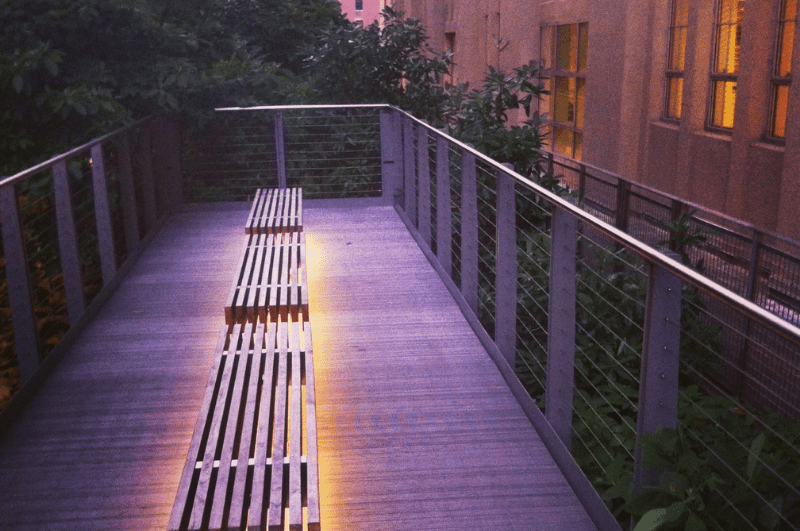 The New York High Line is a former railway line on Manhattan's west side that has been converted into a dynamic park. Whether during the day or at night, walking along the High Line is one of the city's top attractions and a very popular tour.
There are lots of things to do near the highline, but don't miss the 26th viewing spur. You'll get a crosstown view and a look at some of the nearby buildings up close.
At nighttime, the illuminated pathways make it easy to find your way, and the lights add a subtle ambiance while allowing you to see the Big Apple's skyline.
The High Line closes between 7 pm, and 11 pm (depending on the time of year), so be sure to check the closing times before setting out. It's fully wheelchair friendly, which makes it highly accessible.
2. See a show on Broadway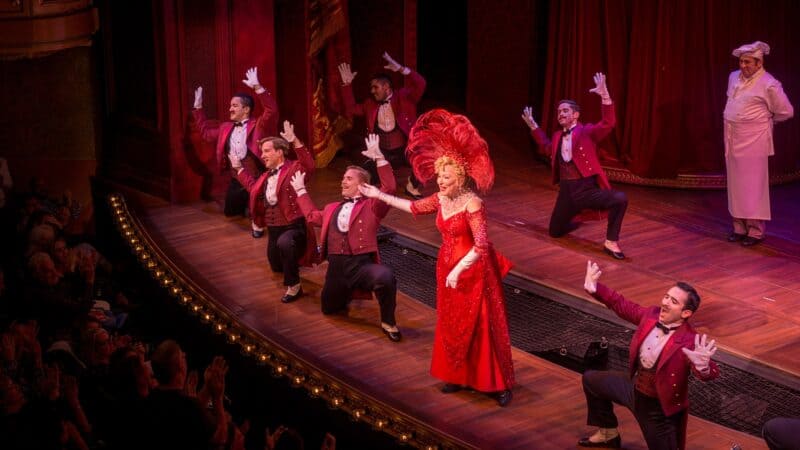 If you're looking for a cultural activity, then you'll want to see famous Broadway shows. There are 41 theaters in New York's Broadway Boulevard area, showcasing dramas, musicals, and world-famous productions like Aladdin, The Lion King, Les Misérables, Wicked, Chicago, and Hamilton.
If you are looking for a more intimate theater in New York City, then you can also try an off-Broadway or even an off-off-Broadway show at one of the smaller theaters that accommodates fewer guests, and often puts on more experimental, and avant-garde shows.
3. Say "hello" to Lady Liberty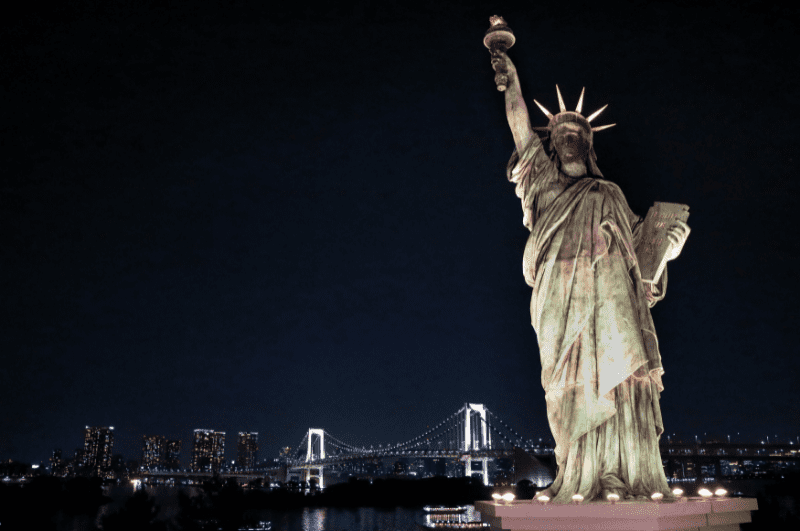 The Statue of Liberty on Liberty Island is one of the most iconic and colossal landmarks in New York. While you can't access the island at night – the ferry tours end in the late afternoon – you can still get an impressive, illuminated view of "the mother of freedom" by taking a night cruise along the East River.
Your cruise will include a narrated tour as well as perfect views of the Freedom Tower, One World Trade Center, the Empire State Building, Pier 54 (Titanic Pier), Battery Park, and more. Bring your camera to get some amazing photos of New York at night.
If you're set on visiting the Statue of Liberty during the day, purchase your tickets ahead of time to skip the ticket line and beat the ferry queues too. This tour ticket takes you on the first ferry of the day to Liberty Island so you can avoid the crowds.
4. Enjoy a sunset yacht cruise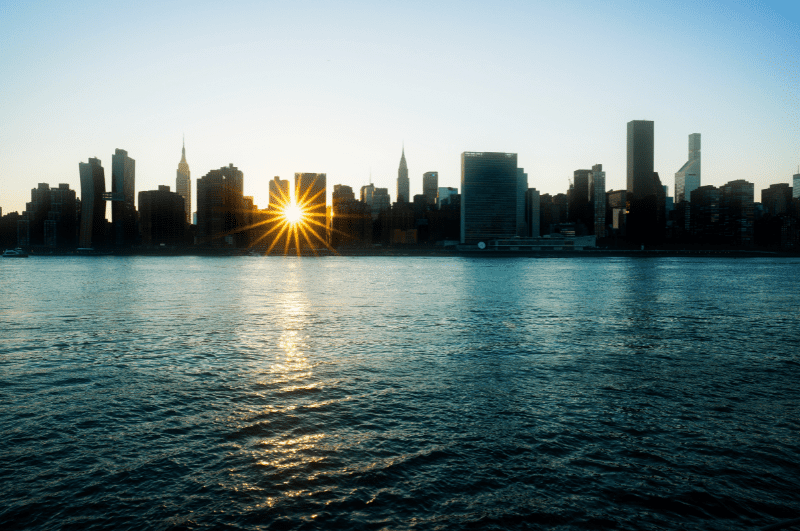 A yacht or boat at sunset is a particularly unique way to see New York City. You can choose from a variety of sunset cruise itineraries, which typically ply the Hudson or East Rivers.
Some cruises include jazz music and dinner, while others offer romantic rides on a sailboat. Others will take you around the Statue of Liberty, and you'll get views of One World Trade Center, the Empire State Building, and Ellis Island.
Enjoying dinner while watching the breathtaking nighttime view of the city with all its twinkling lights, and illuminated buildings is a spectacular, and memorable experience.
Depending on what's included, cruises can be quite reasonably priced, too.
5. Get spooked in Greenwich Village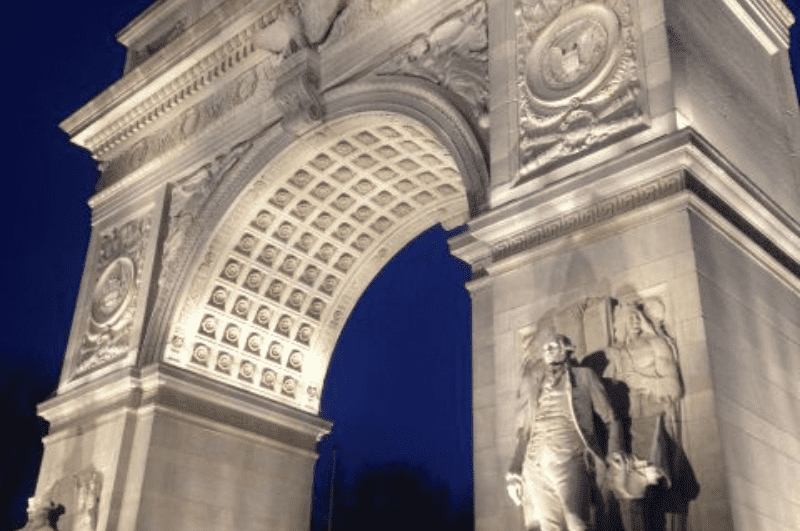 The trendy, and vibrant Greenwich Village area of Manhattan is a great place to visit at night – it's full of busy bars, restaurants, cafes, and places of entertainment. A novel way of enjoying "The Village" is to take a Greenwich Village Ghost Tour of haunted city locations like parks, universities, and restaurants.
While you're being thrilled by haunted tales and landmarks, you'll also get to learn a little bit about the city's history and get to walk through the city at night.
ⓘ TIP: There are many other interesting tours that you can do while in Greenwich Village as well, like a food tour of Greenwich Village or even a 2-hour cupcake tour of Greenwich Village.
6. Take a carriage ride around Central Park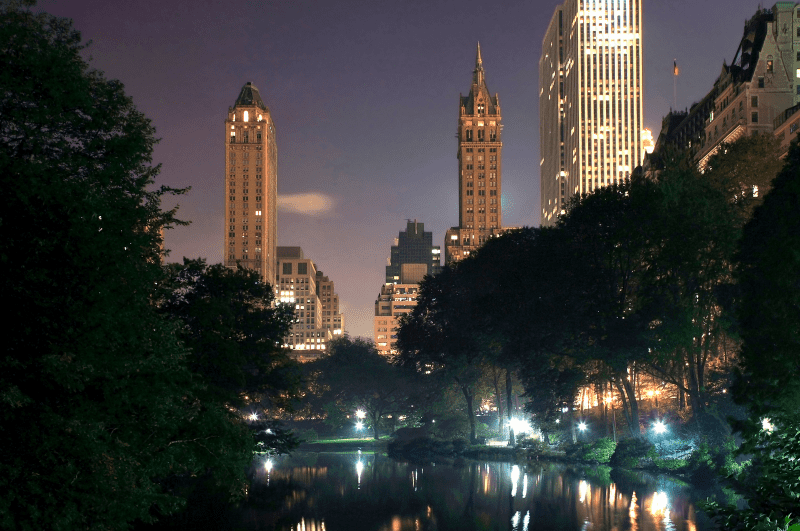 One of New York's most famous attractions must be Central Park, in the middle of Manhattan. This expansive 843-acre park is a gateway to the Upper West Side, and stretches all the way from 110th to 59th Street.
Day or night, the park has a myriad of pathways, ponds, fountains, and trees to enjoy, as well as the Central Park Zoo, ice skating rinks, and even Belvedere Castle for you to explore. But after dark, you will get to see the skyscrapers all lit up around you.
If you want a really fun way to get around this massive park, take a horse-drawn carriage ride; Central Park is particularly picture-perfect in the winter snow. You can also take an electric scooter tour through this massive park without getting too exhausted.
7. Visit the catacombs by candlelight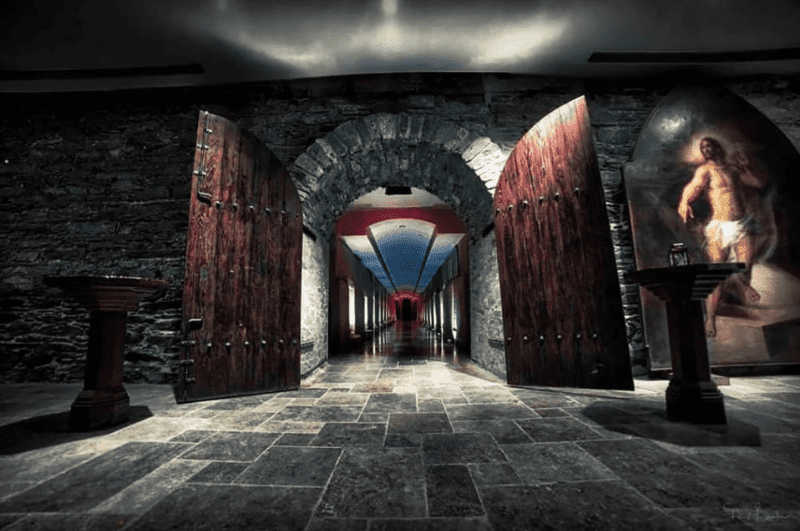 If you love history or if you enjoy seeing secret parts of a city that not many people know about, then you may enjoy visiting the catacombs in New York after dark. These catacombs in Lower Manhattan are usually closed to the public.
Join a guided tour to be taken beneath St. Patrick's Basilica in Little Italy. You'll learn about the underground history of the city and see the catacombs by candlelight. This guided tour takes about an hour and a half. The tours are accessible by wheelchair, and children can attend if they're accompanied by an adult.
8. View the city from above in a helicopter ride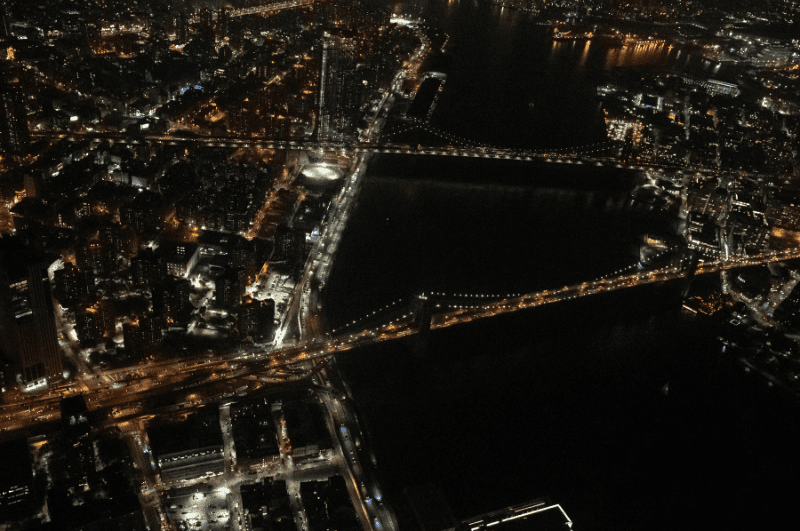 If you're looking for unforgettable thrills and adventure, then touring the "city that never sleeps" from the sky might tick all the boxes. You can choose to fly in a helicopter tour of New York at sunset or even once it's dark to see all the lights.
Fly over some of the most famous landmarks, like the Statue of Liberty, the Empire State Building, Times Square, the Hudson River, Coney Island, the Brooklyn Bridge, the Chrysler Building, and Central Park. You can choose a tour with narration, a romantic and private couples tour, or even an exhilarating ride with the doors off for adrenaline junkies.
9. Cross the river on the Staten Island Ferry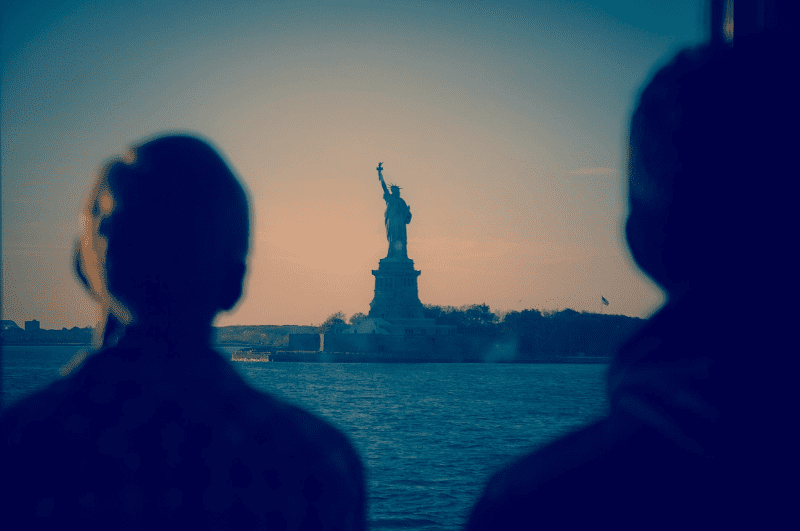 Being surrounded by water, New York City has numerous ferries to transport people from one side of the river to the other. The Staten Island Ferry is probably the best-known passenger ferry, though. It connects Staten Island with Manhattan, and the best part is that it's completely free.
The boat ride takes just under 30 minutes and is a fun, cost-effective way to see New York City at night, when it's illuminated by millions of dazzling lights. You'll also pass the Statue of Liberty, and you could make a night of it by visiting a bar or restaurant while you're on the other side.
10. Take a bus tour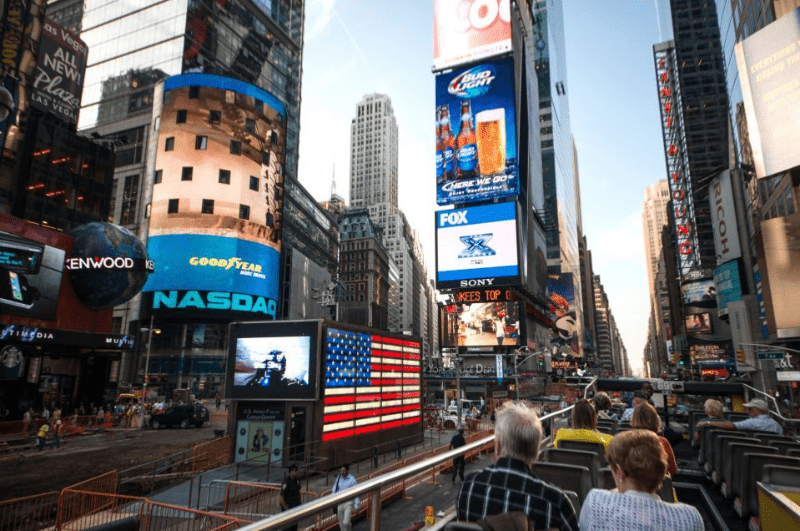 If you're keen to get a narrated tour while seeing the city's main sights and attractions, then book a bus tour to take you around New York at night.
Companies offer assorted itineraries, including a Christmastime tour to see the fantastic holiday lights displays in the Dyker Heights neighborhood.
11. Get a drink at a rooftop bar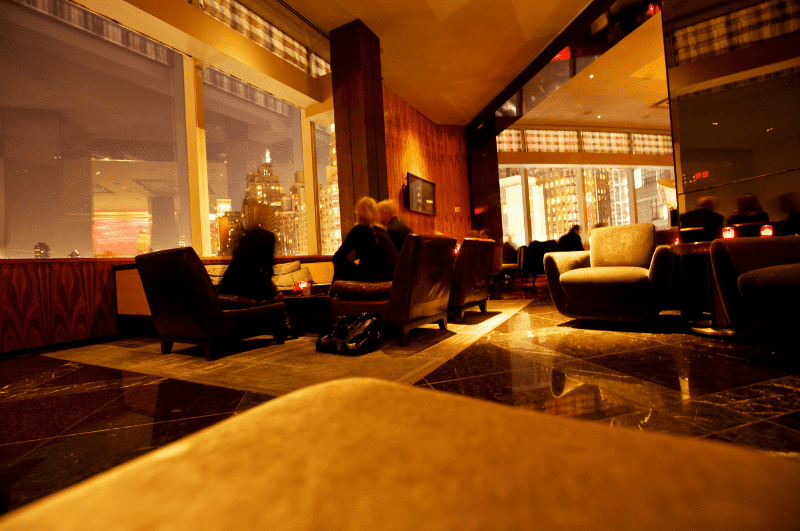 There is an abundance of trendy and vibrant pubs and bars in New York City. Whether you explore them by neighborhood or do an organized pub crawl, you're bound to meet some fun locals and have a great night out.
During spring and summer in New York, you can also enjoy sitting outside on a rooftop bar, sipping on a cocktail while soaking up the urban sights. East Village, Greenwich Village, the West Village, Tribeca, the Financial District, Chinatown, the Lower East Side, Chelsea, NoMad, the Flatiron District, and Brooklyn all have a host of hot and trendy bars.
Some of the most popular pubs in NYC include:
Death & Company
Dante
Employees Only
Apotheke
The Back Room
Banzarbar
the 18th Room,
NoMad Hotel's bar
The Long Island Bar
12. Watch a night-time sports game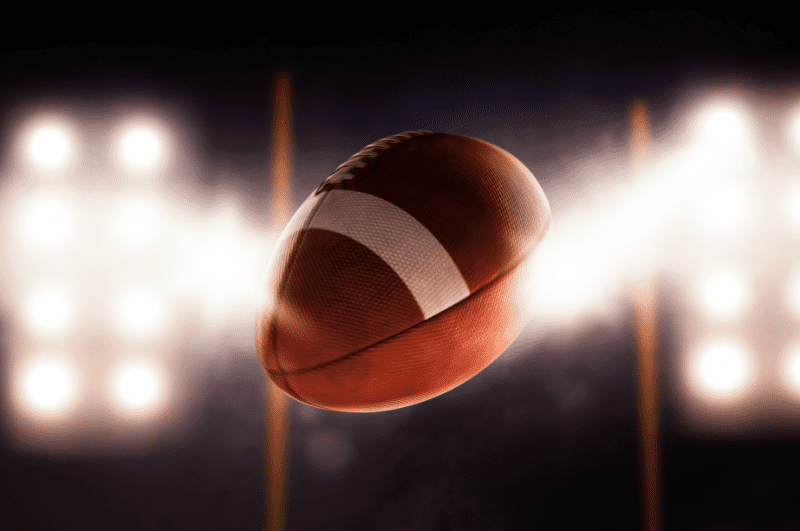 New York is one of the cities that is home to so many sports teams, each with its own stadium or venue. The New York Giants, and New York Jets are NFL teams; the New York Mets and New York Yankees are the city's baseball teams; the New York City FC is a soccer team; the New York Rangers play hockey, and the New York Knicks and Brooklyn Nets are basketball teams.
So whether you want to watch baseball, basketball, ice hockey, football, or even boxing – you'll find it in New York. Depending on the time of year, you can book to see your favorite team playing live in NYC, and many games happen at night.
13. Visit an art gallery after dark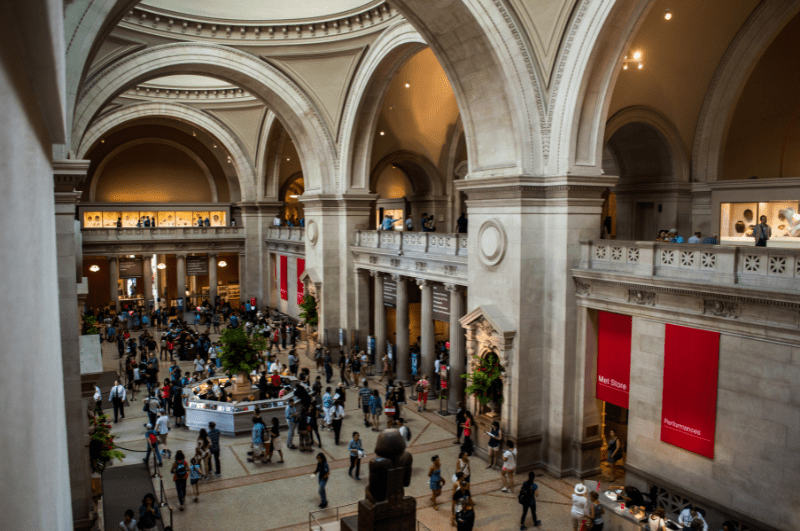 New York has some of the top cultural attractions in the world, which includes its rich diversity of museums.
Museums can be crowded during the day, so luckily many of them stay open until late, and this gives you the chance to explore them "after hours".
Some of the opening times have been reduced during the pandemic, and some museums now require you to book reserved timed tickets online before your visit so it's best to check for the latest opening times and any rules about masks and such. If you're a museum member, then there may be special opening hours and events just for you.
The following NYC museums stay open late:
14. See the lights at Times Square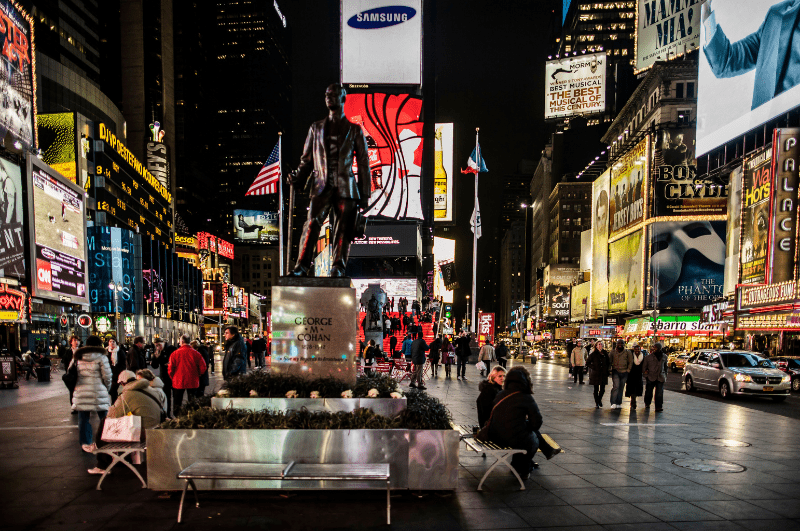 Situated in the heart of the bustling Theater District of New York, Times Square is visited by thousands of people each year and is also famous for its countdown ball drop on New Year's Eve.
Covered with brightly lit billboards, Times Square at night comes alive with lights and moving images. Being near Broadway, there are lots of theater entertainment options nearby, as well as restaurants.
If you're there close to midnight, you can watch the billboards synchronize their imagery to create the world's biggest digital art exhibition.
15. Watch a live TV show recording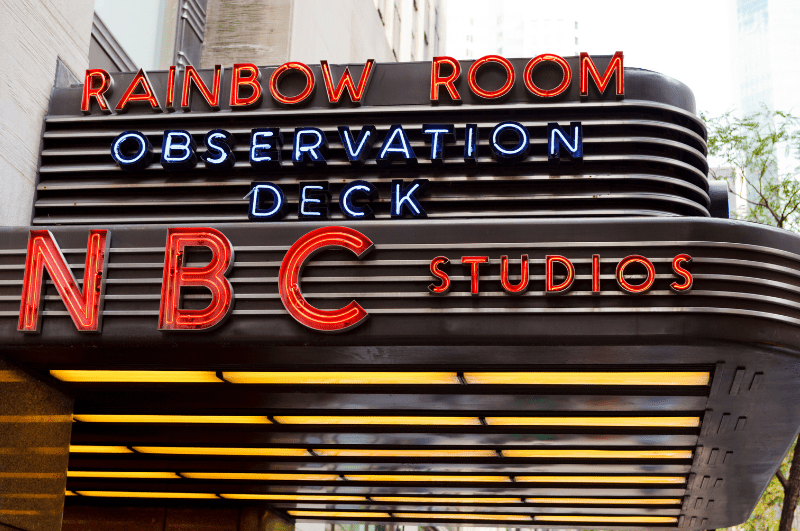 If you're a big fan of American TV shows, then you might like the chance to watch one being filmed in person, and be part of a live studio audience for free.
Many of the shows like the Tonight Show with Jimmy Fallon, and the Late Show with Stephen Colbert start recording in the late afternoon, while Saturday Night Live starts around 8.30 pm. The Daily Show with Trevor Noah starts Monday to Thursday from 6 pm, although the audience usually needs to get there in advance.
For certain shows, you might need to reserve a seat in advance, so be prepared to book.
16. Dine out in NYC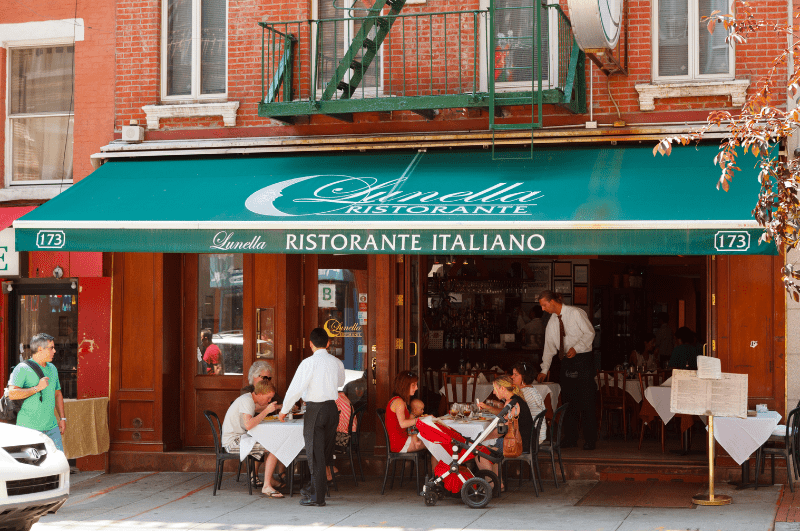 New York is known for its diverse and eclectic range of cultures and cuisines, so when it comes to dining out you'll be spoiled for choice.
Many of the restaurants stay open late, so eating out is one of the best things to do in NYC at night. Some of the top restaurants to try include:
If you're watching your budget, New York has a bustling street food and food truck culture that is not to be missed.
On the other hand, if you're wanting to sample a few different spots all in one night, then an organized food tour may be the most convenient option.
17. Walk along the Brooklyn Bridge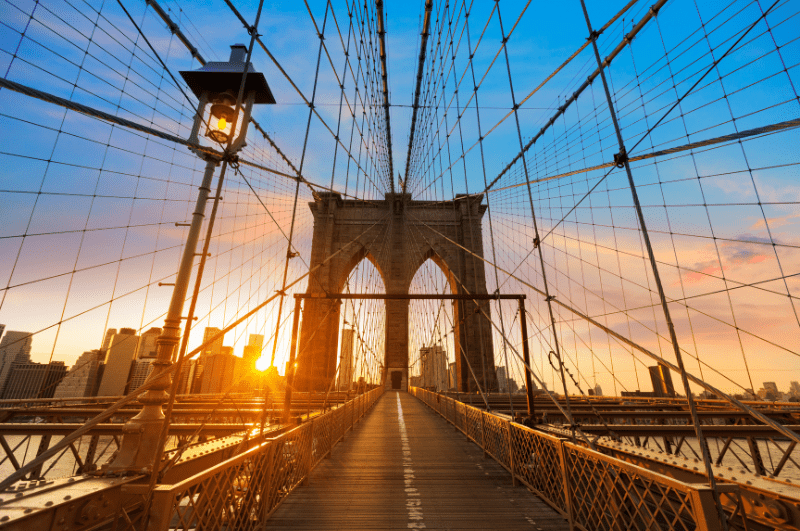 A walk along the Brooklyn Bridge at sunset or in the evening is a great way to see the city's skyline and explore the areas on either side of the bridge: Manhattan, and Brooklyn.
On the Brooklyn side of the bridge, you can visit the 85-acre Brooklyn Bridge Park. Enjoy the surroundings by walking through the park, having a picnic dinner, or watching nighttime cinema viewings during the summer months. Or you could opt for dinner at a restaurant or a night out at a bar, or a walk through the nearby DUMBO neighborhood.
To err on the side of caution, it's probably best to not cross the bridge alone after 10 or 11 pm. If you're hesitant to walk alone at night, then joining a guided tour of Brooklyn Bridge might help you feel safer – plus you'll get to learn about the bridge, its history, and the various boroughs. Also, remember to dress warmly in rainy weather, as it can get chilly in the cold.
18. Board the Roosevelt Island tram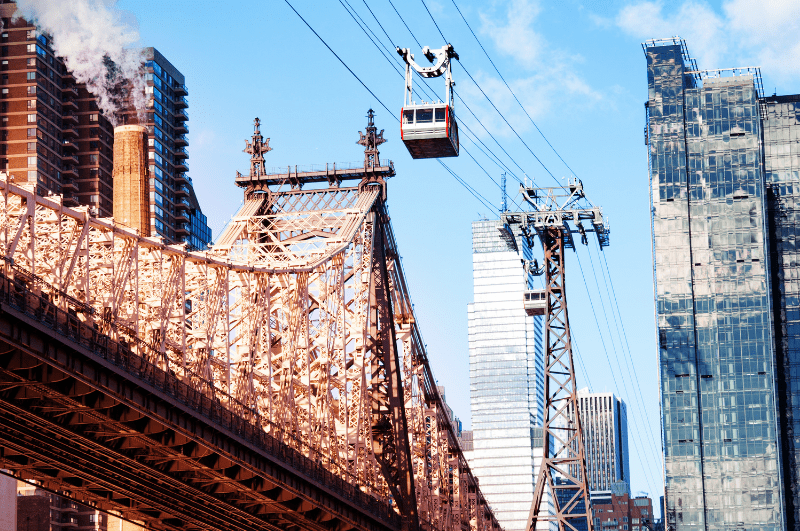 The Roosevelt Island Tramway is no ordinary tram – it's more of an aerial cableway that ferries people across the East River – connecting the Upper East Side of Manhattan with Roosevelt Island.
This commuter tramway is wheelchair accessible and is open daily (except for major holidays). It takes only a few minutes to cross the river, but the route is a highly unique way to see the city and offers incredible aerial views.
You can catch the tram at 59th Street, and Second Avenue in Manhattan or from The Tramway Plaza on Roosevelt Island. Night-time trips are available every 7 to 15 minutes.
19. Explore the city on foot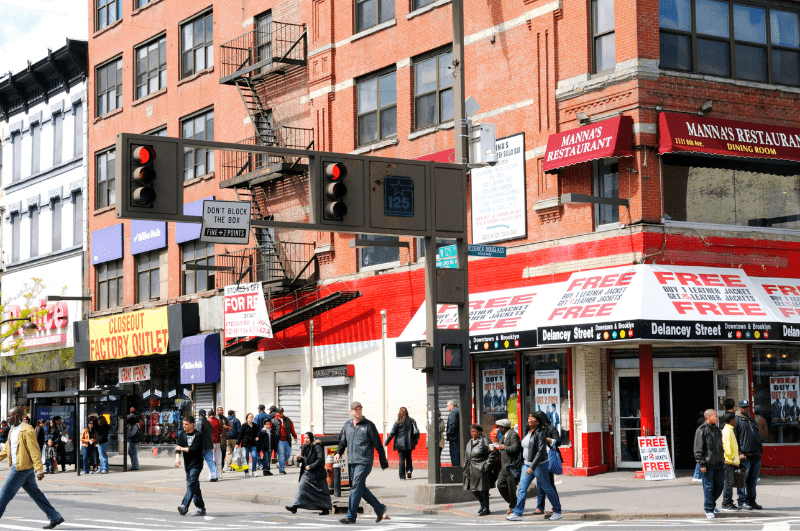 New York is a city that comes alive at night, and there are many parts of the city where you can safely walk at night. Some of the best places to explore the city on foot at night include:
The Battery
Washington Square Park
Brooklyn Bridge
Oculus
Central Park
Rockefeller Center
The High Line
20. Listen to jazz in Harlem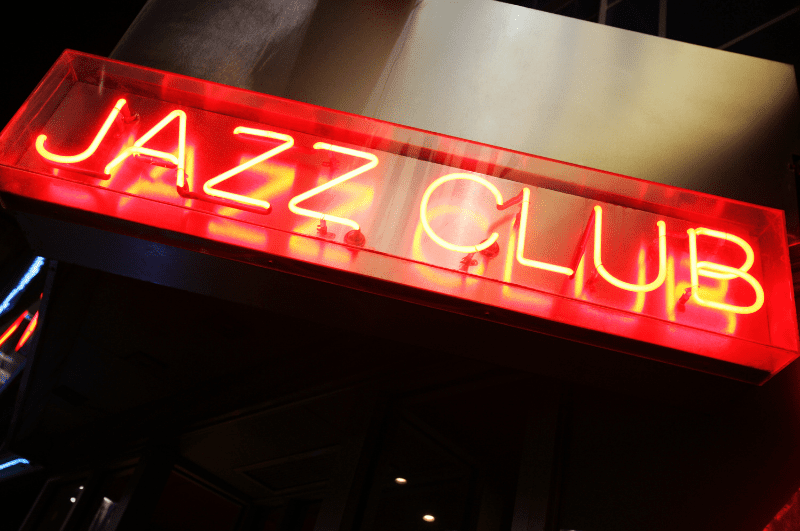 One of NYC's most vibrant neighborhoods is Harlem, which has a reputation for its excellent jazz clubs. For an unforgettable experience, you can do a tour of a curated selection of the best jazz clubs in Harlem in just a few hours, and watch some exhilarating live performances.
Twice a week, Mount Morris Ascension Presbyterian Church in Harlem plays host to some of today's most talented jazz musicians in a 45-minute concert. This is an event for all of the senses, and it is meant to be both mentally and spiritually uplifting.
You can also spend the evening on a jazz crawl, and learn the history of the area as you move from one club to the next.
21. View the city from atop the Empire State Building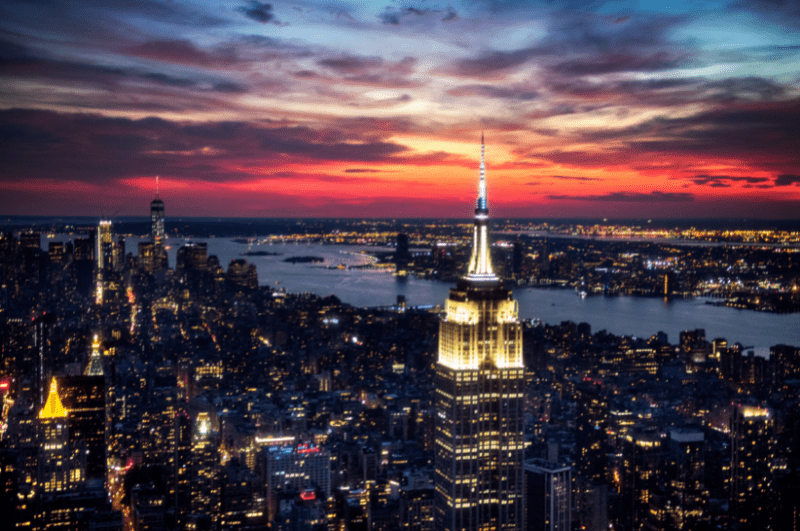 Another classic NYC landmark is the Empire State Building, which offers a 360-degree view of the city that never sleeps. It's a popular place for couples to propose marriage, watch the sunset, or get a classic view of NYC.
The Empire State Building is open 365 days a year. Hours vary, but the observation deck is often open until midnight. Tickets are required, with options to visit the open-air observation deck on the 86th or 102nd floors.
What to expect when visiting NYC at night
New York City is one of the most famous cities on the planet. It has a dazzling array of exciting, interesting, historic, and cultural sights, and activities to offer visitors and locals alike. No matter what your favorite interests are, you're guaranteed to have a great time in this iconic North American city.
And in this "city that never sleeps," you'll be pleased to know that there are so many thrilling things to do in NYC at night.
Want to save this for later?
Add this pin to your favorite Pinterest travel board.