Whether you're looking for a summertime family vacation, colorful fall foliage, or a romantic snowy winter getaway, we've created a fun 10-day New England road trip itinerary for you to use.
This plan will take you through some of the best places to visit in New England. You'll experience everything from quaint villages to bustling cities and national parks, and of course, there will be plenty of breathtaking scenery along the way.
It would take at least 3-4 weeks to tour New England in depth, but you can cover the best things to do in New England in 1-2 weeks. Read on for details on what to see on a 1-2 week-long New England road trip.
So get your camera ready and pack your bags—it's time to discover what this corner of America has to offer!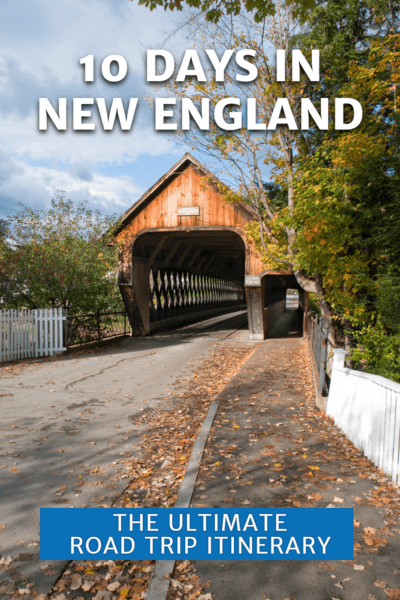 Where is New England?
New England is located in the northeastern part of the United States. It's made up of six states: Connecticut, Maine, Massachusetts, New Hampshire, Rhode Island, and Vermont. The region is known for its rocky coastline, autumn foliage, and cold, snowy winters.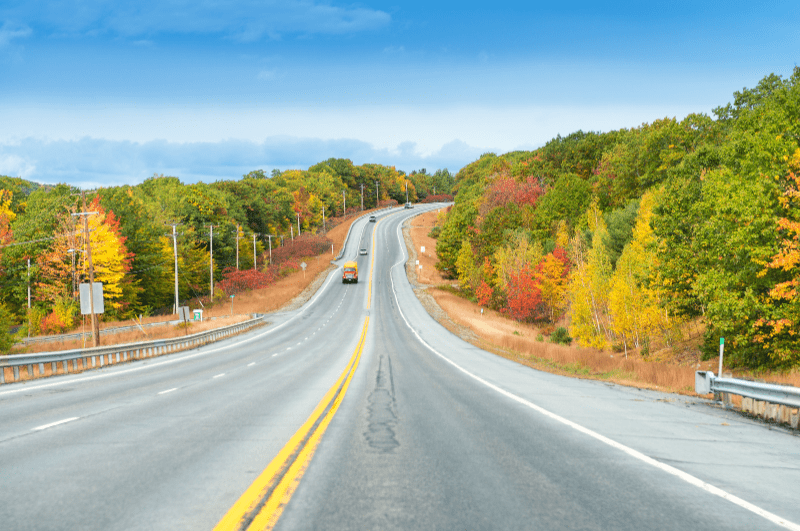 New England trip planning tips
Even before you begin planning your New England road trip, there's one absolutely essential thing you need to know: Hotels fill up very quickly.
To avoid disappointment, be sure to book all your accommodations as soon as you know your travel dates! We're not kidding. People book months in advance to secure a place to stay.
Same with New England tours. They are very popular, especially in the fall and winter months. And it's not just for road trips. All of these spots are destinations for people looking for a Boston getaway as well.
If you plan to be renting a car, doing it ahead of time guarantees you the lowest rates. Plus, they'll reserve the type of car you prefer. If you're a comparison shopper, you'll like Discover Cars. We use them ourselves, because they provide a hassle-free experience and offer fantastic prices.
Now that you have everything reserved, let's set out on your road trip!
Day 1: Salem, Massachusetts and Portland, Maine
Most people plan their driving vacations from Boston because it has the largest airport in New England. Arrive at Boston Logan International Airport in the morning, pick up your car, and head out of town.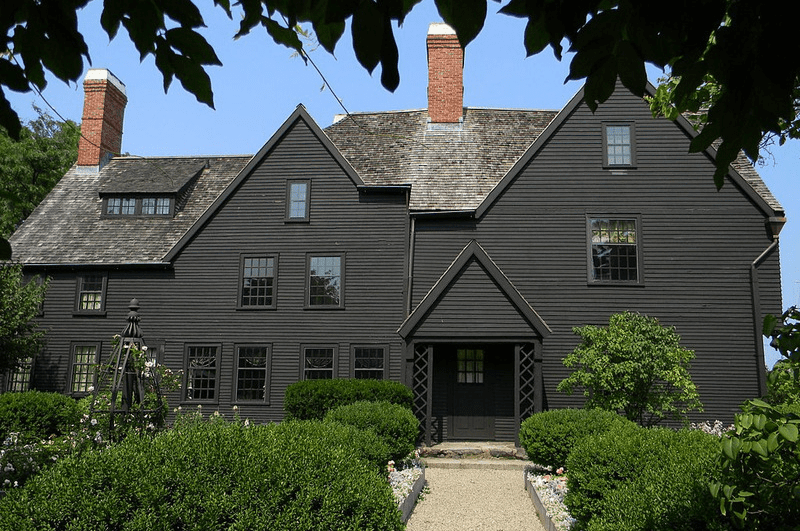 Your first stop will be Salem, where you'll explore the city's infamous witch history. Start at the Salem Witch Museum to learn all about the famous Salem witch trials of 1692. Then, visit the Salem Witch Trials Memorial near the water, and snap a selfie in front of the House of the Seven Gables, made famous by author Nathaniel Hawthorne.
If you prefer, you can book a 90-minute Witchcraft Trials Walk with a licensed and professional guide who will bring Salem's history to life.
Pop in at Red's Sandwich Shop or Deli House for lunch. You can either dine in or order takeout and eat on the road, as you wish.
Now, continue your drive north to Portland, Maine's largest city. This lively city is full of great restaurants, bars, and shops, as well as plenty of art galleries and museums.
Spend your afternoon strolling along the cobblestone streets of Portland's Waterfront Old Port Historic District, touring the Portland Museum of Art, or visiting Victoria Mansion, a beautifully-preserved 19th-century home.
End your day with a schooner tall ship cruise on Casco Bay and sample some of the delicious food for which Portland is known.
Where to stay in Portland Maine
Budget: The Black Elephant Hostel has air-conditioned accommodations, a shared kitchen, and a shared lounge, along with free WiFi throughout the property. Some rooms at the property feature a balcony with a garden view.
Mid-range: Hampton Inn Portland Downtown Waterfront offers free airport and local shuttles, an indoor heated pool, and a fitness center.
Luxury: The Francis, a historic landmark, is located in Portland's Bramhall neighborhood, near the Art District. Museums, galleries, theaters, skating rinks, craft breweries, and boutiques are within a 0.9 mi radius of the property.
Day 2: Acadia National Park Maine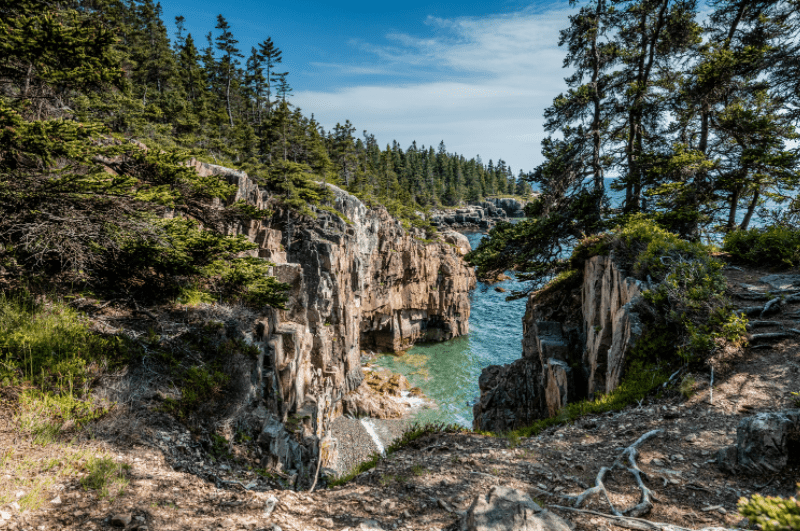 It may look quite far on the map, but in reality, it only takes about three hours to drive from Portland to Acadia National Park. So get an early start and hit the road!
Acadia National Park is one of the most popular tourist destinations in Maine, and for good reason. Located on Mount Desert Island, Maine's largest island, this 47,000-acre park is home to towering mountains, pristine lakes, and miles of hiking trails.
Here, rocks erode into the ocean and iconic lighthouses stand high above them. Wildlife can be seen both in the water and on land, and there are numerous hiking trails to explore.
Today's first stop will be Bar Harbor, a beach town that's also the gateway to Acadia National Park. You can take a walking tour through Bar Harbor before checking into your hotel, and then head to the park after lunch.
There are plenty of things to do in Acadia National Park, but some of the most popular activities include hiking to the top of Cadillac Mountain (the highest point on the U.S. Atlantic coast), kayaking in Swan Lake, and biking or driving the Park Loop Road.
To end your day, enjoy a dinner of ocean-fresh fish in one of the many excellent restaurants on the island.
ⓘ TIP: This inexpensive self-guided driving tour is a personal guide, audio tour, and map all rolled into one. It takes you around Bar Harbor and into Acadia National Park, where you'll enjoy a scenic drive around Park Loop Road, and finally begin driving up to the top of Acadia's most famous peak: Cadillac Mountain.
Where to stay near Acadia National Park (Bar Harbor)
Budget: Various campgrounds are available in the area.
Mid-range: Acadia Inn is a family-friendly hotel 1.1 miles from the center of town. The hotel offers a complimentary breakfast buffet each morning, free wi-fi, air conditioning, a hot tub and outdoor pool, and an on-site trail that accesses the park.
Luxury: Chiltern Inn Featuring an indoor pool and sauna, this Bar Harbor bed and breakfast is located 1.6 mi from Acadia National Park. Rooms at the Chiltern Inn offer a wood-burning fireplace, free Wi-Fi, and a private bath.
Day 3: White Mountain National Forest, New Hampshire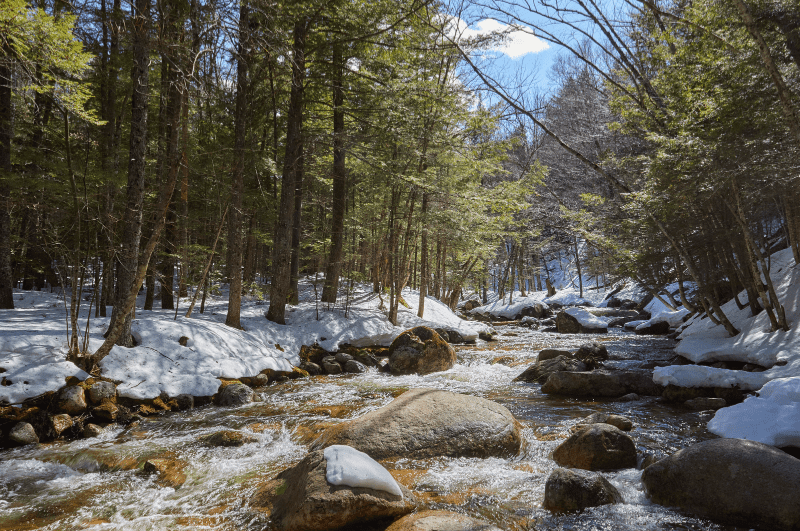 After spending two days in Maine, it's time to head into New Hampshire. You'll spend the morning on the drive from Acadia National Park to White Mountain National Forest, and the vistas are so beautiful you'll thoroughly enjoy the long drive!
White Mountain National Forest tops most New Hampshire road trip itineraries, with unnumerable towering mountains, pristine lakes, and miles of hiking trails to explore.
Springtime brings warmer weather and melting snow, making it the perfect time to go hiking and camping.
In the summer, you can go hiking, camping, fishing, and canoeing.
In Autumn, you can explore the many covered bridges in the area and drive New Hampshire's scenic Kancamagus Highway to see the famous New England fall foliage.
And in winter, the mountains of New Hampshire turn into a playground for cold-weather sports enthusiasts, with numerous ski resorts and cross-country skiing trails.
No matter what time of year you visit, there are plenty of things to do in the National Forest. Some of the most popular activities are hiking to the top of Mount Washington (the highest point in the Northeastern U.S.), driving the scenic Kancamagus Highway, and photographing the many covered bridges in the area. For more ideas, check out our article about the town of Lincoln, NH.
ⓘ TIP: This audio tour will enhance your Kankamangus road trip. All audios play automatically based on location. Most stops along the tour have animated videos allowing you to visualize what you cannot see, such as snapshots from different centuries or interior rooms. Your tour begins in Woodstock and ends at a ranger station near Conway.
Where to spend the night in the White Mountains
North Conway is the perfect end to your day in New Hampshire, as it has a wide range of lodging options. You won't have any problem finding a place to eat either, as it has many of New Hampshire's best restaurants, shops, and attractions.
Budget: Colonial Motel features an outdoor swimming pool and a picnic area. Some rooms feature a covered porch while others have a large spa bath.
Mid-range: Cranmore Inn bed and breakfast is a short walk from the Conway Scenic Railroad and Mount Washington Observatory Weather Discovery Center. It features uniquely-decorated rooms with free Wi-Fi.
Luxury: White Mountain Hotel and Resort Set within the natural beauty of Hale's Location, this elegant North Conway resort features a year-round heated outdoor pool and hot tub overlooking the mountains. Rooms feature flat screen TV's, work desk, USB Ports and Speakman showers. Daily full breakfast is included and high-speed internet access along with two dining options with Ledges Restaurant and Tullamore Tavern are also provided.
Day 4: Vermont's Green Mountains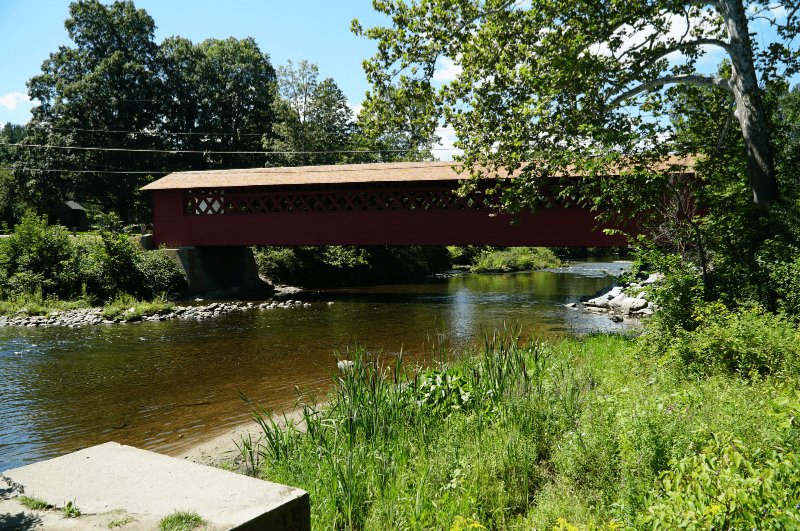 Today is all about Vermont, the Green Mountain State. The state gets its name from two French words, vert (green) and mont (mountain). When you see these mountains, you'll understand why!
This morning begins with a two-hour drive to Stowe Vermont. Stowe is a popular ski resort town in Vermont, and it's also home to some of the best maple syrup in the state. Be sure to visit one of the many sugarhouses in the area to see how this delicious treat is made!
You can also explore Stowe's charming downtown, ski at Trapp Family Lodge, go for a hike in the Green Mountain National Forest, or take a scenic drive on the Mountain Road.
After lunch in Stowe, this afternoon's road trip itinerary is all about the scenery as you drive down the Route 100 Scenic Byway. Vermont's longest highway takes you through some of the most beautiful countryside in Vermont. You'll see covered bridges, mountain vistas, and quaint towns all along the way.
Keep your camera handy; the covered bridges of Vermont are some of the most beautiful in New England. To find ones that are along the route, click here.
Where to stay in Wilmington Vermont
Stop for the night in Wilmington, VT. Wilmington is a small town located in the southwest corner of the state, right on the border with Massachusetts.
This quaint town is home to several art galleries, antique shops, and a variety of restaurants. It's also the perfect place to relax after a long day of driving.
Budget: Viking Motel offers free WiFi access, cable TV, and air conditioning in all rooms.
Mid-range: The Nutmeg provides accommodations with a garden and free WiFi throughout the property as well as free private parking for guests who drive. The inn features family rooms.
Luxury: The Wilmington Inn provides accommodations with a bar, free private parking, a shared lounge and a garden. Featuring family rooms, this property also provides guests with a terrace. Free WiFi and a concierge service are provided. Vegetarian, vegan, and gluten-free options are available for breakfast.
Day 5: Litchfield and Mystic, Connecticut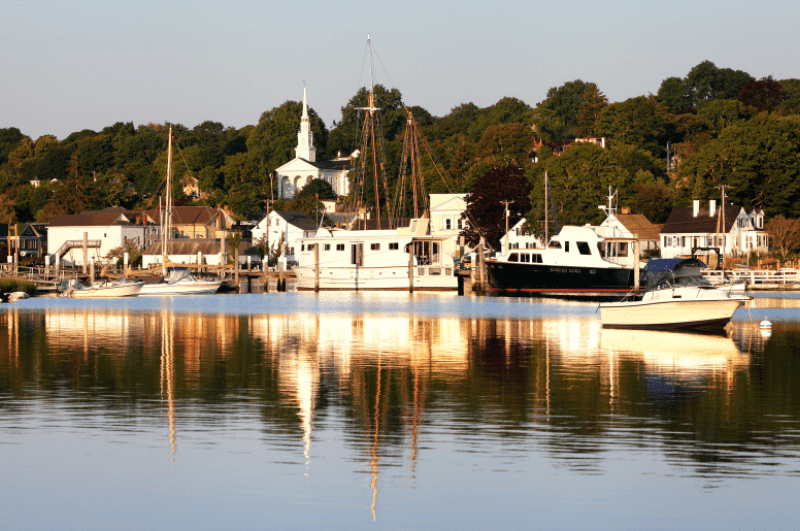 Your first stop today is the small town of Litchfield, located in the western part of Connecticut. The prettiest drive is down US-7 S, and it travels through Litchfield Hills, one of the nicest parts of Connecticut. This route takes roughly the same amount of time as I-91 (about 2.5 hours). You decide!
Litchfield is a charming New England town with a rich history. The town was founded in 1719 and has been home to many notable residents over the years, including writer Harriet Beecher Stowe and abolitionist John Brown.
Today, Litchfield is a popular tourist destination for its many antique shops, art galleries, and historic homes. If you're interested in learning more about the history of Litchfield, be sure to visit the Litchfield History Museum.
You can also take a self-guided walking tour of the town's historic homes and buildings, such as the Oliver Wolcott House.
After lunch in Litchfield, your New England road trip continues east to Mystic, Connecticut. Mystic is a historic seaport located on the Mystic River in southeastern Connecticut.
Today, Mystic is a popular tourist destination, best known for its maritime history and as the setting of the 1988 film Mystic Pizza.
The top attraction is Mystic Seaport Museum, which is one of the largest maritime museums in the world. This fascinating museum features exhibits on the history of whaling, shipbuilding, and seafaring.
If you're looking for other things to do in Mystic besides visiting the museum, one of the most popular family attractions is the Denison Homestead, a 300-year-old family farm that offers a glimpse into early colonial farm life. Mystic also has a nice aquarium, which is a popular attraction on rainy days.
Outdoor options include hiking in nearby Bluff Point State Park and kayaking or canoeing on the Mystic River. You can also take a boat ride or go for a walk along the pretty waterfront.
Where to stay in Mystic, CT
Budget: Pet-friendly Days Inn Mystic is within walking distance to sights in downtown Mystic, and a short drive away from the Atlantic Ocean. Free breakfasts, Wi-Fi, and onsite parking is included.
Mid-range: The Taber Inne is an 8-minute walk from the beach and 2,300 feet from Williams Beach Park. Guests staying at the hotel can enjoy the indoor heated pool and free WiFi throughout the property.
Luxury: Harbor View Landing accommodations include cottages, free WiFi throughout the property, and free private parking for guests who drive. Featuring water sports facilities and a tennis court, the hotel is close to several noted attractions and only 1.8 miles from Mystic Seaport. The property has river views and a terrace.
Day 6: Newport, Rhode Island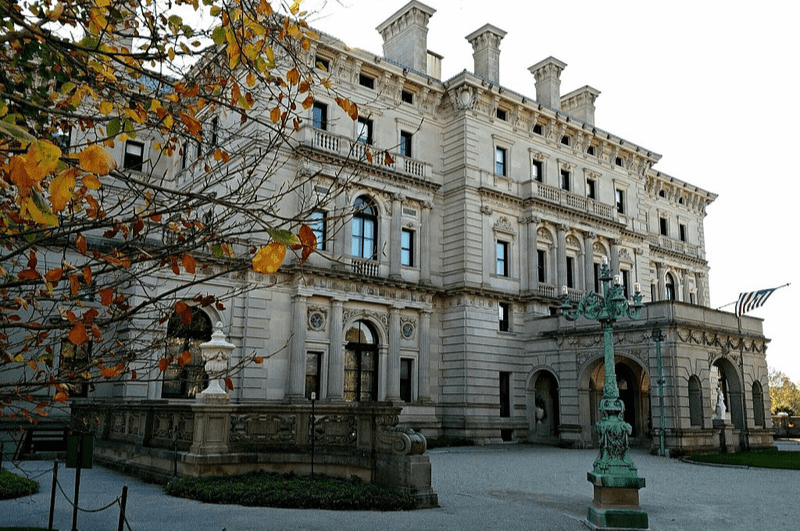 Rhode Island, the smallest state in the U.S., is home to many historic towns. One of the most notable is Newport, which was once a summer retreat for the wealthy.
The seaside town of Newport is best known for its gorgeous mansions, which were built by some of America's wealthiest families during the Gilded Age.
Start your visit with a tour of The Breakers, the grandest of all the Newport mansions, located on the elaborate estate of Cornelius Vanderbilt. Then, explore the grounds of Marble House, another one of Newport's famous Gilded Age mansions. Be sure to also stroll along Bellevue Avenue to see all of the other lavish mansions that line this famous street.
ⓘ BUDGET TIP: If you take the Newport Scenic Trolley tour, free admission to The Breakers mansion is included.
In the afternoon, visit the International Tennis Hall of Fame, explore Fort Adams State Park, or relax on one of Newport's many beaches. If you'd prefer to explore Newport itself, cobblestone streets, art galleries, museums, antique shops, and local restaurants await.
If you're a water lover, consider taking a boat ride to Block Island, taking a scenic boat ride around Newport Harbor, or going for a sail on Narragansett Bay.
End your day with dinner at one of Newport's great restaurants, and don't forget to enjoy a delicious cup of coffee from one of the local cafes while you're there!
Where to stay in Newport Rhode Island
Budget: Near Newport's Memorial Park, Motel 6 Newport offers free basic WiFi and rooms that feature a seating area. The Newport Marina is 2 miles away.
Mid-range: The Admiral Fitzroy Inn, a historic bed and breakfast, offers elegantly decorated guestrooms featuring antique sleigh beds and hand-painted walls. Guests staying at the inn can enjoy a free gourmet continental breakfast served in the sunny dining room overlooking Thames Street. The property also features a rooftop deck.
Luxury: Hotel Viking opened in 1926. This historic Newport hotel is a 5-minute walk to Thames Street and less than 1 mile from the Cliff Walk to the city's historic mansions. Guests staying at the Viking Hotel can enjoy an on-site spa, indoor pool, and fitness center. On-site dining at the One Bellevue restaurant is also available.
Day 7: Cape Cod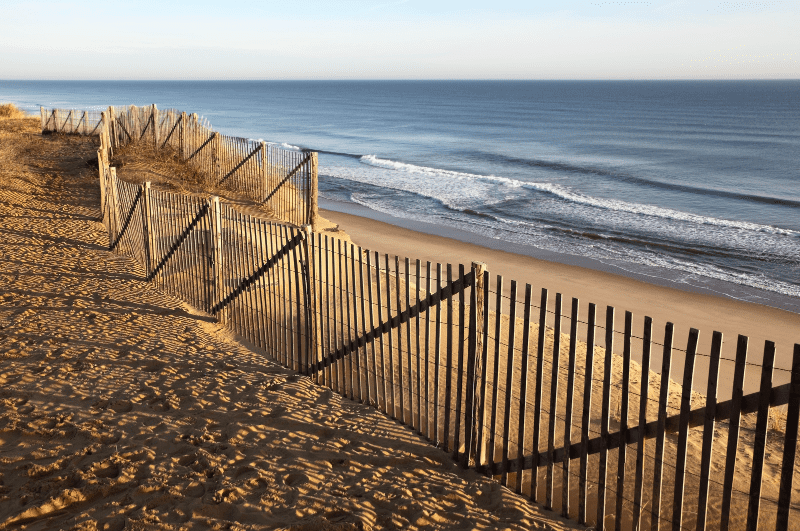 You'll spend today on Cape Cod, a peninsula located in southeastern Massachusetts. With nearly 560 miles of pristine coastline, Cape Cod has long been a popular summer destination for the rich and famous, including the Kennedy family, who have a compound in nearby Hyannis Port.
But it's a favorite East Coast vacation spot for families, couples, and singles as well, because of its many beaches and quaint small towns. New England beach vacations are extremely popular.
Depending on the weather and your energy level, you might want to begin with a Cape Cod self-guided driving tour. The audio app gives you a flexible and affordable way to see all of the scenic Cape Cod on your own terms.
Alternatively, start your morning at Cape Cod National Seashore. With 40 miles of coastline, the seashore features many pristine beaches, hiking and biking trails, and lighthouses to enjoy.
After a few hours at the seashore, drive to the charming town of Sandwich for lunch. This historic town is home to many beautiful old homes and buildings, including a glass museum and Hoxie House, the oldest home on Cape Cod. Heritage Museums and Gardens is also a wonderful destination.
In the afternoon, head to Provincetown, located at the very tip of Cape Cod. Provincetown is a popular summer destination for its nightlife and vibrant arts scene. It's also a great place to enjoy some fresh seafood.
Or, you could take a boat ride to Martha's Vineyard or Nantucket. These two islands are both accessible by ferry from Cape Cod and offer a different vibe than the mainland. If that's more your speed, consider this Martha's Vineyard tour by a local who has lived his whole life on the island.
Other popular Cape Cod attractions include the Cape Cod Museum of Natural History (Brewster, MA), the Whydah Pirate Museum (West Yarmouth), and the scenic Cape Cod Trail, a 22-mile paved pathway that winds through 6 towns on the Cape.
Where to stay in Cape Cod
You can either stay in Cape Cod for the night or return to the mainland in the evening and stay in Plymouth for two nights.
Budget: Viking Shores Motor Lodge, located 2 mi from the beach, features an outdoor pool. It is also a part of the Cape Cod Rail Trail Bike Path.
Mid-range: Sandbars Inn in North Truro has air-conditioned accommodations with views of the sea and free WiFi. Some of the units have cable TV, a fully equipped kitchen with a dishwasher, and a private bathroom with a shower and a hairdryer.
Luxury: Wequassett Resort and Golf Club is a 2-minute walk from the beach. This West Harwich waterfront resort offers an 18-hole golf course, free Wi-Fi, and brightly colored rooms that offer a sitting area and plush bedding. Guests can enjoy waterfront dining, swim in the seasonal outdoor pool, or relax in the hot tub. A fitness center, children's playground, and tennis court are also available.
Day 8: Plymouth, Massachusetts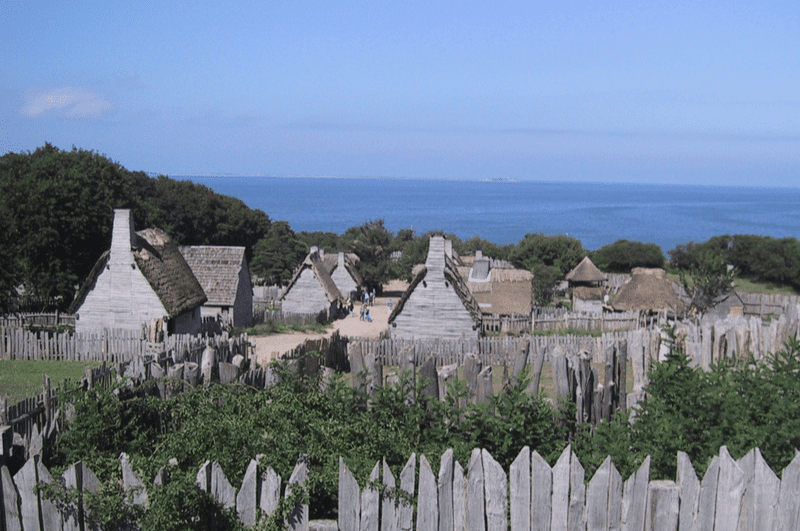 The town of Plymouth, Massachusetts began as a Puritan colony in 1620. Today, it's best known as the site of the first Thanksgiving and home to Plymouth Rock, the famous landmark that marks the spot where the Pilgrims first landed.
Start your visit at Plimoth Patuxent (formerly known as Plymouth Plantation). This living history museum complex is a must-visit for families and history buffs. It includes a replica of the Mayflower ship and several original 17th-century buildings.
After lunch, stop at Plymouth Rock for a photo and continue to Pilgrim Hall Museum in Plymouth's historic downtown-harbor area, where you can learn all about the Pilgrims who settled in Plymouth in 1620.
The town's downtown-harbor area contains several historic buildings, including the Plymouth Courthouse (built in 1754), the Jenney Grist Mill (built in 1636), and the Mayflower Society House (built in 1824).
End your day with a walk along Plymouth's historic waterfront. Don't miss the Plymouth Cordage Company Historic District, a National Historic Landmark that includes several 19th-century rope-making factories.
End your day with dinner and a stroll along the Plymouth Waterfront to watch the sunset over Cape Cod Bay.
Where to stay in Plymouth:
Days 9-10: Boston, Massachusetts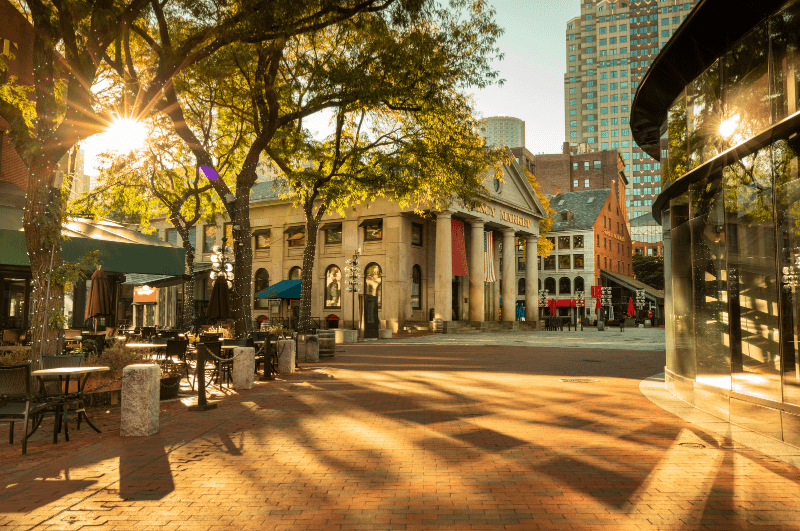 There's no better place to cap off your 10-day New England road trip itinerary than in Boston, the capital of Massachusetts. This historic city is full of Colonial character and charm. Plus, there are plenty of things to see and do, from exploring the Freedom Trail to watching a baseball game at Fenway Park (read our article about the game here).
Before you do anything else, you'll need to return your rental car back to Boston airport. You won't need it in the city, as you can navigate better by using Boston's public transportation system and on foot. Besides, parking and traffic in Boston can be a hassle.
You'll find details on how to get into Boston from the airport at the end of this article.
ⓘ PRO TIP: If it's too early to check into your room when you arrive, don't worry. Most hotels will stash your bags in a secure location and then deliver them once your room is ready.
As one of America's oldest cities, Boston Massachusetts is full of historic landmarks and sites. Start your Boston adventure by walking the Freedom Trail. Known as one of the top things to do in Boston, this 2.5-mile (4 km) trail passes 16 different sites that are all significant to American history. You can do it yourself or get the full experience with a guided walking tour.
If time permits this morning, take a leisurely stroll through Boston Common, the oldest public park in the country.
Head to the iconic Quincy Market shopping district for lunch, and don't forget to try a famous Boston Cream Pie while you're there!
In the afternoon, choose activities based on your interests:
History lovers – visit some of Boston's famous historical sites, such as the Boston Tea Party Ships, the USS Constitution Museum, and the Paul Revere House.
Sports fans – Tour Fenway Park, home of the Boston Red Sox baseball team
Art lovers – stroll through the Isabella Stewart Gardner Museum or the Museum of Fine Arts
In the evening, dine at one of Boston's many great restaurants. For a truly unique experience, try a seafood dinner at one of the city's many waterfront seafood shacks.
Be sure to end your day with a stroll along the waterfront to watch the sunset over Boston Harbor.
Where to stay in Boston:
Budget: in the heart of Boston, HI Boston is 5 minutes away from Boston Common and public transport. All rooms include free Wi-Fi. Guests can relax with a pool table and TV in the game room. A shared kitchen, coffee bar, and vending machines offering snacks and drinks are on-site. Bike storage is available.
Mid-range: The Oasis Guest House offers free WiFi, shared outdoor terraces, and concierge service. Northeastern University is an 8-minute walk. Some rooms include a private bathroom. All rooms are nonsmoking.
Luxury: The Newbury Boston features a restaurant, bar, shared lounge, and garden. This 5-star hotel has a 24-hour front desk, room service, and free WiFi. The hotel has family rooms, and breakfast includes vegetarian and gluten-free options.
Day 10 of your New England itinerary depends on when you plan to depart.
If you're leaving in the afternoon or evening, you have time this morning for a little more sightseeing. You could spend a couple of hours cruising on Boston harbor or go wandering through one of Boston's neighborhoods before heading to the airport.
If you have a second, full day in Boston—or better yet, 3 days in Boston, you might want to take part in an interactive museum tour and become a part of the Boston Tea Party, take an Italian food tour in Boston's North End, or go whale watching off the coast of Boston in a catamaran. If you plan it right, you might even be able to catch a Red Sox game at Fenway Park!
How to get to downtown Boston from Logan International Airport
The most convenient option is to book a private shuttle from the airport to your hotel and let someone else handle the bags and traffic.
The cheapest and easiest way to get to downtown Boston from Logan International Airport is by taking the MBTA (Massachusetts Bay Transportation Authority) Silver Line bus. The SL1 and SL2 buses both go to South Station, which is located in the heart of downtown Boston. The ride takes about 30 minutes and costs $2.75 per person.
That said, unless your hotel is next to the South Station terminal, you'll probably want to take a cab or Uber from there to your final destination to avoid hassling with luggage.
5. If you have a drone, you'll be happy to know that aerial photography is permitted in many parts of New England.
Final thoughts about this New England road trip
No matter when your flight departs, be sure to allow plenty of time to get to Logan Airport. Traffic can be heavy, especially during rush hour.
And that's a wrap on your 10-day New England road trip itinerary! We hope you enjoyed this trip and that you'll come back to explore more of this beautiful region in the future.
What are the best months for fall colors in New England?
The best time to visit for fall foliage in New England is typically September and October. However, the exact timing for peak color can vary from year to year depending on weather conditions.
For the most up-to-date information on where to find peak color, check out the New England Fall Foliage map.
5 tips for taking a road trip through New England
1. Get a map. You'll be traveling through some remote areas with spotty or no cell signal. If you don't want to risk taking a wrong turn, either buy a paper New England map or download the offline version of whatever New England road trip map application you use. And if you can, familiarize yourself with it before you depart.
2. Use apps to find cheap gas. Two popular ones are Gas Buddy and Waze. Fuel always ends up being one of the most surprising and costly expenses on a road trip.
3. Track the weather daily. New England weather can be finicky, and changing conditions can take you by surprise. Keep a raincoat and sweater handy.
4. Book a few experiences along the way. Walking tours, food tours, and boat tours are a lot of fun and create wonderful memories. There are tons of great tours on offer, allowing you to get the most of the vast history and beauty that New England has to offer.
5. Always carry loads of water and snacks in the car. It's convenient to have what you need on hand. Plus, you won't waste time and money buying stuff at a convenience store.
4 photography tips for New England road trips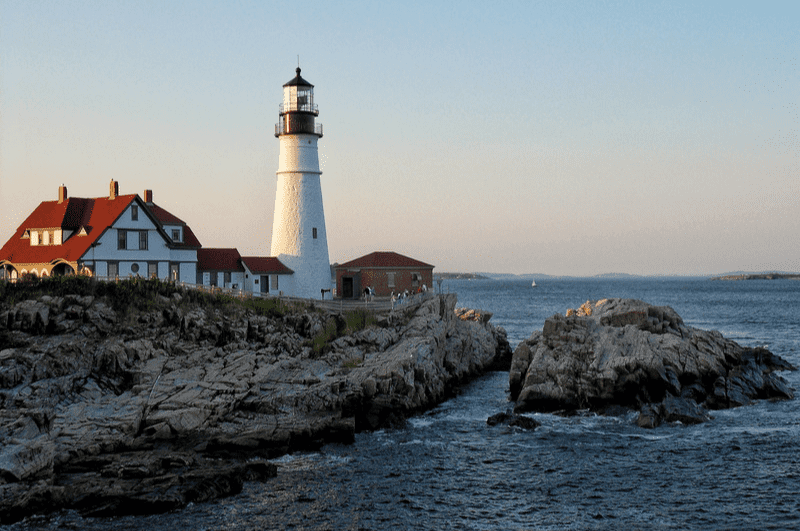 1. Rural country roads offer a wealth of photo opportunities, from quaint farms to rolling hills. These areas are often more rural and less populated than urban areas, so you'll have plenty of chances to snap some beautiful shots. And because rural country roads are usually less crowded than city streets, you won't have to worry about getting in anyone's way.
2. Look for elevated vantage points whenever possible. While you're out exploring, keep your eyes peeled for elevated vantage points. hop on a rock or climb a tree to get a better view of your surroundings. You might just be surprised at what you find!
3. Remember to keep your camera charged. That way, you'll never miss a moment. A fully charged hattery will let you capture all the special moments, so always keep it topped up.
4. Bring multiple spare batteries for your camera. Nothing is worse than seeing a great shot and discovering your camera is out of power. Extra batteries are the best backup plan.