If you're looking for the best winter getaways in New England, then our comprehensive list of towns and cities below should be inspiring.
The New England region of the United States is made up of the 6 northeasternmost states: Maine, Vermont, New Hampshire, Massachusetts, Connecticut and Rhode Island. Flanked by New York, the Atlantic Ocean and Canada, the area is famed for its gorgeous autumn foliage, forested mountains, picturesque lakes, and colonial past.
While many of New England's towns and cities are great to visit all year round, they have a special charm in cold weather, transformed by glittering snow and festive activities. New England is one of the most beautiful snowy places to visit in the USA.
There are so many things to do in New England in winter, and the region has some of the best skiing and ski resorts in the country. But there are also a host of other exciting adventures, activities, winter day trips, road trips, and events to take part in as well.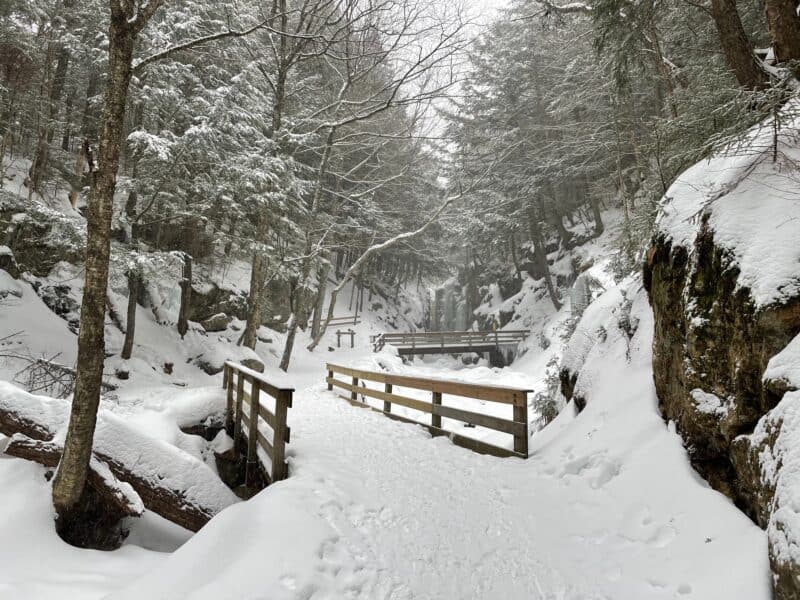 If you live in New York or one of the surrounding states, those quaint New England lodges are only a short drive away − definitely doable for a long weekend. The internet is full of cheap weekend getaways in New England that you can take advantage of.
And if you have more time and want to stay a bit longer, you'll be pleasantly surprised at how scenic, relaxing and exciting a winter vacation in New England can be.
ⓘ TIP: If New England is just a little too far and you don't have time for winter weekend getaways from NYC, check out our article covering things to do in New York City in the winter.
Popular winter getaways in New England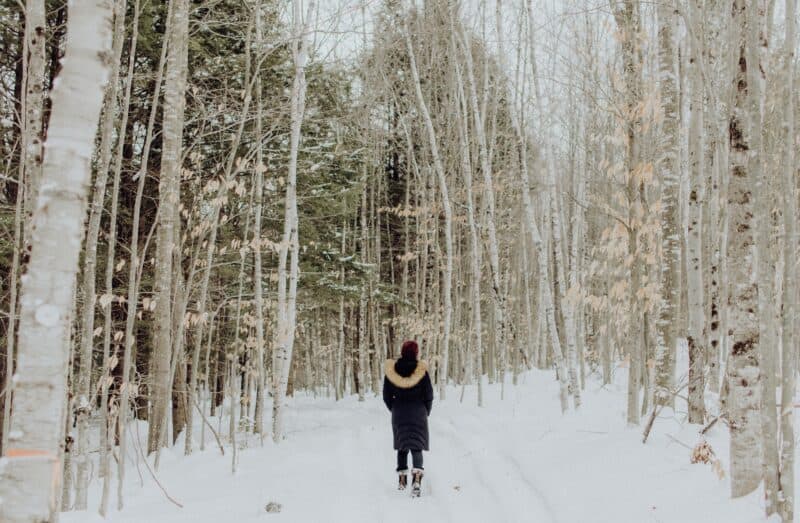 There's little doubt that the most popular places to visit in New England during winter have to be the many ski resorts in the area. Among the best known are Sugarbush, Killington, Stowe, and Bretton Woods. But there are plenty of other things to do in New England as well.
There are hundreds of towns and cultural and historic sites with that unique New England character. You'll find typical New England winter activities like snowshoeing, ice skating, fat biking, and dog sledding, as well as plenty of spots that are perfect for wintertime hiking.
And it goes without saying that when it comes to all inclusive resorts and cheap vacations, New England does not disappoint. You'll find a wide variety of affordable romantic getaways in New England, family travel deals, and winter day trips throughout the region. And it goes without saying that there are an endless range of restaurants and winter festivals here to keep you entertained.
Want to read this later?
Save this pin on your favorite Pinterest travel board.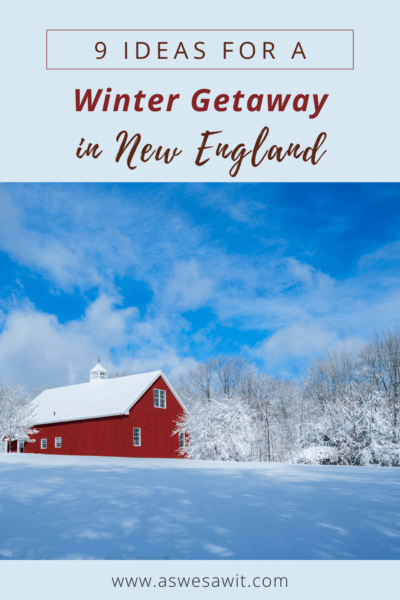 The best winter vacation spots in New England
We'll explore some of these popular places for an idyllic New England winter vacation in this article. The best winter break destinations include Stowe and Burlington (Vermont), Boston (Massachusetts), Jackson (New Hampshire), Bethel (Maine), Greenville (Maine), Hartford and Litchfield (Connecticut), and Newport (Rhode Island).
Here are New England's best winter getaways, arranged by state.
ⓘ TIP: Not sure where to go? For last-minute deals in New England, click here.
Best winter getaways in Vermont
1. Stowe, Vermont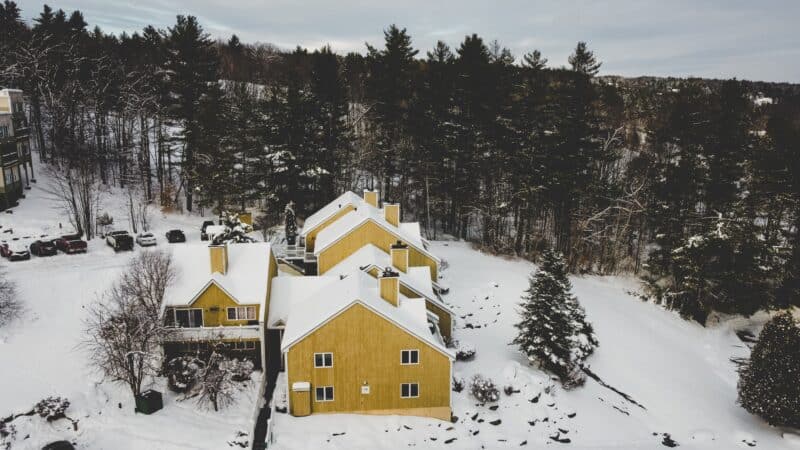 Stowe, Vermont is a picture-perfect quaint little town with only about 4,000 residents. It's set in an idyllic setting, surrounded by lots of nature and wilderness that has something amazing to offer in every season. Whether you're looking for romantic getaways or kid friendly vacation resorts, you'll find your bliss here.
Winter in Stowe offers a myriad of exciting indoor and outdoor activities. These include a gondola sky ride at the luxurious Stowe Mountain Resort with panoramic views from the top of Mt. Mandfiled, ice skating on the free-access public rink at the Spruce Peak Village Center and watching an intimate live performance at The Spruce Peak Performing Arts Center.
For families and adventure-lovers, you could try an unforgettable Ethical Dogsledding experience, or zip through the back-country forest roads on snowmobiles. If you feel like being pampered, there are some fabulous luxury New England resorts. Perhaps you could visit the spa at Stoweflake Mountain Resort and then pop over to the Ben & Jerry's factory for some of the best ice cream in the world.
ⓘ TIP: If you're a fan of The Sound of Music, stay at the Trapp Family Lodge. The Captain and his family opened this hotel in Stowe after they escaped the Nazis during World War 2. You'll feel like you're in Austria without leaving America!
2. Burlington, Vermont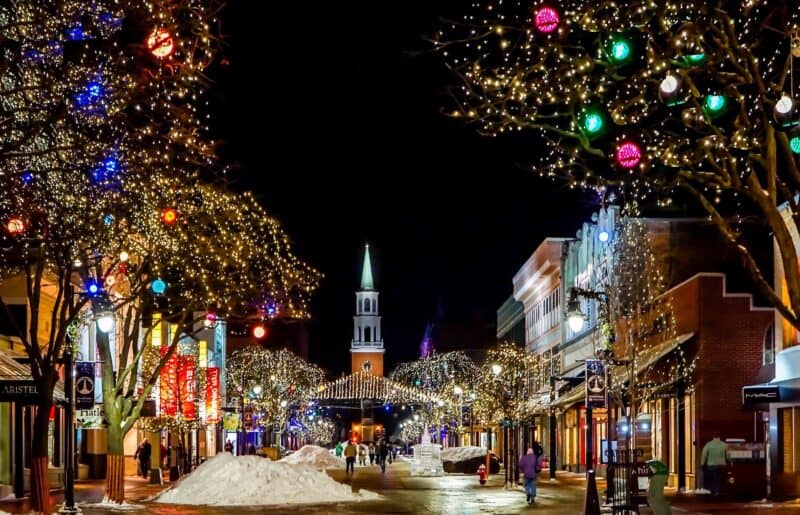 This small city is actually the largest one in Vermont, situated on a hillside that overlooks Lake Champlain and tucked amongst the Adirondack mountains.
Burlington is abuzz with busy restaurants, live events and festivals, art shows, museum exhibitions, incredible shopping and many outdoor activities. Across the four seasons, it offers a range of exhilarating pursuits.
During winter in Burlington, some of the highlights for visitors include the New Year's Eve Highlight celebration, listening to world-class music at the Burlington Discover Jazz Festival, browsing through shops along the Church Street Marketplace, or watching a show at The Flynn Theater.
There's also great skiing to be had nearby on mountains like Sugarbush, Smuggler's Notch, Mad River Glen, and Stowe. The city is full of good restaurants and cafes, including some great vegan and vegetarian options like Revolution Kitchen, Juice Amor, and Pingala Cafe. Burlington also has several breweries and distilleries where you can warm up with an adult beverage.
Best winter getaways in Massachusetts
3. Boston, Massachusetts
The city of Boston is one of the premier winter destinations for many Americans, as it has so much to offer in the way of cultural and historic activities, festivals and events, restaurants and nightlife. It also ranks as one of the best New England winter getaways because it's within close range of many popular ski towns and winter outdoor activities.
If you're looking for romantic winter getaways in Massachusetts, then Boston is a great cold weather destination as well.
If there's snow, you can try sledding through Boston Common or snowshoeing at the expansive Gore Place. Boston has plenty of wintertime festivals to choose from, such as the annual Hanukkah Festival of Lights at the Museum of Fine Arts and the city's annual First Night celebrations. And of course, the city has plenty of festive Christmas markets to choose from, including the highly popular Boston Winter Holiday Market.
On sunny days, you can stroll through the Boston Common along the Freedom Trail, which meanders past some of the city's most impressive historic sites. You'll see many of Boston's most-loved landmarks, like the Massachusetts State House (with its awe-inspiring golden dome), the Old South Meeting House, and the Old State House.
When the weather outside is frightful, there's no end to the museums and indoor attractions on offer. For families, the Boston Science Museum and the Boston Aquarium are both fun and educational ways to entertain your kids. Arts lovers can visit the iconic Boston Opera House, which has a riveting variety of performing arts shows, and the Prudential Center in Boston's Back Bay neighborhood has some of the best shopping in the city.
Best winter getaways in New Hampshire
4. Jackson, New Hampshire
If you're looking for a quiet, relaxing place for a winter getaway, or somewhere to spend a romantic weekend or even to have a unique wedding, Jackson in New Hampshire ticks all the boxes. The place is so charming and romantic that it has a bridge nicknamed the "Honeymoon Bridge", fabled to bring good luck to those who grab a kiss beneath it.
The town is located in the heart of the White Mountains and although it has a tiny population, there are several great places to stay which ooze with New England charm.
In addition to great skiing, at places like Black Mountain and with the Jackson Ski Touring Foundation, there are also a range of other outdoor winter activities. You can also ice skate on a lake, explore the forested estate by snowshoeing, or experience a horse-drawn sleigh ride through the snow, complete with hot chocolate, bonfires and a lantern-lit trail.
Or for something unusual, visit the ice castles in Lincoln — there are only four others in America!

Best winter getaways in Maine
5. Bethel, Maine
Surrounded by lakes and mountains, this quintessential New England village is a delight in all four seasons. It's a great place for families and those who want a quiet and secluded escape from bustling city life.
Bethel is close to some of the best ski slopes in Maine and has over a hundred trails around the Sunday River Resort and Grafton Notch State Park. If you're looking at New England family vacation packages, you'll find a range of winter activities in the White Mountain National Forest, including hiking, mountain biking, and snowshoeing.
Experience all-year canoe trips and dog sledding adventures, try fat biking for a winter adrenaline rush … and your children will probably love it if you take them snow tubing at the Sunday River Resort.
Another popular place to visit in Bethel is the Maine Mineral and Gem Museum, which has an exciting collection of minerals and gems as well as space rocks. The various Museums of the Bethel Historical Society also offer an entertaining way to explore the origins of the area.
6. Greenville, Maine
The town of Greenville, Maine, is another great winter getaway destination. Located along the spectacularly large Moosehead Lake, and looked upon by the impressively high Mount Kineo, this little town has lots of character. It's also a popular choice of getaway for those who love the great outdoors.
For shopping, visit the town's Kamp Kamp Moosehead Lake Indian Store, Mud Puddle Mercantile , and Northwoods Outfitters Moosehead Lake. To learn about the history of the town and area, visit the Moosehead Maritime Museum and the The Center for Moosehead History.
Lily Bay State Park is about a 9-mile drive from Greenville. Spanning 925 acres, the park has year-round activities which include winter camping, cross country skiing, snowshoeing, snowmobiling, and some great hiking.
There are some comfortable hotels in the area, such as the Lodge at Moosehead Lake, as well as a variety of cozy mountain cabins. You'll also find a variety of local eateries, some of which offer live music. Two favorites are the Stress-Free Moose Pub & Café and Kelly's Landing.
Best winter getaways in Connecticut
7. Hartford, Connecticut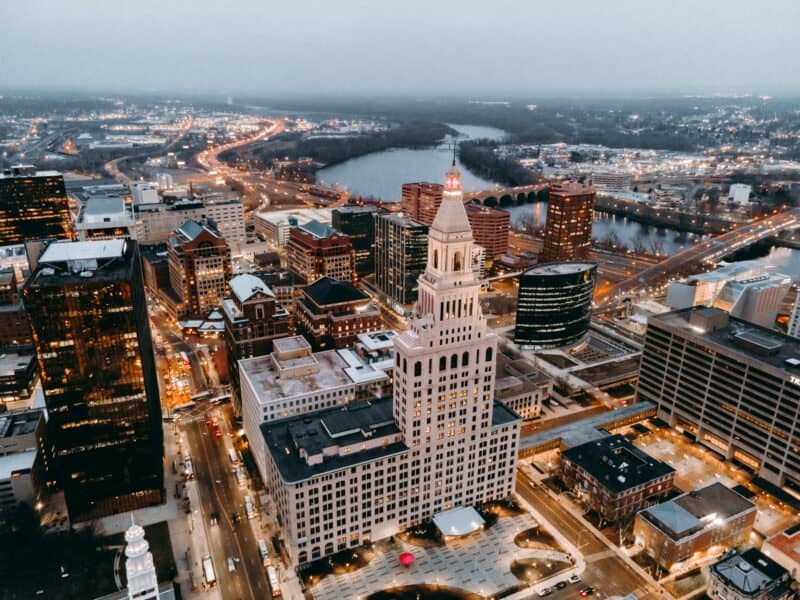 Connecticut's state capital, Hartford, is special for its beautiful parks and gardens, riverfront, and cultural attractions. You can find dozens of things to do here.
Maybe you'd like to wander the town visiting historic places like Mark Twain's home (famous for having authored the books Tom Sawyer and Huckleberry Finn), art museums like the Wadsworth Atheneum, or watch an innovative performance at the Hartford Stage.
Have fun with the family ice skating at Winterfest at Bushnell Park which offers free skating, rentals and lessons. Bushnell Park is somewhat of a winter wonderland when it snows, and a walk through the park can be topped off with a ride on the Carousel or a visit to the nearby Christmas lights displays at the Holiday Light Fantasia.
First Night Hartford is also a special winter holiday celebration for New Year's Eve. This cultural, artistic, and alcohol-free event entertains participants with musicians, artists and exhibits and is a great family-friendly way to bring in the new year.
8. Litchfield, Connecticut
Only a short drive from Greenwich, the quaint little town of Litchfield is a great place for a relaxing winter vacation. It has a selection of interesting shops like Housatonic Trading Company (where you can search for antiques and bargains), and is a short drive from the annual Christmas Town Festival in Bethlehem that is certain to fill you with festive spirit and cheer.
Litchfield is situated along the Connecticut wine trail so you can taste wines at some of the nearby vineyards like Haight-Brown Vineyard and Hopkins Vineyard.
The town also has plenty of fun outdoor activities on offer. These include snowshoeing and cross-country skiing in the expansive White Memorial Foundation's ski area, downhill skiing and snowboarders at nearby Mohawk Mountain or Ski Sundown, and hiking in Macedonia Brook State Park.
Best winter getaways in Rhode Island
9. Newport, Rhode Island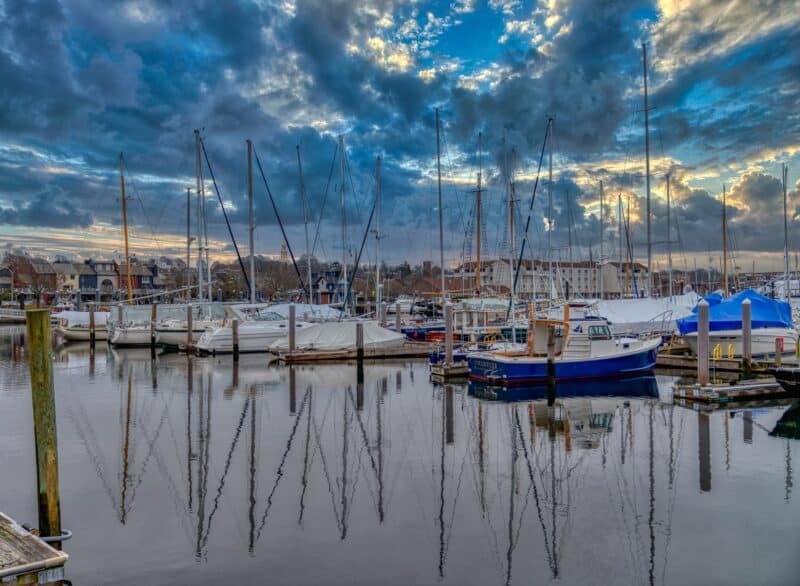 The city of Newport in Rhode Island is known for its sandy white beaches, sailing and Gilded Age mansions, as well as its proximity to Martha's Vineyard and Nantucket. This cosmopolitan city has so much to offer in any season – great restaurants and cafes, boutique shops and lots of accommodation options for any budget.
Newport's New England charm, its harbor, and its mansions attract thousands of visitors each year, so winter is a nice, quiet time to visit. Popular activities in Newport include walking along Cliff Walk, visiting the Gilded Age mansions, wine tasting at one of the Newport Vineyards, going out on a seal-watching tour, or taking part in the Newport Winter Festival.
If you're a history buff or you appreciate museums, then the Touro Synagogue (the country's oldest synagogue), the National Museum of American Illustration and the International Tennis Hall of Fame museum should keep you busy. The Thames Glassblowing Studio is another popular favorite.
If you're looking for a unique dining experience, the White Horse Tavern is nearby. It's the country's oldest tavern.
What to pack for a New England winter vacation
Winters in New England can be very cold and rainy, and frequently experiences heavy snowfall. So here's an essential list of things to take along during your getaway:
Winter jacket
Warm winter socks (ideally woolen)
Thermals
Snowshoes or snow boots
Your ski gear (if you have your own)
Camera – we carry the Sony RX100 (point-and-shoot) and the Sony a7Rii (a full-frame mirrorless camera)
Winter scarf, gloves and hat
Sunglasses, to protect against snow glare
Facial sunscreen
ⓘ TIP: We've got a full list of winter gear in our Amazon shop. Check it out!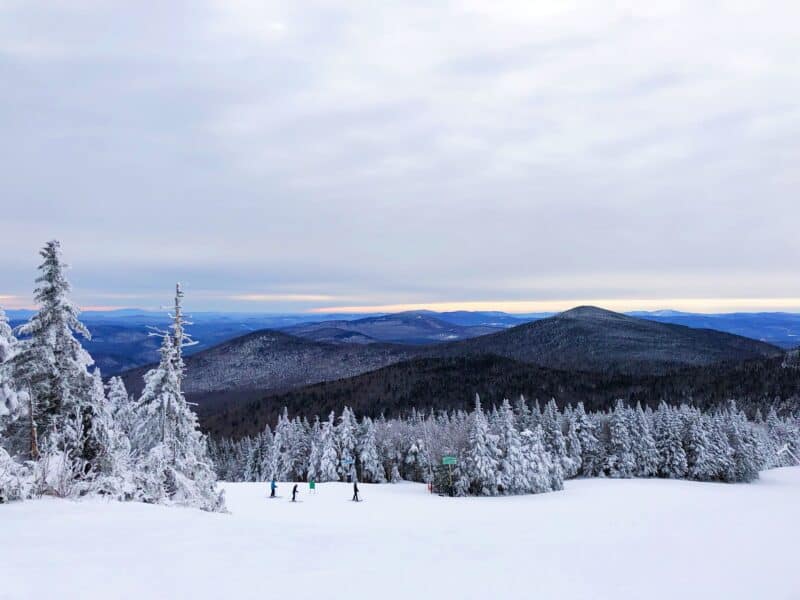 ⓘ TIP: If you want to go beyond preserving your vacation with a camera, you can try customizing commemorative coins with the names of places and classic landmarks you have been to. They'll make nice souvenirs once you get home.
Winter weather in New England
New England's winter climate can vary depending on which state or city you're in. Maine, Vermont, New Hampshire, most parts of Massachusetts and northern Connecticut experience cold winters with heavy snowfall. Rhode Island and the southern parts of Connecticut generally have milder winters and less snowfall.
As a general rule of thumb, areas that are closer to the ocean will be slightly warmer and have less snow.
Final thoughts about winter vacations in New England
Winters in New England are a magical time of year when snow covers forested mountaintops, lakes freeze over with ice, and towns are adorned in twinkling Christmas lights and festive decorations. It's the time of year when New Year's celebrations abound, and when you can cozy up to a blazing fire with a cup of hot chocolate.
It's also the season when you get to have fun trying out all those adventurous winter sports like skiing, snowshoeing, tobogganing, dog sledding, romantic carriage rides through the snow, and even winter camping.
Just make sure you pack warmly, wherever you choose to spend your winter vacation in New England. And have a good time!
ⓘ Need some more wintertime destination inspiration? If you're an American, we've covered the best New England winter getaways, things to do in NYC in winter, warm winter vacations in the USA, and the top day trips from Orlando and Miami. For winter in Europe, read about the best European Christmas markets, Christmas in Crete, and places to visit in Europe in December, We also have cold-weather guides to Vienna, Munich, Salzburg, Hallstatt, Zagreb, and Ljubliana, as well as a winter packing list. We're here to help you enjoy traveling in the winter!