The sunny island of Cyprus can take you on an adventure-filled journey adventures through coastal towns, idyllic hillside villages, and ancient ruins. Steeped in history, travelers get to discover a landscape absorbed in wonder.
We suggest you explore Cyprus on your own by driving through the vibrant area. One week will show you the most iconic sights and best tourist attractions, and still leave time to soak up the sun in this beautiful beach destination.
Let's take a look at what our one-week Cyprus road trip itinerary includes, as well as the logistics of getting around. Pack your bags and get ready for the ultimate road-tripping adventure.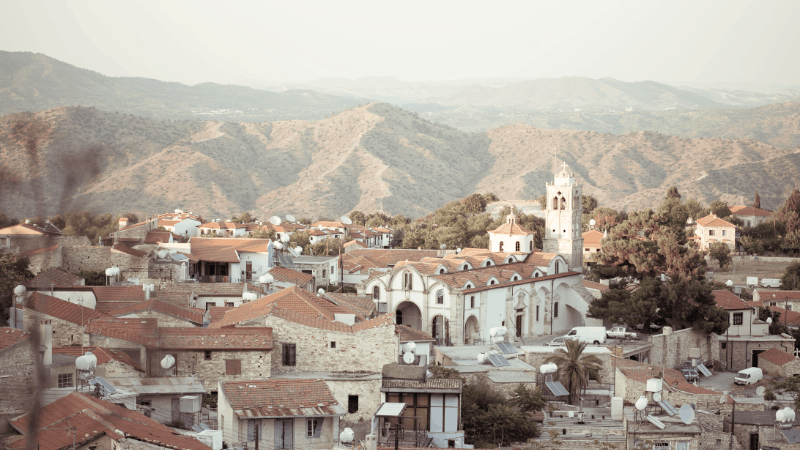 How to get to Cyprus
Airport. Southern Cyprus has two international airports, located in Larnaca (LCA) and Paphos (PFO). Most people fly into Larnaca Airport, which is the larger of the two.
Visas. A visa for the Republic of Cyprus is not required for people holding an EU, U.S., Canada, Australia or British passport. Cyprus permits stays of up to 90 days.
North Cyprus is a part of the Turkish Republic. As this is a different country, you will need a separate visa, which can be obtained online. Click here to learn more about the Turkish e visa. Visitors can stay for up to 90 days.
Where to stay in Cyprus
Before embarking on your road trip, you'll need to decide where you will be staying. With such a wide array of Cyprus vacation spots around the island, you can choose anything from budget-friendly hostels to luxurious vacation homes and villas that offer stunning views of the Mediterranean.
This itinerary route has been laid out to optimize your time on the island. Depending on where you're looking to spend more time ‒ at the beach or in a charming historic village ‒ you can find a hotel or rental that works best for you.
Book your accommodation like this:
2 nights in Limassol
2 nights in Paphos
1 night in Girne (Kyrenia)
1 night in Nicosia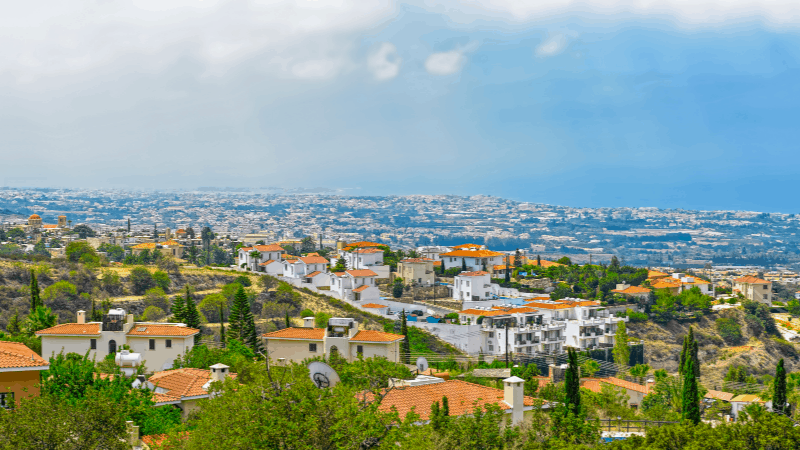 Getting around Cyprus
The best thing about doing a road trip around Cyprus is that you can focus on things that suit your interests, stay as long as you like, and leave whenever you want. But if you want to travel like that, you'll need to rent a car.
Driving in Cyprus is easy and quick because Cyprus is not that big. You can get from one side of the island to the other in a matter of a few hours. This means your fuel costs will be low, and you won't spend much of your precious vacation time inside the car.
When driving in a foreign country, it's essential to get familiar with the driving laws in the place. According to Number1Plates, some unusual laws in Cyprus include no eating or drinking while driving, and you can't use any rude hand gestures on the road.
ⓘ TIP: Use a price comparison site to find the best price on a rental car.
If you prefer not to drive, there are other alternatives.
Public transportation. Buses are the only form of public transportation in Cyprus. Taking a bus in Cyprus is the most affordable option. However, it takes more time and you'll have to plan around the bus schedule.
Taxis and Uber. Taxis and Uber can be pricey, especially if you want to travel a long distance. Also, they aren't easy to hail in the outlying areas.
Guided tours. While it may not be the most budget friendly alternative, you can also book guided day trips in Cyprus. Here, the transportation is taken care of and you'll get a professional guide who will tell you all about the sights along the way. As an added bonus, you can be assured they will guide you to the best places to eat, too!
ⓘ TIP: A travel guide like this one is a good reference to carry along. No matter where you end up, the best things to do, eateries, and places to visit in Cyprus will be right at your fingertips.
One week Cyprus itinerary
With a week on this Mediterranean island, you can get to most of the best places to see in Cyprus. Most people agree that this is just the right amount of time for visiting the top attractions of the sunny destination.
Planning a road trip around Cyprus may be intimidating if you've never visited the island. We've laid out the perfect itinerary for adventuring around the cities, visiting iconic historical sites, and venturing to charming restaurants. And of course, you'll also be indulging in lots of delicious Turkish and Greek food!
Our 7-day road trip includes wonderful Cyprus points of interest to visit, as well as a logical way to do this.
Day 1 – Arrive Limassol (South Cyprus)
On your first day, you'll likely be picking up your rental car at the Cyprus airport, so all today's sightseeing happens on the way to your hotel. That will leave you time to unpack and spend the rest of the day as you wish.
Prepare to see a magical village and get the chance to spend some time on one of the dreamiest Cyprus beaches.
Village of Lefkara
On the highway towards Limassol, take the turnoff for Lefkara. While there are many Cyprus cities to visit, you don't often have the chance to visit quaint villages like this.
Pano Lefkara is an enchanting old village tucked among the mountains, and its maze of cobbled streets, timeworn houses and shops will take you back in time.
But the town's heritage is deeper than its stonework. Lefkara is renowned for its traditional lace and silversmithing, still made the same way they have been for centuries. Amid the lace and silver shops, women sit outside their houses and chat while making lace, while friendly craftsmen beckon you to show off the glittering silverware they have create.
ⓘ TIP: Lefkara lace is included on UNESCO's List of Intangible Culture Heritage.
Choirokoitia
Choirokoitia is a UNESCO world heritage site near Cyprus' southern coast. The Neolithic settlement offers an insight of living conditions in the region during prehistoric times.
Here you can see how they actually lived in the past. Five Neolithic buildings have been built using the same methods and materials, each containing replicas of household objects found during excavations. To top it off, the archaeologists have landscaped the area with native plants that have grown on the island since Neolithic times.
Limassol
Limassol, or Lemeso, is, a quaint and colorful town that features gorgeous food stalls and plenty of spots for people watching.
Wander around the Old Town, then head to the beach for a walk along a paved path lined with colorful beach stalls. Rent a thatched beach umbrella if you're in the mood for relaxing in the warmth, or watch the dancers on the beach.
Stay in Limassol (2 nights)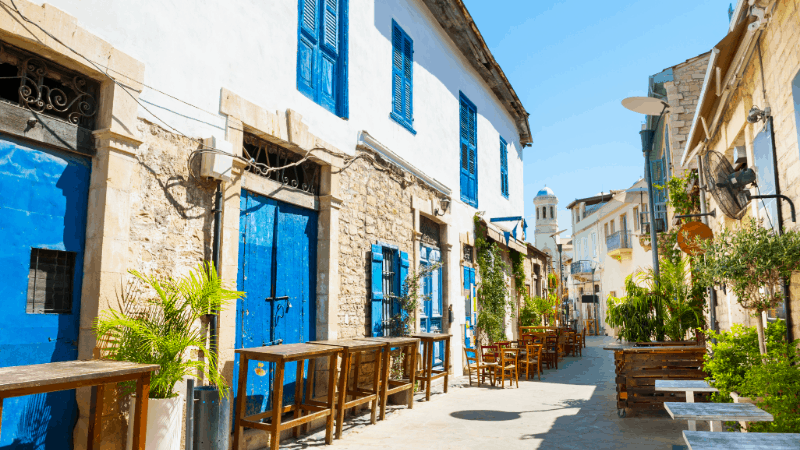 Day 2 – Troodos mountains & Mount Olympus
Ready to marvel at something that's truly magnificent? This morning's drive will take you to the Troodos Mountains of Cyprus. It's just a short, one hour journey from Limassol.
Mount Olympus
Mount Olympus is the highest point in Cyprus. Perfect for anyone who likes to hike, climb, mountain bike or embark on a gentle stroll.
If you're not up for the physical side of it, there are some fantastic lookout points to enjoy – not to mention the scenic drive along the way!
Caledonia Waterfalls
The Caledonia Waterfalls are located in the village of Platres and just a short drive from Mount Olympus. A 1.8-mile (3 km) walk will lead you to one of the highest waterfalls in the region. The Caledonia Waterfalls trail runs through a lush valley and crosses river streams, and is guaranteed to be a rich experience. Don't worry about the climb. It can be done at your own pace and there are chances to take breaks along the way.
Timios Stavros
On your way back to Limassol, stop at Pelendri to visit Timios Stavrou (Holy Cross), one of the 10 Painted Churches in the Troodos Region. It was designated a world heritage site due to its exquisite wall murals that date from the 14th century. They are a unique blend Byzantine Orthodox and Venetian Catholic styles, and can be found nowhere else.
ⓘ TIP: In the wintertime, the region is full of numerous ski resorts that are perfect for a cold weather adventure.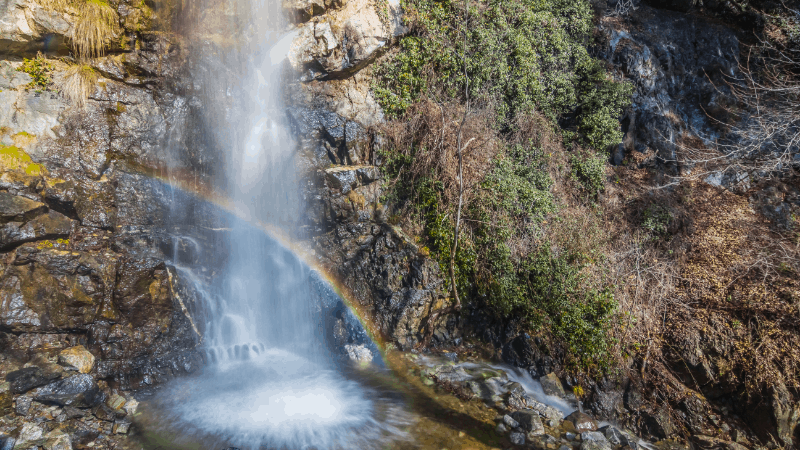 Day 3 – Kourion
From Limassol, it's a 20-minute drive to reach the ancient Kourion ruins. These ruins are the most impressive on the island and were once home to the most important city kingdoms.
At the site, you'll have the opportunity to see the latest excavations and many significant finds. Consider partaking in a tour of the area. The tour is a total of 8 hours and includes wine tasting, a visit to Omodos village, and a personal guide for the ruins.
If you're not joining a tour, then start your exploration at the amphitheater that shows off the incredible architecture and mosaic floors. From here, you'll be rewarded with sweeping views of the valley below.
Aphrodite's Rock
Next, it's time to head to Paphos (Pafos), which was the legendary birthplace of the Greek goddess Aphrodite. Long story short, she emerged from the seafoam around a rock that has come to be known as Aphrodite's Rock.
The rock lies off the coast about 20 minutes before you get to Pafos, and is a popular tourist attraction. Maybe that's because of a local myth, which says that anyone who swims around the Aphrodite Rock will be blessed with eternal beauty.
Shame it's not true.
Stay in Paphos (2 nights)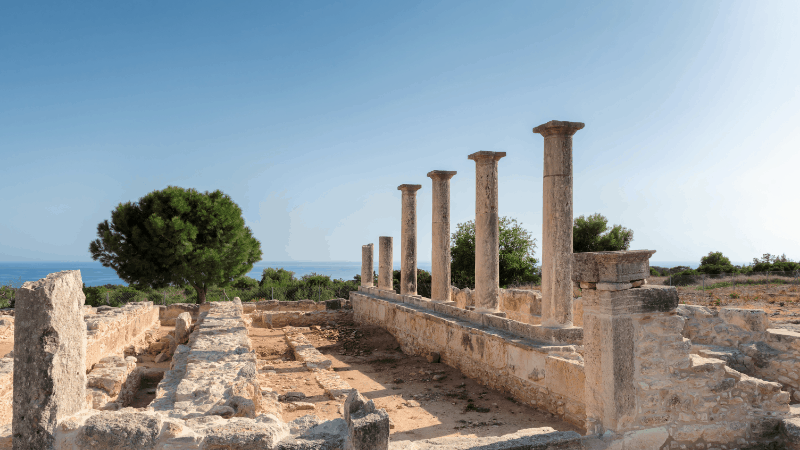 Day 4 – Paphos
After getting your dose of the mountains and a feel for the inland, it's time to enjoy more of the coastline. From Limassol, meander through the roads that reveal breathtaking views before getting to Paphos.
One thing is for sure, you'll be eating and drinking well in this popular tourist destination.
Archaeological Park of Kato Pafos
Paphos has been inhabited since neolithic times, and
The oldest relics can be found at Paphos' Archaeological Park, which is situated close to the harbor. The park is a UNESCO World Heritage Site, and costs just €4.50 for entry.
There are a number of important things to see here, such as a collection of different mosaics, all devoted to telling the stories of the Greek gods. Another is the monumental Tombs of the Kings. The underground tombs are carved out of solid rock and date back to the Hellenistic and Roman periods.
If you like ruins, you can easily spend hours exploring the site.
Beach break
After a couple of days of exploring, treat yourself to an afternoon spent lounging at the beach. Paphos boasts 31 miles of coastline and 27 separate beaches. With the most popular ones being Cape Drepanon and Paphos Town beach.
No time to read this now? Save this Cyprus road trip itinerary for later on Pinterest!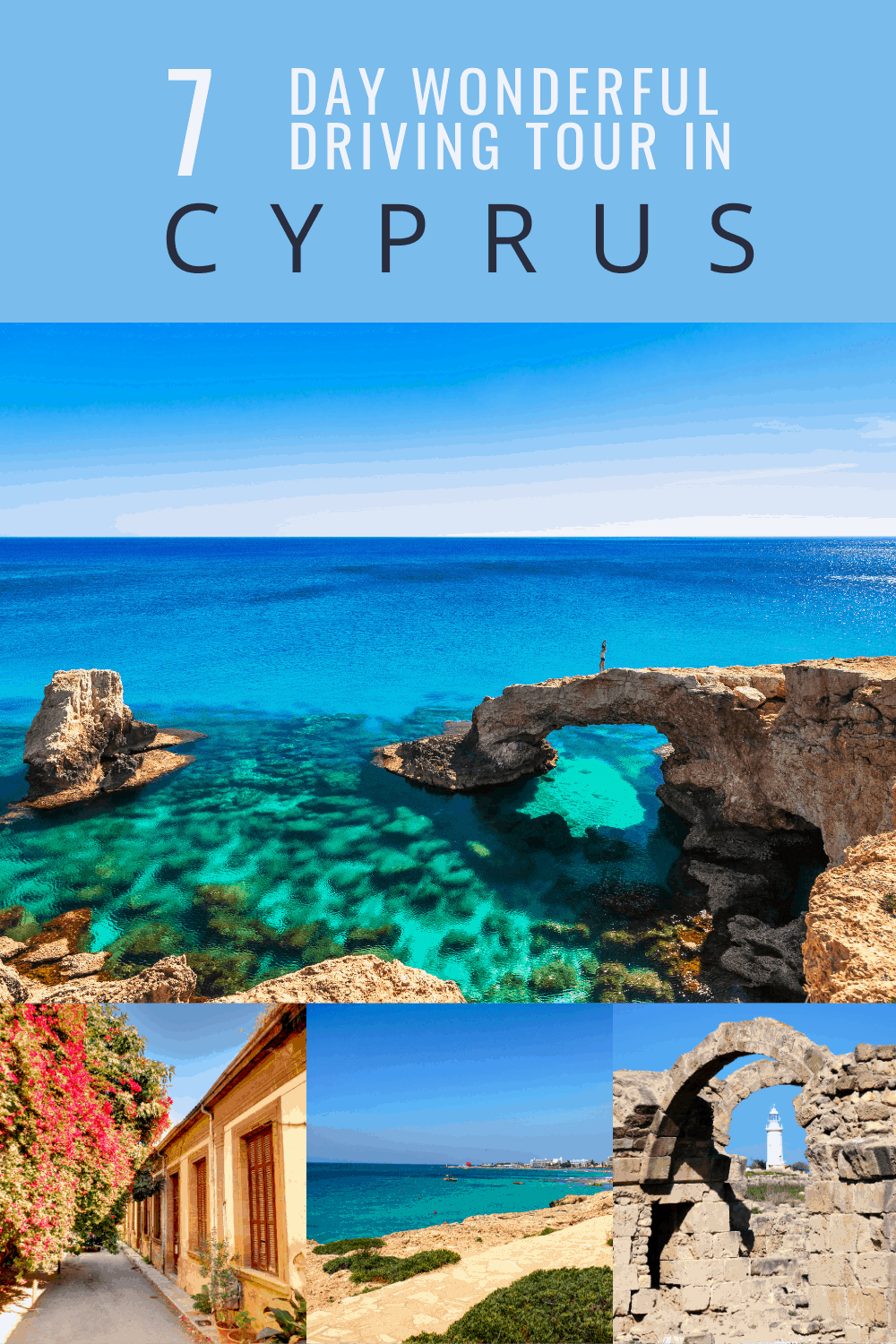 Day 5 – Scenic coastal drive + Kyrenia (Girne)
Get your passports out, because you'll be crossing borders today, as Kyrenia is a seaside town in Turkish Northern Cyprus.
Driving on the northwest side of the island will take you along the coast, where you'll get beautiful views of the ocean. The actual trip will only take two hours.
Baths of Aphrodite
Stop to stretch your legs along the way with a stop at the Baths of Aphrodite, one of the sites on the Aphrodite Cultural Route. According to mythology, the goddess fell in love with Adonis here, when he stopped to quench his thirst while hunting.
While you're there, take a walk along the Trails of Aphrodite. These elevated paths offer spectacular views of the coastline below.
Old Town Kyrenia
Now known as Girne, the ancient old town of Kyrenia blends the old and the new, with trendy cafes and bars popping up in ancient buildings. This is an atmospheric place, with countless wandering alleyways that invite a wander.
Kyrenia Castle
One place you must visit is Kyrenia Castle, first mentioned in 1191 B.C. and remodeled a number of times. Now a 16th-century Venetian castle, you enter the fortress via a stone bridge over a moat. There you'll find two small museums that are worth exploring, as well as a dark and ominous dungeon and a chapel.
Part of the visit to the castle includes walking along the harbor's promenade. The view is particularly beautiful.
Stay in Girne
ⓘ TIP: If your trip itinerary is longer than 7 days, stop at Saint Hilarion Castle on your way back to Nicosia. The castle sits 700 meters above sea level, just off the main road that takes you to Nicosia from Kyrenia. You'll get impressive views of the city and the Mediterranean.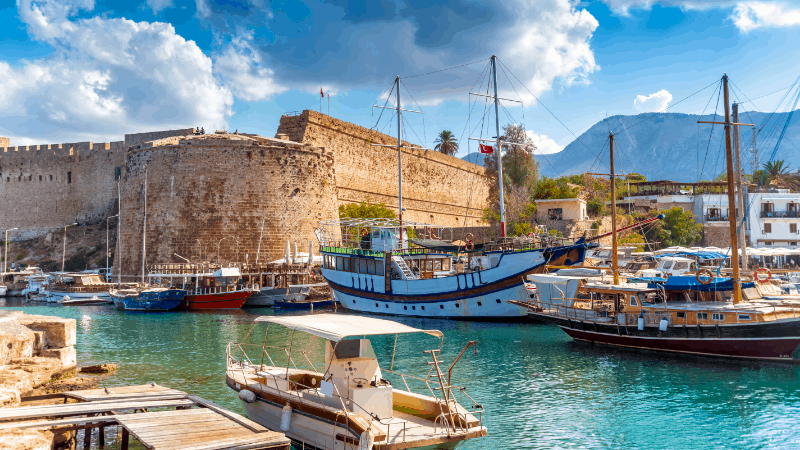 Day 6 – Explore the capital, Nicosia
Think of a trip to Nicosia as being a very lively history lesson. This is the only divided capital in the world, with half in south Cyprus and half in north Cyprus.
Start your time in Cyprus by getting to know the unique culture, friendly people, and opulent French-Gothic and Ottoman style architecture of the buildings of the old town.
Given that this trip is going to include a lot of driving, use this time to explore the city on foot. Walk around the narrow alleyways and stop at some of the quirky coffee shops, admire the wall art, and venture into some local craft stores.
Ledra Street
While you're exploring Nicosia on foot, be sure to include Ledra Street. Nicosia's prime shopping street. Enjoy a few stores and a bite to eat, then head to the Shacolas Tower, which has a beautiful observation deck that overlooks the city.
Interesting fact: Ledra Street serves as one of 6 border crossings between the southern (Greek) and northern (Turkish) parts of Cyprus.
Leventis Museum
A visit to the Leventis Municipal Museum of Nicosia is a great thing to add to your itinerary, because of the rich history of the country. A walk around the museum takes you through the history of Nicosia and Cyprus and reveals its fascinating past.
Food tour
Cyprus is renowned for its tasty, traditional food. With so many opportunities for wonderful dining, consider booking a food tour to get a deeper insight into Cypriot cuisine.
Few experiences can match indulging in an array of local dishes and treats with an experienced guide, while soaking in your tour leader's knowledge of the Cyprus food culture.
Stay in Nicosia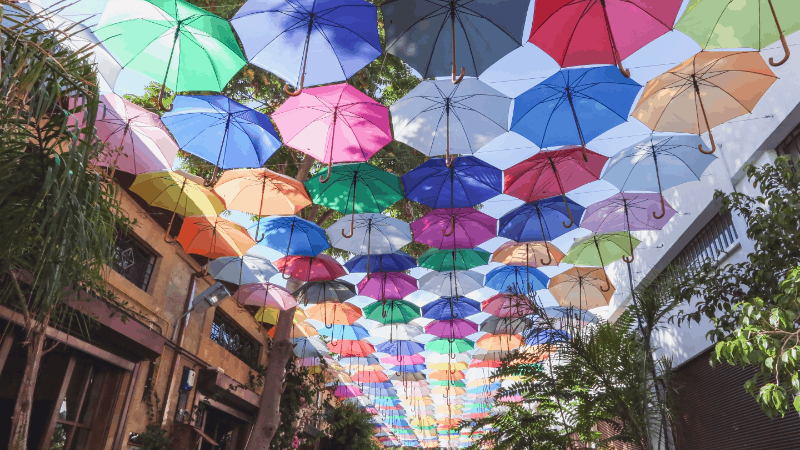 Day 7 – Ayia Napa and fly out
The final destination in your 7 day road trip around Cyprus is Ayia Napa. Lying on the tip of Cyprus' southeast coast, Ayia Napa has a reputation for being a particularly lovely vacation spot. The resort town is popular among European travelers, who love to visit Ayia Napa for its vibey beaches, busy tavernas, and energizing beach activities.
There are of course many Cyprus things to do that don't involve the beach, such as visiting the town's central square. It is full of bars and clubs and a Venetian-era landmark known as Ayia Napa Monastery. Lying partially underground, the monastery is worth visiting, as it was cut into the rock and surrounded by a high wall.
Cape Greco National Forest Park
For those looking to avoid the crowds and beach, Cape Greco national park offers scenic walks through the forest, cycling paths (with bikes available to rent), and picnic spots with ocean views.
After ending your time in Ayia Napa, you can either fly out, stay in Ayia Napa overnight, or journey back to Nicosia to spend your last night in the vibrant city.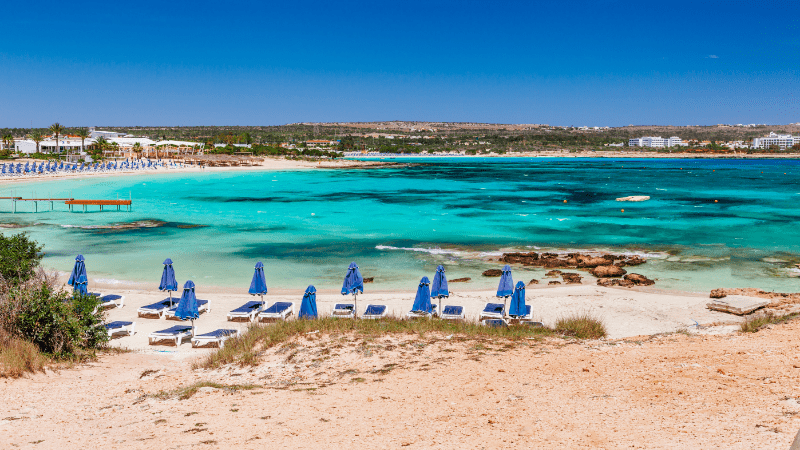 Final thoughts for your trip to Cyprus
As small as the island is, it appears that there is an endless array of adventures and exploration opportunities to be had on the island. Fit for travelers of all mindsets, Cyprus is a place for history lovers, thrill-seekers, beach babies, and foodies.
A week allows you to see all parts of the region and discover the history that makes Cyprus such a unique place to visit.
Want to read this later? Save it to Pinterest!