As you begin preparing for international travel, you may start to feel overwhelmed by all the things you'll need to do. Do I have all the documents I need? Have I taken care of all the details at home?
Worry not, we're here to help with this checklist of things to prepare before traveling abroad. It has all the essential stuff you will need to do before heading to the airport.
Documents
1. Get a passport.
If you already have a passport, check the expiration date. Most countries won't let you through immigration if your passport's expiration date is less than 6 months away.
Also check that there are enough blank pages in it for immigration stamps.
If you need a passport, apply for one right away. Depending on current demand, they have been known to take as long as 3 months to arrive.
But if it's an emergency and you don't know how to expedite passport renewal, there are services that can get it to you in only a few days.
2. Get your visas.
Not all countries offer visas on arrival. Depending on the passport you carry, you may need to get visas for your intended destinations. Each country has different arrangements, and requirements can change, so always verify.
Waiting for a visa can take a month or more, so submit your visa application early. Once it arrives, ensure it will be valid for your entire stay and check that the dates are correct.
ⓘ TIP: You can check the visa requirements for your destination HERE.
3. Check the expiration date on all your documents.
In addition to your passport, make a note of when your driver's license, IDs, bank cards, and other documents are due to expire. Even if it'll be good for a few more months after your return, it won't hurt to renew now.
Depending on workloads, documents can take a few weeks to receive. And don't rely on your mail service to deliver on time. Our son's driver's license was "returned to sender" for no reason at all. Took an extra month to get it.
4. Check entry requirements
This is one of the most important things to prepare before traveling abroad. Imagine being turned away at the immigration desk!
Check the entry requirements of the country you're due to fly to before setting off. Some destinations may ask you to quarantine if you're coming from a high-risk country. Others may allow you to skip quarantine if you've been vaccinated, can prove you've recently recovered, or can provide a negative test.
Also don't forget about your home country. For example, the UK expects you to quarantine on your return. Depending on where you've been, it may be in a hotel at your own expense.
5. Get a child consent.
If an immigration officer, airline employee, or travel company sees a child traveling internationally with only one parent or with another adult (i.e., a relative, friend, teacher, etc.), they may ask to see a Letter of Consent.
The Minor Travel Consent Form has become increasingly necessary due to the rise in instances of child abduction – particularly instances of custody cases and human trafficking.
6. Check if you'll need an International Drivers License
An International Driving Permit (IDP) will allow you to drive in most countries. You can find a map that shows which countries require IDPs here.
If you have an American driver's license, you can get a permit from the American Automobile Association or order it online. If your license is from elsewhere, you'll need to contact the appropriate bureau in your home country.
The International Driving Permit is valid for a period of one year from the date of issuance. A new IDP must be applied for each year.
7. Make copies of documents.
If something happens to your passport or wallet, you'll need all of your identifying information to replace it. Use your phone's camera to photograph of the important passport pages (personal information and visa) and photo ID so you will have it on hand in an emergency.
For extra reassurance, pack color photocopies of all your important documents in your suitcase.
8. Screenshot check-ins, accommodations, and tickets
We organize all our travel arrangements on TripIt. But if you don't use a travel app, make a screenshot of all bookings, check-ins, airline tickets, boarding passes, and tickets for attractions, buses, trains, and metros.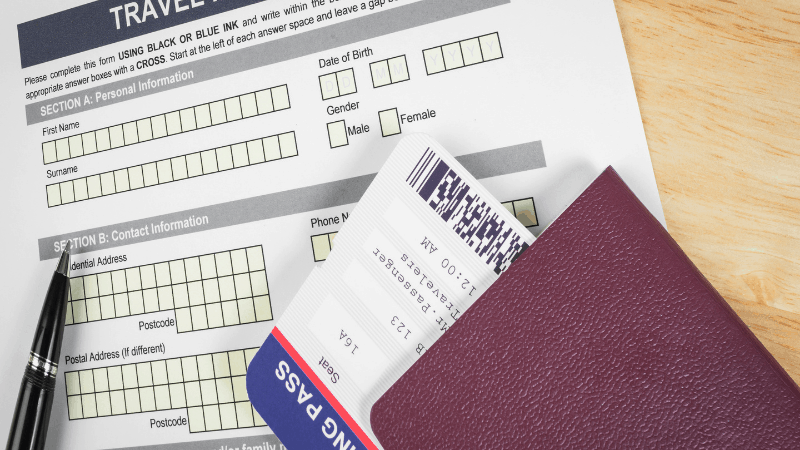 Medical preparations for traveling
9. Get a COVID test
Some countries will ask for proof of a negative coronavirus test to allow you entry. It may need to be taken 72 hours before departure, but it could be 72 hours before you land. Be careful to ensure your test is within the required window.
The US Department of State maintains a list of country-specific travel advisories. Requirements change, so monitor this carefully in the weeks leading up to your trip.
10. Check your medications.
If you use medication, ensure you have enough to last throughout the duration of your trip. Luggage can go missing, so don't pack it. Carry your medications on board.
Make certain that your medicine is in its original packaging and carry a copy of your prescription with you, as some medications are regulated differently overseas.
Also, if you are undergoing any special treatment, consider carrying a scanned copy of your records or a letter from your doctor detailing your treatment.
ⓘ TIP: Your travel gear should also include something for pain/fever, bandages, a digital thermometer, diarrhea medication, and sunscreen.
11. Verify country-specific vaccinations.
Apart from COVID, some countries won't let you enter without proof you've been immunized against certain other diseases. The most common required ones are yellow fever, malaria, meningococcal disease, and polio.
Remember that some vaccines have to be made a few weeks before your trip. Also, often you need to take multiple shots with some days between them. So you should get vaccinated early.
All immunizations must be recorded and presented on an official International Certificate of Vaccination, also known as the "yellow health card."
ⓘ TIP: Find out if you need any vaccines by visiting the CDC website. You can also call a local travel vaccination center to ask.
Financial preparations for traveling overseas
12. Ensure your credit card will work in the country you're visiting.
Does your card have a chip? Most foreign banks have switched to chip-and-PIN technology, and fewer businesses abroad accept the outdated magnetic-strip cards.
Tap-to-pay is also extremely popular overseas.
13. Alert your credit card company to your travel plans.
Few things are worse than not being able to access funds while overseas! (We speak from personal experience.)
Tell your bank when you'll be traveling and where you will be, and ask them to add the information to your file. If you don't, your bank's fraud department may freeze your account, assuming someone's stolen your number.
ⓘ TIP: Add the customer service phone number to your contacts. This will ensure you can quickly call the bank in an emergency.
14. Check your homeowner's/renter's policy
Your current homeowners or renters insurance policy might already cover you for losses like theft while you're traveling. Many policies limit payouts on specific high-value items like cameras, computers and jewelry, however.
All insurance policies are different, so before your next trip, speak with your insurance agent or call your insurance carrier for the full range of details.
15. Check your credit card's additional benefits
Your credit card may offer benefits that will come in handy while traveling:
Coverage for things like canceled flights and lost bags. Trust us: this came in handy when our trip to Sicily was canceled due to the pandemic.
Fee waivers so you don't get charged any extra fees for using an ATM or exchanging currencies.
16. Buy travel insurance
While your credit card and insurance policies may offer certain travel-related benefits, they don't cover everything. Travel insurance can safeguard your trip investment and is very affordable.
No one expects bad things to happen, but they do. Travel insurance has you covered if your trip gets canceled, need medical care, have a travel delay, or face an unexpected family crisis.
There are even cancel for any reason policies. Decide not to travel because you don't like a country's new entry requirements? You're covered. Very handy in this COVID-crazy world.
ⓘ TIP: If you have already started your trip, you can still get coverage with already abroad travel insurance.
17. Pay your bills in advance or set up automatic payments.
This is an obvious one. You don't want to come home and find out your electricity was turned off.
Sign up for your bank's Bill Pay feature and enable online access. You'll be able to transfer money and/or pay bills while you're overseas. Alternatively, you may want to pay any bills in advance or leave signed checks with a trusted friend.
18. Research extra travel fees and taxes.
Some countries require travelers to pay an entrance or departure fee, which can cost as much as $200. These fees are not included in the price of your airline ticket, so budget accordingly.

Plan your itinerary
19. Buy tickets before you arrive.
Tourists can often get special discounts that locals cannot access, and some of these must be purchased before arrival. We've seen hefty savings for train tickets in some countries, but they're only available to overseas customers. They may have to be physically mailed to you at home, so check well before you get on the plane.
Ticket lines can be super long at popular tourist locations. Purchase skip-the-line tickets ahead of time and you'll breeze right in the door without a wait. This is probably one of our favorite tips for making the best use of your time. When we were at the Louvre, the ticket line was literally halfway around the building − and it's a huge building!
ⓘ TIP: Many destinations offer a city pass that offers free or discounted admission to major attractions and transportation. Some even include public transportation to and from the airport, which is a good reason for purhasing it before travelling abroad.
20. Search and download travel apps and maps.
Many apps are available that will help you plan your trip and navigate while there. Our go-tos include TripIt, Google Maps, Waze, and Google Translate.
To avoid data charges from your wireless carrier, download all your travel apps before you leave and ensure that any apps you choose can be accessed offline. You can you can download offline versions of Google Maps here.
Security while traveling
21. Check travel advisories and register with your embassy.
A few weeks before you go, keep an eye on the official U.S. Travel Advisories or U.K. Foreign Travel Advice because they'll give out warnings for potentially dangerous countries and warzones.
If you're an American citizen, it would also be a good idea to register with the local U.S. embassy before going. If there's an unforeseen problem in the country, your government will know where you are and get you to safety. It's also smart to print out the address and contact information of the local embassy.
22. Arrange digital backup.
Set up an account with a service like DropBox or an internet photo gallery before you leave so you can back up your photos and computer files on the road.
It's peace of mind in the event your electronics are lost or stolen.
23. Protect your home.
Ask a friendly neighbor to keep an eye out for deliveries, and have your local post office hold your mail while you're gone.
Ask someone to check on your place once a week. And if you know your neighbors, you might want to let them know that you'll be away. Ask them to contact the police if anyone comes snooping around or they see any activity in the house.
24. Find someone to take care of your pets
If you have pets, arrange for a pet sitter or ask a relative, friend, or neighbor to take care of them.
25. Hire a local guide.
No matter whether you're on a private walking tour or a multi-day group tour, all guides have one thing in common: They want to keep you safe. If nothing else, they have a reputation to uphold.
As a traveler, you may not be aware of local scam artist routines, speak the local language, or know which neighborhoods are safe after dark. A local will know that and more.
Working with a local guide can ensure your "memorable experience" is a good one.
26. Protect your home
Get everything ready for your absence:
Clean your fridge and discard anything that can go bad (dairy, produce, meats, sauces, etc.)
Water the plants
If you have timers for lights, set your lights and radio to go on at random times
Close the blinds
Turn off your AC, or set the heat to low.
Unplug all electronics
Turn off your water heater or set it to a low temperature.
Wash the dishes
Take out the trash
27. Hide your valuables in a safe place
If you have valuables in your house, you should store them someplace safe. If you don't have a safe-deposit box at the local bank, hide your jewelry, silverware, and other valuables in a safe place at home.
ⓘ TIP: Hide your valuables in a diversion safe. It looks like a regular household product or natural object and won't raise suspicion. For example, this one looks like a can of Del Monte cut corn.
Staying in touch while you travel
28. Check your cell phone and plan
Not all cell phones will work in every country. Your best bet is to carry a quad-band phone or one that operates on the GSM (Global System for Mobile Communications) network. Verizon and Sprint use CDMA, and if your phone only supports CDMA, it's highly unlikely to work internationally.
Some phones will accept a SIM card while others are locked and won't. if your phone is unlocked, you have options for using your phone overseas.
If you have a locked phone, you'll have to ask your carrier to activate international calling. There's usually a charge for doing this, but it is much less than the roaming charges you'll get if you don't do it.
Let loved ones know your travel plans so they can contact you. In the unlikely event there's a news event or catastrophe in one of your destinations, knowing where you actually are may put their minds at ease.
When a volcano spewed ash into the air over western Indonesia, our friends didn't worry. They knew we were far from the action, enjoying Bali's sunny weather.
Other things to prepare before traveling abroad
30. Check airline luggage restrictions
Check the airline's policies for checked and carry-on luggage so you don't exceed the weight or size limits. Also remember to check your connecting flights as well.
Depending on the airline, luggage may be an additional fee. Buying it online ahead of time may be a savings over paying for it at the airport.
More travel tips
For more travel inspiration, look for shots of your destination on our photo site.
Other travel tips on As We Saw It include:
Find our favorite travel gear in our Amazon shop.
Want to read this later? Save it to Pinterest!
We'd love it if you'd tweet or share it on Facebook.