Whenever we plan a trip, my job is to research what to see and Dan handles the bookings. Until Cambodia. Dan had been wanting to see Angkor Wat for such a long time that I offered to let him plan the entire Siem Reap itinerary.
I should have expected it: My resourceful husband found a local to help him find the best things to do in Siem Reap. (Is that cheating?)
Okay, he didn't hire just any local. This Siem Reap native had been a private tour guide for over 20 years, his English was excellent, and he responded quickly to Dan's questions.
And thus began our love affair with hiring private tour guides.
What's your travel style?
As we see it, there are three basic options for sightseeing: DIY, private tours, and organized group tours.
1. Buy a Cambodia travel guide book.
Pros: They're affordable, well-researched, and low tech. Many include Cambodia itineraries and you can use all the places to customize your own.
Cons: They can be heavy to carry, and some facts and rates can be out of date. You have to remember the facts you've read when you're at a location. Plus, all the travelers who use that book will go to the same places.
Had I been in charge of planning the trip, I probably would have taken the DIY approach to save money. You know the routine:
Read a guidebook
highlight the places you want to see
hire a tuk-tuk driver
buy the ticket and wander around
look for all the landmarks the book recommends.
Many websites offer that advice, but in my experience relying on a guidebook for sightseeing is a huge mistake.
We had used a book for our one-day walking tour in Savannah, Georgia. I found myself saying, "Hold on, let me see what's important about this building" a whole lot. Then we'd stop so I could read the entry to Dan.
And I took him in the wrong direction a couple of times.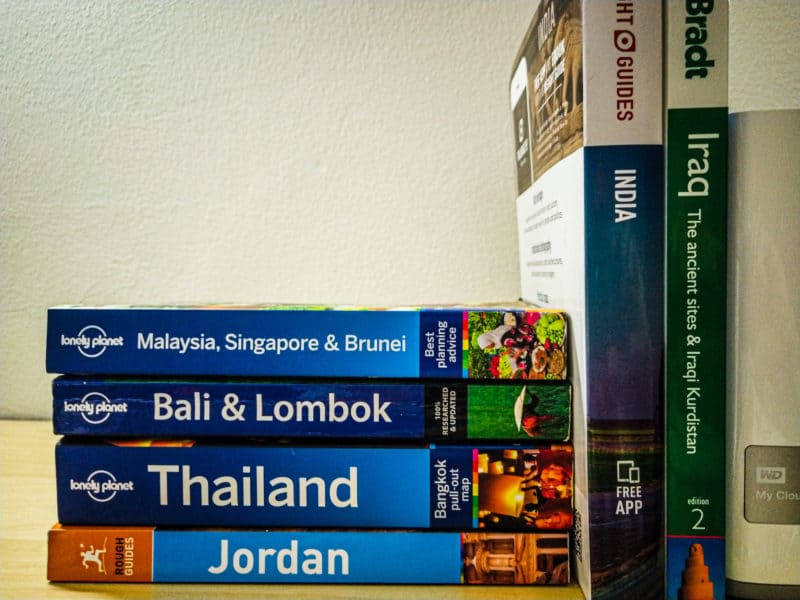 2. Hire a private tour guide.
Pros: Private guides will help you focus on the most important parts of each place and explain its background and significance. They also plan your itinerary to maximize your experience. They can explain cultural traditions, introduce you to new foods, take you to off-the-beaten-path places, and answer your questions. Transportation is usually included, and of course they speak the local language fluently.
Cons: It's costlier than doing it yourself, and some guides' accents are hard to understand.
Dan figured, when it's a once-in-a-lifetime trip, shouldn't you make the most of it? His decision to splurge on a private guide allowed us to focus on the sights. It sure was nice letting someone else manage the transportation and planning details.
We ended up with two (!) tour guides for the price of one, who shared the driving and guiding duties. Both were well-versed in Cambodia's history and culture as well as Buddhist and Hindu lore. Sunny and his friend Bunna offered anecdotes, pointed out curiosities, and answered our myriad questions.
ⓘ TIP: As you weigh whether you can fit this into your budget, remember to take the cost of transportation and lodging into account. You won't need to pay for transportation, which can be a significant savings if you're traveling with others. Or maybe you can economize with a less expensive hotel?
3. Join a group tour.
Pros: Group tours are informative, the itinerary is well researched, and they manage all the travel arrangements. Your fellow travelers can become good friends.
Cons: Group tours work on a strict schedule and you are hampered by the slowest person. You're in a large group and can't meet locals easily. You can't customize your trip to your taste. You can't stay as long as you wish or leave early if you've seen enough of a place.
ⓘ TIP: Whichever method you choose, keep in mind that arriving early can make all the difference to your experience. For one thing, it's cooler early in the morning, and for another, you'll miss those tour bus crowds. Good thing Cambodian and Egyptian temples open at sunrise or before.
10 reasons to hire a private guide
There are a lot of advantages to hiring a private tour guide.
1. They'll plan everything for you.
It takes me weeks of research to plan a trip: what to see, in what order, where to eat, and the best way to get from one place to the next. No need to buy train tickets or plot everything out on a map.
In fairness, all tours take care of it all, but private guides can recommend fun things you might not know about.
2. Your itinerary is tailored to your interests.
We enjoy local food, biblical archaeology, culture, religion, UNESCO sites, and photography. In Iraq. our guide focused on places that would fascinate us and bore others, like the tomb of Nahum, a Biblical prophet. We're guessing some of our interests would make you yawn.
On the other hand, our group tour to India's "golden triangle" was a disappointing experience. Everyone on the bus wanted to see the historical sites and try Indian street food, but no. Our guide had lots of shopping in mind and insisted that we eat at the hotels. (Dan got food poisoning anyway, which just goes to show that hotel food is not always safer.)
3. You'll see more in less time.
When you don't know an area and get lost, you'll lose valuable sightseeing time. A local guide will know the fastest way between places, so you'll cover the most ground in the shortest time.
4. You'll save on transportation.
You don't need to worry about train schedules, bus connections, or getting ripped off by a taxi driver. A guide knows it all.
Our Cambodia itinerary took us down rural roads and through countryside few westerners see. Believe us, his Lexus hybrid car was a whole lot more comfortable than a tour bus or tuk-tuk would have been!
5. You can ask as many questions as you want.
The fastest way to annoy the others on a guided tour is to ask too many questions. With a private guide, they're happy to share their knowledge. Plus, not as many topics are taboo. For example, we asked some very sensitive questions about Kurdish culture that might embarrass or offend fellow travelers.
6. You'll visit at the best time of day.
Guides know when tourist hordes are most likely to be at an attraction and can will plan the itinerary to avoid them.
For example, our Angkor Wat tour was the reverse of most bus tours. After Angkor at sunrise, we went to another temple. We toured Ta Prom in relative peace. We returned to Angkor later in the day, after buses had moved on to the temple we'd already seen.
7. They help you stay healthy.
Tour guides are good for more than facts. They can guide you to street eats that won't give you food poisoning. They can also show you how to order and even explain how to eat something if you're not familiar with so you don't embarrass yourself.
We took a street food tour in Taiwan without worrying. Our guide helped us choose what to eat, because we follow a special diet,
8. They don't make you feel rushed.
When breakfast service was slow in Cambodia one morning, our private guides waited for us to finish, saying "don't rush." Group tours are on a schedule and can't afford that luxury.
When I sprained my knee while mounting a too-high temple step, Bunna slowed the pace and helped me along. Thanks to him, Dan was able to focus on getting good photos without worrying about me.
9. They can translate for you.
If you can't read the local language, you'll be baffled by restaurant menus and street signs. If you can't speak it, you'll miss out on chatting with people. When we were in Lalish, some people there invited us to join them for tea. Had we been on our own, we never would have understood the invitation. And Karwan not only helped us get past Peshmerga roadblocks, he kept us in safe areas as we traveled near Mosul and Iran.
10. You'll get better photos.
Private guides can take you to some hidden spots that only they know about. For example, our guide took us to a quiet rooftop bar in a Bangkok back street that offered a phenomenal view of the Temple of the Dawn across the river.
Being on our own, we have gotten some incredible shots of some amazing places, with no busloads of tourists in the way. Could we have done that on a group tour?
I'll let you figure that one out.
Where to find a private tour guide
Depending on your travel style, you can arrange for a private guide ahead of time or during your trip. We prefer to prepare as much as possible ahead of time and l
Ahead of time
Word of mouth. Personal recommendations are a great place to start, if you know anyone who's been there. If not, you can check the forums on travel sites like TripAdvisor and CruiseCritic.
Sites like these are a great place to find recommendations, because travelers often share their experiences with various tour companies and private guides. We've found this to be especially useful when we're planning a multi-day trip.
Websites: There's no shortage of websites offering local tours. You can find an amazing assortment of interesting classes, day trips, and guided walks for almost any city, as well as multi-day tours, skip-the-line tickets, and even airport shuttle services.
We usually rely on GetYourGuide when we book our own tours. We often include their related tours on our articles for your convenience. For example, in our stories Best Day Trips from Paris and Best Day Trips from Vienna.
During your trip
At the attraction: Some places include a tour with the price of admission. Others offer them for an extra fee.
You can also check near the entrance, as sometimes folks offer to be your private guide. You can often bargain the fee in this case, but the experience can be hit-or-miss. Some guides can tell you all about the place, while others may do little more than escort you around.
At your hotel: A hotel concierge can be an invaluable resource for finding a reliable guide. You can also get good recommendations from other guests.
Online: It's easy to book a last-minute tour with the sites we mentioned above. However, keep in mind that the run the risk that your preferred date may be booked.
What tour companies do we recommend?
Here are some reliable tour companies. Between them, they offer thousands of day trips and tours, so you can find just about anything you might want.
Don't want to do day trips? If a complete guided tour is more to your liking, check GAdventures for some amazing itineraries.
We recommend these sites because you can read reviews before you book. Hope this helps!