it's easy to lose yourself in all that Vienna has to offer. So many incredible museums, beautiful music, centuries-old buildings, and its unrivaled café culture can easily keep you busy for the whole time you're in Austria. But that would be a mistake.
Consider taking one or two day trips from Vienna to expand your horizons. You can rent luxury cars in any European city and get the opportunity to travel with comfort and euphoria.
Imagine spending a day in Slovakia, Czech Republic, Hungary, Slovenia or Croatia without having to change hotels. Thanks to Europe's fabulous train system, all these neighboring countries are within your reach!
We've compiled a list of some of the best day trips from Vienna, Austria for you. All of these were recommended by bloggers, and they are very easy to do by yourself with the convenient Austrian train system. To help with planning your transportation, you can use either the National Austrian Railway website or Omio. Omio allows customers to search and book trains, buses and flights across Europe.
Your call. Both show regional routes and timetables, and let you book online tickets.
And you will still get back to your Vienna hotel in time for bed!
ⓘ TIP: Not all of Austria's bordering countries participate in the Schengen agreement. If your day trip from Vienna will take you across the Austrian border, please verify visa requirements and carry your passport with you.
1. Szedentere, Hungary
Szentendre, often called the most Mediterranean place in Hungary, is a small town located close to Budapest. Karolina Kiesta says that if you leave early in the morning, you will have enough time to see the town, have lunch, and come back to the capital of Austria in the evening.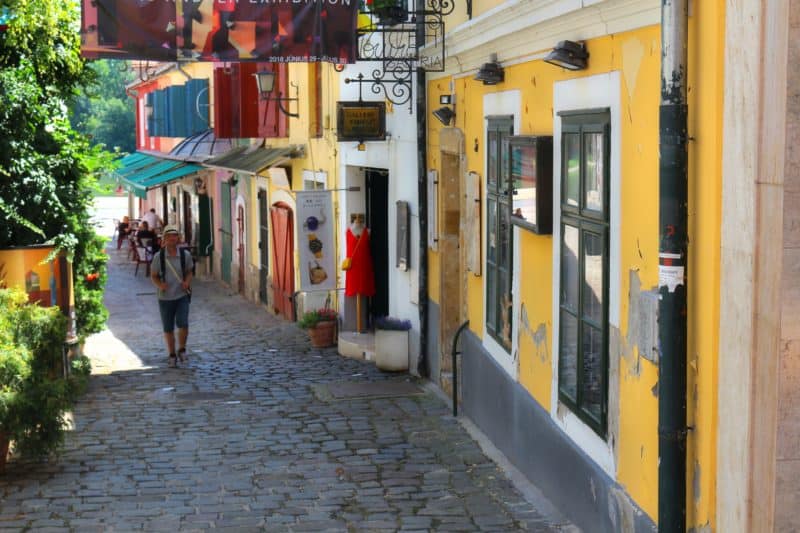 "While in Szentendre, take a walk down the Danube river, and wander around the narrow streets of the town. The picturesque Szentendre is one of the most Instagrammable spots in Hungary. It's colorful, peaceful but still undiscovered by the tourists. Be sure to stop at one of the cafes, sit outside and watch the people passing by. The time flies slower in Szentendre, so it is a perfect place to relax.
Why is the town so beautiful? It is where artists from different European countries have been living throughout the years. Actors, musicians, painters, and sculptors have created a unique atmosphere that attracts tourists from all over the world."
How to get from Vienna to Szentendre: By car, it will take less than 3 hours to get there from Vienna. The most convenient option is driving but you can also take a bus or train to Budapest and then change for a bus to Szentendre. The trip will cost about $20, one way.
2. Graz, Austria
According to Enzo at InguaribileViaggiatore.it, after visiting Vienna, you can move to southeast to the neighboring region of Styria. It will take about two hours by car to reach Graz, the capital of the region.
"The historic center of this city is rich in history, but also modern and well-preserved and maintained. The excellent state of preservation earned Graz UNESCO World Heritage Site status in 1999.
Graz is one of the cities that I most enjoyed throughout the tour of Austria. The old town of Graz may seem more at first glance than it actually is, but you can visit most of its attractions on foot. Its dimensions not too large, the high livability of its streets and the greenery even within the most central part of the city all make it beautiful and pleasant to visit. And around Graz, low hills protect it from the most intense atmospheric phenomena.
Even the people strolling through the city center are just enough to make you feel a part of the community, but at the same time you still have space to walk quietly.
The city center is crossed by the impetuous Mur river, on which a small island has been built that also acts as a pedestrian crossing between the two shores.
At building number 11 and 12 on Hauptplatz square, there is a building richly decorated with Renaissance frescoes and stuccoes from the early Baroque period, these decorations date back to around 1690.
Also, the church of Our Lady of Help, the Mariahilferkirche, sits on the edge of a small square decorated with a flower bed. A tree in the center shades some benches that are ideal for relaxation.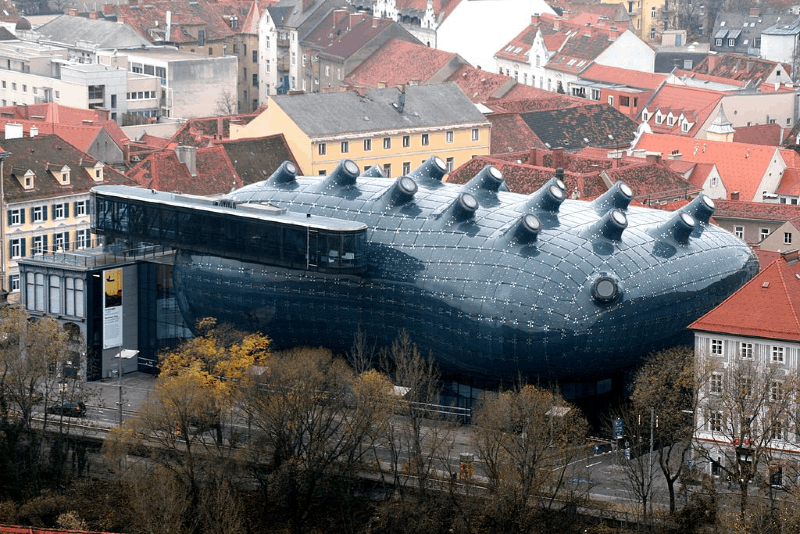 Moving a few steps towards the Erzherzog Johann Brucke bridge, we cannot fail to notice the large building that houses the museum of contemporary art: the Kunsthaus. We ask ourselves, without being able to give us an answer, what the building's unusual form represents. I see a big submarine there."
Comment below and share what it looks like to you.
How to from Vienna to Graz: It takes about 2 hours to drive from Vienna to Graz. The main railway station in Graz is not far from city center. Take tramlines 1, 3, 6 or 7 to reach the center in a few minutes.
3. Cesky Krumlov, Czech Republic
We agree with Kate Storm: With its fairytale architecture, beautiful castle, idyllic Old Town, and tasty Czech food, there's no doubt that a visit to a day trip from Vienna to Český Krumlov is an absolute delight.
While you're there, be sure to visit Český Krumlov Castle and climb its tower, stroll through Svornosti Square and the rest of the Old Town, eat a delicious Czech meal, and pay a visit to St. Vitus Church.
Be sure to also visit the courtyard near the luxurious Hotel Ruze to admire some of the best views of Český Krumlov–and unlike from the hotel itself, the views from the courtyard are completely free!
When planning your visit to Český Krumlov, also consider the time of year: while the town is a delight year-round, lighter crowds and the possibility of storybook-worthy snowfall resting on the rooftops mean that visiting Český Krumlov in winter is a fabulous option.
How to get from Vienna to Cesky Krumlov: It takes a little over 2½ hours to drive to Český Krumlov from Vienna, and about an hour longer to get there by public transportation. You can take a bus or take a train. The train route goes from Vienna to Linz, from Linz to České Budějovice, and then from České Budějovice to Český Krumlov.
If you'd rather not deal with the hassle, plenty of shuttles and day trips from Vienna are available too.
4. Budapest, Hungary
Gemma Armit says, "Budapest is a fun city for architecture, food, and history fans. One of the most popular things to do is take a dip in one of the city's baths, many of which are in impressive buildings.
"This is not a touristy fad; locals really believe in the healing properties of their spas. It's also a social event for them, they go to catch up with friends as well as to chill out. Some even take beers to Széchenyi!
Hungarian food that comes highly recommended is langos, sour cherry soup, and goulash. Tourists love Central Market but locals prefer Hold Utcai Piac.
Party people should try palinka and check out the eccentric ruin bars of the Jewish Quarter. The most popular is Szimpla, which is pretty touristy but lively.
Finally, there are many museums in Budapest, including the House of Terror which details the harrowing treatment of the Hungarian people. I recommend doing an audio tour and setting aside a good two hours for the tour."
Visiting Budapest at Christmas is a treat, as well, because Budapest has some of the best Christmas markets in Europe. Don't miss the Christmas market by St Stephen's Basilica.
How to get from Vienna to Budapest: You get to Budapest by train. It takes around 2.5 hours. Personally, I'd recommend a night in Budapest so you can see more than just a spa, or use it as a taster trip and return for longer.
5. Devin Castle, Slovakia
According to Dayna Peck, "Devin Castle or Hrad Devin is up in the hills outside of the city of Bratislava, and the area surrounding the castle is all forest and small villages.
The castle is so beautiful to photograph and the whole area feels very authentic. Plus, after Vienna, it will be a breath of fresh air to be in the countryside and you'll see a different side of Europe.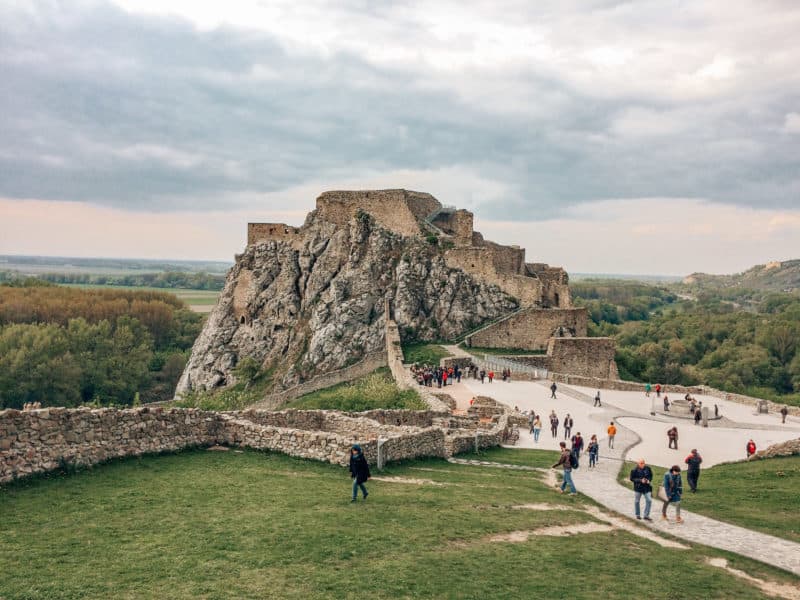 You can tour the interior and also walk around the outside of the castle grounds. The Danube river beneath the castle separates Austria from Slovakia, so you are directly on the border of the two countries!
There, you can also find The Gate of Freedom memorial, which represents the border of the Soviet territory where many soldiers were shot while trying to cross the river to safety.
Since the castle is a bit out of the city, there are fewer tourists. This makes the area around the memorial a perfect place to quietly reflect on the history that happened there while looking across the Danube and Morava rivers.
I was pleasantly surprised and re-energized from our trip to Devin Castle and I highly recommend it as a day trip from Vienna!
Admission: It costs 2.50 Euro to enter for students, children and pensioners and 5 Euro for everyone else.
Hours: Devin Castle is open every day except for Monday. It opens at 10 am and the last admission is 4:30 pm. Hours change depending on the season; you can find them all on this website.
How to get from Vienna to Devin Castle: First, you will need to get from Vienna to Bratislava. You can travel by bus throughout Europe for extremely cheap (much cheaper than using the Eurail or traveling by train!!) and this route is no different. There are three websites you should use to compare prices: Rome2Rio, Omio and FlixBus.
The bus goes from Erdberg station in Vienna to two different stations in Bratislava: Most SNP or Einsteinova and takes about 50 minutes. I recommend choosing the Most SNP as it is closer to the bus stop that takes you to the castle.
From there, you will take Bus 29 from the Most SNP Bus Station. You should buy tickets for the way back as well as there are no ticket machines at the castle. It costs about 1 euro each way and takes 20-30 minutes.
Tip: If you are short on time, Uber is also an option. It operates in Slovakia and will take you straight to the castle!
6. Wachau Valley, Austria
Lori Sorrentino has another good recommendation. "One of Austria's most beautiful and charming UNESCO World Heritage sites, the Wachau Valley is an easy day trip from Vienna and follows the scenic Danube River. The town of Krems is perhaps the largest of the Wachau Valley towns and is a shopper's paradise, with many excellent restaurants that serve local cuisine.
Further along the Danube, you can stop by the charming villages of Spitz, Weissenkirchen and Dürnstein. Spitz has a very walkable old town, with cafes, shops, historic ruins, and a shipping museum.
Next is Weissenkirchen (White Church), which of course has a lovely white church and is best known for its excellent white wines. If you love wine this is the place to take a tour or do tastings at the shops around town.
Without a doubt, Dürnstein is the most visited town in the valley. Walk the main street with its 16th-century buildings, many of which are now shops and restaurants. One of the most popular things to do here is hike to the castle where King Richard the Lionhearted was held prisoner in the 12th century.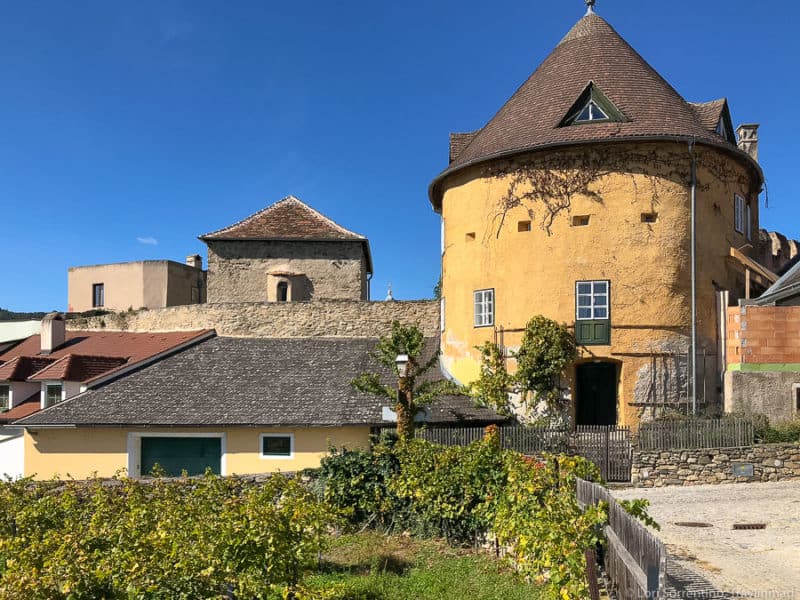 Many visitors come to the Wachau Valley to visit Melk Abbey in the town of Melk, across the river from Emmersdorf. If you plan to visit the Abbey, we suggest starting your visit there and working your way back up the Valley, stopping in the small towns and the many quaint wineries and other attractions along the way.
But get an early start — the Valley gets crowded during the summer and early fall months with day trippers, hikers, and cyclists out to enjoy one Austria's hidden gems!
How to get from Vienna to Wachau Valley: Whether you rent a car or take the train, it's only one hour west of the city. We advise against taking the ferry from Vienna. As it's going against the current of the river so the trip will take much longer and isn't quite as scenic."
7. Rogner Bad Blumau, Austria
Carol Pereduhoff says "it's not your average day trip, but a fun excursion from Vienna is to Rogner Bad Blumau, a funky thermal springs spa resort that is as interesting for the architecture and its holistic philosophy as for its hot springs. The creation of acclaimed Austrian architect, Friedensreich Hundertwasser, this one-of-a-kind spa resort is approximately 80 miles (130 kilometers) from Vienna in Styria, an Austrian region known for its mineral-rich thermal springs.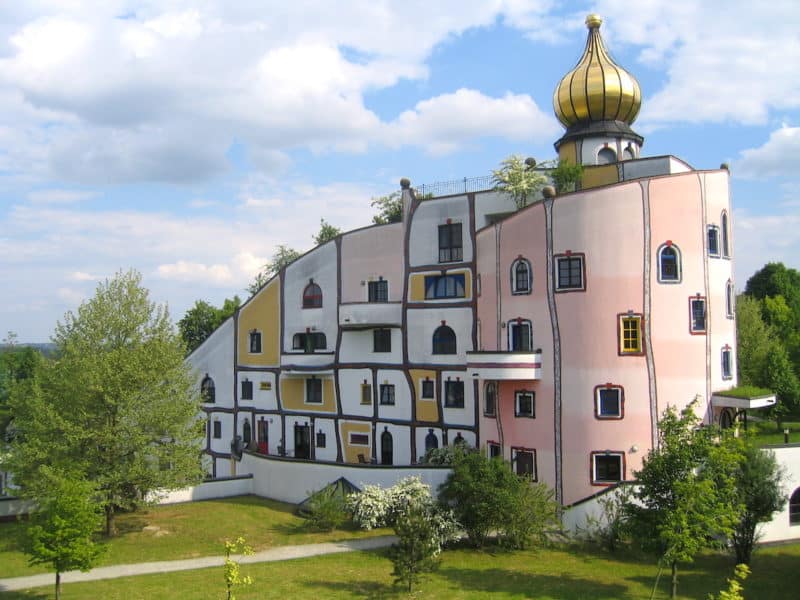 With its grass-covered roofs, twirling paths and lively mix of building shapes and colors, the resort, at first glance, has an almost cartoon-like appearance, but it's anything but frivolous. Taking its philosophy of wellness seriously, Rogners Bad Blumau promotes life in harmony with nature, and soaking in the thermal pools are a key part of this. It's also completely relaxing, and a great way to unwind and de-stress after a whirlwind of traveling.
At the spa's Vulkania, you can soak in water that is free from chemical additives while being serenaded by underwater music, or perhaps you'd prefer the mild Melchior Springs. Treatment options at the resort include massages, facials and body treatments, while facilities include a hammam, a sauna and a salt grotto.
Admission: A day entrance to the resort without spa treatments starts at €45 for adults during the week and €54 on weekends. Your entrance fee includes a bathrobe and towels.
How to get from Vienna to Rogner Bad Blumau: You can reach Bad Blumau by driving in about 90 minutes. If you prefer to take the train from Vienna, you should get off at Bad Blumau Station, which is two kilometers from the spa. From there you can get a free shuttle."
8. Brno, Czech Republic
"Brno is probably not the first destination that comes to mind as a day trip from Vienna, especially since it's in a different country," says Wendy Werneth. "And even within the Czech Republic, Brno is often overlooked in favor of more well-known destinations like Prague and Český Krumlov. But Brno offers plenty of things to do, given that it's the second biggest city in the Czech Republic. It's also just an hour and a half away from Vienna by train.
One of the more popular sights is the Cabbage Market, or "Zelný Trh" in Czech, which is a market that sells not just cabbage but lots of other vegetables and fruits. it has been in continuous operation since the 13th century. There's also Špilberk Castle, which offers great views of the city from its hilltop position.
And in addition to these more mainstream sights, Brno also has several unusual attractions, such as the ossuary that lies beneath the St. James Church. These underground rooms are filled with the bones of more than 50,000 people, arranged in oddly beautiful decorative patterns.
Brno is pretty compact for its size, so it's easy to get around by walking. Even on a quick day trip to Brno, you'll be able to see many of the main sights and get a feel for what the city is all about. And since Brno is much less touristed than Prague, you'll see a more authentic slice of Czech life here.
How to get from Vienna to Brno: It's about 130 kilometers from Vienna, and the train journey takes about an hour and a half each way. There are two train companies that run this route, ÖBB Railjet and EuroCity. The EuroCity train requires a connection, though, whereas the ÖBB Railjet train is direct. Going by bus is not a good idea, as it takes much longer and is hardly any cheaper."
9. Prague, Czech Republic
Kenny Chow likes Prague. He calls it "a charming Bohemian historic old town. It has always been one of the most popular travel destinations in the area: The Charles Bridge, Prague Castle, St. Vitus Cathedral, and Astronomical Clock, and Old Town Square are filled with sights and attractions that leave an unforgettable impression at heart.
For a day trip, take a walk in the city's old town where it is packed with many iconic landmarks. If you are traveling to Prague by train, follow the crowd from the train station and head to Wenceslas Square. Then continue your walk to the Old Town Square – the Church of Our Lady before Týn is the most eye-catching and recognizable architecture, and one of the most photographed sites in the Old Town. In fact, many Gothic churches in the region have the same black mysterious roof which makes Prague's skyline so much more dramatic.
Prague's Old Town has a lot of classic cafes worth trying; have a cup of coffee sitting by the side of the Old Town Square and near the Jan Hus monument or watch the puppets appear every hour at the Astronomical Clock. Of course, no trip to Prague is completed without crossing the Charles Bridge, a functioning historic architecture that is filled with beautiful statues and decorative lamps."
How to get from Vienna to Prague: Prague is only a 3.5-hour drive away from Vienna. By rail, the two cities are always connected on the route map of a trip in the Central Europe.
10. Bratislava, Slovakia
When in Vienna, take an excursion to Bratislava. The Travelling Twins found this lovely city, and especially its Old Town, to be a delightful relief from the formality of Vienna.
"Head for Michael's Gate and then continue down the spine of the old town. You find yourself in a steep cobbled street where frontages from different centuries jostle for attention. They each have different personalities from ancient medieval to classical.
Take a narrow side street on the left and emerge in the main square to enjoy a drink at a pavement cafe. From here, you can enjoy the peace of this delightful square and its fountain. There are several amusing sculptures here and in the rest of the Old Town which we enjoyed discovering as we wandered around.
Bratislava has two very different castles. The imposing square keep of Bratislava Castle can be seen from everywhere. Climb up to the forecourt to look down over the city and admire the Danube Bridge, with its distinctive UFO platform hovering above. The castle has a little terraced formal garden behind, and the statues above the main gates are especially impressive.
Arrange your trip if you can, to take in Bratislava's second castle too. As mentioned above, Devin is an ancient ruin magnificently sited above the point where the Moravia flows into the Danube a few km upstream of the city.
Bratislava is full of interest and character and merits a trip for itself. But if you are restricted to visiting Bratislava for one day only, the joy of the place is so much character to be seen while exploring on foot."
11. Salzburg, Austria
Salzburg is a big draw for fans of the Sound of Music and Mozart. But Cindy Baker is quick to point out that "the city is also worth a day trip from Vienna for its baroque architecture, mountain views and cakes.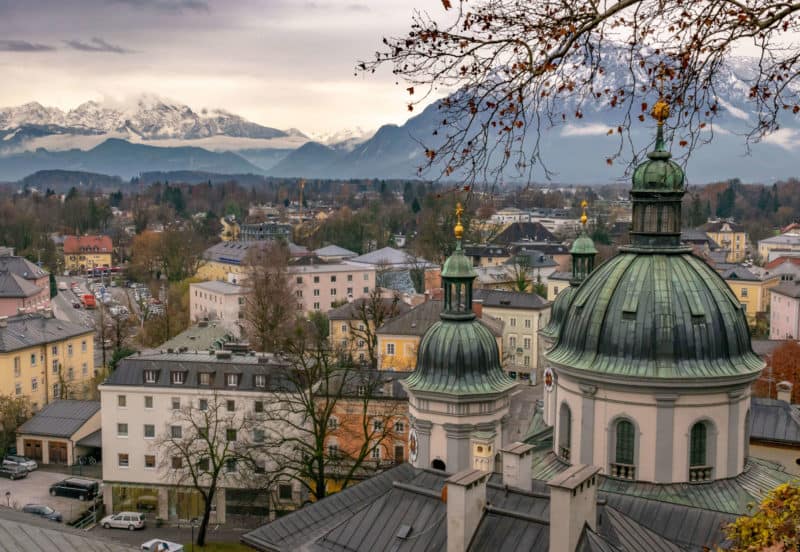 Salzburg's Old Town is a UNESCO World Heritage Site, and you'll feel as though you're walking through a fairy tale, or perhaps, the Sound of Music set. A highlight is Mirabell Palace and its surrounding gardens where Maria and the children sang "Do-Re-Mi" in the movie.
From there, take a walk down Getreidegasse, the oldest shopping street in Salzburg. Stop in at Café Tomaselli, famous for its cakes and as Mozart's favorite spot to have almond milk. Don't miss the Mozart Museum in the building where Mozart was born, and the Salzburg Cathedral, where he played the organ.
For incredible views of Salzburg and the Alps, take the funicular, the Festungsbahn, up to the Hohensalzburg Fortress. If you have time, walk down to Nonnberg Abbey. It's the convent that the real-life Maria joined and you'll recognize the gate from the movie. And if you feel like belting out a tune from the movie, you probably won't be alone.
How to get from Vienna to Salzburg: You can get to Salzburg by car or by train from the main train station in Vienna. Either way, you should plan for a long day, as it takes just under three hours to travel from Vienna to Salzburg.
A day tour can be a more relaxed way to go. Many of the tours to Salzburg focus on Sound of Music filming locations and stop on the way in the Austrian Lake District, a beautiful resort area where Austrians spend their summer vacations."
12. Königssee, Germany
One of the most beautiful and unexpected day trips from Vienna that you can take is to Königssee. It is a long day trip, but Jorge at Travel Drafts says "it's one that it really is worth it, as it's considered Germany's most beautiful Alpine Lake. We suggest you try to get there early to have time to really enjoy the mountains, the Lake and hikes.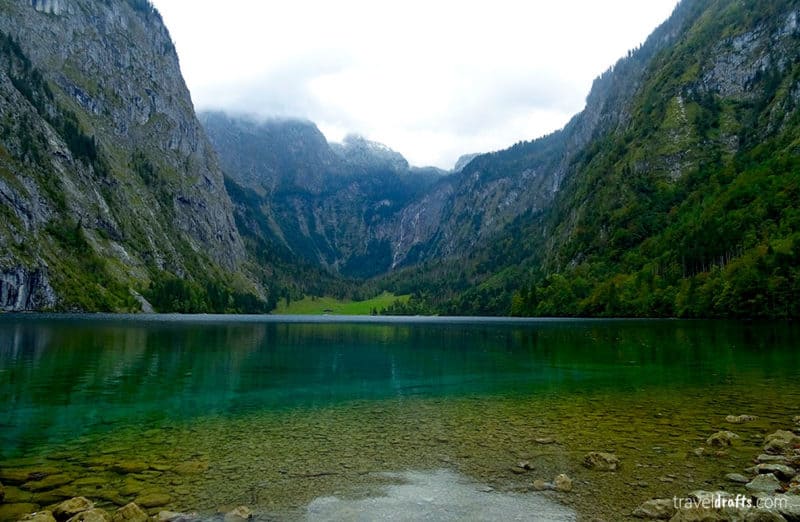 The lake is at a Jurassic rift and stretches for almost 8 Km and it's somehow similar to a fjord, surrounded by huge and steep mountains that go up to 2,700 meters high.
The Königssee and its smaller brother Obersee are the main attractions of Berchtesgaden National Park. The park is one of the most beautiful parks in Europe and a UNESCO Biosphere Reserve.
One of the Königssee's biggest attractions is to catch a boat that crosses the lake. Enjoy the wonderful alpine views and the unbelievable pristine water of the Lake. The water of the lake is so clear because only electric-powered passenger ships, rowing, and pedal boats have been permitted on the lake since 1909.
We also suggest you to hike from Konigssee to Obersee, it is a lovely, short trail and Obersee is another very picturesque lake with water even clearer than in Konigsee.
How to get from Vienna to the Konigssee: The Konigsee is located in Bavaria in the South of Germany, but you can reach it in about 3 hours from Vienna.The cheapest way to get from Vienna to Königssee costs only 24€, and the quickest way takes just 2½ hours." Find the travel option that best suits you here.
13. Innsbruck
Famous for being surrounded by ski resorts, which can be reached in just 20 minutes from the city center, Inma Gregorio recommends Innsbruck. "The capital of the Tyrol deserves to be visited at any time of year because it offers numerous attractions to the visitor.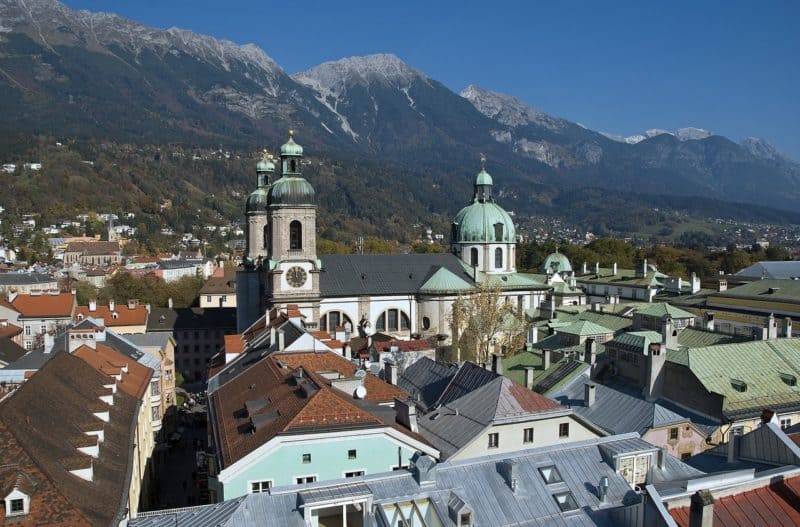 From the funiculars to the high design (designed by the architect Zaha Hadid), the quiet River Inn, the remodeled Maria-Theresien-Strasse, the Imperial Palace, and the Marktplatz, you will not get bored in this city as there's no shortage of great things to do and see in Innsbruck.
Special mention should be made of its festivals, among which we highlight the Festival of ancient music (Baroque and Renaissance composers), the Tanzsommer Dance Festival Innsbruck and the New Orleans Festival.
Enjoy!"
How to get to Innsbruck from Vienna: The best transport option from the capital of Austria is the Train from Wien Hbf to Innsbruck Hbf. It usually costs between 17 and 90 euros and takes approximately 4¼ hours. The second best option is to drive a private vehicle (less than 5 hours).
14. Melk
While Dan and I really enjoyed visiting Melk on our river cruise, Priya Vin says it also makes a perfect day trip from Vienna.
"A beautiful Benedictine Abbey founded in 1089 sits above the charming town of Melk, overlooking the Danube River, in the picturesque Wachau Valley. Don't miss this UNESCO's world cultural heritage when visiting Austria. We stopped here on the way to Salzburg during our road trip through the Alps of Austria and Switzerland. We did many trips around Salzburg and Melk was one of our favorite stops.
Since 1089, the Benedictine monks have been living and working here in the Melk Abbey. They follow the rules laid down by St. Benedict, pray and work and learn. They glorify God in all things, not only through their prayer but also through their work and their daily willingness to learn every day.
Melk Abbey was established as a fortified Benedictine abbey in the 11th century, it was later destroyed by fire. When visiting the monastery, pay attention intricate details of the18th-century Baroque style architecture evident in the Imperial Corridor, the Imperial Staircase, the abbey museum, the Marble Hall with a beautiful ceiling fresco.
Inside, there is also a library that holds about 16,000 ancient books, some of which are 500 years old. The abbey church has a 200-foot-tall dome, gilded pulpits and marble columns. The yellow archways are so pretty and from the panoramic terrace, you can see a scenic stretch of the Wachau Valley.
How to get from Vienna to Melk: Melk is just a short one-hour drive from Vienna and can be visited as a day trip. By train, the journey will take 1¼ hours. You can also get to Melk Abbey through one of the many organized tours available from Vienna."
15. Hallstatt
The Swedish Nomad recommends Hallstatt as one of the most picturesque towns in Austria. "You can get here quite easily from Vienna by car or public transport even though the ride is about 3-4 hours.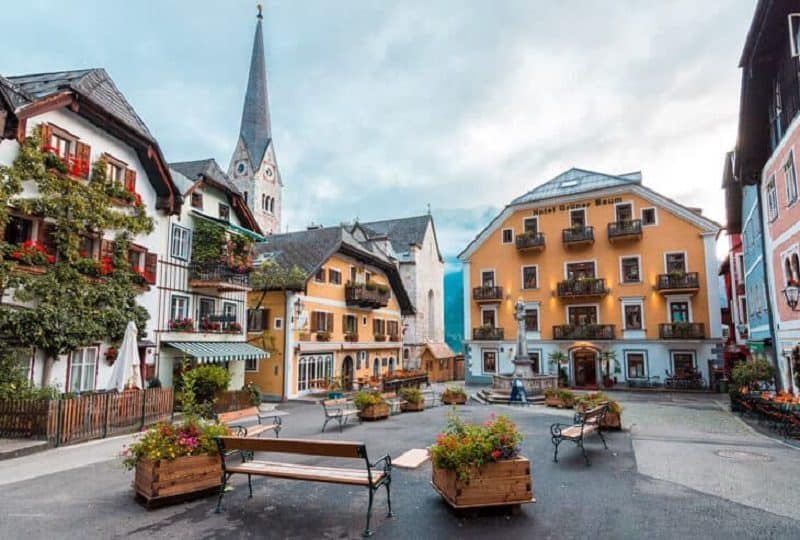 My best tip is to come here as early as possible, especially if you travel during summertime or winter when many tourists travel to Hallstatt. Most people come for a day trip and arrive some time around 11-12 and leave a few hours after. So another option is to arrive a bit later and then have the place almost to yourself.
When arriving to Hallstatt, make sure to walk up the stairs to visit the ossuary and get a view over the lake and town. Go for a stroll around the town, take pictures and eat some traditional Austrian food.
How to get from Vienna to Hallstatt: If you're going by public transport, you can take the train from Vienna, and then a bus from Steeg-Gosau Bahnhof. The journey takes around 4 hours by train.
There are also guided tours available that will take you on a day trip to Hallstatt:"
Can you add any to this list? Share it in the comments below!
Want to read this later? Save it to Pinterest!