It was the third day of our cruise, and while I had planned to sleep late, my body woke itself up at 7:30. Why fight it?
Unlike yesterday, it was a beautiful, summery day with just a hint of a cool breeze, so I opened the drapes and windows as soon as Dan began to stir. As you cruise to Bratislava, there's little to see apart from beautiful nature, but that's a blessing. There were so many birds along the shore that their joyous songs carried into our stateroom.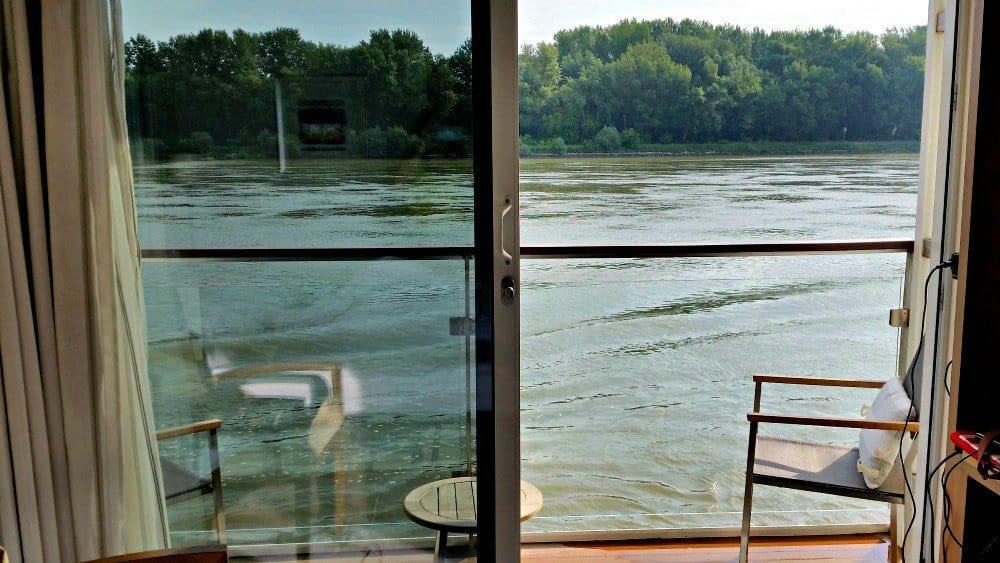 Today's morning view from our balcony
First-time river cruisers
While we were staying at the Marriott we had met a delightful couple who were leaving on their first Viking cruise the day after us. I had promised that if they didn't enjoy themselves, I'd be shocked. This morning started off on a great note when I received their email: Wow! Just boarded the Atla today and I have to say it exceeds all expectations. Let's keep in touch. –Tomm
Many of the people we've met onboard are also on their first cruise. Unlike our friend Tomm and his wife, a lot of them had arrived in Budapest the day we set sail. Here we are on Day 3 and they are still battling fatigue from the flight and time change. Some of them opted out of all yesterday's tours so they could catch up on their sleep. Today, some of them fell asleep on the sun deck!
What a pity. They are missing so much of the cruise they had paid to enjoy.
ⓘ TIP: Do whatever you can to arrive in town a few days early. You'll be able to rest up beforehand, so you don't miss out on any cruise experiences.
Safety first
No one could sleep too late this morning! At 10:00, a loudspeaker announcement instructed everyone to meet on the Sun Deck for a mandatory safety drill. Bring your life jacket; it's required.
We found them under the bed, just as they said we would.
The drill itself took only a few minutes once everyone had assembled.
With a view like this, no one minded waiting for everyone to assemble.
Our first lock
This was a morning for the Sun Deck and many people were making acquaintances, chatting, and just plain happy to be in the sun and fresh air. The deck filled up when we approached our first lock. Everyone wanted to watch as we passed through. It was a tight fit.
River cruise vessels were designed to fit into locks perfectly.
Having lived in Panama for so long, it was a unique experience to be passing through a lock ourselves and waving to the folks on the viewing platform. We had always been the ones waving from the sidelines as we watched ships pass through the Panama Canal. This time, we got to wave at the spectators!
Captain Oliver was on deck and stopped to chat with a few of us. He told us we are going to pass through 68 locks on our voyage. Odds are that the locks will lose their appeal by the time we get to Amsterdam, haha.
Wheelhouse open house
Later on, they hosted an "open house" of sorts in the ship's small Wheelhouse. This is where the Captain can usually be found, steering the ship. The Wheelhouse has a unique feature you won't find on ocean-going vessels: It can retract all the way down to only a few inches above the Sun Deck. That feature certainly comes in handy whenever we pass under a low bridge!
It was so pleasant to sit out on our balcony, just watching the bucolic countryside glide by and enjoying the weather. Relaxing like that is rare for us. Actually, we were having such a good time peacefully doing nothing that we completely missed the morning's presentation at 11:30.
I was disappointed to have missed our Program Director's lecture about Vienna Coffeehouses and its famous composer Wolfgang Amadeus Mozart.
We also missed the Bratislava tour
Around 2 pm we arrived in Bratislava, Slovakia's capital city. Captain Oliver couldn't have docked Bragi any closer to town if he had tried!
Today, Viking offered two shore excursions to choose from:
Bratislava City Tour: "A bus tour and a guided walk of Slovakia's charming capital"
Bratislava Walking Tour: "A fascinating walk around the historic town."
We had been looking forward to a guided tour of Bratislava … until we found out there was an optional tour. How could we pass up an opportunity to meet a Slovak family in their home? It would be interesting to hear firsthand accounts of what life is like in Slovakia, both before and since the Communist regime ended.
What to see in Bratislava with limited time
Back on the Bragi after our afternoon encounter, we didn't waste any time. We picked up a map at the front desk and headed into Bratislava for photos and local cuisine. Who knew when we might have another chance to see Slovakia's capital? It was a fantastic blessing that Bragi wasn't sailing until 11:00 p.m..
Bratislava photo gallery.
Dinner in Bratislava
As the sun descended behind the buildings, we found a great place for dinner. It had our two essentials lots of patrons and Slovak being spoken. It must be good if locals patronize the place.
Our waiter seated us under the awning in the twilight, giving us a fantastic view of the square. Dan and I ordered a couple of local beers and four unique dishes to share. Our server was extremely attentive and gave us excellent service. Who knows, maybe it was because we had fun using those three Slovak words whenever we could!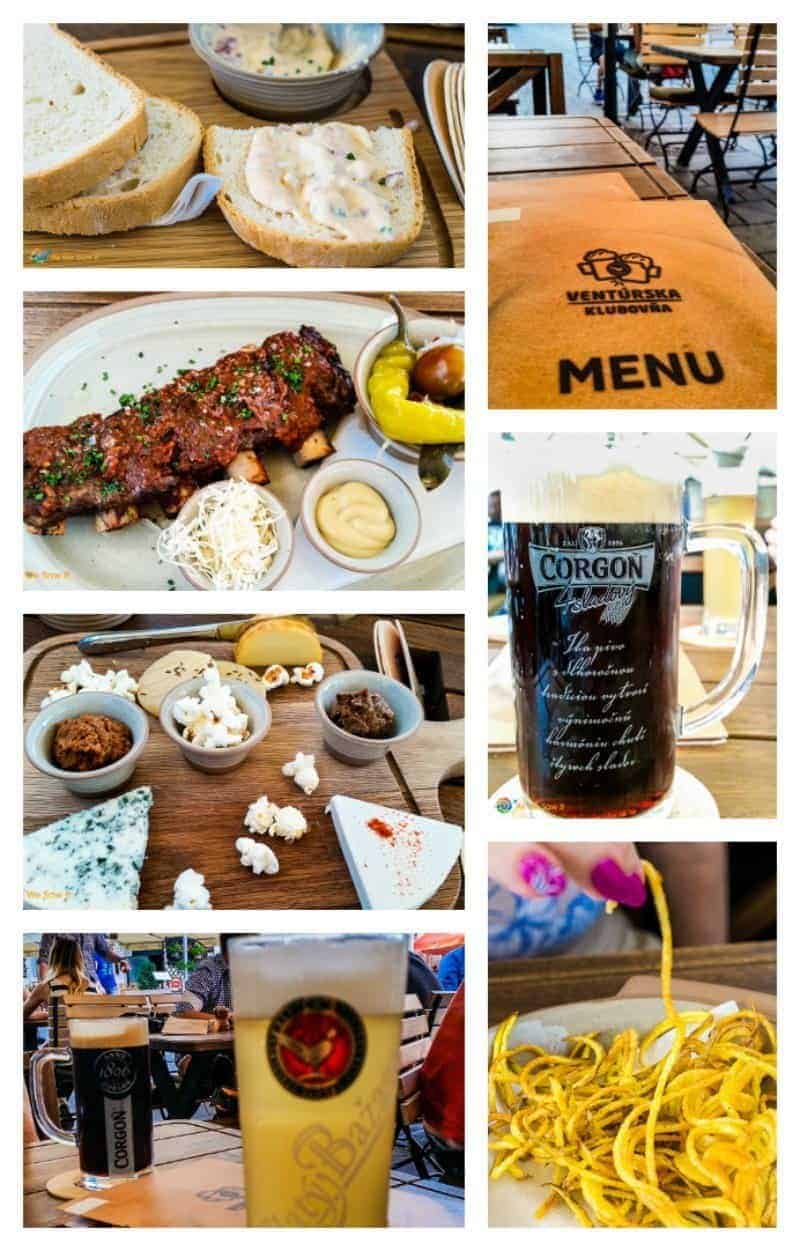 Whimsical Bratislava sculptures
On our way back to the ship we went in search of the quirky bronze statues that Bratislava is known for. These life-size sculptures can be found here and there around the city center. Obviously, someone has a great sense of humor.
We couldn't resist goofing around with them ourselves.
Back on board
We got back to the ship just in time for the evening entertainment, "A Hungarian-Slovakian Evening." A troupe of musicians performed for those gathered in the Lounge, playing both classical and well-known songs. Even those who don't fancy string instruments enjoyed it.
Next stop: Vienna.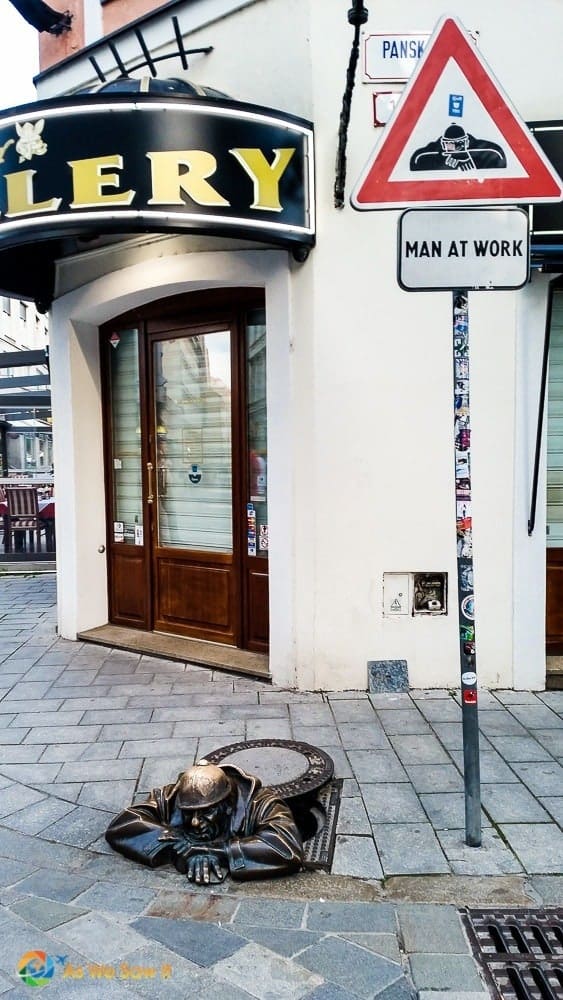 Note: As is common in the travel industry, Dan and Linda were provided with a complimentary cruise package for the purpose of review. While it has not influenced coverage, AWSI believes in full disclosure of all potential conflicts of interest. For more information, see the Disclosure page.