We often link to affiliate products and services that we believe will benefit our readers. As Amazon Associates, we earn from qualifying purchases. Learn more here.
Out of all the river cruise itineraries in Europe, the ultimate is probably the Grand European Tour, which runs between Budapest and Amsterdam. Dan and I had fallen in love with river cruising during our Rhine River cruise, so when Viking Cruises invited us to take this one for purpose of review, we couldn't resist. Five countries in two weeks, without changing hotels? Heck, yeah!
Cruise days are full, so I kept a daily river cruise journal along the way. Our 15-day cruise became a series of stories that will tell you what you can expect every day. You'll find the links throughout this article.
Places to stay in Budapest
What happens on a river cruise?
We've only been on Viking cruises so far, but we understand that the daily routine is generally similar. Every port of call begins with a guided tour of the city (included), after which you have leisure time to do whatever you fancy until the ship sails.
As for the lunchtime meal, some passengers return to eat on the ship. Others, including ourselves, prefer to stay in town and buy their own noontime meal. In our opinion, few things can match ordering local food in a local restaurant with local patrons. To us, it adds another layer to the experience of being in another culture.
At some stops, you may be able to join an additional tour. These special interest tours usually have a limited appeal, so they charge a nominal additional fee to cover the cost. It's a creative way to keep the basic price low, yet still add extra value to passengers. (Note: For the 2015 season, prices ranged between 29 and 64 euros per person.)
One thing about this cruise itinerary: Be prepared for a lot of scenery, culture, UNESCO sites, history and food. If you enjoy things like this, you will really enjoy the river cruising experience.
Read more: 24 Reasons to Take a River Cruise
To give you a sense of how the cruise is laid out, here is our itinerary map.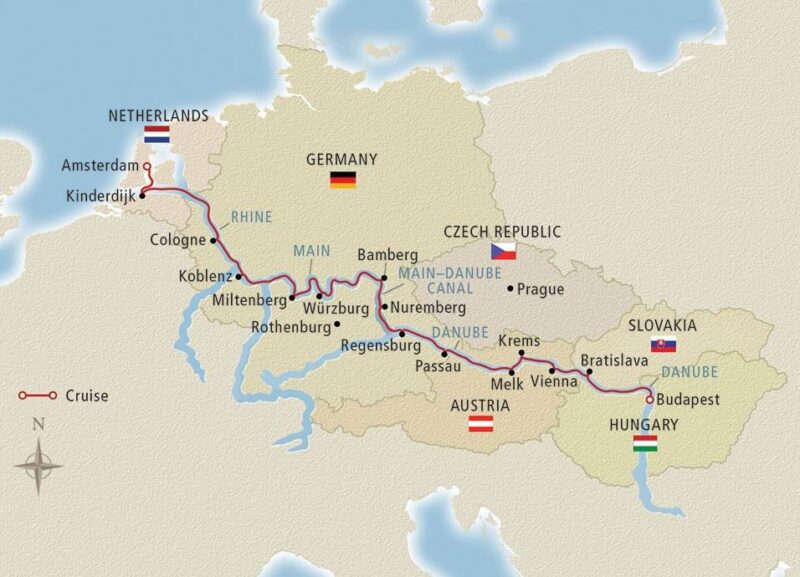 Pre-cruise travel tips
1. Get travel insurance. Injuries occur. Baggage goes astray. Wallets disappear. Flights get cancelled. Pandemics happen. Travel insurance will get you through all of it. Trust us, it's worth it.
2. Arrive in town early. As seasoned travelers, we can't emphasize this strongly enough! Flight delays happen, and you don't want to miss your trip. Besides, it helps you adjust to the time difference. Jet lag makes you fuzzy-brained and sleepy during the day.
Arriving early gives you time to adjust to the time change. Plus, you won't risk the ship sailing without you or your luggage.
3. Stay in a place that's centrally located. We stayed at the Budapest Marriott Hotel, which was on the Danube. Conveniently, it was just steps away from where our ship was docked.
4. Consider an airport shuttle. Viking will meet you at the airport on the day of the cruise, but you're on your own otherwise. It's nice to have someone waiting for your plane who will help you with your bags. We used this service, which was really affordable.
5. As long as you're in Europe, might as well take advantage of the opportunity to to see more at your leisure. If you can spare the time, arrive a few days early. You might choose to book one of their pre- and post-cruise extension options, like 2 nights in Budapest or 3 nights in Prague. Or, you may prefer to book your own hotel and do your own thing. We did that (result: 10 Budapest Sights You Don't Want to Miss). But to be honest, we regret not taking day trips to other parts of Hungary too:
6. Roll with any last-minute schedule changes. It's disappointing when it happens, but don't get upset and let it ruin your fun. Things like these affect the company's bottom line, and it's not fun for the crew either.
If there has been heavy rain upriver, your ship may not be able to fit under some bridges due to high water level.
The river will be too low if there hasn't been any rain. Your ship may not be able to navigate without risking damage by hitting the bottom.
If there is an event in town, you may not be able to tour certain areas. This happened to us in Budapest and Passau, where we couldn't get into notable churches. Another time, we had to leave town early, so as to make it through a region before a regatta took place.
They'll do the best they can to adjust, even if it means busing you to your next stop to ensure you stay on schedule and don't miss your flight home. (And don't be "that person" who judges the entire experience by something they had no control over. That's just not fair.)
7. Log in to "MyVikingJourney" as soon as possible. Set up your account so that you can access your itinerary, book excursions, find documents and make sure everything is done prior to boarding.
8. Book excursions as soon as you can. Space is limited for some of them. You can book them right in your MyVikingJourney account online.
9. Viking will send you all you need before you embark. You'll get a package with luggage tags and a book with all your cruise info. The book contains everything you need to know about the ship, port guide with tours, answers to frequently asked questions, emergency contact info for family, and more.
10. If you arrive in Budapest early, you'll have to get to the ship on your own. Viking's booklet shows where to look for it. It will be easy to find, docked in one of three spots on the Danube.
11. Dress code is smart casual. Pack good walking shoes and comfortable clothes, as you'll be dealing with cobbled streets. Bring a jacket for chilly or windy days.
12. Tips are not included. Viking charges $15 per person, per day. You can either pre-pay or have it charged to your account at the end of your cruise. We didn't begrudge the crew the money because they constantly went above and beyond, and the tips are shared among everyone, from mechanic to laundry staff.
13. Learn a little about the cities you'll be visiting before your trip. Your cruise book, YouTube videos and tour books like this one will offer context … and make you impatient for your trip to begin!

Now, let's get started on the Viking Grand European Tour itinerary! 🙂
Days 1 and 2 – Budapest, Hungary
Day 1
Viking offers a light buffet lunch for passengers who arrive before the recommended 3 pm check-in. The first official activity on the Grand European Tour is held mid-afternoon. It's an unofficial guided walk around the area to help battle jet lag, should you be arriving the day of the cruise.
Our Program Director promised that our first meal on board would be special, and it was. We were served a traditional Hungarian menu, accompanied by local wines and beers. And for those of you who are selective about what you eat, no worries. Every menu includes a few standard options, like grilled salmon and steak.
Speaking of local wine, the country produces a number of excellent wines. Tokaj and Bulls Blood are probably the best-known, and Hungary's Tokaj wine region is so phenomenal that it is a bona fide UNESCO site.
Tip: If you enjoy good wine, pick up some local vintages along the way to enjoy with dinner. Viking doesn't charge a corkage fee.
Day 2
Our first full day aboard begins with a morning tour of Budapest. Many of the city's attractions are recognized as World Heritage Sites Buda Castle Hill, Banks of the Danube, and Andrassy Avenue. We visited Pest's National Opera House and historic Heroes' Square, then crossed the river to Buda. There, our tour took us along Castle Hill to Fishermen's Bastion and Matthias Church before returning to the ship for lunch.
The afternoon options are varied. Would you like to explore Budapest on your own or join an optional tour? Your choices are:
Dohány Street Synagogue and Jewish Budapest (tour highlighting Budapest's colorful Jewish past and present)
Spa Experience (Budapest is famous for its therapeutic thermal waters and has the spas to prove it)
Hungarian Horsemen: Lazar Equestrian Park (trip to see a horsemanship exhibition).
The second evening in Budapest began with a Welcome Reception. Consider it an official opportunity to chat with your Program Director and traveling companions.
The evening departure results in some phenomenal photographs. Evening cruising through Budapest on the Danube is spectacular. See our Budapest photos here.
Days 3 and 4 – Vienna, Austria
Viking has updated their itinerary since our cruise, dropping a day in Bratislava in favor of two days in Vienna. As much as we enjoyed Slovakia's capital, we left Austria's capital feeling as though we hadn't seen enough. Props to Viking for listening to passenger feedback and adding more time in Vienna.
The Historic Centre of Vienna is a UNESCO site and there is plenty to see. We did see some of the city's baroque architecture on our morning tour. Our guide made sure we saw the world-famous Opera House, St. Stephan's Cathedral and Hofburg Palace, among other things.
Many of our fellow passengers spent the afternoon exploring Vienna on their own. We preferred to join the optional afternoon tour to Schönbrunn Palace. It is called the "Versailles of Vienna" due to its massive size (1,441 rooms!), and it qualifies as a UNESCO site as well.
After dinner, we were treated to a classical concert (think Mozart and Strauss, not classic rock) performed by a Viennese orchestra. That's another optional tour; no need to endure it if you're not a fan.
Day 5 – Wachau Valley + Melk, Austria
Most cruising is done overnight, unless it's through a picturesque area. This morning we enjoyed some scenic cruising through the Wachau Valley, heart of Austria's wine country. The Wachau is a stretch of the Danube Valley between Melk and Krems, and is of such unsurpassed beauty and historic importance that it has been named a UNESCO World Heritage Site.
Melk's crown jewel is its abbey, an incredibly ornate 900-year-old Benedictine monastery. It features Austria's finest Italian baroque architecture. Melk Abbey also has wonderful frescoes, as well as a library that holds an extensive collection of medieval manuscripts.
Day 6 – Passau, Germany
Passau lies where the Inn, Ilz and Danube Rivers meet. Our guided walk along the town's narrow streets took us through Old Town and past many traditional patrician houses. Lying at the confluence of three rivers, Passau often experiences flooding, and one of the sights is where previous floods have left their mark.
We also saw the New Bishop's Residence and the impressive baroque St. Stephen's Cathedral with its ornate interior. If you arrive at noon, you can be treated to a special noontime concert on Europe's largest church organ (17,000 pipes).
Then, free time to explore Passau on our own.
Day 7 – Regensburg, Germany
Regensburg is a wonderfully preserved medieval city. It's full of medieval architecture, dark and narrow lanes, and strong fortifications, and that's what makes it a UNESCO site.
We had a chance to tour the town's market, city hall and the splendid St. Peter's Cathedral, discover many 13th- and 14th-century patrician houses, and see ancient Roman, Romanesque and Gothic buildings.
Day 8 – Nuremberg, Germany
Our morning was spent on board, cruising to Nuremberg. Dewi, our program director, offered a morning talk about the European Union, but Dan and I skipped it. We sat on our private stateroom balcony, sipping coffee and watching the passing scenery.
The afternoon options included a walking tour of the Old Town area. Highlights were the Albrecht Dürer House and Main Market Square. We drove by Zeppelin Field (the Nazi parade grounds of the 1930s) and the Palace of Justice, site of the infamous Nuremberg Trials.
World War II buffs can take an optional tour of the Documentation Center instead.
Day 9 – Bamberg, Germany
We spent the morning cruising through the 106-mile long Main-Danube Canal and passing through some of its 16 locks. Charlemagne first thought of continuous river travel from the North Sea to the Black Sea in 793, but it took until 1992—a whopping 1200 years—to actually accomplish his dream.
Once arriving in port, we were taken on a walking tour of Bamberg's medieval city center. Bamberg has a magnificent 11th-century cathedral. However, it's best know for its picturesque city hall, built on a tiny island in the middle of a river.
When our guide released us to explore this UNESCO site on our own, a few of us asked for one final stop. Schlenkerla is a historic brewpub in Bamberg, Germany and is renowned for its smoked Aecht Schlenkerla Rauchbier.
Germany's Franconia region may be known for its wine, but Bamberg is famous for its distinctive, smoke-flavored beer. Truth be told, it was the highlight of Dan's and my visit.
Day 10 – Romantic Road excursion to Rothenburg + Würzburg, Germany
Morning
Most passengers spent the day in Wurzburg. but we joined Viking's optional Romantic Road excursion to Rothenburg ob der Tauber. The motorcoach ride was scenic, but it was drizzling and hard to see through the wet windows.
Rothenburg is a medieval town with charming half-timbered houses, a turreted city wall and impressive Gothic and baroque architecture. It ranks among one of the most picturesque in all of Germany. If you have a camera, you should really consider taking this tour.
Afternoon
After a traditional German lunch in a Rothenburg restaurant, we returned to Würzburg. The town is best known for the Bishops' Residenz. One of Germany's largest and most ornate baroque palaces, the palace is also a UNESCO site.
It's over-the-top elaborate, and hard to believe someone actually lived like this.
Evening
We had another delicious dinner on board. Viking had planned an evening glassblowing demonstration afterwards, but nope. The cruise director had to postpone it at the last minute because the glassblower missed the ship.
Oops.
Day 11 – Wertheim, Germany
Wertheim is located at the confluence of the Main and Tauber Rivers. It's a typical, small German town, with roots that date back to the 7th century. Wertheim is renowned for its glassblowing tradition.
Our walking tour included a visit to the historic marketplace and our guide pointed us to glassblowing studio that we could visit. Many passengers spent their free time in glass shops buying souvenirs. Dan and I preferred to leave the main drag and explore the old town's 1100-year-old back streets. You can see our photos here.
Down time in the afternoon. Time to relax on the sun deck with other passengers and watch the scenic vineyards of Franconia sail by. Dinner included some of the area's wines.
Tonight, we finally got our glassblowing demonstration. He was quite entertaining and kept us all laughing, especially when he drafted audience participants. The whole evening was super fun!
Day 12 – Upper Middle Rhine Valley + Mosel River + wine tasting + Koblenz
This morning was all about hilltop castles along a stunning stretch of the Rhine River. It's so special that the Upper Middle Rhine Valley has been designated a UNESCO World Heritage Site. There were plenty of oohs and aahs on the Sun Deck as we passed the dozens of castles and vineyards along its banks.
This was our second time in the Rhine Gorge and we enjoyed it just as much. The views are incredible and the associated commentary is fascinating!
Afternoon
The ship stopped in Braubach for a tour of one-of-a-kind Marksburg Castle. This castle is in perfect shape; it's the only Rhine fortress that has never been destroyed. Definitely a must-see.
As we had seen the castle on our previous Rhine River cruise, we and a couple dozen other passengers took the optional Moselle wine tour. Our route took us along along the Mosel River, which offers a landscape of terraced vineyards punctuated here and there by typically German towns.
After stopping to stretch our legs at a very scenic overlook, we continued on to a Mosel winery. They took us into the inner sanctum of wine production and showed how they produced their wines. Then, of course, we sampled a few of their best.
Our ship docked in Koblenz until late evening. This is the picturesque town where the Moselle and Rhine converge. We ran into a group of crew members in town. They were enjoying a few hours off and invited us to join them.
Always inquisitive, we took the opportunity to ask about working for Viking. We figured they could speak frankly since we were off the ship, and we were right. Seems a few of them have worked for other river cruise lines or on ocean liners. Consensus: Viking has high standards, and they treat their employees better than the other companies did. Isn't that wonderful?!
Day 13 – Cologne, Germany
Cologne is Germany's fourth largest city. Our morning walking tour through Old Town passed St. Martin's Church, the Renaissance city hall and the remnants of an ancient Jewish mikveh (a ritual bathhouse). Our tour ended at the Dom, Germany's largest cathedral and a UNESCO World Heritage Site. The rest of the day was free to enjoy Cologne. I made sure we went to the Chocolate Museum….
The Captain's Farewell Reception was a blast – we had a "Taste of Germany" buffet dinner, complete with live oompah music. The crew dressed up in German costumes to give it an especially festive air.
And being that it was a buffet, the chef made sure to come over to help us figure out which dishes were on our diet. (We had mentioned it once, at the beginning of our cruise, and the entire staff never needed to be told again. They kept it in mind every time we ordered.)
After dinner, we joined the optional Prost! Tour so we could experience Brauhaus culture and drink Cologne's famous Kölsch beer. We'd done it on our Rhine cruise and it was just as fun this time.
Day 14 – Kinderdijk, Netherlands
We sailed along the Rhine all morning. and Viking had plenty of activities to keep us entertained. We enjoyed sampling Dutch cheeses and jenever (a distilled juniper liquor), and trying our hand at sjoelen (Dutch table shuffleboard).
After lunch, we docked in Kinderdijk (UNESCO!) for an afternoon tour. This is a fascinating experience, both for the photo ops and the opportunity to learn about windmills first-hand. We had done this on our last cruise, and the best part was climbing into a working windmill to explore its mechanisms and living quarters.
If you're claustrophobic, have mobility challenges, or have already visited a real Dutch windmill, there's an alternate tour. Passengers who would prefer an alternative can join a tour to watch Dutch cheese making. Holland is famous for Edam, but the cheese farm we visited specializes in Gouda.
Of course, the best part was sampling the many varieties in their shop….
We enjoyed a final dinner on board and our last evening together as we cruised on to Amsterdam.
Day 15 – Amsterdam, Netherlands
Our cruise ship docked sometime after midnight. We left late and could have one last enjoyable breakfast, once again with local breads, cheeses and other specialties.
No Amsterdam tour is included on the itinerary (even though its canals are yet another UNESCO site), and I assume that's because most people have planes to catch. If you wish you can join the next round of passengers on the afternoon walkabout.
Or you can do what we did, and spend more time in Amsterdam. There's a lot to enjoy in the city: neighborhoods, restaurants, museums and exciting nightlife. But whatever you do, make sure to take a canal cruise. It's ranked as the best things to do in Amsterdam. Find some good ones here.
Tip: We can personally recommend the Renaissance Amsterdam Hotel, which is a few blocks from Centraal Train Station. Or if you prefer something a little further out, the Bilderberg Garden Hotel was also nice. Both are near a tram stop.
Want to save this for later? Pin it to your favorite Pinterest board!
Note: As is common in the travel industry, Dan and Linda were provided with a complimentary cruise package for the purpose of review. While it has not influenced coverage, AWSI believes in full disclosure of all potential conflicts of interest. For more information, see the Disclosure page.