We often link to affiliate products and services that we believe will benefit our readers. As Amazon Associates, we earn from qualifying purchases. Learn more here.
Places to stay
Few things can compare to waking up to a balcony view that is picturesque enough to warrant UNESCO World Heritage status. This morning was one of those rare occasions: Everyone on board our ship was treated to beautiful views when they opened their drapes. Maybe this is why Viking named this river cruise the Grand European Tour.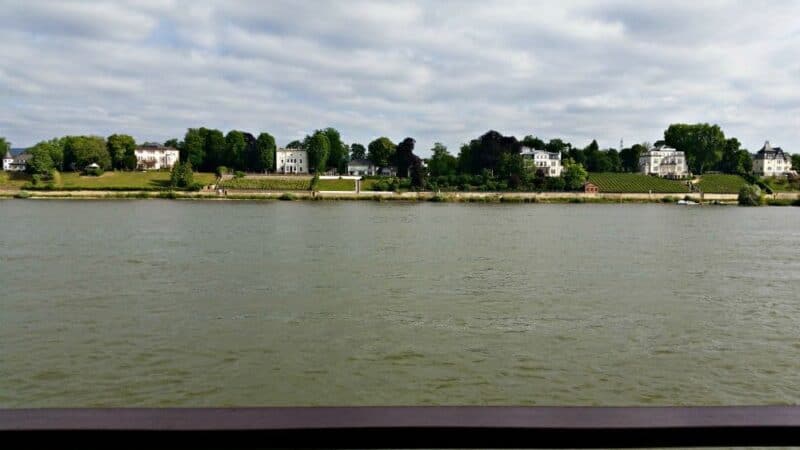 Cruising through the Upper Middle Rhine Valley
We all spent a relaxing morning cruising through the area known as the Upper Middle Rhine Valley, known for having some of the most beautiful scenery in the world. The floor-to-ceiling windows in Viking Bragi's dining room ensured that no one would miss out, but most of our fellow passengers chose instead to join us on the Sun Deck for Program Director Dewi's lively commentary.
History comes to life at a time like this. Many of the river's terraced vineyards date from Roman times. They seemed to use every available inch of arable land!
Even though some of the passengers had cruised the Rhine before there was so much to see – and learn – that the entire experience seemed completely new to us. For 64 idyllic kilometers (40 miles), Bragi sailed past quaint churches, terraced vineyards, and charming small towns.
Some towns had sprung up in places that were so narrow they could hold little more than a single row of houses, a road, and a railroad track!
And yet, that wasn't the highlight of our journey. Far more impressive was the 40-odd castles watching us from the hillsides above the river.
One after another, each had its own unique story to tell.
Most were in a sad state of repair, but here and there we could see one that had been fully restored. Eyebrows raised when Dewi told us that a few have been turned into hotels.
Wouldn't that be a fun experience!
One baron, who lived in a nearby castle, built a fortress in the middle of the river. He had chains strung across the water to ensure that no ship could pass without paying a toll.
At the narrowest part of the Rhine we passed Lorelei Rock, named for the legendary Rhine Maiden who, like the ancient Greek sirens, lured sailors to their doom with her song. I'd guess that the legend probably began because of the strong currents and hidden rocks in the river. Perhaps a sailor was distracted by the wind whistling from the rocks above. Who knows?
Afternoon options galore
After lunch, our ship docked in Koblenz, a large town at the confluence of the Rhine and Mosel/Moselle river. Many passengers chose to explore the many attractions in Koblenz for the next few hours. But for people like us who preferred organized activities, Viking offered a number of interesting afternoon activities to choose from:
Marksburg Castle tour
Koblenz at leisure
Mosel wine tasting experience (optional tour)
Marksburg Castle is definitely worth visiting. It is one of the few Rhine castles that has survived intact, even down to much of the furniture. Even if you have no interest in armaments or what life was like in a medieval German castle, it's worth a visit for the views.
Because we visited Marksburg Castle on our previous Rhine cruise we opted for the wine tasting experience this time around.
Tip: Marksburg Castle is not suitable for people with mobility challenges. There are a lot of rough roads and staircases to navigate. We strongly recommend that you spend your time exploring Koblenz or take the optional Mosel tour.
Mosel wine
A couple dozen people joined us on the bus for the wine tour, which promised an intimate experience. We headed out of Koblenz along the Mosel River, where we were treated to a landscape of terraced vineyards punctuated here and there by typically German towns.
Germany is justifiably known for its beer, but it also has 13 wine regions, including the Mosel (Moselle in French). The Mosel wine region produces unique flavors because of its cool climate and because the vineyards are on the extremely steep slopes overlooking the river.
The bus stopped along the way so everyone could get a good look at the Mosel valley.
Then we continued on to the Mosel winery.There we had an opportunity to tour the inner sanctum of wine production and see how they produced their wines.
Our final stop was the basement area, full of wine barrels, where their choicest bottles were stored. It was here that we finally had a chance to sample a few of their wines.
Confession: I had seconds on both. Crisp and light, with a faintly floral aroma, they were unlike any of the sweet Rieslings I am accustomed to. Dan agreed. This was one of the few times we regretted not traveling with larger suitcases; we would have liked to bring some back home with us. (No, they don't ship to the U.S. A pity, that.)
Leisure time in Koblenz
The last time we were in Koblenz, it was hosting the biannual Federal Horticultural Show. We were so busy enjoying the experience that we didn't get much time to see the town itself. Fortunately, summertime in Germany means long twilight hours, so after dinner we took a pleasant stroll along the Rhine into town. We had a wonderful time walking through the quiet streets in the old city center, looking at its buildings and doing a bit of window shopping in the waning light.
Koblenz really glitters after dark.
[ezcol_1half]
[/ezcol_1half] [ezcol_1half_end]
[/ezcol_1half_end]

Hanging out with the crew
Finally, long after dusk had fled and night had fallen, our feet grew tired and begged us to let them rest. That was our signal to head back. As we ambled back to the ship we ran into a group of Bragi's wait staff, most of whom we had befriended on board. Having finished their day's work, they were off to enjoy a late evening meal at a favorite restaurant. We were flattered when they begged us to join them on their night out.
Apologizing to our feet, we couldn't resist accepting the invitation; it gave us a chance to get the real scoop on what it's like to work on a river cruise ship.
What is it like to work for Viking Cruise Lines?
We left the get-together with a really good impression of Viking. Their crew members receive excellent employment benefits (insurance, retirement, etc.) and long enough breaks during their contracts that they have time to go home for a visit.
A couple of them actually confessed that they were thrilled to be out of the ocean cruise environment which, they said, is not nearly as employee-friendly. Yet one more reason to take a river cruise. That alone makes us want to take our next cruise with Viking instead of sail the open seas.
[su_box title="Inspired?" box_color="#8cc640″]Click here to see more photos from the Middle Rhine Valley. [/su_box]
Note: As is common in the travel industry, Dan and Linda were provided with a complimentary cruise package for the purpose of review. While it has not influenced coverage, AWSI believes in full disclosure of all potential conflicts of interest. For more information, see the Disclosure page.