The problem with with reminiscing about past cruises is that they make you want to take another one. We'd had such a great time cruising the Caribbean that we decided it was time to do it again. But why not try something different and take a Rhine River cruise?
Except for calmer waters, it would be the same thing, right?
Wrong.
Cruising the Rhine River vs. the Caribbean
Put all your Caribbean memories aside and prepare for a different experience.
Okay, well, some things are the same.
It's still true that you get to see a lot of places while only unpacking once.
Lodging and all your meals aboard are still included
Both offer free entertainment on board every night
But that's where the similarity ends. There are a whole lot of reasons to take a river cruise. For instance,
Wine is included with lunch and dinner
There are no boring days at sea where all you see is an endless stretch of water. Every day is a new place. Or even, a new country.
On a river cruise, it's all smooth sailing, so you'll never need medication for a queasy tummy.
Most shore excursions are included in the cruise price.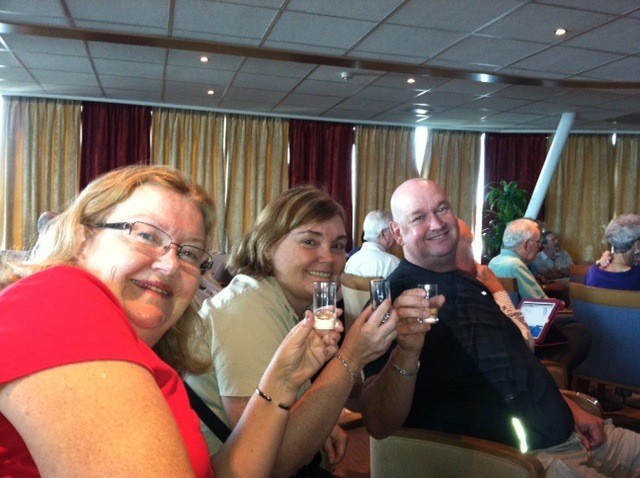 How to choose a river cruise
River cruises can be as exotic as the Mekong, as wild as the Amazon, or as romantic as the Danube. Looking at the list of choices in our search results, we felt like kids in a candy shop. Everything sounded good to us.
Step 1: Consider your budget. Weigh the cruise price and airfare to get there. For us, Europe was the most affordable option.
Step 2: Choose an affordable European river cruise company with a good reputation. Thanks to Mr. Google and some cruise forums (Cruise Critic is my favorite), we finally settled on Viking River Cruises.
Step 3: Select the cruise route and date. Sadly, most of their most popular routes were already completely booked, so our choices were limited. Who knew they start filling up the year before?
Anyway, we finally chose a Rhine River cruise, which so happens to be one of the most popular European river cruise destinations. Cruising between Basel and Amsterdam lets you tour 4 countries in a week: Switzerland, Germany, France and Netherlands.
Additional cruise costs
Optional tours: Viking offers a free city tour in every cruise port. This itinerary also had four optional tours that were geared to special interests. They were quite fairly priced. Far less than what our Caribbean cruise line charged for its excursions, actually.
Considering the amount we were saving just on that—plus they were once-in-a-lifetime opportunities—we signed up for all four.
All-inclusive drinks package: I'll confess that we splurged on the optional Silver Spirits package, which offers unlimited cocktails, wines, beers, espresso drinks, and more. An unnecessary indulgence, but it was nice to know we could visit the bar whenever we wanted. and get as many refills of wine as we wanted at dinnertime.
It was also worth it to know we wouldn't have to worry about an exorbitant bill at the end. We don't drink a lot, but we considered it peace of mind insurance.

What happens on a Viking river cruise
We had a fabulous time—it was worth absolutely every penny—and we met some wonderful people, some of whom we still keep in touch with.
Here is our cruise – as we saw it. We want you to know what you can expect and get an idea of all the wonderful places you'll visit on a Rhine river cruise.
ⓘ TIP: Though you'll get a taste for the Rhine itinerary, what you won't see here are all of Dan's amazing photos. (That would be one LONG post!) The best shots are in our related posts about each destination, so read on and then head over to our photo galleries for even more shots.
Day 1: Basel
Our cruise began in Basel, on the Rhine River, where Switzerland, France and Germany meet. We arrived in town the day before, because you never know when a travel snafu might create an unexpected delay. Not a problem; it was fun to have a day to explore Basel itself.
Find places to stay using the map below
Day 2: Breisach and the Black Forest
Our first full day aboard began with a breakfast buffet, complete with cooked-to-order items. Our morning was spent on a picturesque bus tour through the rolling hills and dense forests of the scenic Black Forest. We stopped to visit a very old, historic abbey, and then drove to a local workshop and see a cuckoo clock-making demonstration and visit the restaurant. I made it a special point to get the recipe for Black Forest cake as a memorable souvenir.
Find places to stay using the map below
Back to Breisach for lunch on the ship. Then, while some of our shipmates enjoyed an afternoon in town, we took an optional excursion (read: extra cost) to the quaint Alsatian town of Colmar. Verdict: worth it.
When dinnertime rolled around, our dining companions were raving about the quaint town they'd spent the afternoon in. So, we took a short walk through Breisach after dinner.
The ship set sail in the late evening.
Day 3: Alsace, France
Our ship docked in Kehl while we were sleeping. Today we would take a guided tour of Strasbourg, home to the European Parliament and capital of France's province of Alsace.
Find places to stay using the map below
Our drive took us through a few of the province's quaint villages, many of which reminded us of the town in Disney's animated film, Beauty and the Beast.
Alsace is a curious blend of French and German culture, and is known as a unique wine region. Alsace produces some of the most noted dry Rieslings in the world as well as highly aromatic Gewürztraminer wines, so we had a chance to stop at a winery to learn how they are made.
Day 4: Heidelberg and Rüdesheim
On the fourth day we woke up in Mannheim and spent the morning touring Heidelberg University and the ruins of Heidelberg Castle. We then took a walking tour through the city's Old Town.
Find places to stay using the map below
We spent the afternoon cruising down the Rhine to Rüdesheim in time for dinner. Some stayed on the ship but we'd signed up for an optional dinner in town. But this wasn't just any old boring dinner…. the after-dinner entertainment included audience participation, and after a schnapps drinking game, I was drafted to help play Edelweiss on cowbells.
Day 5: Cruising the Middle Rhine Valley
This morning we sailed along the most scenic stretch of the Rhine, where castles overlook the river from their hilltop locations. This part of the Middle Rhine Valley is so beautiful that it is a UNESCO World Heritage Site. We'd also pass the famous Loreley Rock.
Find places to stay using the map below
But it wasn't all cruising. We also were given an opportunity to have a guided tour through one of the castles along the way.
Marksburg Castle is in great shape, especially considering that it's over 700 years old, and I was surprised to learn that people actually still live there!
Another short cruise downriver brought us to Koblenz, a pretty town where the Moselle joins the Rhine.
What timing! We arrived during the Federal Flower Show, so after our usual tour, our cruise director offered free tickets to all passengers.
That was a bonus we hadn't expected.
Day 6: Cologne
Cologne may have given its name to Eau de Cologne, but these days it's more famous for its Gothic cathedral – which is yet another UNESCO World Heritage site. The cathedral is where our walking tour of the city ended. We spent a lot of time exploring shops and finally had to return to the ship in the afternoon … because our feet hurt.
Find places to stay using the map below
Our day ended with another optional tour: Bar hopping in order to try kölsch, Germany's only true, all-barley, pale ale. This locally-produced beer is top-fermented, so it's served in small glasses to keep its bubbles. Unfortunately, that means it can't be bottled for export. So you'll have to visit Cologne to try it.
Tip: It's customary for the breweries to replace empty glasses without asking. Cover your glass with your coaster to signal that you don't want any more.
Day 7: Kinderdijk
It takes a long time to cruise to Kinderdijk from Cologne, so our morning was spent on board. This gave us a chance to enjoy some classic Dutch cheeses and sample jenever, a Dutch gin (see the photo above). We also joined a competition in Dutch table shuffleboard and relaxed on the sun deck, just watching the changing scenery.
Find places to stay using the map below
Tip: En route, there's a life-size replica of Noah's Ark along the shore. Your cruise director will point it out, if asked.
As home to 19 authentic, working windmills, Kinderdijk has been awarded UNESCO World Heritage Site status. We had a unique opportunity to not only learn how the Netherlands continues to keep its below-sea-level land dry but to also explore the inside of an actual working windmill.
Dan took lots of photos of its mechanics and a windmill keeper's living quarters, as well as the town of Kinderdijk itself.
Day 8: Amsterdam
The worst part of our cruise was waking up on our final day and knowing we'd have to disembark.
Find places to stay using the map below
Sadly, our breakfast in Amsterdam marked the end of our extraordinary tour. We only had the rest of the day to explore Amsterdam because we were leaving for Paris in the morning. And there's a lot to see in this city.
See more