How much can you actually see with only one day in Amsterdam? Here's the walking tour we created for our first visit. Our Amsterdam itinerary has all the best things to do, from museums to canals to restaurants.
They say every good thing has to end, and that includes river cruises. When our Rhine River cruise ended in Amsterdam one Saturday morning, most of our shipmates headed straight to the airport.
But not everyone. A few intrepid travelers booked later flights and set out to explore this beautiful European city. And others—like us—booked a hotel so they could stay longer.
We only had one day in Amsterdam, so time was precious. Fortunately, we had a Dutch friend who could help us plan our walking tour!
So here's how we managed to squeeze so many attractions into our Amsterdam itinerary. 🙂
ⓘ TIP: We've included links to tickets, tours, etc. to make your planning as easy as possible.
What to do with less than one day in Amsterdam
With only a few hours in Amsterdam, focus on taking a canal cruise. It's the top Amsterdam attraction for a reason. You should book everything ahead of time to ensure everything goes smoothly.
Canal cruise tickets. We recommend the open top canal cruise departing from the Rijksmuseum.
Luggage storage. You must book ahead, because they won't allow walk-ups. This one is near Museumplein and this one is near Amsterdam Centraal train station.
Airport transfer. Depending on your budget, the size of your group, and how much luggage you have, you can book a private transfer to the airport or take the airport shuttle bus from Museumplein.
Don't worry about finding things to do in Amsterdam after your cruise—there are plenty of eateries and attractions around Museumplein to keep you happy.
Just remember to leave for the airport in plenty of time to catch your flight!
Getting around Amsterdam
If you've got more time, here's our #1 tip: Protect your back and feet; be sure to wear good shoes!
We had considered renting bicycles to get around, but Farieda advised against doing it because we didn't know the city very well. Obviously, it's unsafe to read a map while you're cycling through city traffic. Taking an organized bike tour is the safest way to sightsee on two wheels.
So, we decided to go on foot and rely on public transportation when our feet gave out. With trams, buses, boats, and the metro, Amsterdam offers plenty of ways to get around.
You can download a transportation app which will help you find your way around Amsterdam by tram, bus, metro, ferry and even train.
ⓘ TIP: Before you set out, make a note of the tram numbers that stop closest to your hotel.
Here's how to access Amsterdam's transport system.
Amsterdam offers an affordable public transportation ticket. That's what we bought. You can purchase tickets both on the tram and at many hotels. Or buy them here before you go to avoid the hassle of needing exact change or wasting time looking for a hotel.
The IAMsterdam City Card offers unlimited use of the transport system PLUS free admission to many Amsterdam attractions.
This 24-hour pass gives you access to the city's public transport network along with a full day's access to the hop-on and hop-off canal bus.
We found the tram system to be convenient and fun, not to mention a welcome break when our feet got tired.
One day in Amsterdam: walking tour itinerary
Full disclosure: Our day began late because it was our final morning on board our river cruise, and we wanted to take full advantage of their huge breakfast buffet, and Viking always includes local specialties.
If you're having breakfast in Amsterdam, you can't go wrong with trying an assortment of delicious Dutch cheeses, traditional brown bread, and ontbijtkoek (a cake made with rye flour and spices like cloves, cinnamon, ginger and nutmeg).
Anyway, we finally dropped off our bags at the front desk at 9:45. They gave us a tourist map and off we went.
1. Visit the Rijksmuseum
The first place we headed was to the Rijksmuseum, which is one of Amsterdam's best tourist attractions. This was a pleasant surprise, because we didn't expect that it would be as interesting as it was.
Rijksmuseum is a world-class museum and has the largest collection of Dutch art in the world. We saw paintings by famous artists such as van Ruysdael, Hals, Vermeer, Steen and Rembrandt. Not Van Gogh, though. Vincent has his own museum next door called, appropriately, the Van Gogh Museum.
Budgeting two hours for the museum turned out to be just enough time. We managed to hit the highlights without feeling too rushed. The key was buying our tickets online beforehand, which avoided time-wasting on the long ticket line.
After all, with only 1 day in Amsterdam you need to make the most of your short time.
By the way, even if you don't care to visit the Rijksmuseum for its art, its architecture makes the building still worth a visit.
ⓘ TIP: To avoid long lines at the Rijksmuseum, purchase a skip-the-line Rijksmuseum ticket online before you go. Arrive early to avoid the crowds; the museum gets busy after 11 am.
2. Snap a selfie with the Museumplein IAmsterdam sign
As we left the museum, we stopped for a simple, lightweight souvenir: a photo with the IAmsterdam sculpture. It's the newest city landmark, and an ideal obligatory photo stop for many visitors, though I can't figure out how you could take a selfie.
It is always on display on Museumplein, the public square bordering Rijksmuseum.
ⓘ TIP: To get a photo without the crowds, you'll need to get there very early in the morning.
3. Stroll through Leidseplein
By now it was nearly lunchtime. Our plan was to eat in a lively, open-air square that is only a few blocks from the museums. Leidseplein is full of cafés, and we knew we'd find something to our liking.
We didn't expect to pass any Amsterdam attractions en route, but we did: the House of Bols. You may have heard of Bols liqueurs: They are the world's oldest distilled spirit brand, making liqueurs in Amsterdam since 1575!
Had we not been museum fans, this might have made a good alternative.
Bols offer a fascinating, interactive tourist attraction called the Cocktail and Jenever Experience. The tour ends at the Mirror Bar, where bartenders will mix any cocktail you create before your very eyes. You can also learn the art of flair bartending (think Tom Cruise in 'Cocktail') and shop in the Bols Shop.
Foodies that we are, we would add it to a 2 day Amsterdam itinerary. But later in the day.
Anyway, waving goodbye to the missed opportunity, we continued walking. A few blocks further on, we encountered an enchanting, willow-lined canal … and the Hard Rock Café on the far side.
And it was souvenir time, because rather than add weight to our bags with dust-collecting mementos, we take photos of Hard Rock Cafes around the world. Maybe it's silly, but we think it's fun.
4. Max Euweplein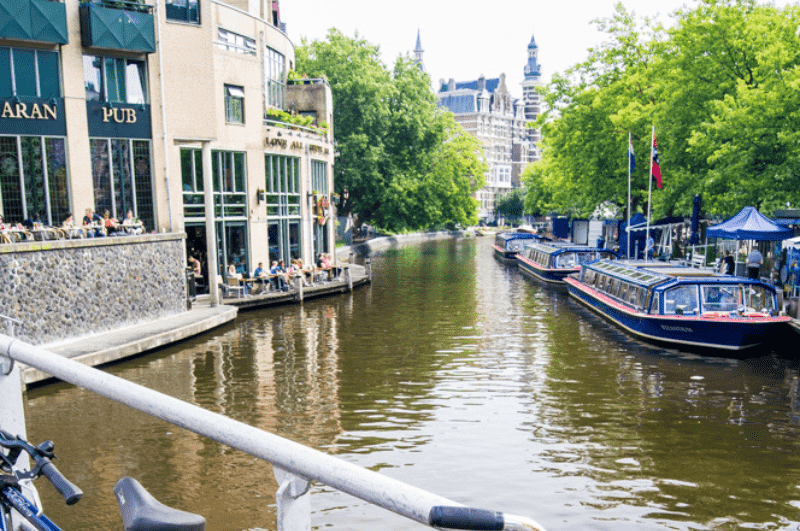 We stood on the nearby bridge for a few moments to enjoy the canal's ambiance. Cruise boats puttered below us, showing their passengers the best of the city from water level. Knowing that a canal tour is one of the best things to do in Amsterdam, we stopped at a nearby kiosk and bought tickets for a 2:00 pm tour.
Then we continued back over the bridge and came to Max Euweplein. The square was full of cyclists, pedestrians, and a couple of people playing a life-sized chess game. With more days in Amsterdam, we'd have enjoyed a bit of time here. For sure, it looks like kids would love it.
5. Lunch at a brown cafe – with Indonesian food!
Bruine (brown) cafés are to Amsterdam what pubs are to London. They are as much a part of the city's charm as its canals, architecture, and its other famous sights.
Finally at Leidseplein, we chose to eat at Café Reynders, which is a traditional Dutch brown café. Founded in 1880, Reynders Café hasn't changed much from what it was back then. If you go inside, you will even find pictures of how it looked on the Leidseplein almost 100 years ago.
The weather was so pleasant that we asked to be seated at one of the tables on the square. We opted for local beers, chicken satay skewers and frietjes, a.k.a. "chips" or "French fries". Both Belgians and Dutch eat frietjes with mayonnaise, so of course we had to try it. Verdict: it's a keeper.
On a side note, Dutch mayo tastes different than what we have in the U.S.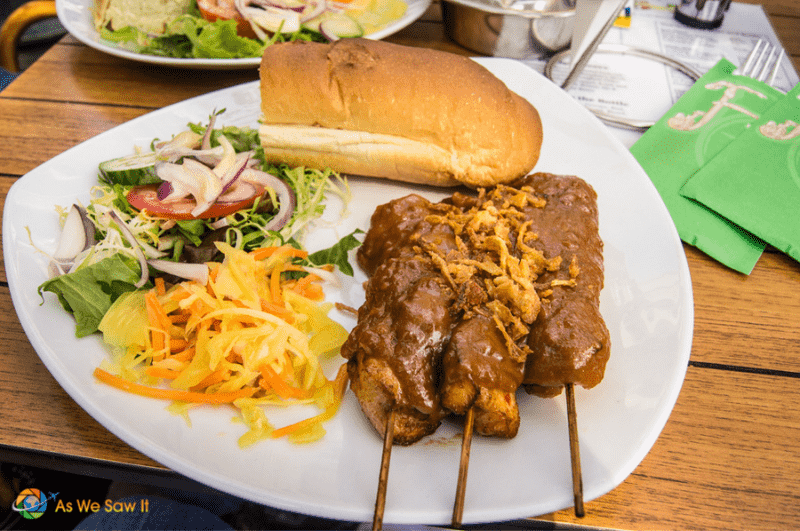 Another thing—although it hails from Malaysia and Indonesia, chicken satay is a favorite in the Netherlands. There's a good reason for this: Dutch East India Company once reigned supreme in much of Southeast Asia and the traders brought many of Asia's delicious recipes back to their homeland.
We also tried our frietjes the way our friend Farieda likes them: smothered in a savory, peanut satay sauce. (Omigosh … where has THAT been all my life?!)
6. Take an Amsterdam canal cruise
With happy mouths, we walked back to tbe bridge near the Hard Rock. It was time for our canal tour and see Amsterdam from the water.
Amsterdam is full of canals, which is why a canal cruise is an ideal way to see the city: Wealthy merchants dug more than one hundred kilometers of them in the 17th century during Holland's prosperous period (aka the Dutch Golden Age).
Distinctive houseboats and narrow, side-by-side homes line the picturesque canals wherever you look. The stairs in these buildings are so narrow they need to use hooks on the gables to hoist goods from the waterways to upper floors.
If we were to advise just one thing that you absolutely must do, it would be to take a canal cruise in Amsterdam! The open boat canal cruise is especially popular, but you have a "boatload" of options to choose from. There's everything from hop-on-hop-off to dinner cruises to sightseeing Amsterdam by night.
No matter how much exploring you do on foot, you'll get a completely different perspective of the city from a boat. Besides, this one-day Amsterdam itinerary requires a lot of walking, and this is a perfect way to save your feet.
Did I mention that the Amsterdam Canals are a UNESCO world heritage site?
7. Photos in the Nine Streets
Once back on land, we headed to our next destination via The Nine Streets (De Negen Straatjes). These old cobbled streets run between Herengracht, Prinsengracht, and Keizersgracht, three canals which Farieda told us shouldn't be missed.
Photographers like Dan will think they were in heaven. The canals are surrounded by some of the most beautiful traditional Dutch houses in Amsterdam.
8. Admire Jordaan neighborhood
The Nine Streets border the enchanting Jordaan neighborhood, which was our next destination. If you want a sense of authentic residential Amsterdam. Jordaan is full of classic 17th and 18th-century buildings with cozy courtyard gardens, and narrow streets sprinkled with local shops, quaint bars and brown cafés.
The Jordaan is also home to two of Amsterdam's landmarks, both of which we wanted to see: Anne Frank House and the 400-year-old Dutch Protestant church, Westerkerk.
Many Dutch painters are buried in the church, including Rembrandt. Unfortunately, we couldn't enter. We were there on a Saturday – and the church is only open on weekdays between 10:00 am – 3:00 pm. Rats
9. Experience history at Anne Frank House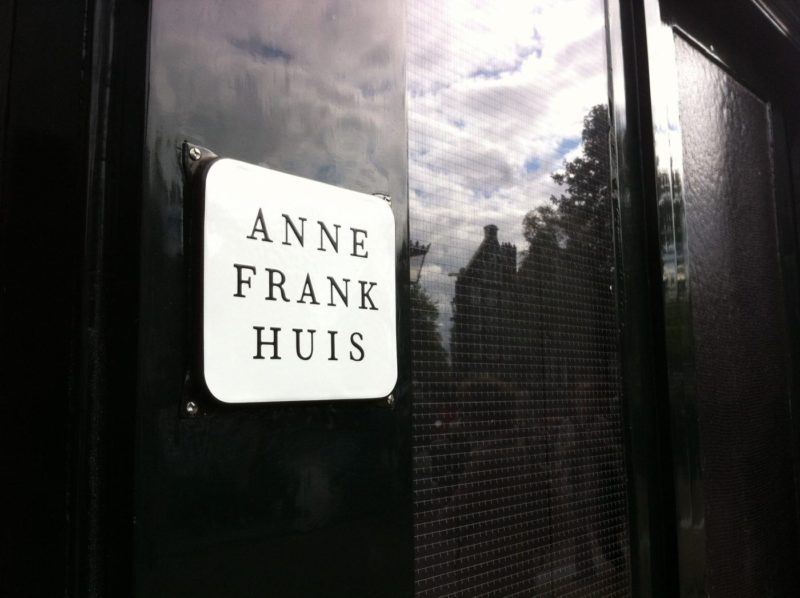 Anne Frank's house was on Dan's bucket list. During World War II, Anne Frank, her family and four other people hid from Nazi persecution in secret rooms at the rear of the 17th-century canal house. Their hiding place came to be known as the Secret Annex. Anne Frank did not survive the war but she became known in 1947, when her wartime diary was published.
We booked online ahead of time and paid extra for an informative orientation that covered the life and times of the Frank family. The questions folks asked afterward were most enlightening.
Next, we were escorted next door into the building where the Frank family had hidden for two years during the war. Everyone was asked not to talk during the visit so as not to disturb other visitors.
The lower floors display photos, exhibits and videos about Anne, her family, the war and the Holocaust. The curators have also mounted informational writings on the walls and videos play here and there along the way.
The top floors are the actual rooms where the family stayed, furnished with items similar to what they had.
ⓘ TIP: To avoid long lines and the risk of not getting in, reserve online ahead of time. if you're willing to pay a little extra more for the 30-minute advance lecture portion. To get more context, it's worth it.
10. Explore the floating flower market, Bloemenmarkt
By this time, our feet were hurting from all the walking, so we hopped on a tram. On the way, we passed the only floating flower market in the world, Bloemenmarkt. This unique market, with flower stalls on houseboats, has been here since 1862.
You can buy flower bulbs, all kinds of souvenirs, or just walk around and take colorful pictures. We saved this for our next trip, but if you have want to stretch your one day in Amsterdam into two days, this is one of the best attractions in Amsterdam.
11. Sample traditional Dutch snacks at Rembrandtplein
We alit at Rembrandtplein, where Farieda had recommended that we eat at Café l'Opera. She even told us what we should order: Bittergarnituur. This is a platter of Dutch appetizers, such as bitterballen and kroketten. No regrets for following her advice. A Dutch beer on tap washed it all down.
Usually served with mustard, bitterballen are meatball-sized balls of potato and ground beef that are breaded and fried. Kroketten are similar, but in an oblong/football shape. They were both delicious and super affordable. It was fun to taste how Dutch housewives used up their leftovers, too!
These appetizers were so filling that we never bothered with an official "dinner." Fine with us, more time to explore Amsterdam!
ⓘ TIP: If you'd like to taste a variety of traditional Dutch foods, book this tour. Bitterballen and kroketten are included!
12. Be amazed by Dam Square and the Royal Palace
Our next destination (via tram) was Dam Square, Amsterdam's central square, where the Royal Palace is located. This is one of the most well-known locations in Amsterdam.
It was too late to tour the Royal Palace (we'd add it to a two day itinerary) but we could still photograph the National Monument and Nieuwe Kerk (New Church).
ⓘ TIP: Do you like to shop? Be sure to visit De Bijenkorf ("The Beehive"), Amsterdam's premiere department store.
13. Walk through Amsterdam's Red Light District
With its in-your-face prostitution and coffeeshops, Amsterdam's infamous Red Light District is one of the world's most renowned tourist attractions. This is window shopping on a completely different level, where scantily clad women (and some men!) display their attributes, standing in windows illuminated by the fluorescent red lights overhead. Whatever adult pleasure you might desire, it's available here.
You can easily visit during the day, but if you want to see the true side of the Red Light District, you'll need to visit after dark, when it really comes alive. Amsterdam is generally safe, but if you don't feel comfortable walking around at night on your own, you can always join a guided tour like this one. Or you can opt for an even more creative experience with a Red Light District and Coffee Shop tour.
As intriguing as the "window shopping" might be, the Red Light District has more to offer than that. Raise your eyes above the windows while you're walking arounl. This is a beautiful area in its own right, full of 300-year-old gabled buildings and other expensive, photo-worthy real estate.
ⓘ TIP: Be careful with your camera as you walk, lest one of the girls might think you're taking a photo of her. That's a strict no-no.
14. End you day with Amsterdam canals at night
Amsterdam's nighttime splendor isn't limited to the neon lights in the Red Light District or at the Amsterdam nightlife spots. The city's houses and bridges are beautifully lit after dark. Use your remaining energy to enjoy a canal cruise or stroll across Amsterdam's many bridges on your way back to your hotel. It's a magical way to end your day in Amsterdam.
Where to stay in Amsterdam
If you think one day in Amsterdam won't be enough, the city offers a variety of lodging options, everything from hostels to hotels to staying in a local home. You can even sleep in a houseboat on a canal if you want. How fun does THAT sound?!
We have stayed at both the Bilderberg Garden Hotel (in a residential area of Amsterdam) and at the more central Hotel Renaissance Amsterdam mere blocks from Centraal train station). We were pleased with both, and both were conveniently near a tram stop.
Want to save this Amsterdam itinerary for later? Pin it to your favorite Pinterest board!