Cruising is something that many people love to do. Each year, huge numbers head off on various cruises each year for their vacations, booking everything from private charter cruises to exotic world cruises.
Finding the perfect cruise depends on many things, not the least of which is whether you prefer a river vs. ocean cruise. You also need to consider your budget, your travel style, your location, and what you want to see.
While ocean and river cruising both involve cruising the waters and taking in the sights, they are very different experiences. Obviously, as the terms suggest, the biggest difference is that one type travels on the open water, while the other takes guests along rivers.
There are various other key distinctions between the two types of cruises. Read on as we explore them in this article.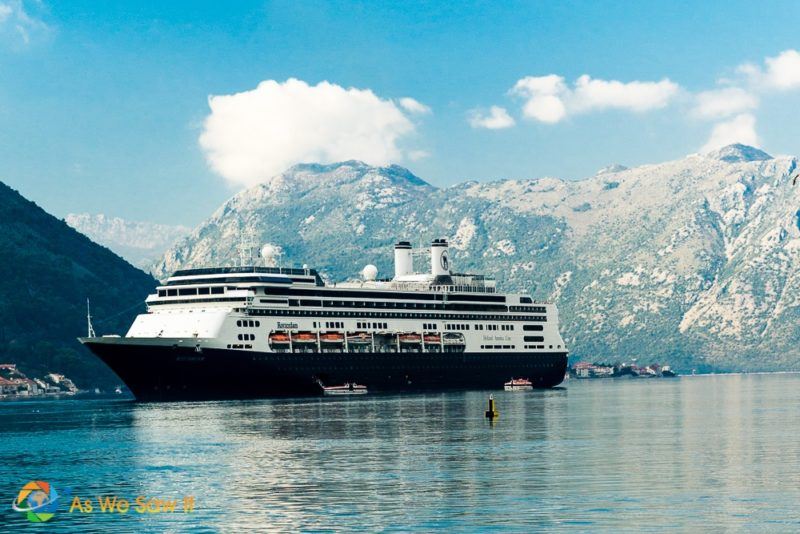 What are the key differences between river cruises and ocean cruises?
Aside from the waters along which they travel, there are a number of key differences that you can expect between river cruises and ocean cruises. Some of the main ones include:
Vessel size
One of the things you need to be aware of is the difference in the size of the vessels. As you may have seen in numerous ads and brochures, oceangoing ships are absolutely huge!
There's a reason they are often described as floating cities: They carry as many as 6,000 passengers and offer a huge range of entertainment and facilities. You could literally find yourself getting lost on an ocean cruise ship because they are so vast!
It's different with a river cruise, though. River Cruise ships are much smaller, generally carrying about 150 to 225 passengers. As a result, the experience is more intimate and you have a much greater chance of getting to know your cruise mates.
As you can see from this shot of the ship we took on our Budapest to Amsterdam river cruise, a huge oceangoing vessel would never fit under those European bridges!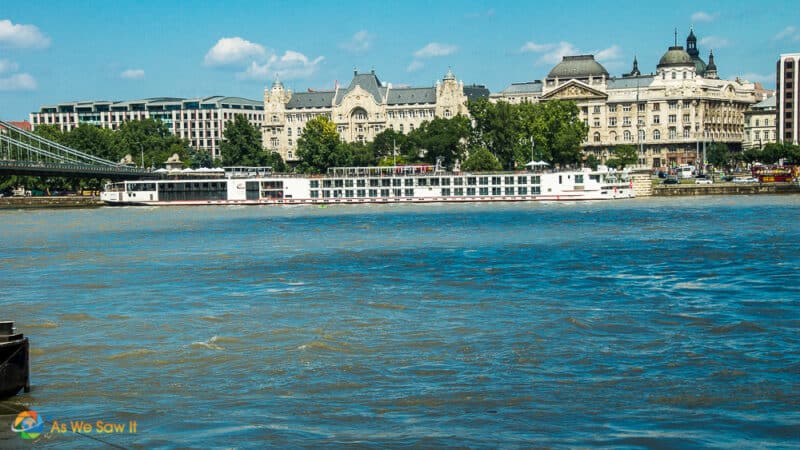 Size of the cabins
Another key difference between these two cruises is that cabins on river vessels may seem slightly smaller than what ocean vessels offer. That stands to reason, because the ships themselves are much smaller.
When you sail on a river, there is no need to worry about being stuck in an inside cabin because all the cabins face the water. You'll usually have a balcony or floor-to-ceiling windows.
In addition, newer and more luxurious riverboats have started to add a lot of special extras that give you an added touch of luxury such as sliding panoramic windows that make it feel as though you have your own balcony.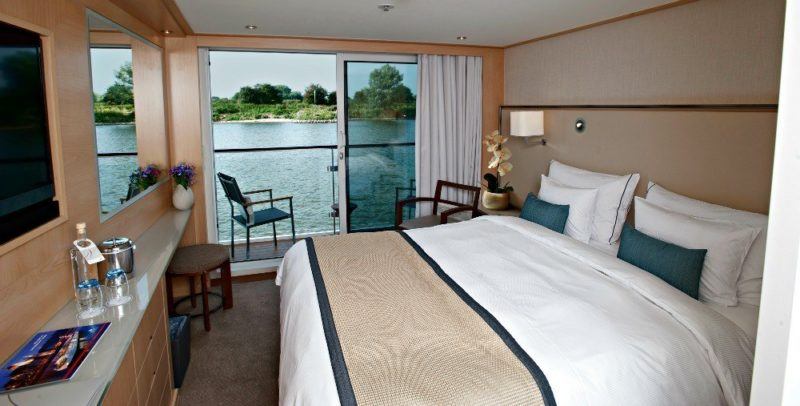 Range of dining facilities
When you go on a cruise liner, you will be spoiled for choice. The vast size of these vessels means a wider variety of dining venues, bars, and other facilities. You really will feel like you are in a floating city with a wide range of options when it comes to eating, drinking, and entertainment.
River cruise ships are smaller, so the range of dining options is far more limited. Generally, you should expect only find one or two restaurants, rather than the huge range of venues on oceangoing vessels.
Of course, the range of dining and other facilities will vary from one cruise company to another. Our Nile cruise served every meal in only one dining room, whereas our Viking river cruises had two lunchtime options: buffet meals on the Aquavit Terrace and a sit-down meal in the main dining room.
This was just one of the dining rooms on our Adriatic cruise ship: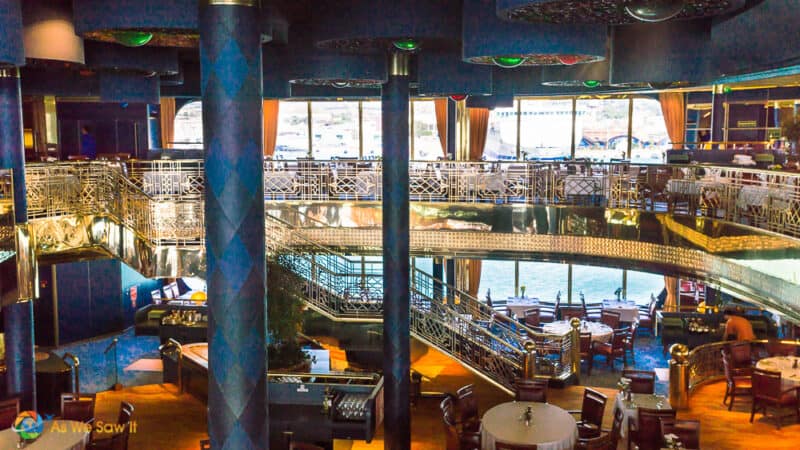 Focus of the experience
An ocean cruise is focused on the onboard experience. You'll find loads of activities and facilities, with everything from Broadway-worthy shows to ice skating rinks. They also offer multiple restaurants, casinos, shops, a spa, beauty salon, and exercise room, among other things.
River cruises focus on the destinations, not the onboard experience. You'll stop in smaller, inland towns rather than major ports on the ocean. The itineraries are busy and packed with cultural experiences, from food to language lessons. Most tours are included, with a smaller number per guide, and you'll enjoy evening performances by local artists.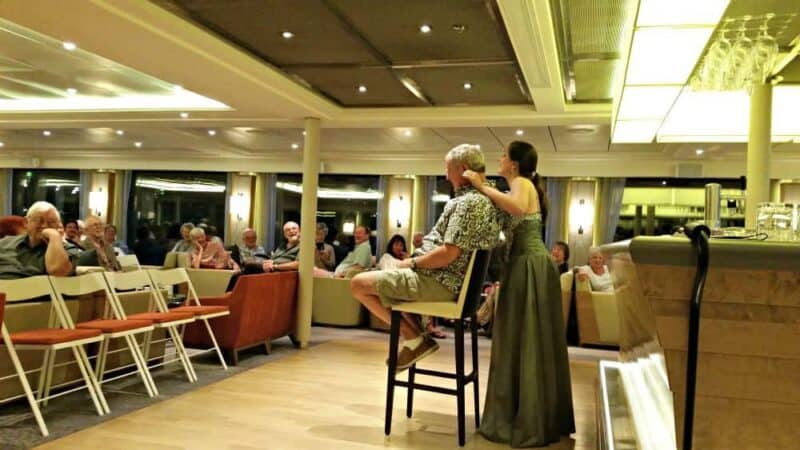 Level of entertainment
You will also find a big difference regarding the type and level of entertainment you will enjoy. When you sail on one of those huge cruise ships, you can enjoy a seemingly endless array of entertainment options with everything from world-class shows and live acts to cinemas, casinos, and much more. All of this can be enjoyed onboard the vessel, and it is like being out and about in the city with an array of choices at your fingertips.
With riverboats, the entertainment is far more low-key and limited, but there is still a diverse array of entertainment and activities to enjoy. Depending on the itinerary you choose, this might include anything from workshops and seminars during the day to wine tasting, musicians, dancers, and short evening shows.
While we were in Melk, Austria, Dan was recruited for the apfel strudel cooking lesson: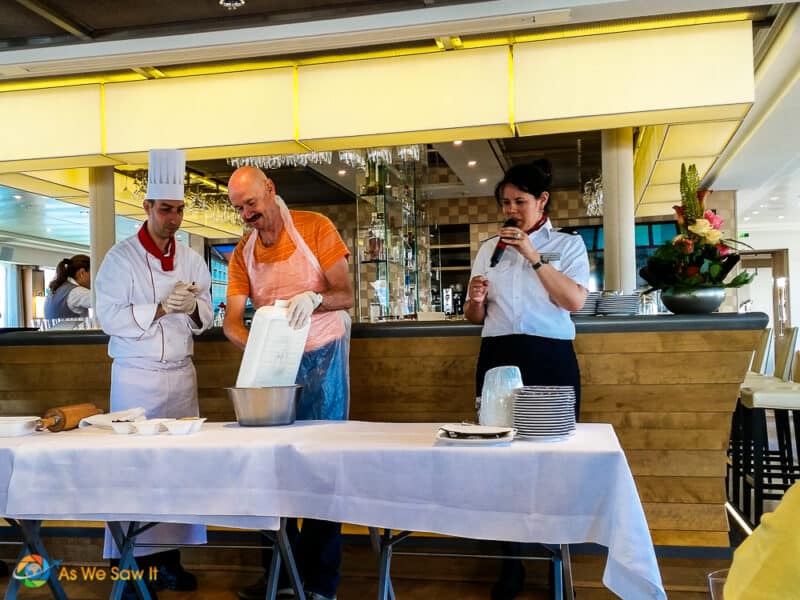 Sea days
When you go on an ocean cruise, you'll spend a number of days at sea while the vessel continues to its next destination. The distance between destinations can be considerable depending on the cruise you are on, so there's no avoiding these sea days.
ⓘ TIP: If you are prone to getting seasick on a cruise, choose an itinerary with the fewest days at sea.
An ocean cruise is ideal for those people who just want to kick back and relax for a week. Despite being on board for the whole day and night, there will be more than enough to keep you occupied. You'll be able to enjoy exploring the cruise liner without feeling the need to rush off to visit the next destination.
Spa, anyone?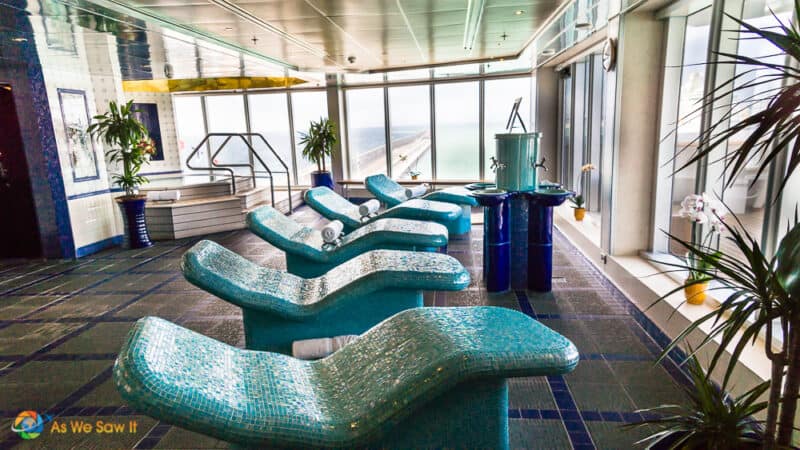 With river boats, you're always within sight of the shore. The distance between destinations is far shorter, so you will find yourself visiting a new destination every day, rather than spend a day at sea with nothing to look at but an endless expanse of blue.
The majority of river cruising is done overnight while you're sleeping, so you'll be able to make the most of the variety of destinations.
River vs. ocean cruise shore excursions
Which brings me to the topic of what to do on shore. There is also a difference when it comes to river vs cruise ship shore excursions.
On ocean cruises, you are offered the chance to book a tour at every port of call. Passengers who don't want to pay for a guided tour usually explore on their own and do their own thing, then come back at the allocated time.
River cruise excursions tend to be both shorter and more intense and focused than what ocean cruises offer. Time ashore begins with an optional guided tour that lasts for about 2-3 hours. After that, you'll have free time to explore on your own and check out anything that's piqued your interest. This is great, because it enables you to make the most of your time at each new destination.
The range of river cruise excursions may not be as extensive as ocean cruises offer, but some companies are introducing more options catering to different needs and preferences of travelers. Some even offer bicycles!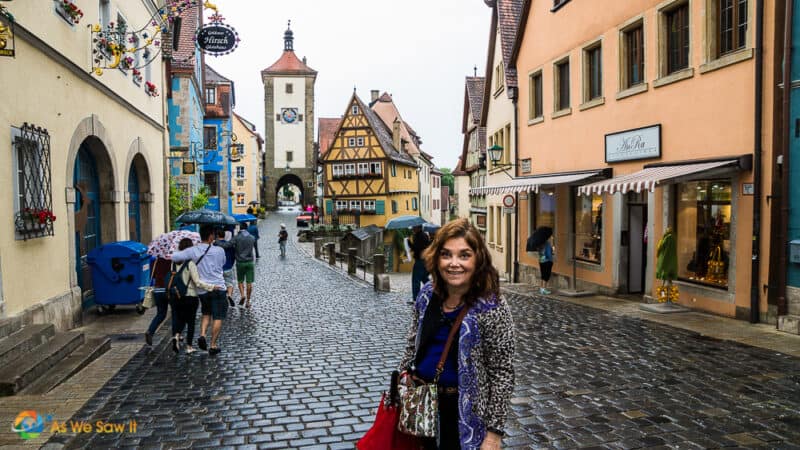 What's included in the price of ocean vs. river cruises?
Generally speaking, river cruises cost more up front than ocean cruises do. As a rule, ocean cruise companies can charge less because they make their money on volume. You're one of a few thousand passengers.
BUT that doesn't always mean that an ocean cruise will cost you less overall. don't forget, you'll get a bill at the end of your trip!
Ocean cruises are sometimes more value for your money, but that depends a lot on your cruising style.
Do you want to take an excursion at every port? (As far as I know, Viking is the only ocean cruise company that includes tours.)
Will you gamble in the casinos?
Do you like to spend time at the bar? How much does each drink cost?
Want to shop in the onboard boutiques? Jewelry, alcohol, clothing and more are available.
Will you take frequent advantage of the spa?
Do you want a professional photographer to document your journey? You'll have lots of shots to choose from, and they aren't cheap. Those guys are forever snapping photos!
Will you want them to do your laundry?
If any of those are must-haves, you can expect a big final bill.
For what it's worth, our personal experience has been that river cruises include more in the base price. That's mostly because tours are included and there aren't as many temptations to spend money on board.
We found the biggest additional expenses were for optional tours (such as a World War II tour in Nuremberg) and evening cocktails at the bar. Those can add up!
ⓘ TIP: Consider a drink package if you like cocktails or wish to drink premium local wines. Most cruise companies offer them.
A great way to explore new destinations
Whether you decide to go on a river cruise or an ocean cruise, you will find that these are great ways to explore new destinations. You can look forward to an ever-changing, scenic trip as you take in the sights, and you get to explore new cultures and attractions at the wide range of destinations you visit.
Want to read this later? Save it to Pinterest!