I journaled our entire 15-day cruise from Budapest to Amsterdam. It was fun to record what a European river cruise is really like, the good, the bad and … you know the rest. You'll find some travel tips along the way to make your own experience easier.
Check in day. This afternoon marked the start of our 15 day Grand European Tour from Budapest to Amsterdam. Our river cruise adventure would begin on the docks in Budapest.
While other passengers were stressing over flights and airport transfers, we were already in town. We arrived early for a number of reasons:
Flight delays happen. Few things could be worse than missing the boat. What a nightmare that would be!
We wanted to explore Budapest on our own. We took the opportunity to enjoy the city's famous thermal baths, as well as see all of Budapest's top sights. (It's one of the cities we'd return to, though next time we want to also visit other parts of Hungary.)
We could sleep late, have a late breakfast, and walk to the ship at our leisure.
We could get over any jet lag before the cruise.
Where do river cruise ships dock in Budapest?
It also gave us time to find the ship, which was already in town because the cruise itinerary includes 2 days in Budapest. You can find the entire river cruise itinerary here.
All Viking ships dock on the Pest side of the Danube, so we booked two nights at the Budapest Marriott. The hotel overlooks the river and is just a few blocks from the Chain Bridge.
We were pleasantly surprised that this is one of the hotels that Viking uses for pre- and post-tours. Of course we immediately asked where our ship was docked, but it turned out that we didn't need to.
Bragi was incredibly easy to spot. She was docked directly next to Széchenyi Chain Bridge, tethered to her sister ship, the Vili.
Actually, they were practically underneath the bridge. I'd bet that a risk-taker could probably jump onto the ship terrace. (That's not a challenge. Landing on those chairs would hurt.)
ⓘ FACT: As the first bridge to connect both sides of the city, Szechenyi Chain Bridge is one of Budapest's most beloved landmarks.
Danube cruise, Day 1 in Budapest
I don't know who was more excited about our upcoming adventure, Dan or me. Either way, we both woke up early on the day of the cruise, even though Saturday is our weekly "down day."
The official check-in time for a Viking River Cruise is 3:00 p.m., so we requested the latest hotel check out time possible. We took our sweet time that morning, savoring the hotel's delicious breakfast buffet and scenic view for as long as we could.
Finally, we could delay it no longer.
Despite the official check-in time, Viking accommodates early arrivals, knowing flights arrive at all hours of the day. Having nowhere else to go with luggage in tow, we rolled our carry-ons down the sidewalk to the ship that would be our home for the next two weeks.
Welcome aboard!
Before we knew it, the crew were rushing over to take our backpacks and carry-ons. "Is that all you have?" they asked, incredulous. You should have seen their surprised smiles when we nodded yes!
"You need to teach all our other passengers how to do that!" they joked, and our bags followed us aboard.
No sooner had we crossed Bragi's threshold than we were greeted with a cool washcloth and a refreshing drink. The entire check-in process took only a few, brief moments. Just enough time for them to check off our names, hand us our room keys, and take our bags with a promise that we would find our luggage in our stateroom.
Meanwhile, they said, we were welcome to enjoy a light lunch upstairs on the Aquavit Terrace. And perhaps later, we might also fancy joining a jet lag buster afternoon walk around the area? It all sounded good to us.
Standing nearby was a man dressed in a nautical-looking outfit and a name tag saying Felix Anheier. We introduced ourselves and shook hands. Felix introduced himself as the Hotel Manager and smilingly joked that he was Bragi's token German. It seems Viking's HR must have high standards, because he had worked in an exclusive luxury hotel in Bavaria before signing on with Viking.
ⓘ TIP: For more views of the city, please see our Budapest photo gallery.
Out and about in Budapest
Our "jet-lag buster" walking tour was a brief, 45-minute overview of the area around our ship. It was just enough for passengers to get oriented and comfortable exploring on their own later, without fear of getting lost.
St. Stephen's Cathedral
Next, we headed to Saint Stephen's Cathedral, hoping to see and photograph his mummified right hand.
Unfortunately, the cathedral was closed to tourists, because they were having a series of private ceremonies. Apparently, May is the traditional month for weddings in Hungary.
Hungarian wine bistro
Hungary is known for its wines and the Tokaj region is even a UNESCO site. With such a stellar reputation, we couldn't resist stopping into a bistro-wine bar on our way back to the ship.
Whenever we travel, we like to sample a few local varieties of vino. We enjoyed the experience, sharing and sipping our selections slowly and watching the passersby until we had to go.
Shopping in a Budapest grocery
After settling the bill, we sauntered to a grocery store we had passed earlier.
We like to look around food stores because you get a good idea of what the locals prefer to eat and prices of their foods. Some of the produce and meats are different, too.
Yes, my friends, we consider that fun. And you know what? We discovered that Budapest's food is super cheap!
The market was doing a brisk business as we entered.
Viking allows passengers to bring wine on board to enjoy, and we decided to pick up a bottle as wine is readily available in shops. Th is store had quite a nice wine department, but you should have seen us attempting to decipher the grapes and varieties!
Dan really enjoys recreating our favorite foreign dishes for our friends at home. So, while he was distracted with the wine options, I sneaked off to another aisle. I secretly wanted to pick up a packet or two of Hungarian paprika as a little surprise souvenir.
Meeting the locals
Do you know, I looked and looked on the spice rack, yet could not find the paprika anywhere! No paprika? In Hungary? Impossible! I couldn't believe it. They use that as much as salt, for Pete's sake!
An old woman ambled over, basket in hand, and I watched her select a packet of something. Nope, not what I needed. I touched her arm.
"Paprika?" I asked her, gesturing. Happy to help, she began to search for it, then called a shocked "Nincs paprika?" to a clerk. He rushed over to rescue us.
"Oh, there you are." Dan's voice caught me by surprise just as the clerk pointed to a separate section with three rows of packets of the precious red powder. "Köszönöm." I thanked the old woman with the one Hungarian word I knew, and she left with a smile.
Busted. I asked him to select the packets we'd bring back to the U.S.
ⓘ TIP: Both wine and paprika make inexpensive souvenirs. For the best selection and freshness, buy them in a local grocery store, but go for the pricier brands because the cheaper ones are imported.
First evening on our Viking cruise
Before dinner, people gathered in the Lounge to introduce themselves and meet Dewi, Bragi's delightful (and pretty) Program Director. She was there to give a Welcome Briefing. She's Dutch and her name is pronounced Davey. It's the Indonesian version of the Hindu devi, meaning "goddess." What a conversation starter!
ⓘ TIP: Head to the lounge if you want to meet other passengers. The Sun Deck and the Aquavit Terrace are also good, but those are more weather dependent.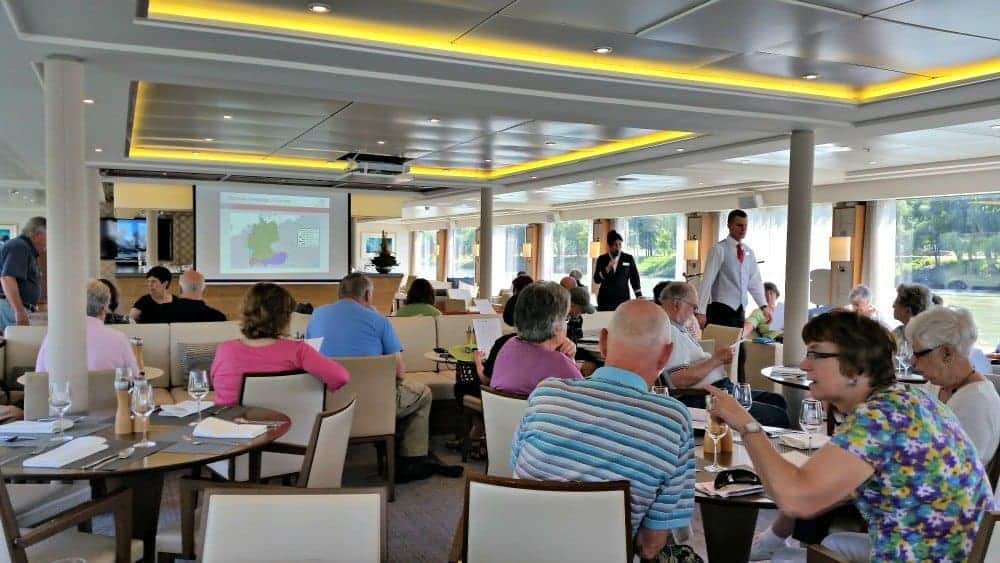 Dewi gave us an outline of what to expect on our cruise, and told us about optional tours we could take in the next few days. We also got a heads-up that Viking would ask for our feedback at the end of the cruise.
After the briefing, we met our Cabin Steward. Florin is a friendly Romanian chap. He asked us if we had everything we needed and requested that we please let him know if we needed anything else.
Taking advantage of his offer, I asked him for a couple of bathrobes. He offered to bring slippers as well. Well, slippers hadn't occurred to me but, "Yes, that would be nice. And do you have any firmer pillows?" The ones on our beds were way too soft, not to mention small.
Call me picky, but seriously. Those things would be flattened into pancakes within minutes of meeting our heads. I made a mental note to mention the inadequate pillows when it came time to fill out the Guest Survey.
We met the Maitre d' before dinner, a smiling Filipina named Ria. Viking asks all passengers to fill out a survey sheet before the cruise, so she already knew about our dietary restrictions. Viking accommodates most special diets, and Ria promised to do all she could to ensure our meals would be perfect.
If tonight's menu was any indication, everyone was going to have a hard time maintaining our weight. The menu options are quite varied, and they even include vegetarian and regional specialty dishes.
More importantly, our food was absolutely delicious. Here's our menu. What would you order?
The drinks package
Some cruise lines include unlimited alcohol in their fare. Viking, however, does not. Wine, beer, soft drinks, and juices are available with lunch and dinner, but at other times you have to pay for them.
I think that's reasonable, as not everyone is a drinker. Viking does what it can to keep the cost of the cruise down.
That said, Viking does offer a Silver Spirits Package that entitles you to unlimited sodas, juices, beers, and premium liquors and wines whenever you want them.
The standard wines at dinner come from Viking's own Mörwald Winery. Non-drinkers might find that adequate, but we wanted to a wider variety. Eastern European wines are hard to find in the U.S. and they have different grape varieties. Besides, we were on vacation and wanted to enjoy an afternoon cocktail and perhaps an after-dinner drink as well. Maybe even two.
Your mileage may vary, but we prefer to pay one flat fee up front and not have to worry about a hefty final bill.
Back in our cabin
While we were at dinner, Florin had left a copy of today's Viking Daily on our bed. The ship's daily newsletter has a schedule of tomorrow's activities and lots of information about the next day's destination. We also foundd two robes, slippers, and larger, firm pillows.
It's the little things that can make or break an experience, wouldn't you agree?
What a great way to begin a cruise.
Plan your time in Budapest
If you're arriving early, these links may help.
How to get into the city from the airport
If you arrive the day of your cruise, Viking will meet you at the airport and bring you to the ship. However, if you arrive earlier you will need to make your own transportation arrangements.
Depending on your budget and travel style, we can recommend two ways to get from the Liszt Ferenc Airport to Budapest city center.
Where to stay in Budapest
We stayed at the Budapest Marriott Hotel and would recommend it. It's comfortable and conveniently located. However, that may not suit your travel style.
We always recommend searching for hotels on Booking.com. It's our go-to website because it's simple to use and has the lowest pricing. Another super feature is that you can (usually) book now and not pay until you arrive.
What to do in Budapest before your Danube River cruise
If you wish to explore Budapest on your own, read our articles 10 Budapest Sights You Don't Want to Miss and 5 Best Authentic Souvenirs from Budapest.
If you plan to arrive early and want to do something memorable, here are some experiences to consider:
Want to read this later? Save it to Pinterest!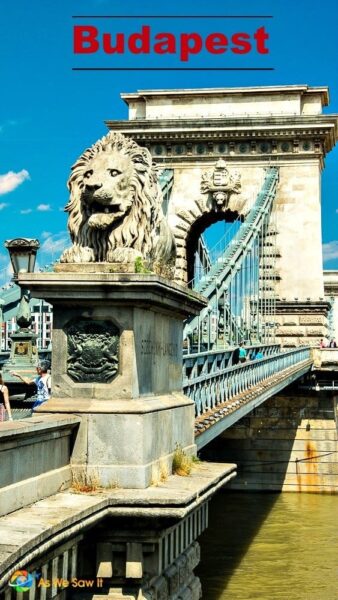 Note: As is common in the travel industry, Dan and Linda were provided with a complimentary cruise package for the purpose of review. While it has not influenced coverage, AWSI believes in full disclosure. For more information, see the Disclosure page.