We have a rule: If you buy it, you carry it. As a result, we limit our purchases to authentic souvenirs that are specific to the place we visited and, ideally, were made locally.
The trick is to find a genuine memento that embodies the culture and heritage of wherever you're visiting. We hit the mother lode in Budapest, because the best gifts from Hungary are actually produced and used there in daily life.
So if you're thinking about bringing a few Hungarian souvenirs home from your trip, read on.
The 5 best souvenirs to buy in Budapest
Wherever you end up getting your mementos, here are the 5 best souvenirs to buy in Hungary. We've also added a bit about where you can buy them in Budapest to help save you some time.
1. Hungarian paprika
Inexpensive and easy to find, paprika is the perfect Hungarian souvenir for food lovers. Paprika is Hungary's national spice and it is used everywhere in Hungarian cuisine.
Hungarian paprika is available in several varieties, from sweet to hot and everything in between. You won't find smoked paprika though; that comes from Spain. Varieties include:
Csipos and eros are hot. Csipos is more pungent, eros is hotter.
Csemege and edesnemes are sweet and mild.
Feledes is half-sweet, half-spicy.
Use bright red-orange Rosza paprika to add intense color in your dishes.
For non-chefs who would prefer something more decorative, shops also carry strings of colorful peppers.
ⓘ TIP: The best place to buy Hungarian paprika is at a local grocery store. You'll pay a fraction of what the souvenir stalls charge, you'll have more selection, and it will be fresher and better quality.
2. Hungarian wine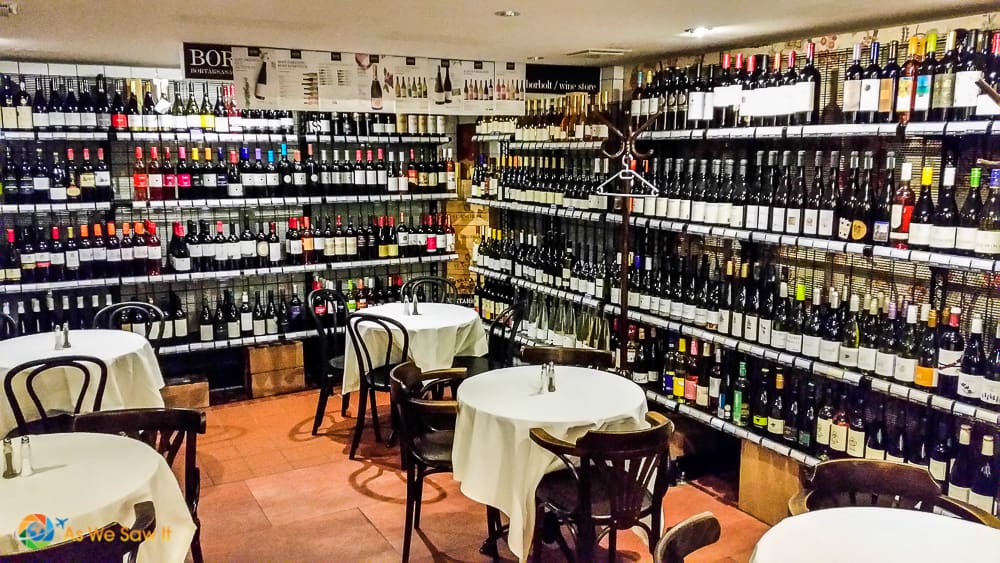 Have you heard of Bull's Blood wine? Guess where it comes from? Yep, Hungary. The country has 22 distinct wine regions and produces the full spectrum, from reds and whites to rosés and sparkling wines.
Hungary has a long and rich viticultural tradition, and its wines are known for being intense and vibrant. Hungarian reds are especially lovely, and bottles from producers like Royal Tokaji and Karner Winery are definitely worth seeking out. Or for something lighter, consider a bottle from the Etyek-Buda region – the acidic soils there make for some crisp, refreshing whites that pair well with food. And of course, don't forget the dessert wines! Hungary's sweet Tokaji Aszus are legendary, and irresistibly delicious.
ⓘ Interesting fact: Hungary's Tokaj wine region was declared a UNESCO world heritage site because of its wine!
One thing's for sure: You'll have no difficulty finding quality wines in Budapest! They sell them at wine shops and liquor stores, as well as the corner market.
Whether you're looking for a big, bold red or a light, refreshing white, Hungarian wine is sure to please your wine-loving friends.
The only problem is deciding which ones to bring home. So we suggest you begin with a wine tasting in Budapest or at a Hungarian winery to discover why they're so popular. Plus, you'll have a fun, memorable experience!
3. Palinka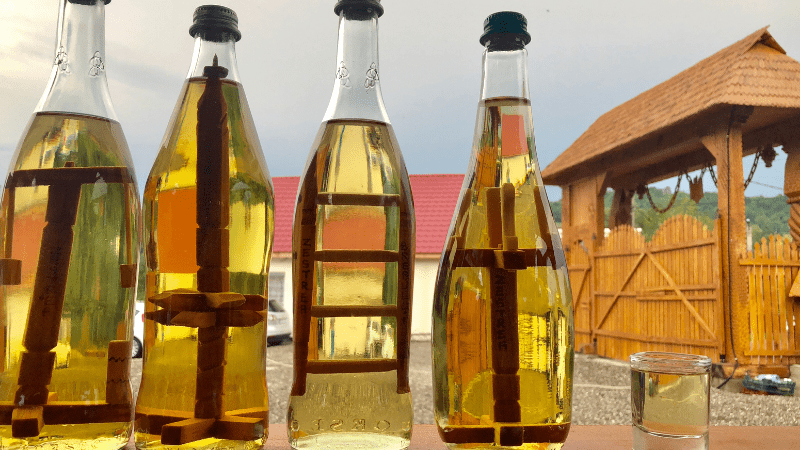 A universal specialty throughout the country, pálinka has been produced in Hungary for centuries and has become an important part of Hungarian culture.
Palinka is a type of fruit brandy. It is typically made from distilled apricots, plums, or pears, although other fruits can be used as well. The drink is usually clear or amber in color and has a strong, fruity flavor. It ranges in alcohol content from around 40% to 60%.
We think palinka makes one of the most unique Hungarian gifts. There are many flavors to choose from, so even if you find the drink overwhelming, you can still have fun trying to find a flavor that suits your palate. And for those who prefer a milder taste, Palinka is also available with honey.
Pálinka is available in bottles of various sizes and shapes, which makes it a decorative souvenir as well.
4. Handmade embroidery
Hungarian embroidery is a beautiful and traditional art form that makes for a great souvenir.
Hungarians have a rich cultural heritage and they are especially proud of their needlework. Kalocsai (Kalocsa) embroidery is especially popular because of its distinctive bold colors, floral patterns, and rich textures.
The intricate designs and vibrant colors make for a unique and eye-catching piece of art that you can proudly display in your home. Plus, the handcrafted nature of Hungarian embroidery ensures that each piece is unique, making it the perfect addition to your collection.
All kinds of handmade items are available for sale in markets throughout the country, such as tablecloths, linens, serving towels, curtains, and even garments.
ⓘ TIP: Hungarian embroidery is sold upstairs at the Great Market Hall in Budapest. You can find it for sale online at Etsy.
5. Hand-painted porcelain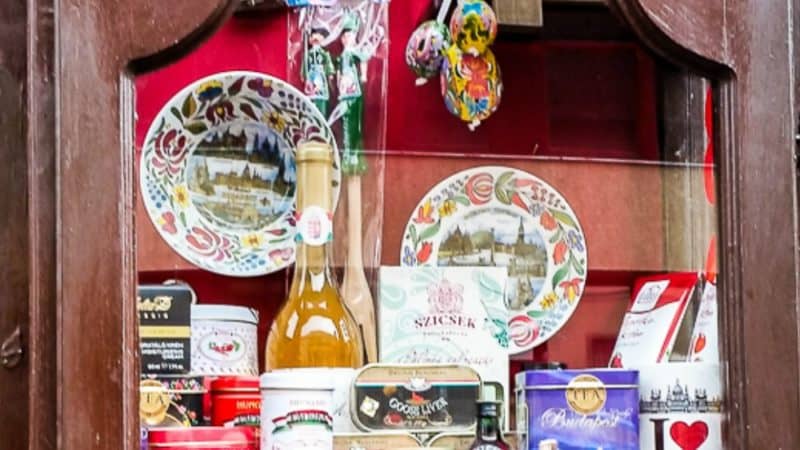 Anyone with an interest in porcelain will certainly know that Hungary produces one of the world's most sought-after ceramics. Queen Victoria was so impressed by Hungarian porcelain that she ordered some for her palace.
One of the best-known manufacturers is Herend, which has been producing fine porcelain for decades. You can't go too far in Budapest without seeing their classic, hand painted plates, ornaments, and other unique items. If you enjoy beautiful plates and vases, a book about Herend porcelain will be a helpful resource.
One thing we should mention is that you need to watch out for fakes. Be wary if the price seems very low. It's best to buy from factory stores or from a registered stockist. They will give you a little card of authenticity with your purchase.
Small porcelain items travel well and make good gifts. Just ask the vendor to wrap it securely. For larger items, either buy your Hungarian porcelain online or ask the vendor to ship it to your home. The most important thing is to avoid the risk of damage while you're traveling.
ⓘ TIP: Want a memorable shopping experience? Buy your souvenir at the Herend porcelain factory. It's a popular day trip from Budapest, often combined with a visit to Lake Balaton, a popular holiday destination and the largest lake in central Europe. (Learn more here.)
Want to read this later? Save it to Pinterest!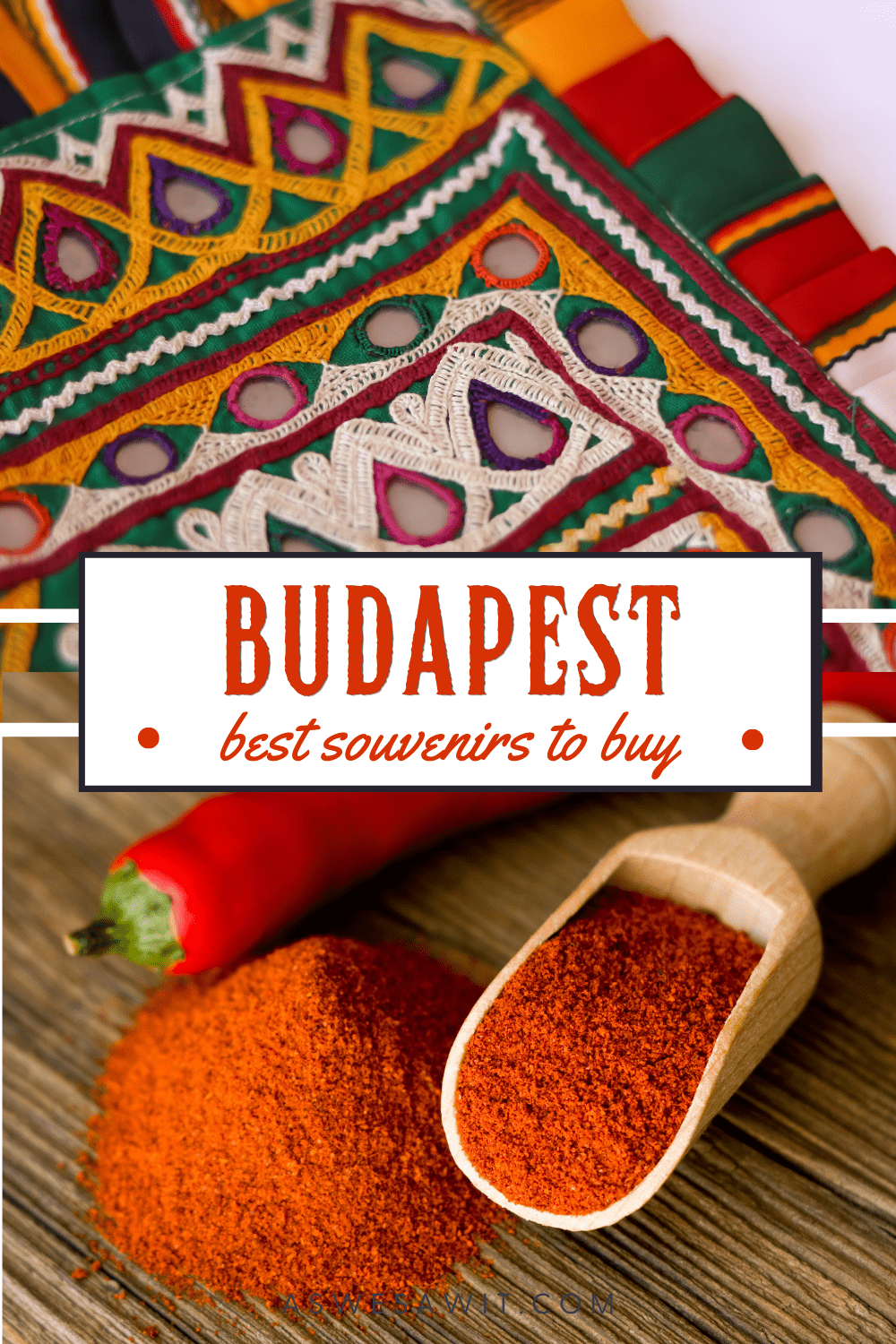 Where to buy souvenirs in Budapest
As a rule, the best way to avoid buying anything "made in China," is to buy your Budapest souvenirs directly from small, local producers, mom-and-pop shops, or from shops which specialize in handmade crafts.
That said, choosing where to buy Hungarian souvenirs partly depends on what you're going to buy.
If you're shopping for mementos with a high price tag—like porcelain—check the higher-end specialty shops.
You'll find the best-quality wines and palinka in a wine shop.
The Memories of Hungary shops in Budapest sell everything from cheap plastic magnets to fine Hungarian porcelain. Find locations here.
Best shopping streets in Budapest
The nicest place to start your shopping in Budapest is along the city's two famous shopping streets Váci utca and Andrássy út. These two streets are Budapest's versions of Fifth Avenue and Champs-Élysées, lined with designer names and top international brands.
If you plan to buy any higher priced items, bear one thing in mind: VAT (value added tax 27% in most most cases) is built into the price of most consumer goods and services. Save your receipts. Tourists can get refunds for most purchases that exceed 50,000 HUF.
Budapest Central Market Hall
If you want edible souvenirs, you'll want to head to historic Budapest Central Market Hall. The colorful indoor market is lots of fun to explore and like a local shopping mall. Downstairs, you'll find myriad stalls selling more variations of Hungarian paprika than you could possibly imagine. No wonder it's a top Budapest attraction!
You'll also find meat stalls selling other specialties that are easy to pack, such as small tins of goose liver paté. And for those who prefer drinking to eating, Hungarian wine and palinka are unique Hungarian gifts to consider.
ⓘ TIP: If you enjoy trying new cuisines, this walking tour is the perfect way to experience Budapest's food culture. You'll visit the indoor Central Market Hall to see the local produce, discover artisan food stores in the surrounding neighborhoods, and take part in a tasting session to sample many of Hungary's delicious wines.
Where to buy Hungarian souvenirs online
Let's face it: Browsing is fun on a trip, but buying souvenirs can be inconvenient. First of all, they take up a lot of space in your suitcase. But they can also break or "go missing" from a hotel room.
So, for your convenience, here are some Hungarian souvenirs you can purchase online.