This is one of a series of journal entries from Viking River Cruises' Grand European Tour, the Budapest to Amsterdam itinerary. I kept it so you could know what to expect if you plan to go yourself. To be honest, I think this is one of the best European river cruise itineraries out there. We had a blast.
But I realize that a long tour isn't always an option. If you are looking for a brief Budapest river cruise or tour, here are a few to get you started:
Our first full day on board sure didn't have a promising beginning. I awoke at an ungodly predawn hour to the muted patter of rain outside our window. Fearing the worst, I dragged myself to the window to see if my imagination was playing tricks on me.
It wasn't.
Raindrops dripped onto our balcony railing and blurred the Danube in the city's predawn light. Groaning, I fled back to my warm cocoon of covers, with visions of an ocean of Viking's bright red umbrellas dancing in my head.
But by breakfast time, the rain had become a light mist. Bins of those bright red umbrellas stood sentry at the door as we walked out to Viking's waiting tour buses. The crew were really on top of things.
Our Budapest river cruise itinerary
We had boarded the ship yesterday, so today was our first full day on the ship. It began at 8:30 with a bus ride through the drizzle to the Castle District, the oldest part of Buda.
The Banks of the Danube, the Buda Castle Quarter and Andrássy Avenue are three of the best things to see in Budapest. So much so, in fact, that they have been awarded UNESCO World Heritage Site status.
Today's tour would include more than just that, though.
As the bus took us along the Danube banks to Elisabeth Bridge, our guide pointed out a statue is of a woman holding a palm leaf up on the hill ahead. First called the Liberation Monument, It was erected to honor the Soviet soldiers who "liberated" Budapest at the end of the Second World War.
After the Velvet Revolution, it was renamed the Liberty Monument and is one of a very few Soviet-era statues that still remain in Budapest. Most of those that survived the fall of Communism have been banished to Memento Park, a sculpture park outside the city.
I think that would be a great attraction to add to an itinerary, if we make it back here.
Castle Hill
Once at our destination, we braved the unseasonable chill to walk through Buda's ancient cobblestone streets. For such a compact area, there's a lot to see.
The advantage to having a guide is that they can show you things you might have missed if you were sightseeing on your own. For example, we saw a historic letter box that's still in use, and he told us which typical Hungarian souvenirs weren't made in China.
Of course, he also told us more about Buda's buildings as well. Some were famous, such as the Royal Palace, National Gallery and the National Széchenyi Library, and some were just plain pretty.
Matthias Church and Fisherman's Bastion are two of Buda's highlights, and so is a certain irresistible cafe.
ⓘ TIP: If you'd like to take a guided tour of Budapest on your own, click here for some great ideas.
Matthias Church
One of the city's best-known landmarks, Matthias Church has witnessed many coronations and royal weddings in its 700 years. Unfortunately, we couldn't enter so our guide had to adjust the planned walking tour a bit. Apparently, today's mass was in honor of the Prime Minister's birthday, so tourists weren't welcome.
Fisherman's Bastion
Our walking tour ended at Fisherman's Bastion, which offers a breathtaking panorama of the Danube. This is probably the best place to take photos of Budapest.
At this point, everyone took off to explore on their own, promising to meet back at the bus at 10:45.
Cafe Ruszwurm
Architecture and history are all well and good, but the damp weather sent us in search of a café instead of exploring the city streets. Coffee is probably our favorite way to warm up.
We soon found a charming coffeehouse that looked centuries-old, called Cafe Ruszwurm. As we entered, an ancient wood-and-glass cabinet greeted us, full of tempting pastries. There was no way we could just get a mere cup of coffee now.
A pretty young waitress dressed in a traditional outfit took our order: two espressos and a tasty sour cherry strudel to share. We savored the the cafe's homey atmosphere until it was time to return to the bus.
Two fun facts about Cafe Ruszwurm:
It is one of the oldest traditional cafes & confectioners in the city.
The cherrywood counter that we admired is 200 years old!
Pest city tour
The second part of our tour took us to Pest, on the other side of the river. The itinerary was supposed to include a walk along Andrassy Avenue, Budapest's high-end shopping street, along with passing the Hungarian State Opera House and culminating on the far end at Heroes' Square.
Bad timing, unfortunately. Today was Heroes' Day and they were rerouting traffic and holding events on the square.
So, no walking tour for us. Our guide and driver did their best though to make it up to us with an extended bus tour of the city. All good. Our guide was interesting, and we were able to see places most Viking passengers probably never have the opportunity to visit.
Lunch on the cruise ship
When lunchtime rolls around, Viking offers the choice of a light lunch on the Aquavit Terrace or full menu service in the dining room (that includes a salad bar).
Here's the lunch menu from our first day:
Ria, the ship's Maitre d', is responsible for ensuring that all passengers on a special diet receive suitable dishes. Every morning she brings us the day's menu and we select our lunch and dinner items in plenty of time for the chef to prepare.
Judging from the sheet she was carrying, it looked like quite a few people had dietary limitations.
Viking River Cruises' Budapest afternoon itinerary
Viking's afternoon itinerary in Budapest has something for everyone. You can enjoy free time in the city or take one of three optional tours (extra cost).
Jewish Budapest – the highlight is a tour of Dohany Street Synagogue, the second-largest synagogue in the world
Budapest Spa Experience – enjoy a few hours at one of Budapest's therapeutic thermal springs
Hungarian Horse Show – watch the legendary Hungarian cowboys display their famous horsemanship
Having arrived a few days early, we'd already visited the Jewish Synagogue and one of Budapest's famous spas (see our photos here). Let us tell you about the third tour.
Hungarian horsemanship
Our 40-minute bus ride to Lazar Equestrian Park came with a warning: Today was a holiday and It would be quite crowded. Moreover, it was Children's Day and there would were kids everywhere.
Stepping off the bus, we were all welcomed with a traditional biscuit and a glass of plum- or apple-flavored Hungarian brandy called palinka. As usual, Dan and I each asked for different ones so we could try them both.
We first visited the stables so we could meet some of their beautiful Lipizzaner horses. The equestrian show that followed was outstanding.
It's one thing when a kid stands up to get a better view, but it's quite another when a horde of Chinese tourists do it. They felt it was perfectly acceptable to barge to the front of the audience, obliviously blocking everyone's view while they took a shipload of photos. Thank goodness the host finally instructed everyone to sit down.
If you're looking for a business idea, offering "How to Be a Good Tourist" lessons in China would be a great idea.
After the show, we enjoyed a horse-and-carriage ride around the property. The highlight was a museum that displays some of the numerous awards that their Lipizzaner horses have won.
Before we returned to the bus, Dan and I bought some treats: local ice cream and a sweet dessert that tasted like a thick custard and was topped with stewed plums.
We arrived back at the ship a little after 6.
Back aboard the ship
Once back aboard, Hotel Manager Felix Anheier gathered everyone in the Lounge so Captain Oliver Barsic could welcome everyone aboard with a toast to the coming voyage. We were offered kir royale, mimosa or champagne, though of course nonalcoholic options were available as well.
Next, our Program Director Dewi gave the Daily Briefing, which is basically an overview of what to expect the following day.
As dinner ended, we felt our ship begin to drift downriver. This signaled the beginning of our cruise and the Bragi's departure from Budapest. We joined many other passengers on the Sun Deck to bid goodbye to the city and toasted our departure with a glass of Tokaj.
This Hungarian wine is so unique that the region it comes from has actually earned UNESCO status. (It is known as the Tokaj Wine Region Historic Cultural Landscape.)
Once Viking Bragi had drifted her way down to Gellert Hill, Captain Oliver kicked the engines into gear and headed the ship back upriver. Liberty Monument waved goodbye with her palm from the top as she watched us go.
We are only 3 weeks from midsummer so it wasn't fully dark. The twilight blue hour gave us a memorable view. One by one, lights came on along the river and the sight became magical.

I overheard someone say "I can see why evening cruises are such a popular attraction in Budapest. The view is remarkable." Lit up, the city was aglow.
Next stop: Bratislava.
ⓘ 2019 update: The Viking Grand European Tour itinerary no longer includes Bratislava. Instead, you'll spend two days in Vienna.
Places to stay in Budapest
Are you planning to spend more than one day in Budapest, like we did? We stayed at the Marriott hotel, but travel styles and budgets differ. Whether you prefer a hotel, hostel, or vacation rental, this map will help you find the best accommodation for your visit.
Want to read this later? Save it to Pinterest!
Hover over the top left of the image to save it to your Pinterest gallery. You'll also find more images in our Budapest photo gallery.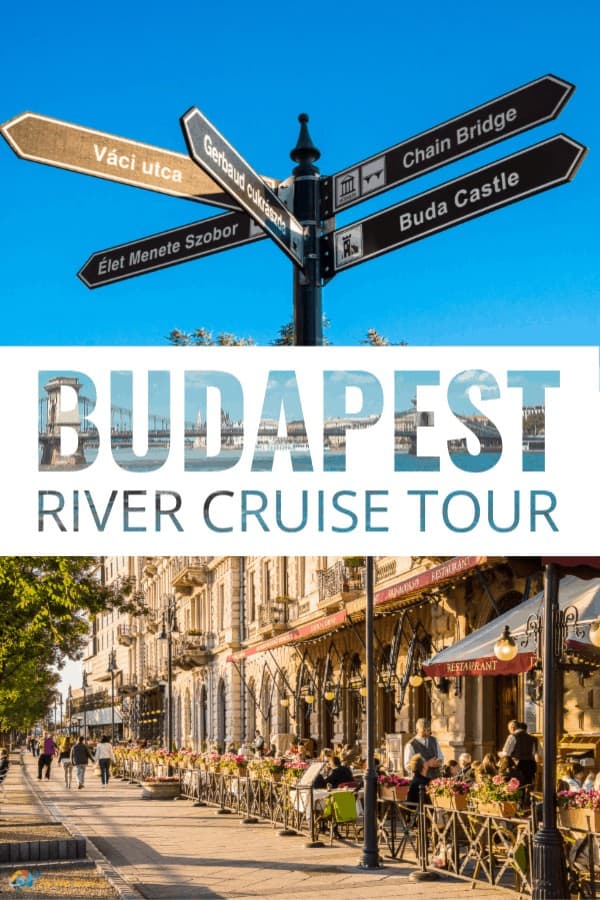 Note: As is common in the travel industry, Dan and Linda were provided with a complimentary cruise package for the purpose of review. While it has not influenced coverage, AWSI believes in full disclosure of all potential conflicts of interest. For more information, see the Disclosure page.