Places where you can stay
I wake up far too early every day … and it always starts the same way: I peek around our blackout drapes to see what's passing by our window.
The storybook scene that met my eyes this morning made me want to throw open the curtains. Worse, every half-timbered building and steepled church tempted me to shake Dan awake to share it with him!
We were entering Austria's 24-mile long picturesque Wachau Valley, a narrow gorge that's blanketed with vineyards, woods and quaint little Austrian towns.
Wachau from the Sun Deck
Unlike yesterday's jam-packed day in Vienna, most of the today's activities would be on board. We watched the passing river scenery over breakfast, savoring every view.
We carried our second cups of coffee up to the Sun Deck. A good number of passengers were already there, happily soaking up the sun and scenery.
Who could blame them? Wachau Valley is known as a particularly beautiful part of Danube, so much so that the Wachau Cultural Landscape has earned UNESCO World Heritage Status.
The Wachau is a stretch of the Danube Valley between Melk and Krems, a landscape of high visual quality. It preserves in an intact and visible form many traces – in terms of architecture, (monasteries, castles, ruins), urban design, (towns and villages), and agricultural use, principally for the cultivation of vines – of its evolution since prehistoric times.

UNESCO
This area might as well be called Austria's Napa Valley since it is such an exceptional wine producing area. (Not a cow in sight, though … so I will refrain from making any jokes about the two towns' odd-sounding names.)
Dewi was on the Sun Deck as well, giving a very interesting narration. We learned fascinating facts about the passing landscape, the culture and history of the area, and more about the Danube itself.
Alexander the Great advanced his Macedonian empire to the Danube in 336 BC.
The Romans often used the Danube as a northern border for their empire. Many of their ancient vineyards can still be seen along the river.
The Danube later formed the northern border of the Ottoman Empire for centuries.
Durnstein Castle held Richard the Lionhearted prisoner in 1193.
She also told us anecdotes about some of the buildings, such as St.Michael's church in Weissenkirchen that has seven little rabbits running along its roof.
The sun was warm but it was very breezy and quite cool on the Sun Deck. My long sleeve shirt wasn't enough and I found myself envying those who had brought a jacket. Europe can be cold, even in June!
German lessons on board
There's only so much scenery one can appreciate in one sitting. The lounge filled up around 11 am, as many of us gathered to hear Dewi offer a German language lesson.
If nothing else, it was good for a few laughs.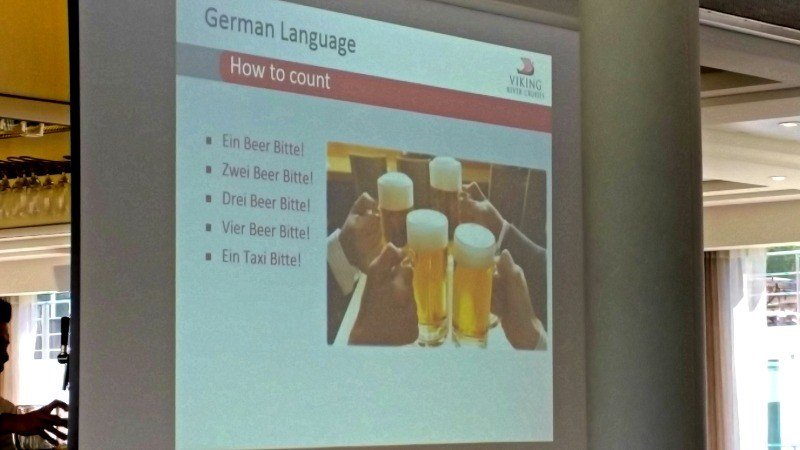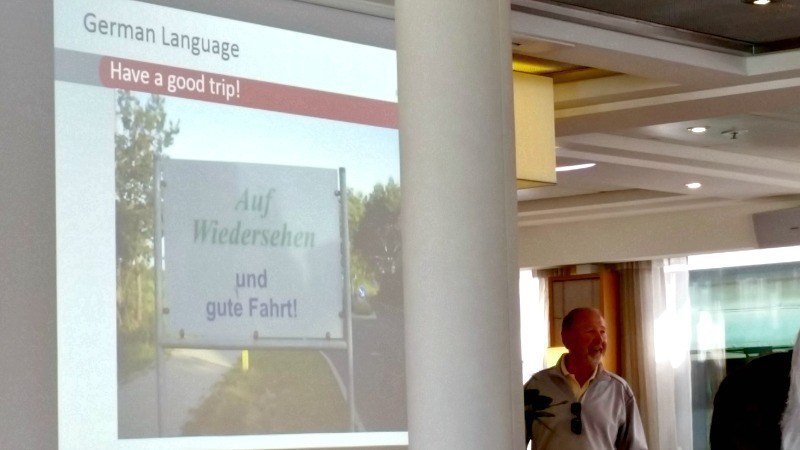 Melk and its abbey
The ship's only stop today was in Melk, and the town is quite possibly the smallest of all the places we visited. Melk Abbey, the massive 1000-year-old, Baroque complex that dominates the pretty little town, is a UNESCO site. We couldn't stay long because of lock schedules and the distance to our next destination.
Melk Abbey earned UNESCO status because of its remarkable frescoes and library, but its museum of treasures is notable as well. This is a sampling of some of the photos Dan captured. You can enjoy a free full screen slideshow of all of them on our photo page. (Link at the end of the article.)
No photography allowed in the Melk Abbey library
Photos were allowed everywhere … until we got to the library and its 100,000 volumes of leather-bound books. The guide kept an eagle eye on Dan the whole time we were in there. I managed to quickly snap a random shot with my phone as we walked in, but out of respect for the rules I didn't try to sneak any more while I was in the room.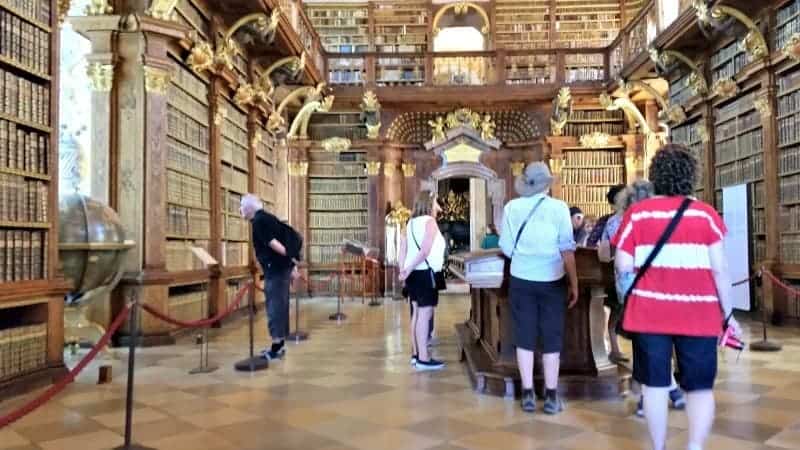 A spiral staircase connected the library to two upper floor reading rooms.
Melk Abbey Church
The abbey's sanctuary was over-the-top ornate, covered with gold leaf and stucco everywhere. Our guide explained that the goal of Baroque art was to demonstrate that heaven (up above) is so much better than our present life (where we were standing). There was some significance to having a couple of saints' bodies on display, but unless it was to remind us of our mortality it escaped me.
[ezcol_1third][/ezcol_1third] [ezcol_1third][/ezcol_1third] [ezcol_1third_end]
[/ezcol_1third_end]
At the end of our tour we found an outdoor balcony with a lovely view of Melk and the surrounding countryside.
Walking through the town of Melk
Then we walked down the hill, back to the ship through town. It was a cute little place. We'd have liked to spend some time meandering through the sleepy town's streets but our short time in port meant we couldn't linger. We did find enough time to buy an ice cream before we boarded, though.
Apple strudel demonstration
Once Viking Bragi set sail passengers gathered in the Lounge for a demonstration of how to make apple strudel. Dan was chosen to help demonstrate how easy it is to make. He said it was one of the highlights of our cruise so far.
Evening entertainment was all dance and fun with Dewi in the Lounge. We had a blast on the dance floor and stayed up far too late chatting with new friends.
Note: As is common in the travel industry, Dan and Linda were provided with a complimentary cruise package for the purpose of review. While it has not influenced coverage, AWSI believes in full disclosure of all potential conflicts of interest. For more information, see the Disclosure page.