This is a journal entry of what happens on a river cruise's Nuremberg itinerary. It includes travel tips, ideas for what to see and things to do in Nuremberg, and more.
But in case you're visiting Nuremberg on your own, here are a few itinerary ideas to consider:
Light sleeper that I am, I felt the Viking Bragi gently nudging the side of a lock a few times during the night. Ah, I supposed drowsily, with all these locks, we must be in the Main-Danube Canal. Thankfully, my pre-cruise fears of nighttime noise and bright lights were unnecessary; I had no problem returning to dreamland.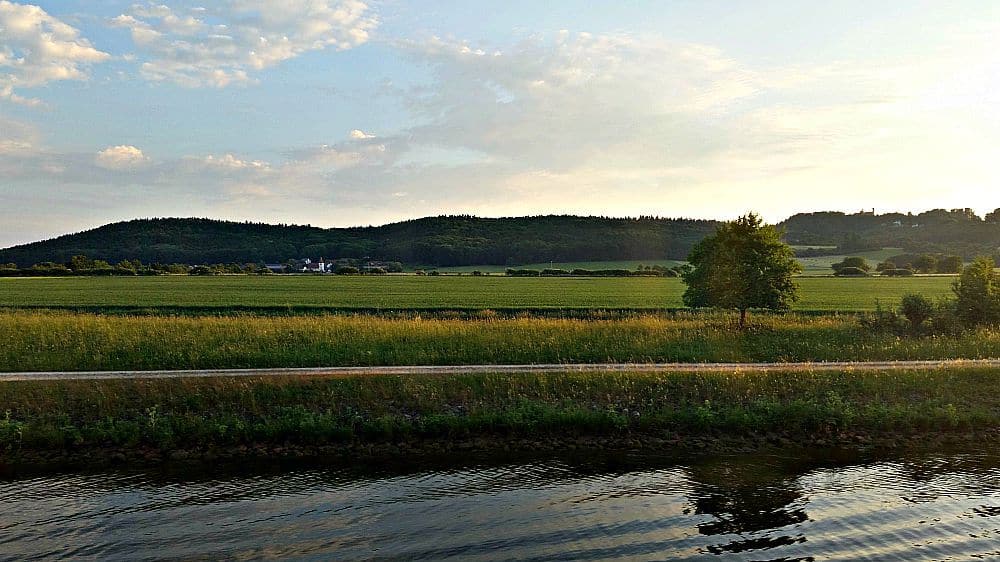 I awoke to my alarm, and although I was happy with our morning balcony view I felt just the tiniest bit sad to see this day arrive. You see, today is the official halfway point on our cruise, which means that one week from now we will be disembarking in Amsterdam.
Heaving a sigh of resignation, I went off to seek solace in breakfast and a fresh cup of coffee.
Options, options
Bragi's lock schedule meant we wouldn't get into Nuremberg until after lunch. To fill the time we were offered a choice of an 8:30 excursion into Nuremberg for a few hours of shopping (return shuttle at 11:15) or a presentation on Bavaria by a guest lecturer.
Not being fond of souvenir shopping, we chose to remain on board. Dan carried coffee and camera to our balcony, while I went off to attend the professor's lecture. It was quite interesting to learn more about what makes Bavaria and Bavarians so unique.
This afternoon's foray into Nuremberg offered options as well.
Free tour of Nuremberg's medieval city center
Optional World War II tour (extra cost)
Figuring we likely wouldn't return to Nuremberg if we took the optional tour, we spent quite a while debating which tour to take. The biggest issue was that Dan's grandfather was at the Battle of the Bulge and he finds all things World War II fascinating. Not I. To my way of thinking, Nuremberg had little to offer history buffs apart from the Palace of Justice, only important because it was home of the Nazi party headquarters and the site where they held the Nuremberg Trials.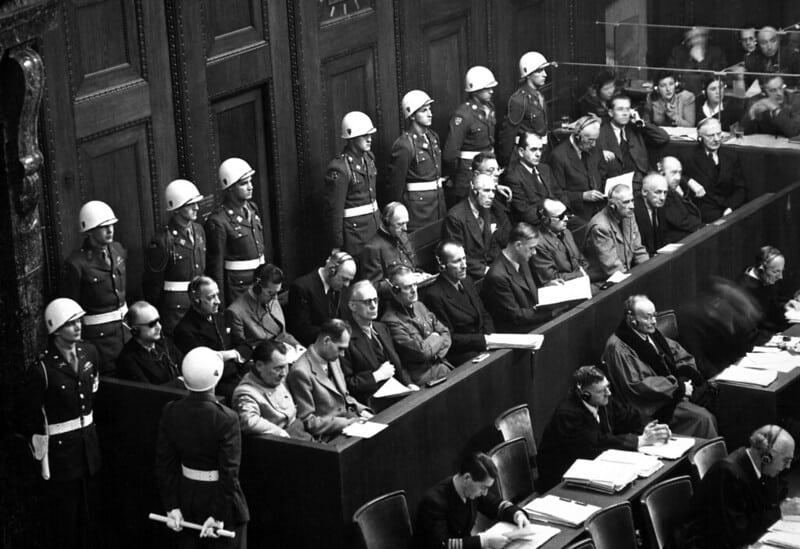 We would have joined Dan on Viking's optional tour but truthfully, it would have been hard to handle more stories about the unbelievable Nazi atrocities. Contrary to common belief, these crimes were committed against not only Jews but also dissidents, Roma, disabled, and mentally retarded. (Hitler, who never would have qualified as one the blond-haired, blue-eyed "Aryan race" he idealized, was not too bright himself: The true Aryans were actually the swarthy "noble ones" of ancient Indian society. Draw your own conclusions from that.)
But I digress. Ultimately, we decided to tour the city and plan our own World War II tour another time.
Nuremberg's history
Nuremberg is not on a major river so we had to take a bus into town. This gave us time to get the low-down about the city.
We drove by the Palace of Justice, where the Nuremberg Trials were held. It's still in use as Nuremberg's courthouse. Behind it was the prison where the Nazi war criminals were held.
Not long afterward, we encountered a crazy amount of traffic. Cars were double- and triple-parked on side streets, and people were all heading in one direction. Something big was happening: Nuremberg was hosting its annual weekend Rock-im-Park rock fest in Zeppelin Field.
It's good to know they have found a good use for the old Nazi rally grounds!
In a city that has existed since the 11th century, Nuremberg's 12 ignoble years under the Third Reich are actually little more than a mere blink-and-you'll-miss-it in its history. The thing is though, that Hitler chose poor little Nuremberg as his headquarters precisely because of its significance to Germany:
Nuremberg has been described as the "unofficial capital" of the Holy Roman Empire and the center of the German Renaissance.
It was an important trading center, and in fact some of the most important trade routes intersected here.
Nuremberg was also well-known for its craftsmanship – toys (14th century) and pocket watches (15th century). Actually, Nuremberg is still famous for its toys, and the city actually has a toy museum to show for it.
New kings held their first parliamentary session and kept the Imperial jewels here.
(The mustachioed dictator conveniently overlooked the fact that Nuremberg lost its all of importance after Napoleon annexed Bavaria.)
Bye-bye, Medieval Nuremberg, hello, tourists!
Sadly, Nuremberg's importance to the Third Reich made it a favorite allied bombing target. Over 90% of Nuremberg was reduced to rubble, second in destruction only to Dresden.
But all was not lost.
Since the 1950s the Medieval center's red sandstone buildings and mostly Gothic architecture have been painstakingly rebuilt into a favorite tourist destination. Today was our turn. Our bus dropped us off at the edge of old town Nuremberg and we began our walking tour.
No sooner had we stepped off the bus than we noticed that we were standing next to some very impressive stone walls and what looked like a moat. After we had synced our listening devices our guide began his tour right there, because we were standing next to – look above you – the Imperial Castle of Nuremberg.
Inside the Imperial Castle of Nuremberg
The castle is surrounded by two sets of walls: the taller, inside one was built first, to protect the castle. Later, they built the smaller, outer wall to keep people out of the moat.
Actually, the moat was never intended to be filled with water. Instead it was created to keep game so that the King could hunt with his guests whenever he wanted to. This better explains why they wanted to keep people out of the moat, doesn't it?
Things to see in Nuremberg Old Town
Our tour group wound along the streets toward Hauptmarkt, the city center's largest market square. We passed many interesting sights along the way.
St. Sebaldus
The oldest church in Nuremberg contains the relics of its namesake, St. Sebaldus, who is the patron saint of Nuremberg. The Lutheran church suffered serious damage during World War II and after it was rebuilt it became a Monument for Peace.
Each column has a photo of Nuremburg's extensive devastation, sometimes accompanied by a poem.
Peace – what is peace?
that we can go through the ruins
without fear of bombs?
That the sun warms people and stone
if nothing had happened?
That the horror is already beginning
to belong to the past?
Henkersteg
Nuremberg has a special covered bridge known as Henkersteg, the Hangman's Bridge. Every city needed an executioner, and this man had to live in segregated accommodation within the city due to the nature of his trade. The reconstructed bridge is impressive and tours of the house are available.
The view from the bridge was as extraordinary as the bridge itself. Oddly enough, Hospice of the Holy Spirit (Heilig-Geist-Spital) is only a few steps from Hangman's Bridge. It's been in use since 1332, which probably makes it one of the oldest hospitals in the world.
Beautiful Fountain
Back at Hauptmarkt our walking tour ended near Beautiful Fountain, dating from the late 1300s. It has a legend about a ring in the latticework that will bring you luck if turned 3 times. It's undergoing restoration but will be beautiful indeed when it is completed.
Hauptmarkt
Hauptmarkt (main market) is Nuremberg's main square. And if there's one thing that most market squares have in common, it's that they contain markets.
Every weekday you'll find the centuries-old square full of colorful market stands brimming with fresh fruit and vegetables, bright flowers, crispy bread and other treats. You'll also find handmade crafts and homemade regional cheeses, meats, and other specialties, which make a perfect souvenir of your Nuremberg visit.
Hauptmarkt is where most of Nuremberg's seasonal events happen, from beer festivals to folk festivals. They happen year-round, and one of the most popular is Nuremberg's annual Christmas market.
For passengers on a river cruise Nuremberg is a dream in December. The square fills with red-and-white wooden stands, the laughter of couples and families as they wander about, and the aroma of lebkuchen and gluhwein. It's a don't miss.
Frauenkirche
The Gothic Frauenkirche (Church of Our Lady) is also on Hauptmarkt Square, built on the site of a synagogue that King Charles IV had torn down during a pogrom in 1349.
The mechanical clock shows that same Charles IV on his throne where each day at noon, electors come to pay him homage.
Foods to try in Nuremberg
We made a point of stopping at a stall selling Lebkuchen, Nuremberg's famous traditional gingerbread. (It was so tasty that we didn't even think to take a photo!) Though the tasty cookie is made from wheat flour, some bakers are now preparing a gluten-free variety. We tried both and discovered that both have the same unique aroma and flavor.
After that we decided to rest our tired feet at a brauhaus for the last few minutes of our free time. Thanks to our tour guide we knew how to hold our beer mugs correctly, so we didn't embarrass ourselves.
Back on board
After dinner we joined the others in the lounge for some onboard entertainment: "Melodies from the Danube to the Adriatic Sea." Opera singers from Nuremberg and Munich performed selections from Mozart's The Magic Flute and Verdi's La Traviata and got the passengers to join them in the fun.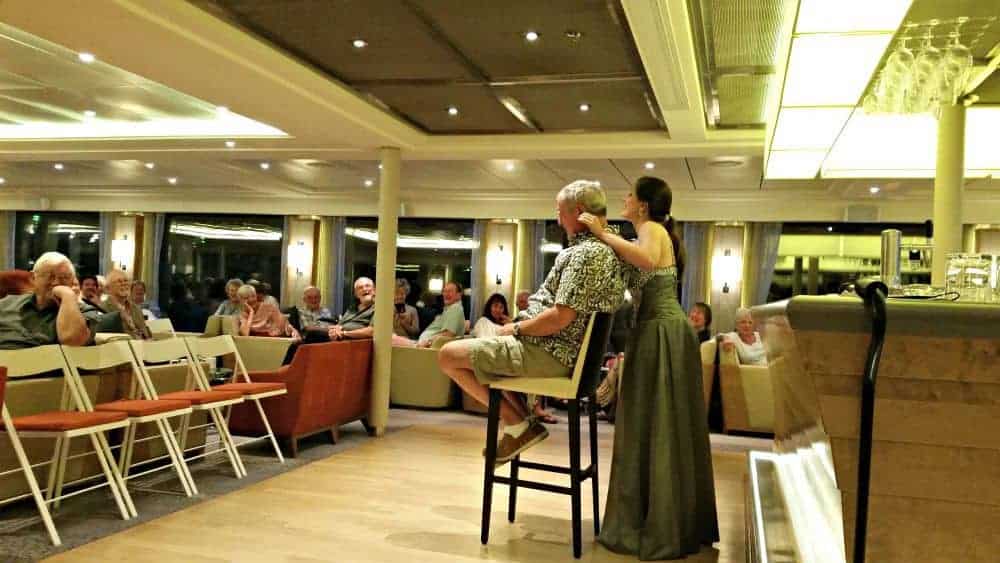 Click here to see more photos from our day in Nuremberg Germany.
Note: As is common in the travel industry, Dan and Linda were provided with a complimentary cruise package for the purpose of review. While it has not influenced coverage, AWSI believes in full disclosure of all potential conflicts of interest. For more information, see the Disclosure page.