What travel lover doesn't love a good story? How about something even better: a collection of travel stories all in one place, also known as a travel blog linkup!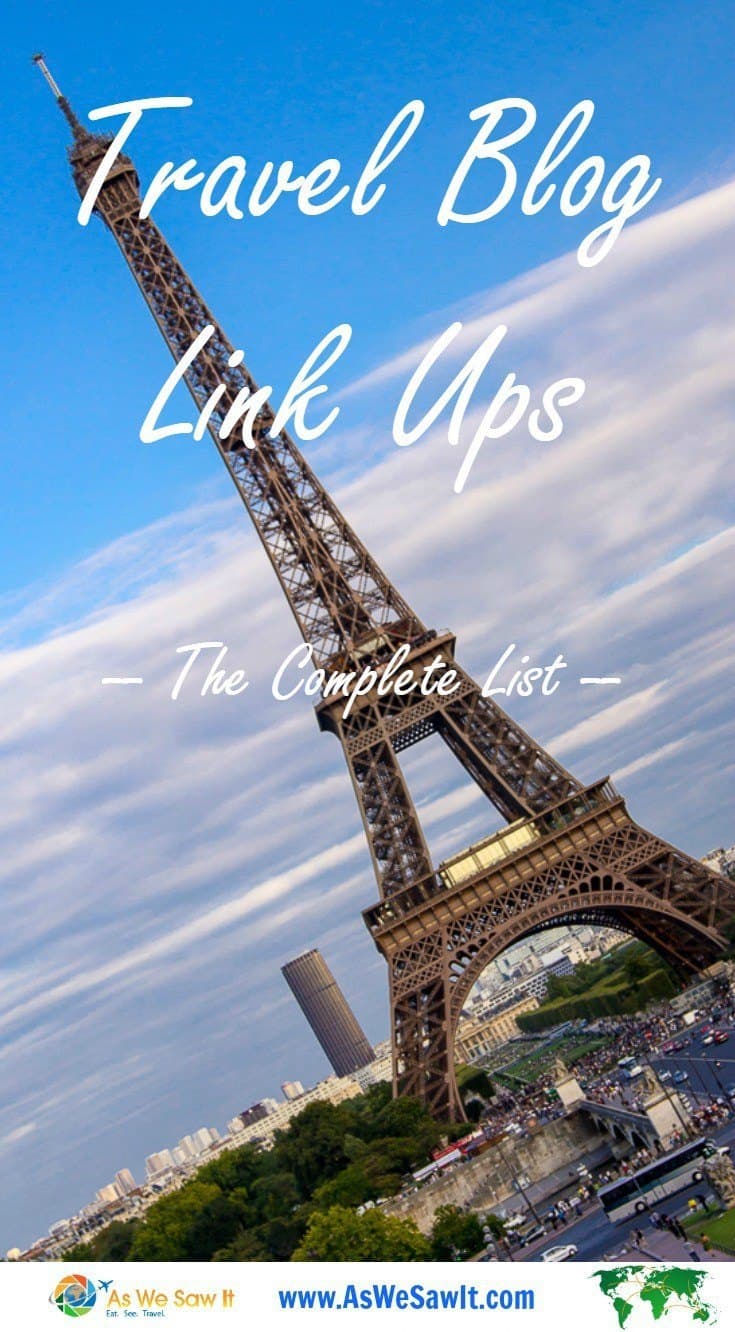 Why participate in a blog linkup?
Whether you call them travel blog linkups, blog hops, or linkys, they make for enjoyable armchair travel. Readers enjoy them because they are an easy way for readers to discover new writers and read about far-flung places they might never have otherwise heard of.
Bloggers love them too, because they are a good way to share their travel experiences and to get to know others with a common interest. Considering the way commenting creates a bit of community and fellowship, it's little wonder that some people call them link parties!
Blog hops are fun
As one-time co-hosts of #TheWeeklyPostcard linkup, we know how much fun these blog hops can be. We enjoy participating in link-ups ourselves and are thrilled whenever those hosts participate in ours. Unfortunately, one problem that we all face is that blog hops all run at different times and in different time zones, which makes it too easy to forget to participate until it is too late and the event has already closed!
In an effort to keep all the travel blog link parties straight, I began to compile an informal list of all the linkups I came across. It didn't matter whether they would welcome all travel-related posts or were just for photo essays; any blog hop related to travel got added to my list. Now that I've listed all the active travel link ups I can find, I'm sharing what I've created with you.
Blogs are listed Sunday-Saturday according to the time the link goes live. When available, participation times are in hotel/military time. You can use this Time Zone Converter to calculate for time zone differences.
I hope you find this helpful.
Just as link ups are a team effort, so is this page. Linkups and participants come and go, so if you know of any changes or additions, please be kind to fellow bloggers and let us know so we can update our page.
Travel Blog Linkup List
---
Sunday
Sundays in My City
Host: Unknown Mami
Open: Saturday 07:00 – Tuesday 15:58 EST
Share photos of your surroundings or whatever corner of the world you want, whether you are traveling or not.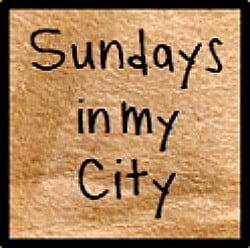 ---
Monday
None active.

---
Tuesday
Wordless Wednesday (on Tuesday)
Host: image-in-ing
Open 7 days, from Tuesday 00:00 – Monday 23:55 GMT+8
The focus is photography in general rather than travel photography specifically. Her sidebar includes a blogroll of more photography link ups you can enjoy.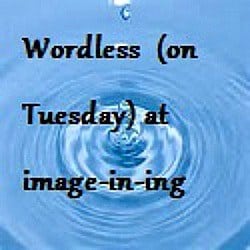 City Tripping
#CityTripping
Hosts:
Open: Tuesday 07:30 – Thursday 23:55 GMT.
#CityTripping is the place to come and link up your city-related posts. It could be a day out, a review of an attraction, long weekend or sharing your best insider info and hidden gems – pretty much anything as long as it is city related. It alternates every week between Mummy Travels and Wandermum, although there's always a post on each pointing people in the right direction.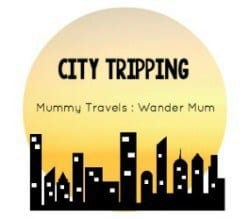 Our World Tuesday
Host: Our World Tuesday Meme
Open all week from: Tuesday – Monday (time unclear)
The "Meme" part of the name is really accurate: This is a link up with few words and no comment section!

---
Wednesday
Outdoor Wednesday
Host: A Southern Daydreamer
Open: Tuesday 23:00 – Wednesday 05:00 EST
Every Wednesday participants will be posting pictures of anything outdoor on their blog. It can be something outside of your home such as your porch, deck, patio, garden or lawn. Your photo can be outdoor shots of the beach, forest or mountains. (We don't want to exclude anyone who might not have a yard). Or, you could simply post pictures of a favorite plant or flower. Only rule is it has to be outside!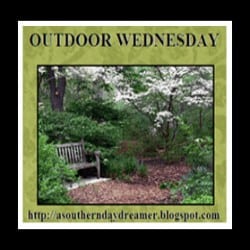 Wanderful Wednesday
#WanderfulWednesday
Hosts:
Open: Wednesday 08:00 GMT – Friday 08:00 GMT
WanderfulWednesday is a link up for all kinds of travelers, expats and wanderers. We hope to create a little community with bloggers who enjoy wandering – no matter whether that's as travelers or expats!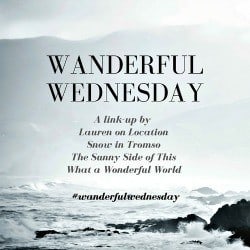 ---
Thursday
Faraway Files
Hosts:
Open: Thursday 08:00 – Friday 24:00 GMT
Faraway Files is a weekly file of the best travel ideas on the web. We want to dream of faraway places, make new travel plans and share our travel secrets. Inspire us to travel to new places or revisit a place we thought we knew. We know that you can feel faraway even when you're close to home so share your experiences of travels near and far wherever you are in the world.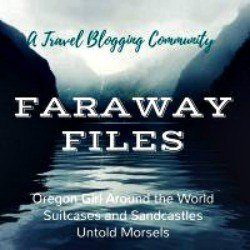 Weekend Wanderlust
#WeekendWanderlust
Hosts:
Open: Thursday 17:00 – Monday 23:55 EST
As long as your post is related to travel, whether it is a review of an attraction or your experience in a destination around the world please link up with us to inspire everyone to follow their #WeekendWanderlust.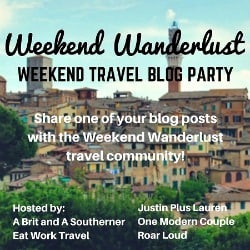 Travel Photo Thursday
#TPThursday
Hosts:
Open: Thursday between 20:00 and 22:00 – Wednesday GMT+8
Beginning and ending times change based on where Nancie is based. To join in the fun, simply post a link to a post featuring a travel photo.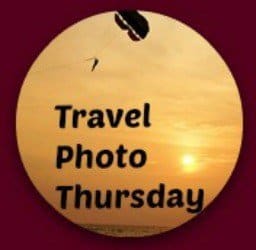 My Favourite Trip
#MyFavouriteTrip
Host: Our Seaside Baby
Open: Thursday (times unclear)
Link up any trip related posts, old or new.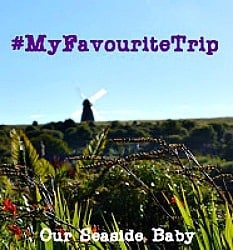 ---
Friday / Weekend
Fly Away Friday
#flyawaytriday
Hosts:
Open: Every other week Fri 09:00 PST – Sun 23:55 PST.
Fly Away Friday is a link-up community for travel related blog posts.
(no badge available)
Weekend Travel Inspiration
#wkendtravelinspiration
Hosts:
Open: Friday 00:00 – Monday 23:59 UTC
#wkendtravelinspiration is open for 4 days, Friday through Monday, so no matter where you are in the world you can participate over the weekend in your time zone.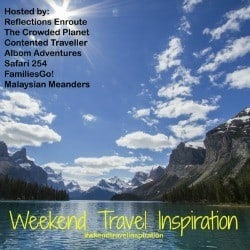 ---
Monthly
Kid Culture
Host: Piccolo Italiano
Open: Last Saturday of every month (open/close times not reported)
The purpose of the Kid Culture link-up is to unite and give exposure to bloggers with the passion for exposing kids to culture whether is it through travel, cooking, events, art, crafts, theatre or any other unplugged learning experience. Follow the hashtag #KidCultureBlogger on Instagram to never miss a link-up.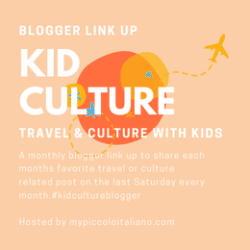 Cultured Kids
#CulturedKids
Host: The Pigeon Pair and Me
Open: All month.
Posts are anything culture-related. They can include theatre reviews, visits to a museum or art gallery, a trip to a historic place – like a castle, old house or a reconstructed village; at home or while travelling.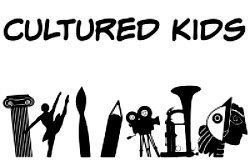 Fearless Family Travel
#fearlessfamtrav
Hosts:
Open: Runs the first week of each month – from the 1st day 1am GMT to 11pm GMT on the 7th
#fearlessfamtrav is the place to come and link up all your favourite family travel posts. From days out and holidays, city trips to beach breaks, top tips, accommodation and product reviews. If it's about family travel then we want to hear about it!
no logo available
Monthly Travel Link Up
Hosts:
Plus a different guest blogger each month
Open: Runs the first week of each month – from the 1st day 1am GMT to 11pm GMT on the 7th
The Travel Link Up is open to all bloggers as long as the post is relevant. Upcoming topics are usually announced on the 15th of each month via email, Twitter & on their blogs.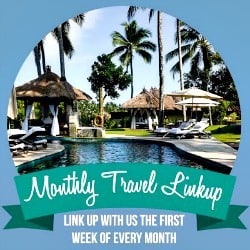 Tots Travel
#TotsTravel
Host: Tots 100
Open: All month.
Join in with any of our regular Linky posts by linking up your blog posts, to find new readers and find great new blogs to enjoy.
no logo available
Wanderlust Kids
#wanderlustkids
Host: Battle Mum
Open: All month.
You can link up any post, old or new, that is all about travelling with kids. Be it a day out, journey to a new place or a holiday, it can even be a post with tips for travelling with kids or a holiday you are looking forward to as a family. As long as it involves travel and kids it can be linked up.
---
How to be more effective with your travel blog link up strategy
There are more ways to take advantage of link ups than just tweeting and posting on Facebook.
Use the Golden Rule to your advantage. Here are 10 tips that will help you participate in blog link up parties effectively.
Do you pin to Pinterest? Linkups are a great source for new content for your boards. Hotels, foreign cuisines, dream destinations and Bucket List activities are only a few ideas. Plus, most travel bloggers have Pinterest accounts that you can follow which will give you even more for your own Pinterest boards.
Inspired?
Share this on all your social media channels. When more bloggers participate in linkups, there are more who will share your posts!
Save this article on Pinterest
Flip it
Tweet it
Share it with your Facebook groups
Tell us how else you will get the word out