What travel lover doesn't love a good story? How about something even better: a collection of travel stories all in one place, also known as a travel blog linkup!
Why participate in a blog link-up?
Whether you call them travel blog linkups, blog hops, or linkys, they make for enjoyable armchair travel. Readers enjoy them because they are an easy way for readers to discover new writers and read about far-flung places they might never have otherwise heard of.
Bloggers love them too, because they are a good way to share their travel experiences and to get to know others with a common interest. Considering the way commenting creates a bit of community and fellowship, it's little wonder that some people call them link parties!
Blog hops are fun
As one-time co-hosts of #TheWeeklyPostcard linkup, we know how much fun these blog hops can be. We enjoy participating in link-ups ourselves and are thrilled whenever those hosts participate in ours.
Unfortunately, one problem that we all face is that blog hops all run at different times and in different time zones, which makes it too easy to forget to participate until it is too late and the event has already closed!
In an effort to keep all the travel blog link parties straight, I began to compile an informal list of all the linkups I came across. It didn't matter whether they would welcome all travel-related posts or were just for photo essays; any blog hop related to travel got added to my list. Now that I've listed all the active travel link ups I can find, I'm sharing my "cheat sheet" with you.
Blogs are listed Sunday-Saturday according to the time the link goes live. When available, participation times are in hotel/military time. You can use this Time Zone Converter to calculate for time zone differences.
I hope you find this helpful.
Travel blog linkups – we need your help!
Just as link ups are a team effort, so is this page. Linkups and participants come and go.
So if you know of any changes or additions, please be kind to fellow bloggers and let us know so we can update our page. You can message us here.
ⓘ TIP: For more website traffic ideas, I've found this inexpensive book to be super helpful!
If this post was helpful, please share it with your friends. Are you on Pinterest? Remember to pin this image!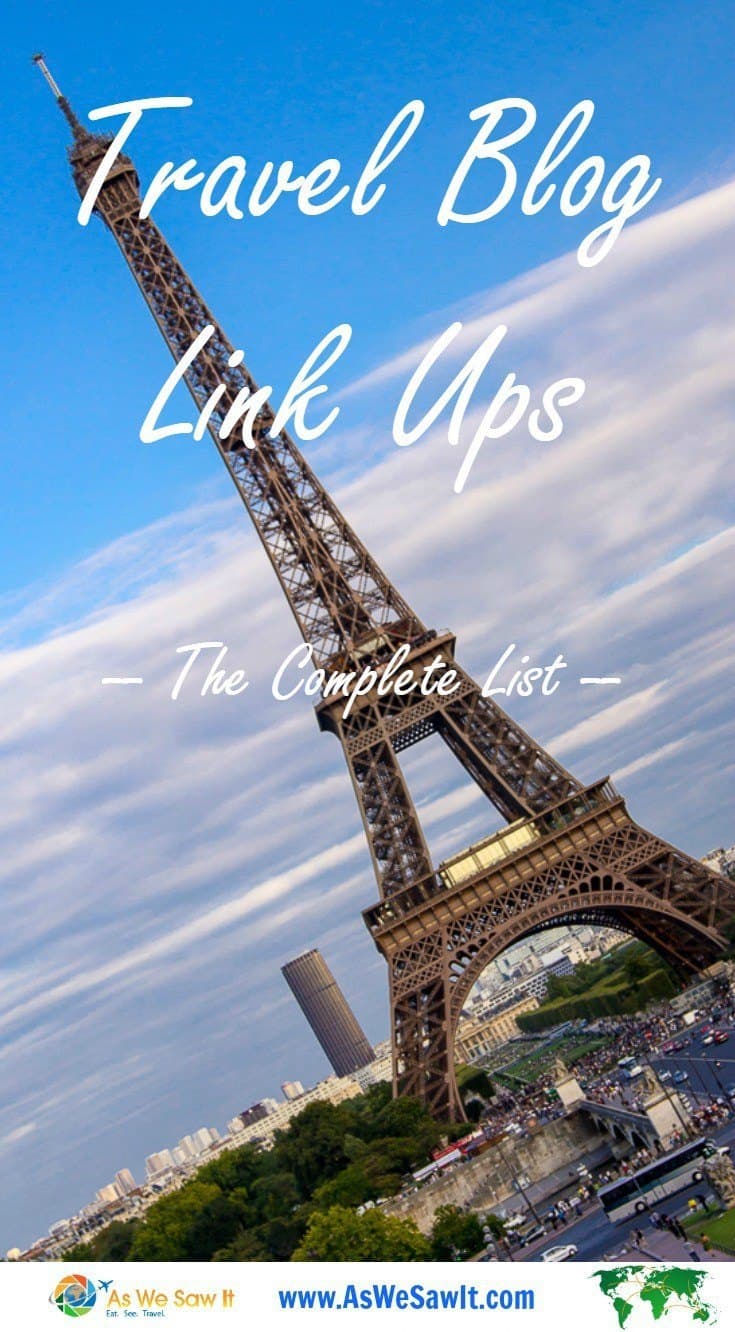 Travel Blog Linkup List
---
Tuesday
Wordless Wednesday (on Tuesday)
Host: image-in-ing
Open 7 days, from Tuesday 00:00 – Monday 23:55 GMT+8
The focus is photography in general rather than travel photography specifically. Her sidebar includes a blogroll of more photography link ups you can enjoy.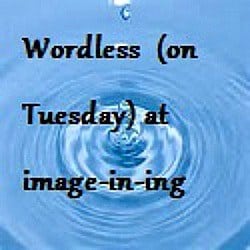 Our World Tuesday
Host: Our World Tuesday Meme
Open all week from: Tuesday – Monday (time unclear)
The "Meme" part of the name is really accurate: This is a link up with few words and no comment section!
---
Thursday
Faraway Files
Hosts:
Open: Thursday 08:00 – Friday 24:00 GMT
Faraway Files is a weekly file of the best travel ideas on the web. We want to dream of faraway places, make new travel plans and share our travel secrets. Inspire us to travel to new places or revisit a place we thought we knew. We know that you can feel faraway even when you're close to home so share your experiences of travels near and far wherever you are in the world.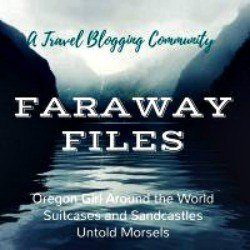 ---
Monthly
Fearless Family Travel
#fearlessfamtrav
Hosts:
Open: Runs the first week of each month – from the 1st day 1am GMT to 11pm GMT on the 7th
#fearlessfamtrav is the place to come and link up all your favourite family travel posts. From days out and holidays, city trips to beach breaks, top tips, accommodation and product reviews. If it's about family travel then we want to hear about it!
no logo available
Tots Travel
#TotsTravel
Host: Tots 100
Open: All month.
Join in with any of our regular Linky posts by linking up your blog posts, to find new readers and find great new blogs to enjoy.
no logo available
---
How to be more effective with your travel blog link up strategy
There are more ways to take advantage of link ups than just tweeting and posting on Facebook.
Use the Golden Rule to your advantage. Here are 10 tips that will help you participate in blog link up parties effectively.
Do you pin to Pinterest? Linkups are a great source for new content for your boards. Hotels, foreign cuisines, dream destinations and Bucket List activities are only a few ideas. Plus, most travel bloggers have Pinterest accounts that you can follow which will give you even more for your own Pinterest boards.
Inspired?
Share this on all your social media channels. When more bloggers participate in linkups, there are more who will share your posts!
Save this article on Pinterest
Flip it
Tweet it
Share it with your Facebook groups
Tell us how else you will get the word out
If this post was helpful, please share it with your friends. Are you on Pinterest? Remember to pin this image!