Are you thinking of taking a few days away, unwinding from work? Perhaps a change of scenery and some new experiences—whether for a couple of days or an entire week—is just what you need.
So pack your bags—we've got six fun city breaks for you to experience. And we've even included the cost per day so you can find a getaway that doesn't break the bank.
It's time to get ready for some unforgettable adventures!
Why take a city break?
Why are city breaks so popular nowadays? Here are some of the biggest reasons why:
It is cheap. Going on a city break nowadays is much more convenient because of package deals and cheap airlines. With just a few clicks, booking a cheap flight and hotel is quick and easy to do. You just need to be vigilant in order to grab the best deal for your short break. Also, city breaks cost less than the usual long-term vacations.
It is easy and short. When you want to have fun, but you only have a short time available, a city break could be a solution. You can see and do a lot in a short period of time. It is also a great excuse to connect with your friends and loved ones whom you haven't seen in a while.
You will get to appreciate a place more. City breaks force you to focus on one destination. You get a chance to explore the wonders of the place and get to know a little more about the culture, language, foods and people. This will also allow you to experience new things that will make your trip a memorable one.
Many fascinating cities take pride in their rich culture, state-of-the-art attractions, infrastructures, museums, and even live music venues. (just in case you're into that.)
Here are some of the best cities to start with, along with average daily cost per person.
Save these city break ideas for later
Pin it to your favorite Pinterest board!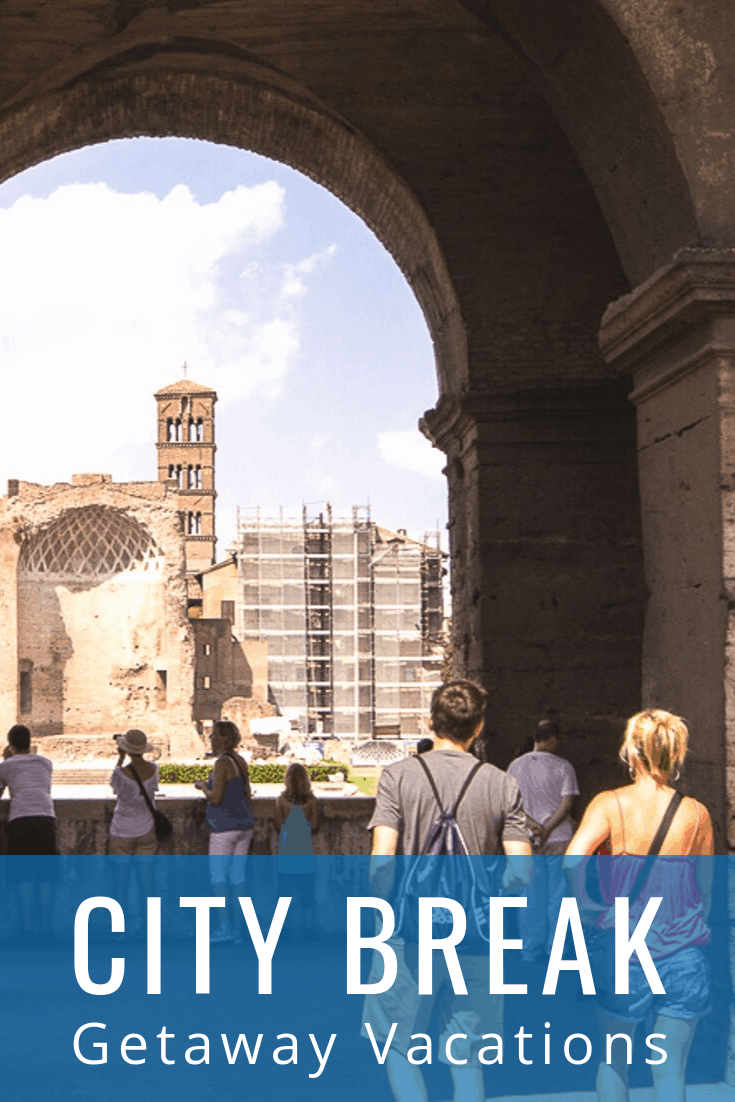 1. Amsterdam
Amsterdam is one of the most fun city breaks in Europe, and its canals are a UNESCO world heritage site. You can enjoy its unusual café culture, photograph its captivating architecture, and cruise down sun-dappled canals, or even join the locals by riding a bicycle through the city.
Amsterdam is well-known for the decadent Red Light District and its weed-friendly culture. But it has so much more to offer than that. Museumgoers flock to the Rijksmuseum and Van Gogh Museum. History lovers line up to tour Anne Frank's house, and beer lovers won't miss a chance to enjoy the Heineken Experience.
No matter what else you choose to do, you must take a canal cruise while you're in town. It's the #1 attraction on the list of things to do in Amsterdam!
2. London
London is home to some of the world's most famous and historical landmarks; Buckingham Palace, Big Ben, the Tower of London, and the Houses of Parliament immediately come to mind.
While there are a lot of things you can enjoy in London, your city break should include at least one or two memorable experience.
London has some attractions you should experience at least once in your lifetime. The best ones are:
London also has several world-class museums. Many are free to enter and see on your own, but if you're an art lover you'd do better to book a private tour to ensure you don't miss any of the best works. For example, this 5-hour tour visits both the National Gallery and the British Museum.
As to nightlife, there are countless live music venues in London to keep you busy. One of the most popular and best-loved is the Royal Albert Hall. It has hosted a lot of classical concerts, rock and roll gigs, and even musical theater shows. Actually, London is considered such a great music city that artists like Amy Winehouse, David Bowie, and many more are based here.
London's food scene ranges from a proper afternoon tea to a simple fish and chips meal in a local London pub to an extravagant sumptuous meal in a 5-star Michelin restaurant. Not to mention, London's large immigrant population means there is an infinite variety of foreign cuisines on offer. Brits love Indian flavors so much that they even designated chicken tikka masala as the national dish!
3. Rome
A shining jewel in Italy's crown, Rome should be included in your list of cities to visit at least once in your lifetime.
Two thousand years of history has given us St. Peter's Basilica, the largest and most popular church in the world, the world-renowned Sistine Chapel by Michelangelo, the ancient Colosseum, and more. It's no wonder this Eternal City is considered one of the best places for a city break.
You may have a long list of places to see and things to do when you visit Rome. But if your time is extremely limited, you can't go wrong with:
The Pantheon
The Colosseum and Roman Forum
Vatican City – the Vatican Museums, St. Peter's Basilica, and the Sistine Chapel
Plus, you get to indulge yourself in Italian food at trattorias, fill up on a rainbow of gelato flavors, and sip an espresso at a pretty piazza while watching the animated locals.
If you don't feel visiting all by yourself, you can opt to join a guided tour of Rome, either individually or with a group. There are a number of free walking tours if you're watching your budget, but keep in mind that free ones won't take you into places like the Colosseum or Vatican City. For sights like that, you'll need to take a paid walking tour. You can either take a private tour or join a group, where you'll explore Rome along with other tourists.
You'll be happy to know that there is no charge to see the Pantheon or visit St. Peter's Basilica. However, you'll need to purchase a ticket if you want to see the Colosseum or the Vatican Museums (where the Sistine Chapel is). Regardless of your choice of city breaks, our best advice is to purchase those tickets online ahead of time. Who wants to waste hours of valuable sightseeing time by needlessly waiting on a ticket line?
4. Prague
As the capital city of the Czech Republic, Prague is a favorite among weekend city breaks in Europe. (Did you see how affordable it is?)
The city offers a wide range of historical sights as well as an impressive medieval castle. Some of the best landmarks you should visit are:
St. Vitus Cathedral
Old Town Prague (UNESCO listed)
National Museum
Rudolfinum
If you want to continue your cultural journey, you can also enjoy the enchanting music from the Czech Philharmonic Orchestra.
And of course, there's the wonderful Czech cuisine. We ordered a lot of duck and svíčková (marinated beef sirloin) when we were there. Also, their unusual dumplings are hard to resist.
As you'd expect in the country that created pilsener, Prague offers a wide array of flavorsome local beers. Do try a few when you visit this enthralling city.
5. New York City
Commonly referred to as "the city that never sleeps," New York City is one of the busiest cities in the world. And the Big Apple has plenty on offer for all tastes. Many people think it's one of the most fun city getaways in the world.
Whether you're in the mood for enthralling, spectacular entertainment, sumptuous food and beverages, breath-taking skyscrapers, or one of its many and varied shopping malls, you will never get bored here.
If you plan to visit the largest city in America, you should not miss these world-renowned spots:
Empire State Building
Statue of Liberty
One World Trade Center
Museum Mile
Metropolitan Museum of Art
The Brooklyn Museum and Metropolitan Museum of Art are world-class, but New York has a wide selection of exhibits and galleries from world-renowned artists throughout its five boroughs. Many people plan a December getaway in New York, when the city comes alive with holiday lights and events.
Shoppers who want to reward themselves with luxurious and branded items must you should head to Manhattan. Macy's and Fifth Avenue offer the best in luxurious brands and department stores.
Music aficionados must head to Lincoln Center, where they offer world-class musical performances. Broadway is best for theater-goers, whereas if you are into dance clubs then the Meatpacking District is the place to be.
6. Hong Kong
City breaks in Hong Kong mean a lot of shopping and sightseeing. You get to discover their rich cultural landmarks, places of worship, and unique museums. Not just that, Hong Kong, a bustling city, also has a lot of shopping boutiques where you get to spend your fortune.
There are a lot of ways to enjoy this beautiful island from the water, too, like looking at the whole city from the Star Ferry or riding a traditional Chinese ship.
Among the best things to do in Hong Kong are:
Victoria Peak
Tsim Sha Tsui Promenade
Tian Tan Buddha
Hong Kong markets
By the way, when visiting their markets, be sure to try some street food. You may find yourself enjoying their exotic yet tasteful foods while watching an impromptu opera performance in the market. Yep, it all can happen Hong Kong.
Final thoughts about taking a city break
These are just six of the most fun destinations for a city break. Whichever one you visit, enjoy it to your heart's content and make the most out of it.
Want to read this later? Save it to Pinterest!