When you're packing for a trip, it's easy to forget something important. But with these suitcase packing tips, you can rest assured you have everything you need for a comfortable and stress-free vacation. Whether you're traveling by car, train, or plane, these helpful tips will help ensure that your luggage is packed perfectly!
Save these suitcase packing tips for later!
Add this pin to Pinterest so you won't have to Google "how to pack shoes for moving" at the last minute. Check this article for more information.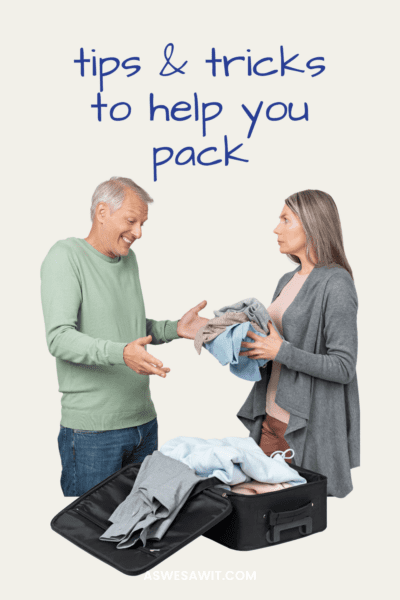 1. Always start with a packing list
While you don't need to pull out your suitcases and start packing right away, it's super helpful to begin listing all the stuff you are going to need during your trip. Write down everything you might need, and keep it handy so you can add items as they occur to you.
Some people find it helpful to start with a packing list pad like this one, which lists many essential things people often forget. But don't leave the list at home. Keep it in your suitcase so you don't forget anything at the end of your vacation!
2. Never pack things "just in case"
Your packing list will change according to where you're going and the activities you'll do. It will also depend on where you intend to stay.
Rather than bring a bunch of gear "just in case" you might need it, take the time to call ahead to find out what your accommodation will and will not provide. After all, if you know that snorkeling gear will be available at your vacation rental, you won't need to pack it.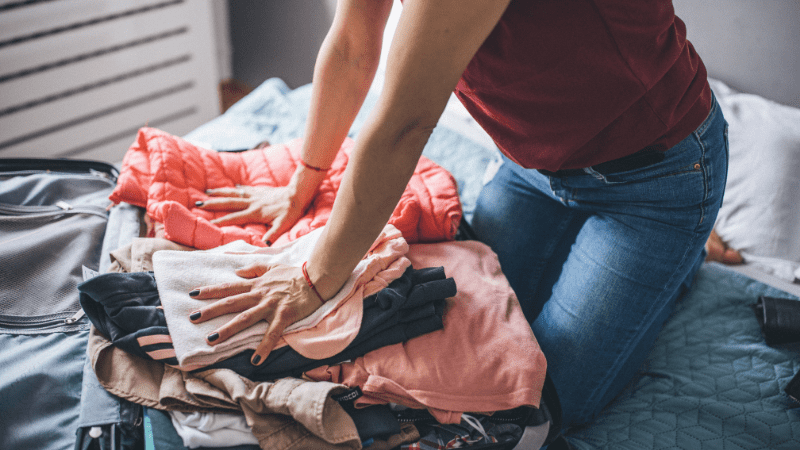 3. Check the airline's baggage allowances
Airlines have strict rules about how much luggage you'll be permitted to bring. Most domestic airlines will allow one checked bag and one carry-on bag, while international carriers are more generous. Overseas flights allow one carry-on, along with two checked bags which can weigh up to 23 kg or 50 lbs each.
ⓘ TIP: Investing in a luggage scale is an inexpensive but smart purchase. That way, you won't have to discard clothes at the check-in counter to get within the limits, as we did in Cancun.
4. Pay attention to carry-on limits
Your single carry-on suitcase can weigh no more than 7 kg or around 15 lbs. Airlines also have size limitations to ensure that your bag will fit in the overhead compartment. For instance, the Delta personal item size is restricted to 22" long, 14" wide, and 9" in height.
ⓘ TIP: During cold weather, wear your heavy jacket or parka to economize on weight while you're checking in. You can take it off once you board the aircraft.
5. Choose the right bag for your trip
There are a variety of different types of suitcases to choose from, so it can be confusing to know which bag will meet your needs best. Pick luggage that is lightweight, easy to carry, and big enough to hold all your stuff.
Wheeled suitcases with spinner wheels tend to be the most popular option because they're easy to maneuver, but backpacks and duffel bags are also great choices for rugged adventures.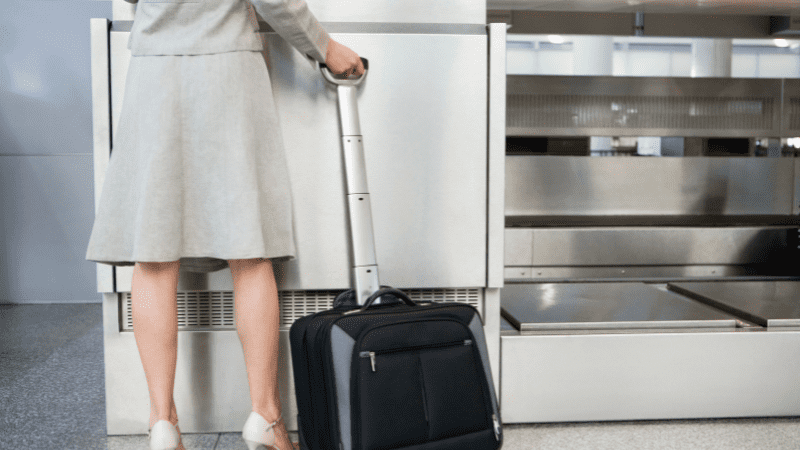 6. Take advantage of the airline's personal item allowance
Most airlines allow you to take a smaller, personal item on board along with your overhead carry-on bag. This personal item can be a purse, laptop bag, backpack, or any other item that can fit nicely under the seat in front of you.
This bag will keep all your in-flight essentials handy, like onboard entertainment, snacks, compression socks, passport, and tickets. Also don't forget sanitizing wipes so you can wipe down your seat, tray table, window, and remote control.
ⓘ TIP: It's also smart to pack an extra change of clothes in your carry-on, in case your bag is delayed in-flight.
7. Pack a capsule wardrobe for the trip
When traveling, it's important not only to pack light but also efficiently. My favorite way to do this is with an all-inclusive "capsule wardrobe" based around a single neutral color. I can create multiple outfits with just a few pieces, and add pops of color with scarves and other accessories.
You can also add a lightweight jacket with a couple of belts and scarves to dress up an outfit for a night out. Not only does a travel capsule wardrobe save valuable packing space, but it also minimizes the amount of time you spend deciding what to wear each day.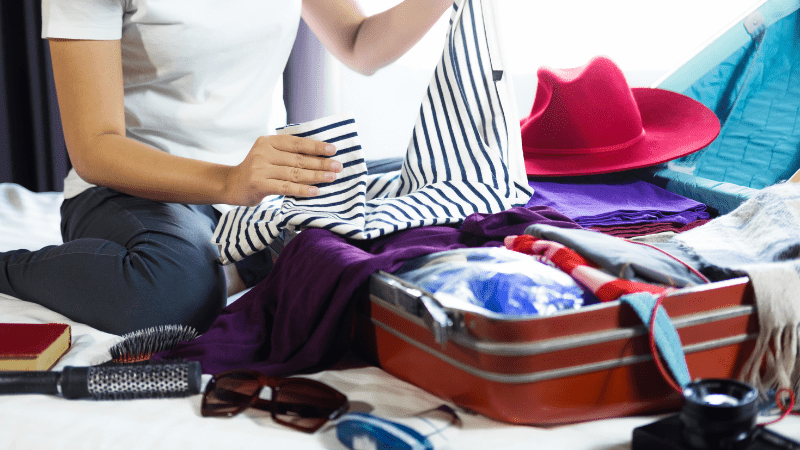 8. Give your suitcase some bling
With so many suitcases looking alike, it is easy to miss your own luggage on a baggage carousel. To make sure that you find what's yours among all these other bags with similar markings, give it a personality upgrade. Attach a unique luggage tag and decorate the exterior with stickers or a bright ribbon.
ⓘ TIP: Using luggage tags dramatically increases the chances of your suitcase being found in the event it gets lost. Brilliant tags like these are easy to spot on a luggage carousel, too.
9. Keep your suitcase organized
Packing cubes are great for keeping all your clothes organized in your suitcase. They come in different colors and sizes to suit your needs. Dan and I chose different colors to keep things straight, and different size cubes organized clothes by type: tops, bottoms, dresses, pajamas, etc.
Not only do packing cubes help avoid things getting jumbled and help you find things more quickly, they're also handy when a TSA agent needs to rifle through your bag looking for something! (True story.)
As to electronics, the perfect way to keep your charger cables, power cords and other accessories organized is by using smaller cosmetic or zip lock bags. This will allow you easy access when it's time for charging!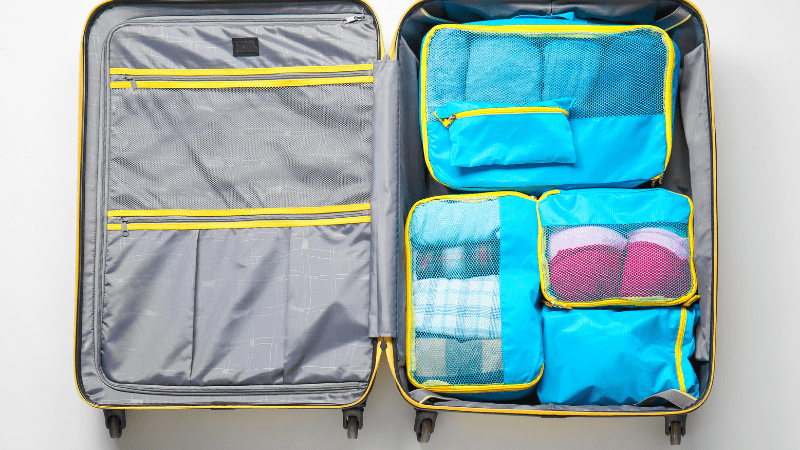 10. Don't bring full-size toiletries
You will only need a small amount of shampoo and conditioner on vacation, so why bring your heavy, full-size bottles? Drugstores sell travel-sized versions of all your favorite toiletries. Alternatively, you can buy reusable travel-size containers and fill them at home.
ⓘ TIP: Hair conditioner (which softens hair) also makes an excellent shaving cream.
11. Wear your heaviest clothes during check-In
If you're traveling in colder weather, wear your heaviest clothes (like parka, jeans, and a sweater) during check-in and on the plane. This will free up valuable space in your suitcase, and keep you warm during the flight!
12. Wash your clothes on the road
You don't have to pack a change of clothes for every day. Many items can be re-worn. For those items that need a bath, many properties have laundry facilities or can tell you where to find one.
To be honest, though, we've found it's easier and more economical to hand wash items in the sink and hang them to dry in your hotel room. You'd be surprised at how many people do it – even in swanky hotels!
13. Pack the heaviest items on the bottom
Packing for a trip can be tough enough without having the added worry of your luggage toppling over. To ensure it's as balanced and stable as possible, pack heavier articles at bottom of the suitcase, where the wheels are located, and make sure not to overload your bag!
14. Keep track of your stuff with photos
Before you leave, take pictures of your suitcase and the contents, and store them on your phone. That way, if something goes missing and you need to file a travel insurance claim, you'll have a visual record of what needs to be replaced.
This can also save time if your baggage is lost in transit. It will help the luggage attendant to know what it looks like.
Have a great trip!
I hope these tips have been helpful. Packing for vacations can be a challenging task when you're unsure of what you should have along. Follow these ideas, and you're sure to have a safe and comfortable trip.