Morocco has enjoyed great repute in recent years.. It's the destination of choice for a rich cultural experience. Plus, you can become completely immersed in postcard-perfect scenes of camels, palmeries and rolling dunes of orange sand.
If you dream of playing Lawrence of Arabia, riding a camel over cascading orange sand dunes at sunset, then not anywhere will do. Not all of Morocco will afford you the chance to frolic through said dunes.
Although glossy tour brochures may lead you to believe that Morocco is endowed with sandy, amber dunes everywhere, that's not true. Many a Sahara desert trip review will warn you otherwise.
The best way to get the snapshots to prove your sandy endeavor is by driving from Marrakec. It can take the better part of a day each way. The journey is part of the experience, though, and the final destination is absolutely worth it!
Read on and we'll tell you how to take a Sahara Desert tour from Marrakech, for a once-in-a-lifetime experience!
Morocco's Sahara Desert – where to go
Located in the westernmost corner of North Africa, Morocco's terrain is diverse. The country's landscape has everything from high mountains and coastal regions, to rugged, rocky desert terrain with a smattering of the occasional palm oasis here and there.
With so much desert, Morocco offers a variety of options, from quickie trips to multi-day excursions in western Morocco. Most people visit the dunes in Zagora or Merzouga. But how do you know which desert is right for you?
Zagora vs Merzouga: Sahara desert tours in Morocco
When planning your Morocco itinerary, ask yourself: How much time do you have to see the Sahara Desert? We'll be honest: a one day desert trip from Marrakech isn't worth it. Two days is a minimum for Zagora, and three or more is best for visiting the Merzouga desert.
While Zagora is often called the gate of the Sahara desert, there are some key differences between Merzouga and Zagora. Those who have visited Zagora say it predominantly a rocky, arid landscape that boasts only a scattering of smaller, sandy peaks. Zagora's Erg Chigaga dunes are only accessible by camel or 4×4, and it takes at least two hours off-road to reach the more impressive dunes.
When visiting Merzouga's desert, your guide will take you to the spectacular Erg Chebbi dunes, which are far more impressive in size and composition. You will arrive after a memorable camel trek.
The Sahara Desert: Zagora
That's not to say that Zagora is without its own charm. You just need to know that it is more of a rocky, rugged landscape than you might expect. Zagora is fast becoming a well-visited tourist destination, but it's relatively unknown to local Moroccans.
Set amid a scattering of date palms, the fronds heavy with sweet fruit, Zagora has well-preserved historical monuments worth visiting, such as ancient fortresses and Kasbahs across the Hamada (largely barren, rocky landscape).
The Sahara Desert: Erg Chebbi
If you want to be completely enveloped by seas of dunes large enough to traverse in the Sahara desert, Morocco's Merzouga Erg Chebbi Desert is the answer.
Windblown sands streaking orange hues beneath a turquoise blue sky, tufts of green pushing up desperately through the rippled surface and camels lazily navigating the cascades, their backs heavy with colorful cloth and campsite essentials.
This is the scene that comes to mind when hearing the name 'Sahara Desert', of which a portion of Morocco is located in. Morocco has several 'ergs' or large seas of dunes, washed into shape by the wind, and Erg Chebbi is just one.
The dunes of Erg Chebbi tower almost 500 feet into the sky, away from the surrounding rocky hamada below and accessed primarily via Merzouga. Many of the camel trekking trips and desert campsites offered by tour companies will take you here, hence it is becoming known as the 'dunes of Merzouga'.
Watch as Marrakech falls behind you, with a feeling of longing for the wide open spaces of Merzouga Erg Chebbi Desert and the excitement of checking in to your desert camp.
Places to visit on a Marrakech Sahara itinerary
For many, one of the reasons to visit Morocco in the first place (more specifically Marrakech) is to spend a night or maybe more in the Sahara desert. But the ideal Morocco desert tour includes a few memorable stops along the way, too.
Whether departingby bus, self-drive or tour group, the earnest journey into the Moroccan desert is no small feat. It will require a great deal of patience and a highly efficient air-conditioning unit for the great distance ahead!
The sights, tastes and sounds along the way are another memorable part of a trip to the Sahara desert. Departing Marrakech, your road trip itinerary includes stops en route at some of the most spectacular landmarks and locations in Morocco.
Tizi-n-Tichka mountain pass
Tizi-n-Tichka is a well-known, scenic mountain pass. It will take you through the impressive High Atlas Mountains. Reaching an altitude of 7,415ft, it links Marrakech to Ouarzazate, and offers a welcome break from the long drive.
A stop along the pass will reward you with some spectacular views.
Ait Ben Haddou
The first highlight of the journey is a UNESCO world heritage site. After the 4-hour, 185-km drive from Marrakech, you'll be glad to have a chance to stretch your legs and explore.
The modern part of Ait Benhaddou will greet you, with all the touristy shops you'd expect. A short walk down the hill and across the bridge will bring you to the old part.
If you're a fan of the silver screen, you'll definitely want to see Ait Ben-Haddou. Countless producers have used this as a film location, including Lawrence of Arabia, The Jewel of the Nile, The Last Temptation of the Christ, Gladiator, and even Game of Thrones.
Ait Ben-Haddou is probably the best known of Morocco's ksars, or fortified Berber strongholds. Once a caravanserai – where traveling merchants would stop for the night and stable their camels – the ksar now supports itself through tourism.
ⓘ TIP: Be sure to climb all the way to the top for the best views of the area.
Tinghir and the Todgha Gorges
Three hours from Ait Ben Haddou through Ouarzazate, and passing palm-lined Skoura, will bring you to Tinghir (in the Draa Region) and the neighbouring Todgha Gorges. Combining it with Ait Ben-Haddou would make for a long day. Rather, stop here on your return trip.
Owing their splendid, natural beauty to both the Todgha and Dadès Rivers, the limestone river canyons have been deeply etched into the earth, with impressive rock walls reaching up to 525 feet into the sky.
Erfoud
The once oasis-outpost of the desert, Erfoud is a mere 45 minutes from Merzouga and an excellent stop to purchase dates and Moroccan madfouna (known as 'Berber pizza') – easy to find within the bustling souk. Be sure to check out the 'Erfoud stone' or fossilized stones that the area in known for.
How to get to the Sahara Desert – travel options
According to the array of Marrakech desert trips reviewers, there is often little difference in cost between a self-drive, do-it-yourself trip and booking with a professional tour guide.
If you do it yourself, you can tailor the trip to your own needs and stop whenever you want. On the other hand, there is also a lot to be said for sitting back and enjoying a stress-free excursion.
We took a tour and will discuss it below. Depending on how much you would like to see en route, these are your DIY travel options:
Public bus – Supratours
Rental car
Local flights – you'll land at Ouarzazate airport.
Private helicopter – hey, it's an option!
To go on your own, you can either book a desert tour when you get to Merzouga, or pre-book your Sahara desert activities with a recommended tour operator. There are plenty of options, each one promising an enticing experience that seems to outdo the other.
We enjoyed three days/two nights as guests of Merzouga Luxury Desert Camps and had a phenomenal experience. They offer a variety of tours from Marrakech and we enjoyed a Long Week End in the Red Dunes.
What to do in the Sahara desert
Getting to the Sahara desert from Marrakech is part of the fun, but the rest of the fun comes once you get there. That's because there is a surprising number of things to do in the Sahara desert.
Merzouga desert tours can last anywhere up to four nights. We suggest you make a list of your "must do" activities before you finalize your plans. This way, you won't miss out on anything during your once-in-a-lifetime stay in the desert.
These activities are some of the best things to do once you reach the dunes of Merzouga:
Sahara Desert camel ride
The humble Dromedary (or Arabian camel) with its lone hump, is expertly designed by nature to survive the sweltering desert conditions, and is one of the most iconic animals in all of Morocco.
With their long, lustrous eyelashes and gentle, patient nature, they are the perfect companion for a trek around the undulating dunes of Merzouga. A camel ride into the desert may be necessary (and delightful) if you want to get off the beaten track. It's the only way to find a quiet spot with perfectly rippled sand, undisturbed by the feet of dozens of other travelers.
Getting onto the camel's back is quite the experience – we think it's part of the fun of the camel ride! As it kneels gracefully beside you, it won't be hard to hop onto the camel's saddle. Camels stand up with their rear legs first, so hold tight and lean back. You'll settle into your seat as soon as the front legs follow.
As the string of camels follow your nomad guide, the swaying pace is generally rather slow. It provides the perfect opportunity to whip out that selfie-stick (if that's your thing) and dare a few picture-perfect desert snaps.
Sahara Desert trips by 4×4
An experience like no other, transport yourself to the Dakar Rally route and navigate the terrain of the Sahara Desert on a 4×4 desert tour!
Departing Merzouga, traverse the dunes by off-road vehicle, edging further into the desert where you can stop to drink tea and spend time with a local Berber family, and even move on to visit an oasis.
Step back in time and visit the ruins of the medieval desert city, Sijilmasa, a once thriving trading post near present-day Rissani. Soak up the Saharan atmosphere in Rissani, a charming, holy city with a daily souk at its heart-center.
Each sector of the souk offers a sampling of Moroccan fresh produce, dates, spices textiles and local craftsmanship. Enjoy an afternoon in the souk and seeking out the landmarks of Rissani, including the imposing and ornate 'door to the desert' or Bab.
While in Rissani, a refreshing stop in the desert allows you to indulge in the local cuisine over lunch, where you will get the chance to savor aromatic, authentic Moroccan flavors. If all of this sounds right up your alley, then give the Merzouga half-day tour a try.
Sahara Desert at sunrise
Even if you are not a morning person, be sure to wake with the rising desert sun. As the burning ball of light peeps over the curve of a sand dune, illuminating the rippled surface and setting the horizon ablaze, you will be glad you did so!
Bask in the morning glow, meditative and silent, so quiet that it makes your ears ring inside. A spectacular moment with just a little bit of magic.
Sahara Desert at night
In contrast to the scorching hot daytime temperatures, the Sahara desert at night is quite different.
Gaze up at the pristine Milky Way overhead, without the city glow to wash out the starlight, and you may just witness a shooting star. The Sahara desert under the stars is breathtaking, almost surreal against the silhouette of cascading dunes (and the occasional roaming camel).
For aspiring astronomers, it is the perfect chance to spot constellations, planets and stars with just the naked eye.
Thinking about camping underneath the stars on the Sahara desert floor? Well, you'll need to come prepared. Things get rather chilly once that beautiful, blazing sun you woke up early to see drops below the horizon.
To get technical, we're talking around 55 degrees Fahrenheit (about 12° C). That's thanks to the lack of water vapor in the air and the sand's inability to hold heat once the sun has gone. With that said, nighttime in the Sahara is a magical experience.
There's a plus side of those low temperatures: You get to wrap up like a Berber nomad, with a little help from your guide.
Evenings are usually spent around a cozy fire, with a bellyful of tagine and the sounds of Berber music dancing in the still night sky.
Sahara Desert trips by quad bike
Once you've selected one of the best Sahara desert tours Morocco has to offer, or even if you've chosen the self-drive option, consider squeezing in a quad biking adventure in the dunes.
Dress comfortably and be sure to bring your sense of adventure, because this is one for the adrenaline junkies!
Traverse the changing landscapes of the Erg Chebbi dunes, nearing the border of Algeria. The scenic, wind-swept setting of the sand dunes creates the perfect conditions for racing around cascading heights of up to almost 500 feet.
All conducted under the watchful eye of a professional guide, you can safely set your own pace and make the experience your own. Some of the points to consider and enjoy include;
Use of a Moto Quad
Safety helmet
Professional Guide
Choose between a 1-2 hour or 3-4 hour tour
The longer tour sees you sip Moroccan tea with a nomadic family
Depart at any time you like, between 8am to 7pm
ⓘ RELATED TOURS: Quad Biking in Desert Dunes Merzouga Erg Chebbi (Viator) and 4-Day 4WD Sahara Desert Discovery Tour (Get Your Guide).
Our Morocco Sahara Desert Camp experience
For some, a desert escape may be daunting, especially if you are used to the creature comforts of modern living. Cue the Merzouga Luxury Desert Camp, where we were invited to spend two nights.
With such a high level of attention to detail, comfort and luxury, the camp truly was an oasis of relaxation and solitude, set in the midst of stunning desert scenes.
Our 'home away from home' in the Sahara, Morocco, we enjoyed a true nomadic experience in one of their premium 'Khaimas' or traditional tents. The meal buffets were traditionally Moroccan as well, from the tea to the tagines. It was the perfect introduction to Middle Eastern cuisine, and there was plenty of food to enjo.
A luxurious desert camp like this one is a memorable getaway, caught between the cascading dunes and the constellation-filled sky.
Even for the single people at the camp, there was a bit of Lawrence of Arabia romance to it, sitting around the fire as the Milky Way washed the sky overhead.
Book a guided tour to the Sahara desert
Exploring the desert on a 4×4, taking a sunset camel ride over the dunes, and even camping in a Berber tent beneath the stars, are perfect ways to experience the Sahara Desert.
1 day Sahara Desert tours from Marrakech
When you are pressed for time, you can take a one day Sahara desert tour from Marrakech. However, it won't be enough time to see
If you are visiting Marrakech and want to spend one day in the Sahara desert, options are limited. We strongly recommend that you try to spare a few days in the Sahara, because you'll have so many more tours to choose from.
You won't be able to visit Zagora or Merzouga, but there are few ways to spend a day in the desert from Marrakech.
2 day Sahara Desert tours in Morocco
But seriously, could anything be more picturesque than heading into the dunes by camel, as the sun sets over the Sahara Desert in Morocco?
Couple that with watching the sun rise over the desert the next morning from atop a sandy dune. Now you know why you should try to schedule at least two days for your desert adventure.
These overnight Zagora desert tours from Marrakech will afford you the opportunity to do just that:
3 day Sahara Desert tours in Morocco
Three days traveling from Marrakech to Merzouga, will create some of the best memories you will keep of Morocco. Explore Kasbahs and desert camps, camel rides and canyons.
Take the time to enjoy three days and two nights on one of these top Sahara Desert tours from Marrakech:
4 day Sahara Desert tours in Morocco
If you can reserve three nights for the Sahara, so much the better. Just about every desert trip article you come across recommends at least two or three nights in the desert.
Part of travel's appeal is the chance to check out of your monotonous daily grind and escape into the great unknown, far away from routines and responsibilities. If you crave a digital detox, this is your chance.
You can let the professionals take the reins, literally and figuratively, and sweep you off into the Sahara on these four-day tours:
If you are looking for the trip of a lifetime, and the photos to prove it, make sure that you book a desert experience on your upcoming travels to North Africa's magical Morocco.
A journey complete with picturesque palmeries, camel rides, delicious Moroccan cuisine and plenty of storytelling, a Sahara Desert tour will have you coming up roses (or surrounded by them) in just four days or less!
Want to read this later? Save it to Pinterest!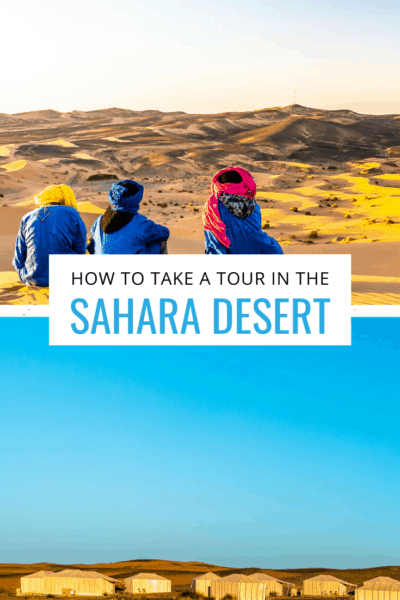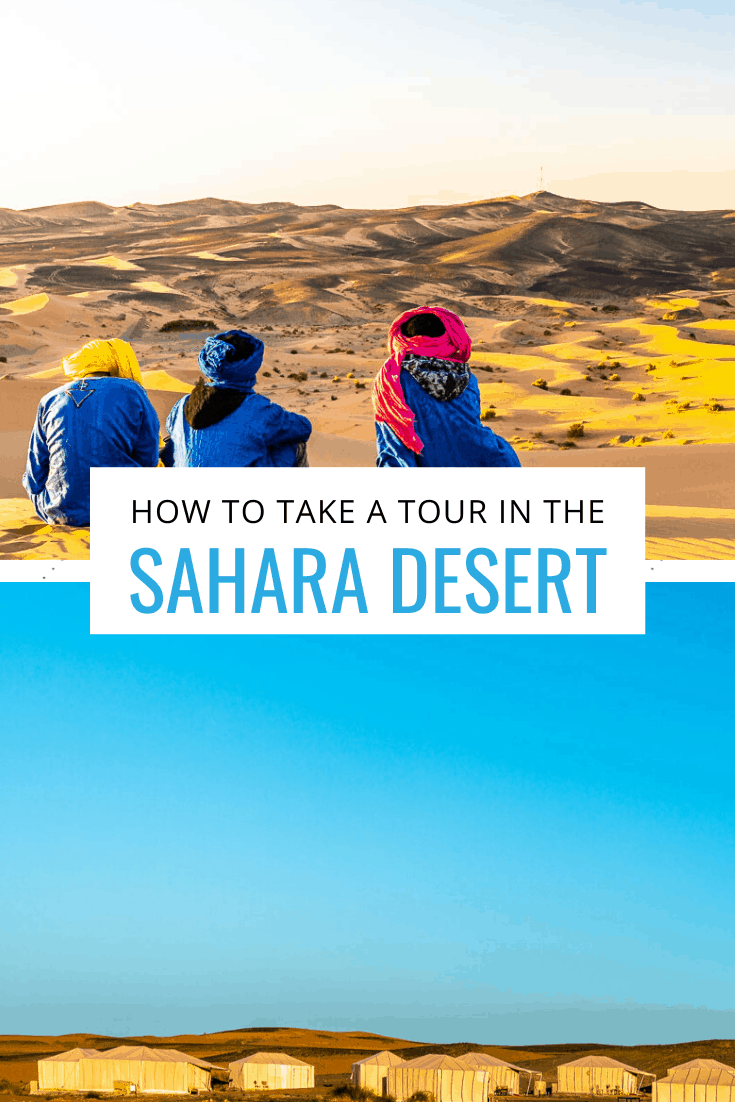 Sahara desert tours FAQ