Arguably one of the most popular tourist destinations in Morocco, Marrakech (or Marrakesh) is also one of the oldest and largest Moroccan cities. The Red City, aptly named for the crimson-colored sandstone used in its construction, lies just north of the Atlas Mountain foothills.
The heart of Marrakech is its old medina, a fortified city dating back to the 12th century. Accessed only by passing beneath one of the giant, imposing doors (or Bab), it reveals a bustling hub at its ancient heart.
A UNESCO World Heritage Site that is enclosed by modern suburbs, the medina is not to be missed. Like most visitors, meandering through its winding streets will be a highlight of your trip to Marrakech. Best of all, Marrakech's medina lies in close proximity to some of the most rewarding sightseeing experiences on offer in the city.
ⓘ TIP: Don't worry about getting lost in the medina. Your favorite maps or navigation app on your phone will help you navigate the winding streets. You won't be lost for long!
Where to stay in Marrakech
You can take your pick from a myriad of places to stay in Marrakech, whether it be a hotel, Airbnb or a traditional riad. Whichever you choose depends on your travel style, but the riad is the most uniquely Moroccan.
What is a traditional Moroccan riad?
Somewhat unique to Marrakech, the opportunity to stay in a riad is not to be missed! You will, however, be hard-pressed to find an authentic, traditional riad outside of the old medina. So stay in the medina, as we did!
Our first 3 days in Marrakech, we stayed on one end of the souk, and then we stayed in another part of the old city after our Sahara desert tour. Both were delightful and we recommend them.
After navigating rather painstakingly through the dusty passageways of the old medina, an oasis awaits, ready to revive your senses. These seemingly hidden riads (or traditional homes centered around a courtyard) are the shiny, azure jewels in the crimson crown of the medina.
The centerpiece of a traditional riad (or 'gardens' in Arabic) is usually a fountain or swimming pool, flanked by citrus trees or lush palms, and studded generously with ornate, colorful mosaic tiles. Once the homes and palaces of the wealthy elite, these riads have mostly been redeveloped to accommodate the large volume of tourists seeking refuge in the busy Medina.
As is customary, they will greet your arrival with Morocco's traditional aromatic mint tea. Your host will pour it with a flourish from the spout of a Moroccan teapot held high overhead.
After tea, you can expect to be escorted to a beautifully appointed room that is embellished with Moroccan textiles and decor. Room windows and doors open onto an interior courtyard, making you feel sheltered from the outside world.
Dar Taliwint Riad
Dar Taliwint takes advantage of traditional design elements like Morocco's colorful glass. Only the sunlit colors dancing across the riad's walls disturb its calm, peaceful atmosphere.
This intimate riad is an Arab-Andalusian style guesthouse with only four guest rooms. The rooms open onto the central courtyard, and each has its own private balcony spot where you can sit and relax.
Riad Safa
Another riad in Arab-Andalusian style, Riad Safa became our "Marrakech home away from home" when we returned from three days in the Sahara desert.
With its whitewashed architecture, wood tones and hints of turquoise, the riad was very serene and luxurious. All of the six uniquely decorated rooms oozed Moroccan culture and overlooked an inviting splash pool in the courtyard below.
Don't ask us to choose a favorite, because we can't. We completely enjoyed both of the riads we stayed at. Both are within walking distance to Jemaa el-Fnaa and other top Marrakech sights,
If you prefer to stay outside of the medina, we can also recommend Hotel Le Meridien N'fis. We stayed there while attending a nearby conference. Two unexpected bonuses: It's across the street from a shopping mall, and the hotel has a bar. (Yes, drinking alcohol in Morocco is legal!)
What to do in Marrakech in 3 days
The varied landscape of Marrakech lends itself well to a multitude of activities, in seemingly changing environments across the city and surrounds.
From well-camouflaged camels in the lush foliage of palmeries, and secret palace gardens, to earthen suburbs lined with castle-like homes, bustling souks and local eateries serving up authentic cuisine, Morocco is a place of wonder.
Marrakech is a treasure trove of history, culture and textural beauty. There is an almost palpable energy in the air of this contrastingly ancient and modern city. Within walking distance of the medina or a quick taxi ride, you will discover the most wonderful things to do.
We've spread the top sightseeing activities into a 3-day Marrakech itinerary, because it's not only about visiting attractions. They are wonderful, of course, but the best part comes from walking around and absorbing the city's unique atmosphere.
The other thing to consider is that Marrakech can be oppressively hot for much of the year, which can seriously sap your energy. Planning an afternoon siesta or tea break back at your riad will be a welcome break. Resume your sightseeing later in the afternoon, when the sun isn't as intense.
If you have less time in Marrakech, consider a private tour that will quickly show you the highlights. We like this tour because it allows you to customize your itinerary according to what you would like to see and do.
If you have more time, add a few day trips – there's so much else you can see outside of Marrakech! We spent 3 days in the Sahara Desert (Merzouga), and the experience was unforgettable.
Day 1: Koutoubia Mosque + Jemaa el-Fnaa + souk
Once you arrive in Marrakech, you'll most likely want to head straight to the souks – just as we did! Marrakech boasts the largest, busiest souks in all of Morocco. Take it from us: venturing into the bustling honeycomb of a souk, vibrating with activity, colors, and textures, is a complete sensory experience.
Koutoubia Mosque
Koutoubia Mosque (or Mosque of the Booksellers) can be found opposite Jemaa el-Fnaa. Amongst the hundreds of smaller Mosques in Marrakech, Koutoubia Mosque is notably also the tallest building in Marrakech. It's also Marrakech's largest and most centrally located mosque.
Non-Muslims cannot venture inside its doors, but the ornately decorated building is pretty enough to enjoy from the outside. Surrounding the mosque is a large plaza with gardens. We can't imagine a more peaceful way to begin the day.
Cost: Free of charge
Open: 9 am – 6 pm daily
Plan to spend: ± 30 minutes
Distance to Jemaa el-Fnaa: 5-minute drive / 13-minute walk
Jemaa el-Fnaa
Located in the medina-quarter of Marrakech, Jemaa el-Fnaa is the busiest square in all of Africa. A few hours spent here will reveal the shifting sights and sounds of the square, and the large North African market, or souk, that borders it.
Snake charmers dot the square, serenading cobras with enchanting tunes from flutes, while scores of locals and tourists alike scutter around. As the day goes on, the square becomes busier and livelier as dancers, musicians and storytellers join the crowd.
Sample the (cheap!) freshly-squeezed orange juice on offer and then head towards the souk.
The souk
We love local markets. It's fun to navigate the nooks and crannies lined with trinkets, textiles and energetic merchants.
This is where you can purchase all those treasures that are so typical of Morocco. It's all here: clay tagines, silver teapots and trays, colorful lamps, rugs and hand-woven baskets. If you don't have extra room in your suitcase (say, for a Moroccan leather pouf?), merchants are able to ship.
It's part of Moroccan culture to haggle, so never pay the first asking price. If you're ready to buy, be ready to sit down to barter over mint tea. Along the way, you will learn more about the desert lifestyle and history of the nomadic Moroccan Berbers from enthusiastic storytellers.
If you find yourself lost in the souk for several hours, you can enjoy local cuisine from one of the numerous food stalls. They seem to be everywhere you turn. If you're worried about food safety, busy restaurants are trustworthy.
Cost: Free of charge. Bring cash for purchases and tipping
Open: Mid-morning to midnight daily
Plan to spend: as much time as you want
Distance to old medina: 5-minute drive / 8-minute walk
ⓘ TIP: If some enterprising locals tell you "you're going the wrong way" or "it's closed," ignore them. It's a common scam. If you accept their help, they will hassle you for a fee once you arrive. We heard it a lot there. If someone persisted, we said "we're going to our riad and we already know how to get there."Day 2: Saadian tombs + Bahia Palace
Once you have the excitement of shopping in a local souk out the way, take some time to enjoy a historical tour of Marrakech.
Saadian tombs
The Saadian tombs, or sepulchers (small burial rooms or monuments), date back to the 16th century and can be found to the south of the medina, near the Kasbah Mosque. The tombs are a sight to behold, adorned elaborately with Italian Carrara marble, mosaics, carved cedar wood and surrounded by an exquisite garden.
Housing four sultans and their families, the tombs were walled up by Moulay Ismail, the Alawite (or Alaouite) sultan who had since risen to power. A secret passageway exists between the tombs and the Kasbah Mosque.
Although the tombs are open daily from 9 am until 2 pm, and 3 pm until 6 pm, late afternoon is the recommended visiting time due to the popularity of the tombs by tourists.
Cost: 6 €
Open: 9am-5pm (Monday to Sunday)
Plan to spend: ± 30 minutes
Distance to Bahia Palace: 7-minute drive / 16-20 minute walk
Bahia Palace
The "palace of the beautiful, the brilliant", Bahia Palace is located to the south-east section of the medina and dates back to the 19th century. The palace is open to the public and is a popular sightseeing spot.
Thanks to its ornamental marquetry and painted woodwork, it is a sight to behold. The ornamental palace is the result of 14 years of craftsmanship by top Moroccan artisans. It was once home to the grand vizier Abu 'Bou' Ahmed, his four wives and 24 concubines, who resided in small, beautifully decorated salons in the harem.
The entire complex spans over eight hectares. While there, you should check out the petit riad, grand riad, marbled grand courtyard, harem, a room of 'honor' and vast stretches of lush gardens.
Bahia Palace also hosts art exhibitions and Arab-Andalusian concerts.
Cost: 1€
Open: 9am-5pm (Monday to Sunday)
Plan to spend: ± 30 minutes
Distance to tanneries: 9-minute drive / 21-27 minute walk
Evening street food tour
Morocco is known for its bold and flavorful cuisine, and what better place to discover it than the bustling city of Marrakech?
If you are an adventurous eater who want to experience Marrakech's food culture on foot, consider an evening street food tour.
A husband and wife team have curated some of their favorite places in the streets and back alleys of the medina. An official, licensed Moroccan guide to take you to places you likely won't find on your own, and in 3.5 hours you'll experience parts of Moroccan food culture that most visitors never see.
Most dietary restrictions can be accommodated. Learn more here.
Day 3: Hammam de la Rose + Jardin Majorelle
No doubt after two days of sightseeing you will want some downtime. Perfect chance to relax and enjoy Marrakech from a different perspective.
Visit a hammam
Experience a ritual from the daily life of Moroccans and visit a traditional hammam, which is essentially a type of public steam room for bathing.
Very similar in construct to a Turkish bath, hammams are located throughout Morocco and form both a place for socializing and for cleansing. There are typically two types of hammams, those for locals and those for tourists.
Authentic, local hammams generally require you to bring along your own cleansing essentials and as the name suggests, you will be accompanied by (sometimes curious) locals. These are gender specific, with both the male-only and female-only hammams open at differing times.
What happens at a hammam
Leave your inhibitions, and preconceived ideas behind as you strip bare and indulge in a cleansing routine (which may be performed by a hammam attendant) based on these steps:
On entering the hammam, you will be escorted to a steam room that's tiled floor-to-ceiling. You will join others sitting on the benches lining the walls.
He/she will saturate your entire face and body in hot water
Lather up with black Moroccan soap and let it soak in for a few moments
Rinse you down from a bucket of piping hot water, and
Let the scrubbing begin! A rough 'kessa glove' is used to slather off dead skin.
Finally you'll have your hair washed, what a treat!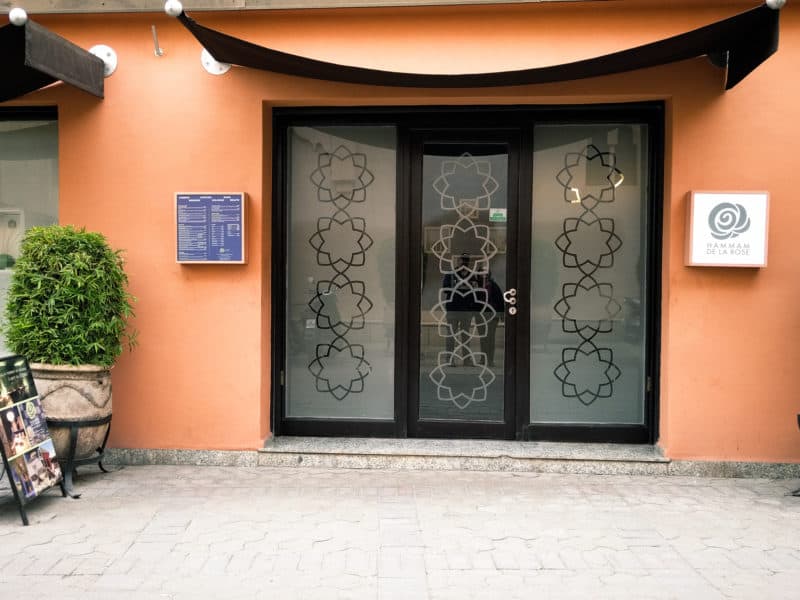 Our hammam experience
Our riad host warned us that a local hammam may not be up to the level of hygiene that we Westerners might expect. In some cases, they can be somewhat scary.
Tourist hammams generally provide more of a private space in a lavish, modern setting and are closer to the Western ideals of hygiene that tourists may be accustomed to.
On his advice, we decided to visit Hammam de la Rose, an upmarket hammam located in the heart of the medina. Offering both the 'oriental tradition of hammam' with beauty treatments and massage, this modern hammam made it possible to enjoy the experience together as a couple.
And as an unexpected souvenir, they gave us our kessa gloves to take home.
Cost: 250-450 Dirhams for a traditional hammam experience
Open: 10am-8pm (Monday to Sunday)
Plan to spend: ± hours
Distance to Jardin Majorelle: 12-minute drive / 25-minute walk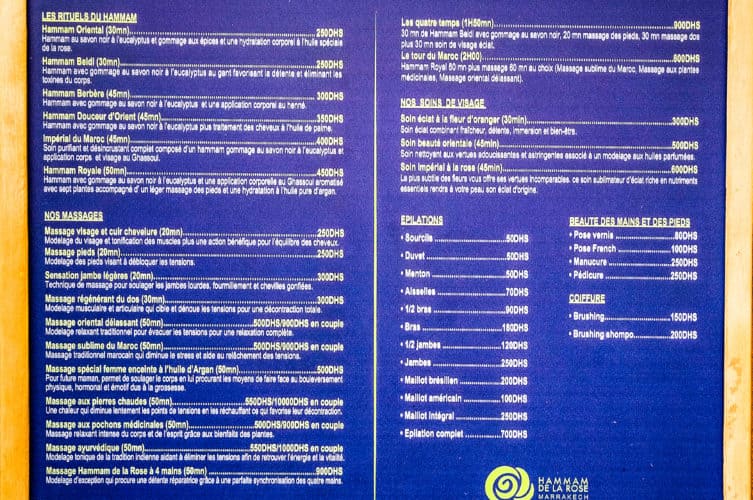 Jardin Majorelle
A luscious retreat encased in earthen walls amongst the bustle of Marrakech, the Jardin Majorelle botanical gardens is worth spending a few hours in, freshly pampered from the hammam.
A short walk to the Berber Museum inspires awe, with its representation of ancient North African indigenous tribes, showcasing jewelry and craftsmanship over the ages.
Seek refuge in a quiet corner of the gardens, serenaded by the gentle sounds of rustling leaves and palm fronds overhead, and take a moment to pause at the Yves Saint Laurent Memorial.
Yves Saint Laurent's ashes were scattered near this small Roman pillar.
A stroll to the refreshing central fountain reveals a magnificent artist's villa-studio, adorned with bright coats of 'Majorelle blue' and vibrant yellow paint.
Cost: 70 Dirhams (garden) / 30 Dirhams (Berber museum)
Open: (Monday to Sunday) 8 am – 6pm. Closes at 5:30 pm October to April
Plan to spend: ± 1-2 hours
Distance to old medina: 13-minute drive / 31-minute walk
Musée Yves Saint Laurent
After enjoying the botanical gardens, why not pay a visit to the Yves Saint Laurent Museum next door?
The fashion legend attributed his reintroduction to color to Marrakech, saying, "Before Marrakech, everything was black."
The museum is open to the public and displays a sampling of pieces from the designer's lengthy career, housed in its rosy-hued, terracotta walls.
Cost: 70 Dirhams (garden) / 30 Dirhams (Berber museum)
Open: 10 am – 6 pm Thursday-Tuesday (closed on Wednesday)
Plan to spend: ± 30 minutes
Extra time? Take day trips from Marrakech
Now that we've told you where to go in Marrakech and what to see in 3 days, we'd like to share another travel tip: Changing hotels wastes a lot of energy and travel time.
After seeing Marrakech, explore the surrounding area with a few day trips from Marrakech. There are numerous Marrakech day tours to choose from depending on your interests. The best day tours usually combine a cultural or historical element with some activity and, of course, eating good food!
You can do your own Marrakech excursions without a guide, of course. It's easier to negotiate if you speak French or Arabic, but most day tours go to places where they speak English.
Personally, we prefer guided tours. Besides the transportation (and sometimes a meal), we also get a professional guide who will ensure we don't miss anything important. For one flat price, we get history, don't-miss sights, cultural insights, food tips, and even an interpreter.
Here are a few of the action-packed activities you can add to your Marrakech itinerary.
Camel ride + quad biking + hammam spa
This full day tour from Marrakech combines two of Morocco's most popular action-packed activities, with a relaxing hammam experience that will leave you clean and refreshed.
Hot air balloon ride + desert camel ride
Imagine having the chance to see Marrakech from a totally different perspective. Get aerially-inclined with a hot air balloon ride, high above the buzz of Marrakech, floating effortlessly over the dusty desert.
A day trip to Ouarzazate and Ait Benhaddou
Traveling from Marrakech, a day trip to Ouarzazate and Ait Benhaddou promises an unforgettable experience, complete with a visit to the UNESCO World Heritage Site of Kasbah Ait Benhaddou, and the 'Hollywood of Africa'.
Essaouira
After experiencing the charm of inland Morocco, the coastal city of Essaouira is just a few hours drive away. Soak up the sights of this beautiful city on a guided day tour like this one. Stopping to sample Moroccan argan oil, enjoy Moulay El Hassan square, and savor local seafood are just a few of the fun things to do in Essaouira, so don't miss it.
Sahara Desert
You can visit the Sahara Desert with a 1-day or overnight excursion to Zagora, but you won't see everything you might imagine. If you want to experience a sunset camel ride over a sea of red dunes, you'll need a multi-day trip. We spent 3 days in the Sahara and can't recommend it highly enough. Seeing a midnight-black sky full of stars was absolutely incredible.
ⓘ TIP: If Fes is also on your itinerary, Get Your Guide offers a 3-day desert tour that begins in one city and ends in the other. Can you say "free transportation"?
What to wear in Marrakech
One of the first things you might notice about Moroccan women is that many do not wear headscarves. Morocco might be considered a liberal Muslim country, but it is still very conservative by many people's standards. Thus, you should dress more modestly than you may normally do.
Wearing revealing clothing is considered disrespectful to the local culture. Always keep your shoulders and knees covered (both men and women) and avoid showing any midriff or cleavage. This is especially important if you want to enter any religious buildings or family homes.
Think light, loose and long. Light colors, loose fit, long-sleeved shirts, trousers, and long skirts are perfect for Morocco. Not only will they cover your body and keep you cool in the heat, they will protect you from the harsh sun.
ⓘ TIP: Quick-dry fabrics wick sweat away from your body and keep you from feeling sticky in the heat. You can easily wash them out in the evening and they will be dry by the next morning.
Now you know what to do in Marrakech!
There's no need to miss out on any of the fun in and around Marrakech, whether you have a few hours to spare or a few days With a little careful planning, you can squeeze in plenty of memorable experiences that will leave you with memories and stories of Marrakech that will last for the rest of your life.
Want to read this later? Save it to Pinterest!