If you're looking for an adventure, Pembrokeshire is the place to be! With beautiful towns and stunning landscapes, you'll fall in love with this beautiful corner of southwest Wales. This guide will help you make the most of your time there whether you're a local or visiting for the first time. From towns and villages to nature reserves and coastal walks, we've got you covered!
Pembrokeshire is a county located in west Wales, and it has loads to offer to its locals and tourists. There are interesting towns and places to discover and gourmet food and rugged nature awaiting you.
This article will help you know what are the major attractions and the most fun things to do in Pembrokeshire. Get ready to have an adventure when you visit Wales!
1. Pembrokeshire Coast Path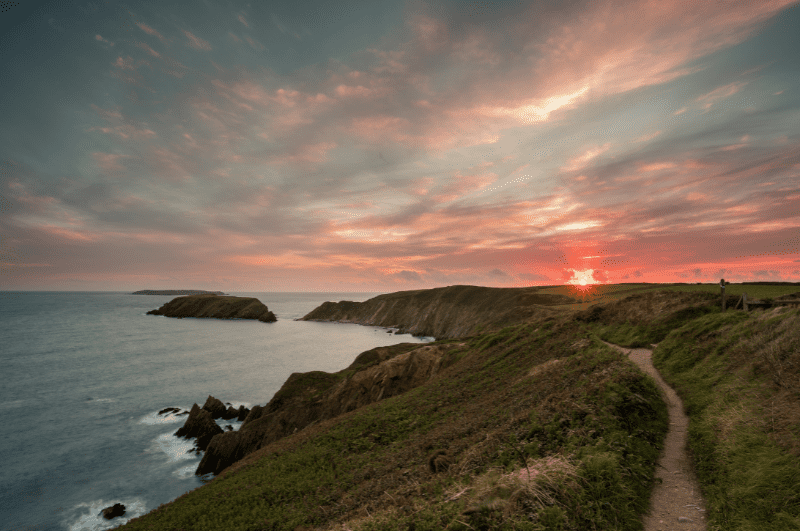 Every list of places to visit in west Wales includes walking the Pembrokeshire Coast Path. Established in 1970, the 186-mile-long walking route runs from Amroth to St. Dogmaels and is designated as a National Trail. About 75% of the route lies within designated conservation sites, and most of it passes through Pembrokeshire Coast National Park.
Get ready to enjoy some spectacular coastal scenery and wildlife and rural landscapes! This spectacular coastal path runs mostly atop the cliffs and encompasses some of the most beautiful and varied coastal scenery in Britain.
The Pembrokeshire Coastal Path stretches from St Dogmaels to Amroth, taking you from the north to southward direction. No moment is dull. Pen yr Afr is the highest point of the route, while Sandy Haven crossing is the lowest. You'll pass 149 bridges and 50 beaches on the way, as well as innumerable secret coves. As you walk, you will see everything from spring squill, sea campion, kidney vetch, and wild thyme to puffins, guillemots, kittiwakes, and various species of gull.
The route is a must for bird lovers, with its many rocky cliffs supporting large colonies of nesting sea birds. Animals such as grey seals, foxes, squirrels, and rabbits can also be seen along the coastal path.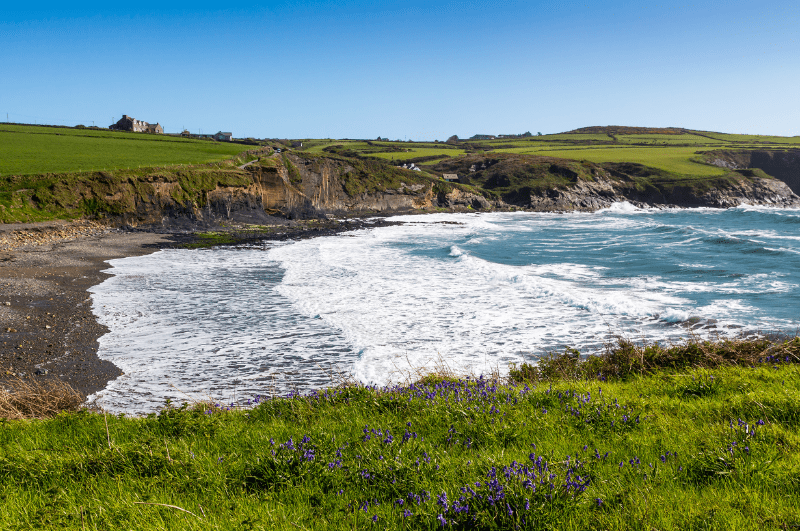 Although Pembrokeshire Coast National Reserve is a feast for the eyes and chock full of rare fauna and flora, there are many historical landmarks and places of historic interest as well. Throughout the reserve, you are likely to come across warehouses, lime kilns, and small quays, which are reminders of Wales' history as a once-prosperous coalfield.
Many spots and sites on the route reflect the traditional cultural divide between the Welsh north and England south and there are numerous churches and chapels of Celtic saints and their followers. The ruins of the massive Norman castles are reminders of the authority they once held in west Wales.
It takes 10-15 days to walk the coast of Pembrokeshire from end to end. You can stay in any of the towns along the way, such as Pembroke, Pembroke Dock, Saundersfoot, Tenby, Goodwick, Fishguard, Broad Haven, and Newport. The walking route is easily accessible by trains and buses.
2. Step back in time at Castell Henllys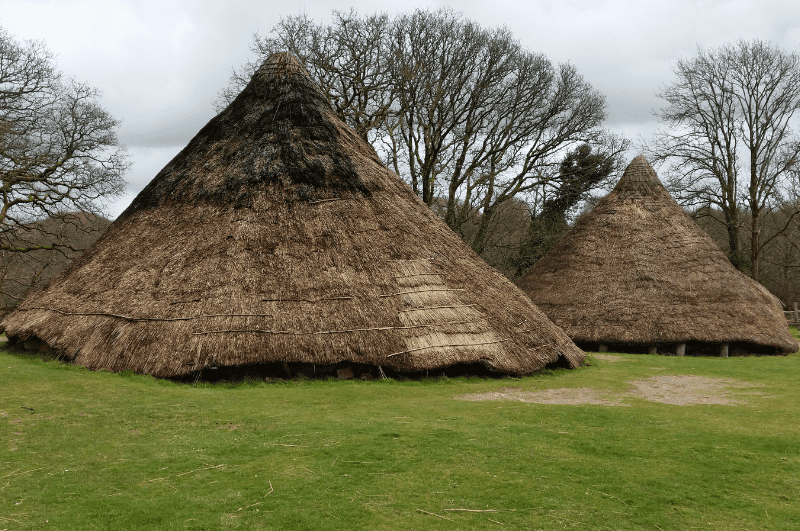 If you'd like to learn more about how our ancestors lived during the Iron Age, Castell Henlys is the best place to visit in Pembrokeshire. This archaeological park is set within thirty acres of beautiful woodland and river meadows in the heart of the Pembrokeshire Coast National Park.
Castell Henllys stands out as the only Iron Age village in Britain where the roundhouses have been reconstructed on the very spot they would have stood 2,000 years ago. The award-winning archaeological site includes reconstructed roundhouses, a granary, an ancient farmstead, and defensive earthworks.
There is also a fascinating museum with displays of artifacts found during excavations and interactive exhibits that bring the past to life.
The site is open daily from 10 am-1 pm and 2 pm-5 pm.
3. Enjoy Oakwood Theme Park
If you want a little break from your tour of the natural world, Oakwood Theme Park is the place to go. It is a perfect idea for families with little kids, toddlers, children, and teens who can look forward to a day filled with fun and thrill. Explore the wonderful world of rollercoasters for adrenaline-fueled thrills and explore a broad range of attractions that are great for the whole family.
The Megafobia roller coaster deserves special recognition, as the wooden building was chosen by the Royal British Council as the best ride in England and ranked the third-best overall.
4. Visit Britain's smallest city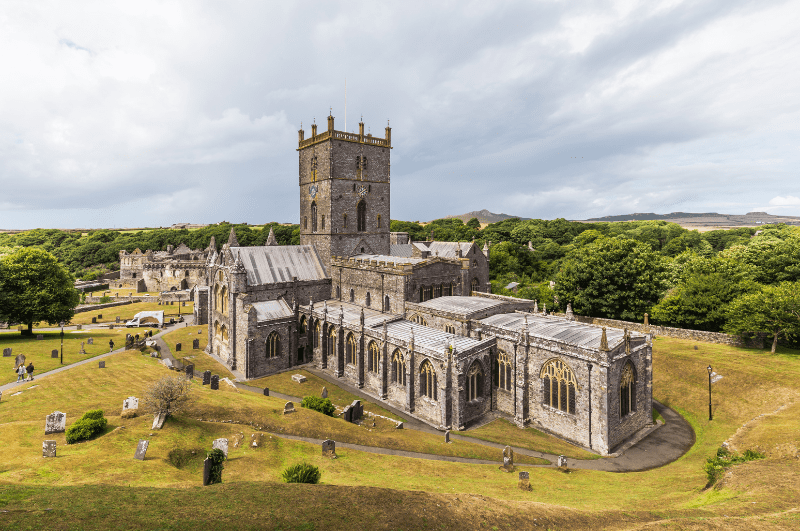 Located on the westernmost tip of Wales, St. Davids is the UK's smallest city in terms of population (just over 1,600!). And yet, despite its small size, this Welsh city punches above its weight when it comes to natural beauty and history.
Named for Saint David, Wales' patron saint, Britain's smallest city is home to Britain's smallest cathedral, which is also one of the oldest in the country. One of the best places to visit in Wales, St Davids began back in the 5th century when Wales' patron saint, St David lived here and established a monastery.
St David's Cathedral dates back to the 12th century, built on the site where St David's monastery once stood. Saint David's remains were buried here, and St. Davids Cathedral continued to be an important pilgrimage site throughout the Middle Ages because it was believed that visiting the cathedral would cleanse you of your sins.
5. Explore the Llys-y-Frân Reservoir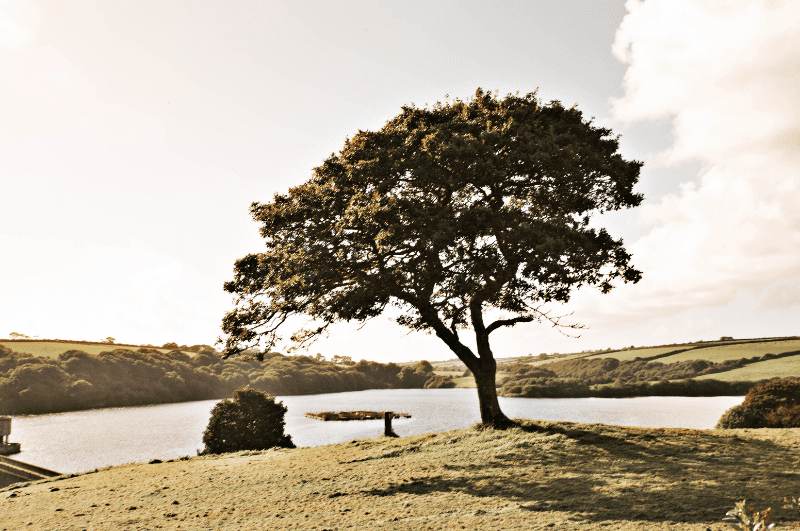 Llys-y-Frân reservoir is indeed a stunning area to visit! Spread across a large, wooded area and grassland that covers hundreds of acres, it is one of the most popular attractions in Pembrokeshire.
After a £5.6 million redevelopment, Llys-y-Frân Reservoir now offers a Visitor Centre, café, new cycle hub, mountain biking, pump skills area, walking trails, water, and land activities, fishing, and adventure playground. A campground and dog park are also planned.
6. Step back in time in Preseli Hills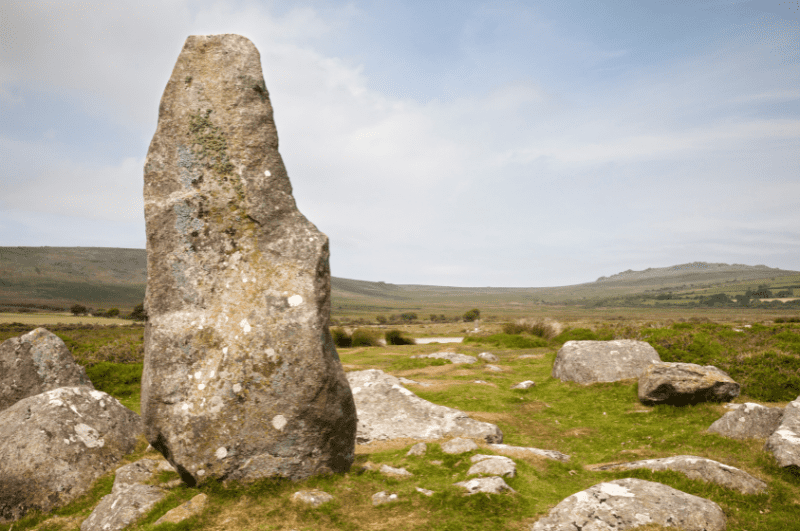 The Preseli Hills—or Preseli Mountains as they are locally known—are famous for the Bluestone found there. The stones found in the area were transported from Wales to Stonehenge over 500 miles away, and it is still not clear how this was done.
A clear day in the Hills offers views of the Wicklow Mountains in Dublin. You can also explore the area's numerous Neolithic burial chambers, primitive forts, and stone circles.
Preseli Hills is a great place to go for a hike, bike ride, or picnic. And if you're looking for something a little more adventurous, you can go caving, rock climbing, or kayaking.
7. Stroll with puffins on Skomer Island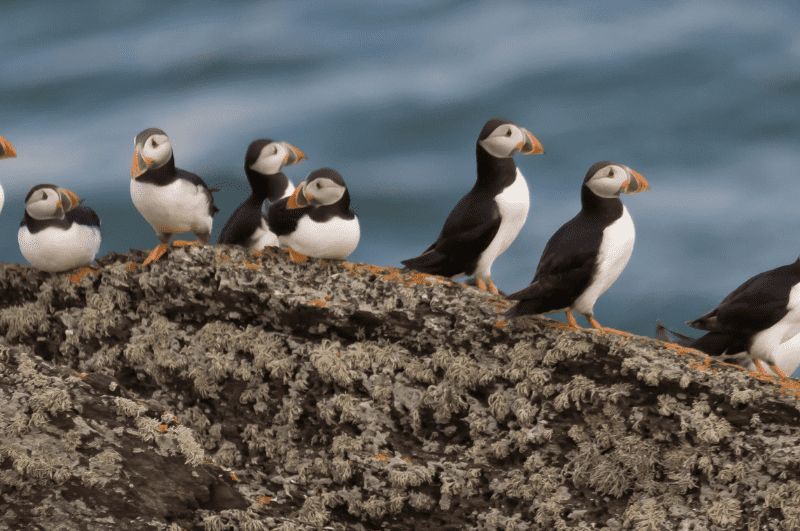 Skomer Island is a small, uninhabited island that can be accessed on a boat trip from Martin's Haven. The island is known for its bird life, particularly its thousands of pairs of breeding puffins.
Once on the island, there are several walking trails to explore and, if you are lucky and the shearwater is clear, you might spot a school of dolphins offshore. As you walk, you can enjoy watching puffins, gannets, Manx shearwaters, and other seabirds, and can often crouch down near them for a closer look.
Skomer Island visitors should be aware that the terrain can be rough, and that there are no facilities on the island. There is also no cellphone coverage or WiFi access.
8. Swim in the Blue Lagoon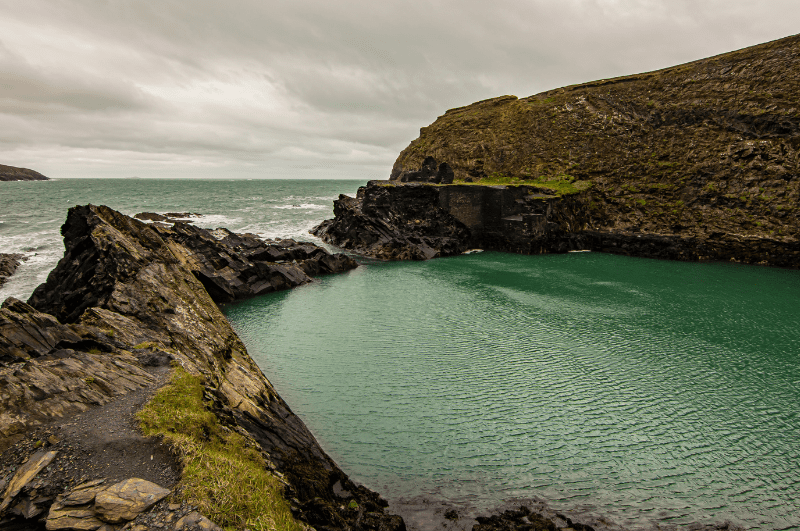 Abereiddy's Blue Lagoon is one of the most popular things to do in west Wales. It Once the main slate quarry of the St Brides Slate Company, it was formed when the quarry was abandoned. The channel connecting the quarry to the coast was blasted, allowing the sea to flood in and create a pool of brilliant, blue-green water.
The lagoon and its surrounds are owned by the National Trust of Wales, which took over its management in 1991. Since that time, considerable effort has been put into making the site accessible to visitors.
It's a popular spot for coasteering and kayaking — not to mention swimming. Just be aware that there are a lot of craggy rocks beneath the surface, and the water is deep and cold.
9. Visit Tenby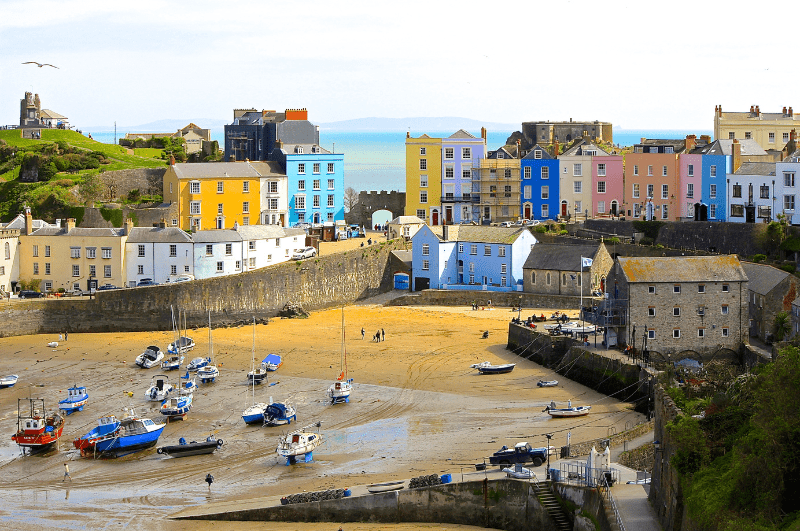 With picturesque streets and lovely seaside views, Tenby is picture-postcard perfect. This Victorian seaside city is well known for its stunning beaches, lovely architecture, and interesting history.
The town is well known for its sandy beaches, rocky cliffs, and charming harbor. Tenby is also home to a variety of shops, restaurants, and pubs, all of which make it the perfect place to spend a day or weekend.
10. Go whale- and dolphin-watching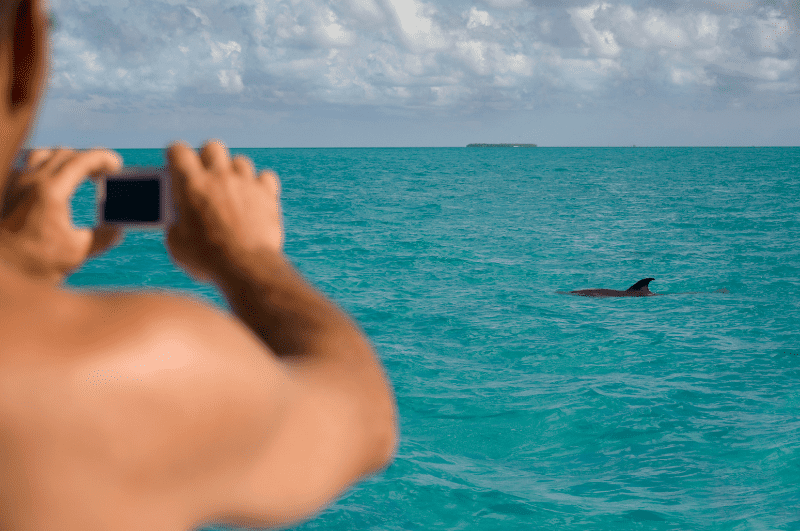 Whale- and dolphin-watching are both popular activities in Pembrokeshire. Several companies offer tours, and you can usually find them operating out of major towns like Milford Haven and Tenby.
Depending on the time of year, you might be able to see some interesting dolphins, porpoises, and even whales like sperm whales and minke whales. The best time of year for whale watching is typically from May to October.
If you're interested in going on a whale- or dolphin-watching tour, it's a good idea to book in advance. This way, you can be sure to get a spot on the tour you want. Don't forget to also dress appropriately for the weather conditions.
Final thoughts about visiting Pembrokeshire, Wales
So, there you have it: my list of the best things to do in Pembrokeshire Wales. I hope that I've inspired you to see Pembrokeshire for yourself; it really is a magical place.
Frequently asked questions about Pembrokeshire
How long does it take to walk the Pembrokeshire Coast Path?
It would take between 10 to 15 days to complete the Pembrokeshire Coast Path in one go. Segments of the path range from short 1-kilometre-long loops to longer, more challenging full-day hikes.
When is the best time to visit Pembrokeshire?
The best time to visit Pembrokeshire is definitely in the summer months. The weather is mild and it's a great time to enjoy the beaches and outdoor activities that the area is famous for.
Springtime can also be nice, but the weather can be a bit more unpredictable. Autumn can be lovely as well, but it tends to be a bit windier and there's a greater chance of rain.