We often link to affiliate products and services that we believe will benefit our readers. As Amazon Associates, we earn from qualifying purchases. Learn more here.
If you're hunting for breathtaking views, Wales is just the place to explore. Wide, flat, sandy beaches? Pembrokeshire. Check. High, dramatic mountain ranges? Snowdonia and the Brecon Beacons, check.
This beautiful corner of Britain is completely different from England. It has such an extraordinary landscape that some of its most gorgeous hills, valleys, islands and coastal scenery qualify as Areas of Outstanding Natural Beauty.
And that created a problem for us. Truth be told, it was hard choosing only 10 best places to visit in Wales for this article. Considering its size, it's surprising how much the country has to offer.
You can delve into the history of the Llŷn Peninsula at the curiously-named Whistling Sands or immerse yourself in the glistening lakeside views you'll get from the ruins of fairy-tale Dolbadarn Castle. Or perhaps you'd like to browse the intriguing bookshops bursting with musty old tomes in Hay-on-Wye or see Tunbury's wonderfully adorned Pump Rooms?
Get out a pen and begin your Wales bucket list now, as you read about these beautiful destinations. There are plenty of places you won't want to forget.
1. Barafundle Bay
An ever-scenic seaside spot, you'll find a soft sandy beach and wide-open views across the coastal cliffs at Barafundle Bay. It's a true breath of fresh air for those seeking far-reaching holiday vistas in an Area of Outstanding Natural Beauty.
Enjoy this panorama during a wintry walk along Wales' coastal path that loops its way around Pembrokeshire. Or, spend sun-drenched days down by the shore during the summertime.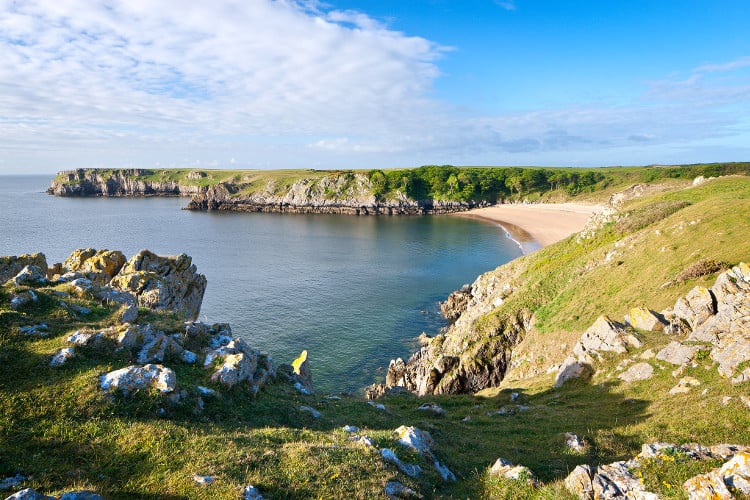 2. Wye Valley
The second Area of Outstanding Natural Beauty on this list, Wales' renowned Wye Valley is well-known for its breathtaking panoramas and the tranquil river that cuts through its landscape.
There are dozens of things to do in Wye Valley, many along the River Wye. Walk through the beautiful River Wye Valley to Tintern Abbey.
If you'd like to explore via water, we especially like the idea of hopping in a canoe or kayak and following the meandering waterway on a day trip. No doubt you'll enjoy plenty of glimpses of wildlife and stunning scenery along the way.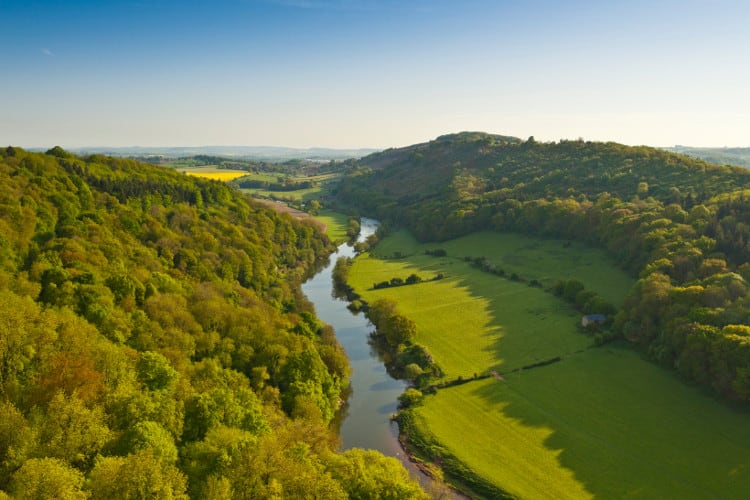 3. Minffordd
For a tranquil holiday retreat, Minfford is a pretty village hidden amid farmland and fields, and yet the coastline and Snowdonia National Park is right on your doorstep.
Be sure to book a ride on the narrow gauge Ffestiniog Railway while you're here. It will whisk you away on a journey through Snowdonia and you can take in the seemingly endless scenic landscape from the comfort of your carriage.
ⓘ TIP: Treat yourself to a luxurious Pullman carriage for a first-class experience.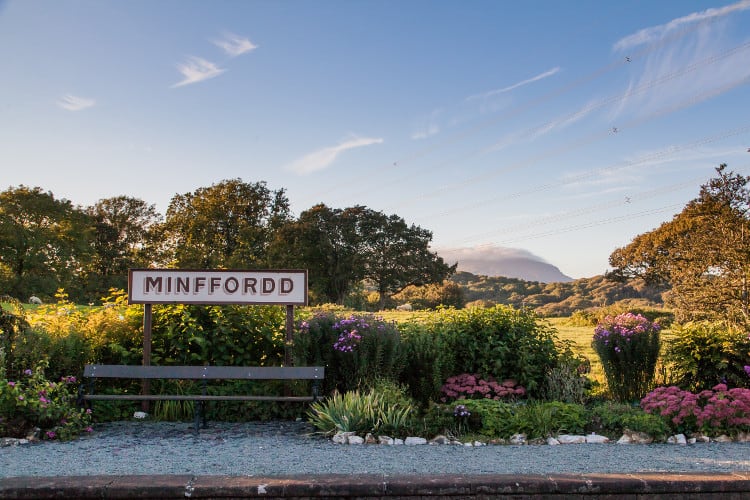 4. Dolbadarn Castle
There are many magical castles throughout Wales, but Dolbadarn must lay claim to be the one with the most scenic surroundings. The castle overlooks blue Llanberis Lake and guards Snowdonia's Llanberis Pass.
Built high on a hill by a Welsh prince, it's not difficult see the fairy-tale quality of this place.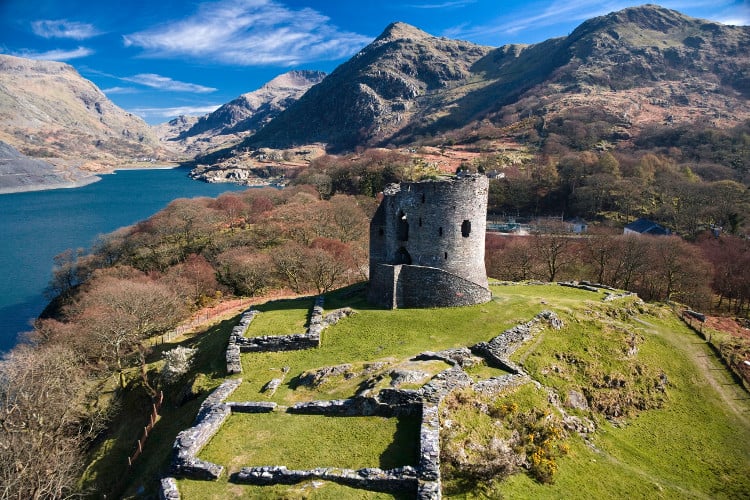 5. Gower Peninsula
Gower Peninsula should be the next stop on your Wales travel itinerary. If you've not had your fill of castles, there are four more throughout this scenic region for you to uncover.
Besides ancient strongholds, you could also take a trip down to Oxwich Bay Beach or Mewslade Bay. Both have a sandy shoreline to explore.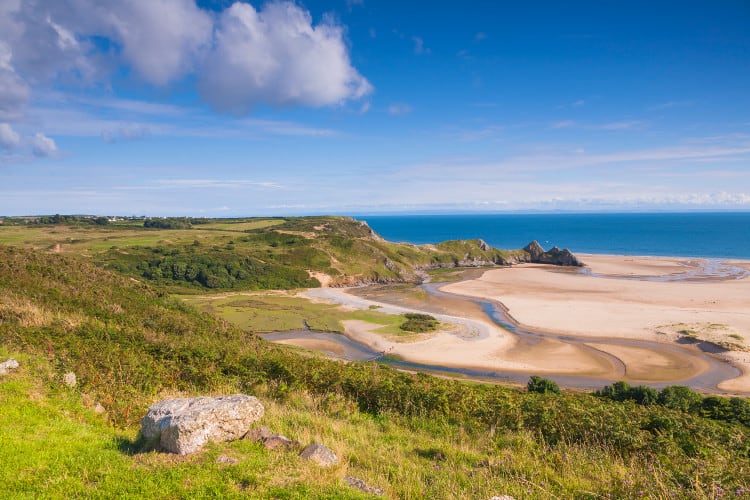 6. Tenbury
The River Teme winds through this ancient market town and it's home to the pretty 16th-century Tenbury Bridge. Stroll or cycle around the town, taking in the delightful half-timbered buildings and meadowland extending beyond.
During your trip around the town, make sure to head to the ornately decorated Tenbury Pump Rooms (pictured here).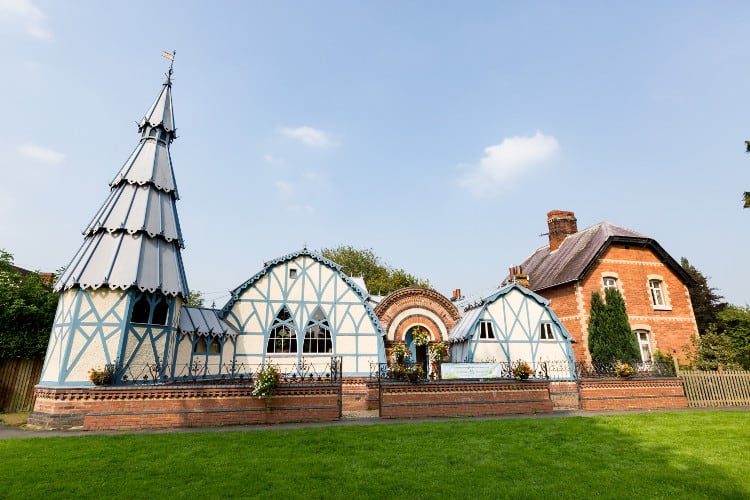 7. St David's
Anyone who enjoys a coastal hike will want to pull on their walking boots and make a beeline for this dramatic destination. Trek the rugged coastline that surrounds this exquisite peninsula, passing by sandy bays, listening for birdlife and enjoying views of high cliffs and rolling waves.
The city itself boasts a magnificent cathedral which holds a special importance: This is the final resting place of Saint David, Wales' patron saint.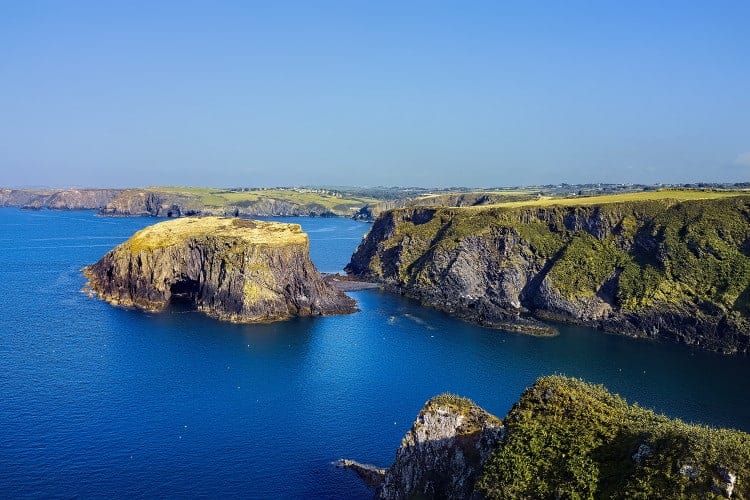 8. Hay-on-Wye
An Instagrammer's paradise on the border between England and Wales, this pretty little town is famed for its quirkiness and, of course, books! It was propelled to fame in the 70s with a stunt by Richard Booth, local bookshop owner.
Since then, Hay-on-Wye has gradually filled up with more and more beautiful bookshops and is now home to the annual Hay Festival. Besides the literary nods you'll find everywhere, it also boasts many pretty buildings on the banks of the River Wye, so even if you're not a reader you'll enjoy your time here.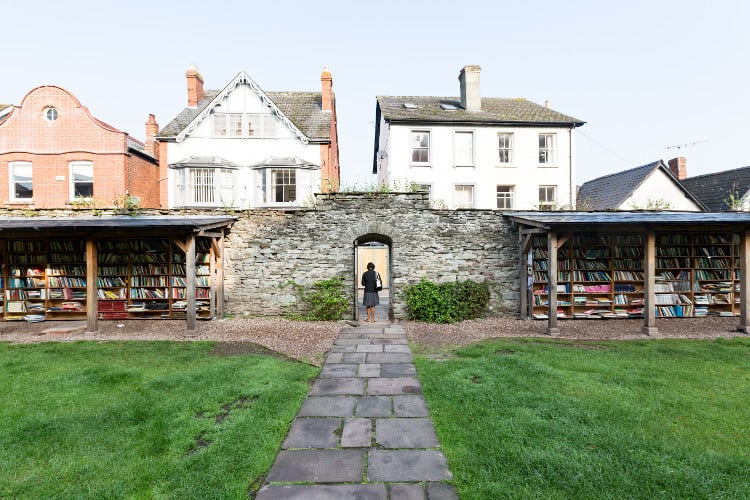 9. Abersoch
A scenic seaside resort with wide sandy flats and fishing boats sat in the waters, Abersoch is found on the Llŷn Peninsula in the north of Wales and is just the place for a tranquil escape.
Porth Neigwl (3.5 miles) is a sandy beach that offers impressive waves and wonderful views, ripe for surfing. If you're a golfer, there's a seafront golf course on the outskirts of Abersoch. It offers the perfect place to tee off while breathing the salty sea air.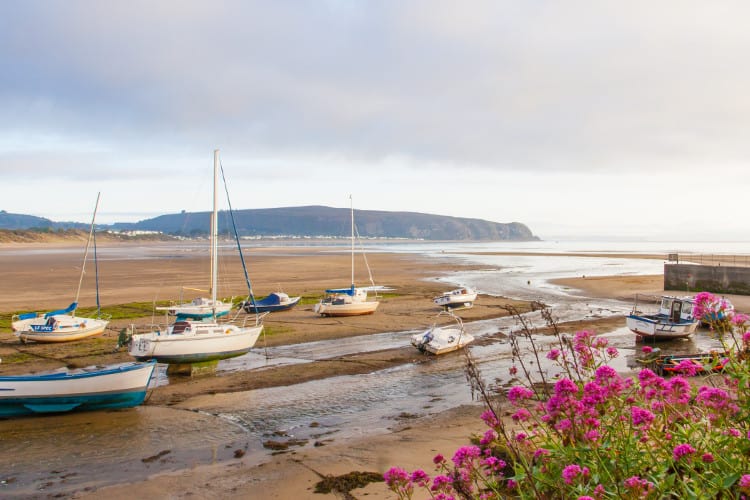 10. Whistling Sands
One last coastal escape for those who dream of lazy days by the sea: Whistling Sands can also be found on the Llŷn Peninsula and is a remote and remarkable Welsh holiday destination. It's a National Trust-owned section of coast bathed in heritage where you can uncover the old quarries.
Follow this walking trail and look out for the two islands of Dinas Bach and Dinas Fawr. And if you're a bird lover, you'll want to keep an eye out for the variety of birdlife that make this stretch of landscape their home.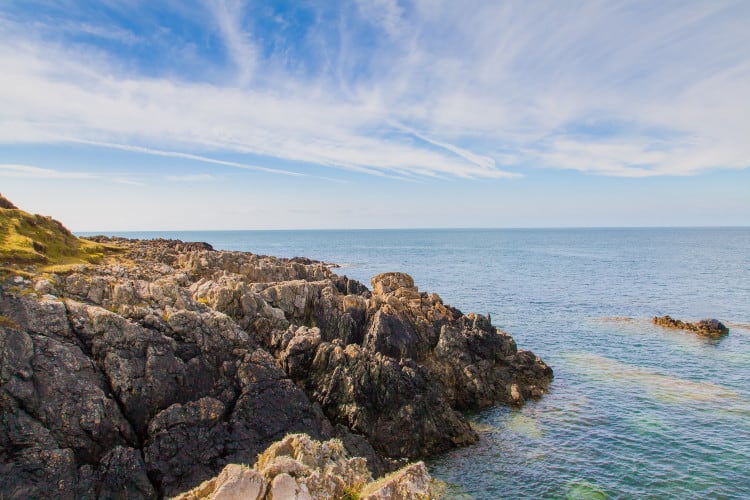 How to get to Wales from London
It takes less than three hours to get to Wales from London. You can take a direct train (with Great Western Railway) from Paddington to Cardiff Central.
ⓘ TIP: Find all your transportation options on Omio and Rome2Rio.
Where to stay in Wales
There are countless great places to stay in Wales, so if scenery is what you're after, you should focus on that. Stay somewhere that offers beautiful views, whether a retreat or a holiday cottage.
Sugar & Loaf has a nice collection of Wales holiday cottages. Here are a few to check out:
If you're seeking a romantic retreat
Eathelin

is a luxury treehouse that offers a completely different experience. Both are perfect for couples looking for an unforgettable place for an escape.
Families and groups will adore
Blorenge Skies, a yurt set at the base of magnificent Skirrid Mountain.
Pistyll Back offers immense windows stretching from the ground floor all the way to the roof, from which guests can gaze out on peaceful, breathtaking views.
Wales is overflowing with beauty spots and unspoiled landscape, offering wonderful variety for travelers or holidaymakers heading here on their next trip. Where will you head first?
Save this list of things to do in Wales for later