If you're planning your UK beach getaway for next year, take a look at Dorset's Jurassic Coast. This 95-mile-long stretch of southern English coastline boasts some truly stunning beaches, a few of which could contend with the world's best.
Have you ever gone fossil hunting? The beaches in Dorset are perfect for bucket 'n spade holidays by the sea.
Designated a UNESCO world heritage site in 2001, Dorset's Jurassic Coast seashore has more geologic layers of rock than anywhere else on earth. It's one of the most jaw-dropping landscapes in the United Kingdom, with dramatic cliffs, secluded coves, coastal stacks and barrier beaches.
Sandy shorelines and white pebble coves offer clear waters that are perfect for swimming, and beachfront cafés come with breathtaking views. Trek your way along this coast to uncover a few secret beaches and hidden treasures or race straight to a few of the big-name Dorset favorites.
ⓘ TIP: For directions on how to get to Dorset's Jurassic Coast, visit this page.
Best Jurassic Coast beaches in Dorset
If you're seeking out the most amazing beaches along this ancient coastline, read on. We'll help you discover the best beaches in Dorset for fossil hunting, walking, and more.
1. Lulworth Cove
This dreamy horseshoe-shaped cove is an idyllic place and a must-visit. We'd love to tell you it's an unknown, secret spot, but truly it's become an iconic Jurassic Coast location.
Lulworth Cove is a popular spot for walkers seeking to take in the view. And sailors like to throw down the anchor and enjoy a scenic seaside jaunt surrounded by towering cliffs and turquoise sea.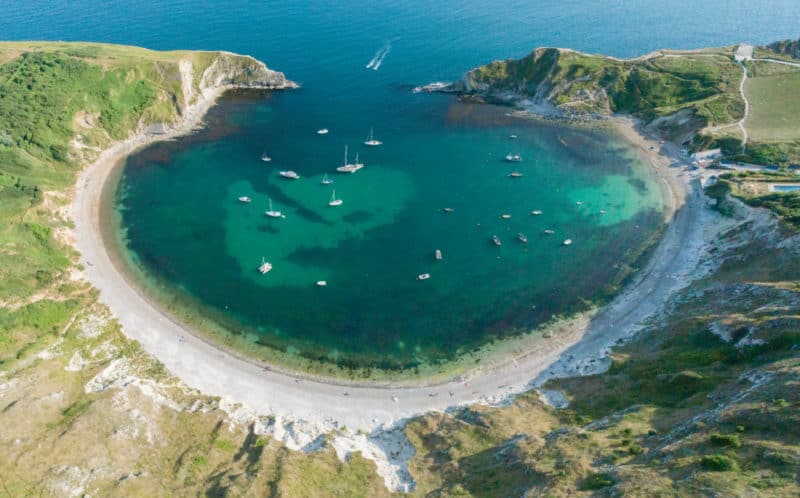 2. Durdle Door
Just a couple of beaches over from Lulworth Cove and just as iconic, Durdle Door has a unique sandstone formation. You have to see it if you stay near this stretch of coastline.
Both Durdle Door and Lulworth Cove are part of the Lulworth Estate. The Estate is also home to Lulworth Castle and Park and an outdoor adventure center. You'll find plenty of nature trails nearby, including a route that connects these two beautiful seaside spots.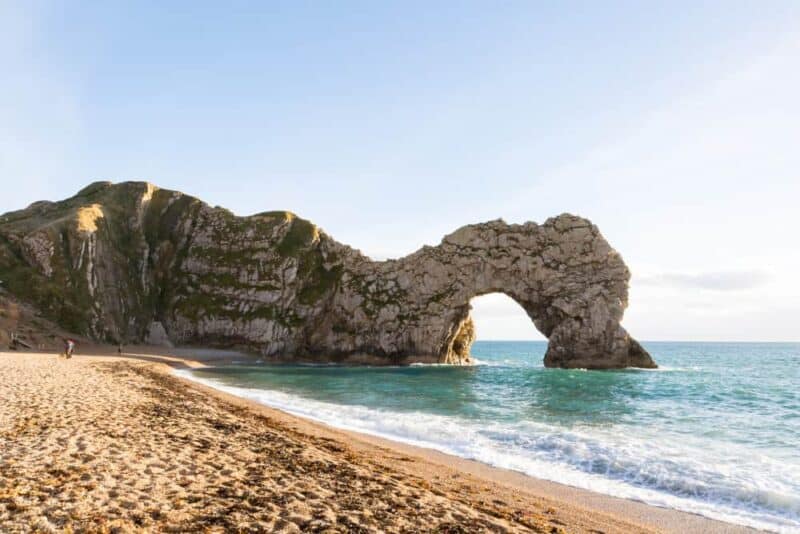 3. Lyme Regis
Overlooked by exquisite seafront gardens and with a sweeping harbor, Lyme Regis is a particularly pretty beach-side destination. Its most striking feature is the Cobb, a man-made seawall that dates from before 1300.
Lyme Regis offers a delightful setting, with lots of quaint places to eat and drink among mature trees and foliage. Due to the Cobb, its sandy shores don't get completely covered at high tide, so you can get sandy toes whenever you want, not just when the tide is right.
Best of all, dramatic cliffs nearby offer fossil hunting opportunities when you tire of lazing about on the sand.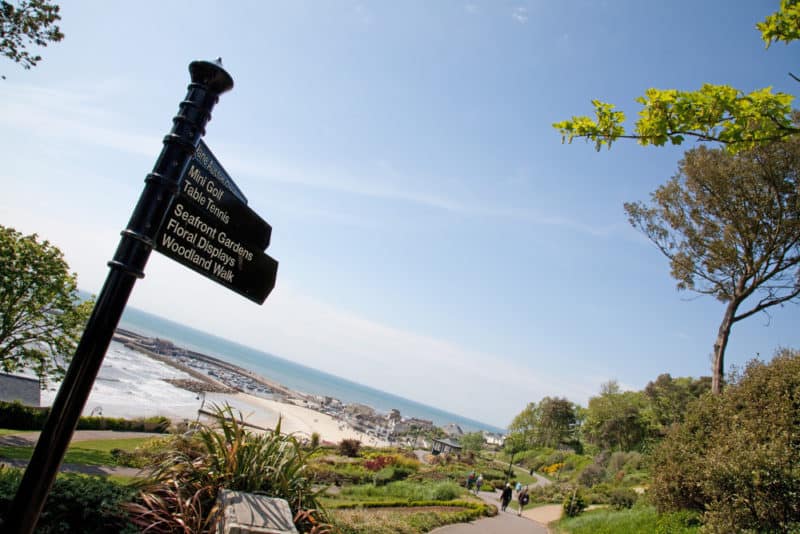 4. Swanage
From a quaint seaside retreat to an epic bay; the wide sandy stretch of beach at Swanage is a fantastic spot for everything from winter walks to soaking up the summer sun. Clear water ripples across flat sand, great for paddling or swimming, and the coastal town behind offers plenty of amenities.
Durlston Country Park sits beside the town. If you want, you can walk up to the edge of its grassy clifftops and drink in that stunning view.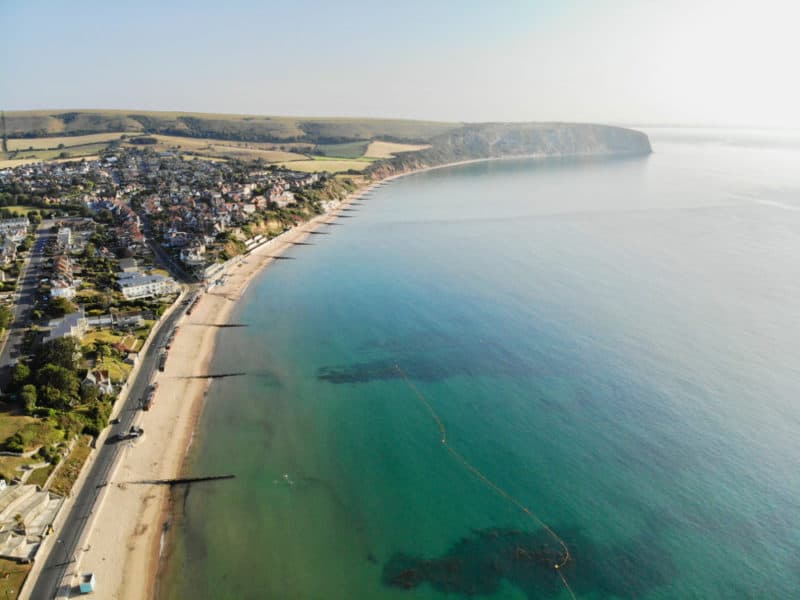 5. Charmouth
Now on to another fossil hunting favorite. Charmouth is a seaside village with a beach that's renowned for its collecting possibilities. Spiralled ammonites and pointy belemnites are the most common finds.
It's no surprise this place is full of treasures, as the nearby cliffs have regular landslides that reveal hidden fossils. For your own safety, be careful not to get too close to the imposing cliffs, but enjoy scouring the beach, paddling in the waters or just strolling along the shingle shores.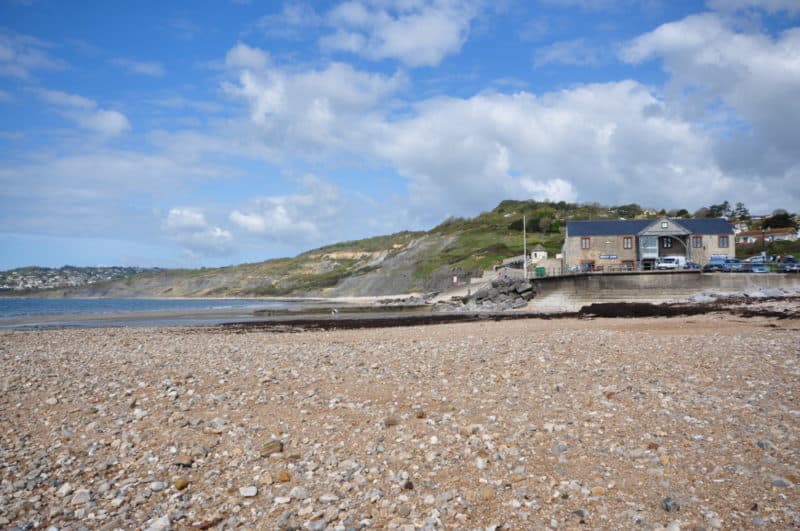 6. Worbarrow Bay
Similar to beautiful Lulworth Cove, horseshoe-shaped Worbarrow Bay is blessed with towering cliffs and shallow waters. However, it's much quieter because it's lesser known than iconic Lulworth.
As it's located inside an army firing range, this beach is only accessible on certain days so check ahead before visiting. It's also within walking distance of the legendary abandoned village of Tyneham, so be sure to combine your visit with a stroll through this curious ghost town.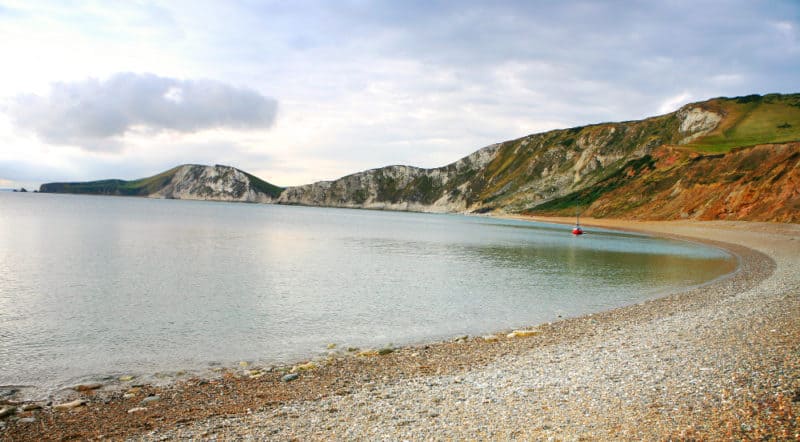 7. Seatown Beach
Once the hangout of fishermen and smugglers, Seatown Beach has become known as a prime fossil hunting spot. its shingle shores and shallow waters provides a wonderful choice if you're looking for a tranquil, serene seaside trip. Soak up the views and the quiet while picnicking on the shingle or catch the dawn on an early morning stroll.
The best way to enjoy Seatown's stunning scenery may be from above. Climb to the top of epic Golden Cap. and gaze down on Seatown beach from the top of the highest sea cliff in southern England.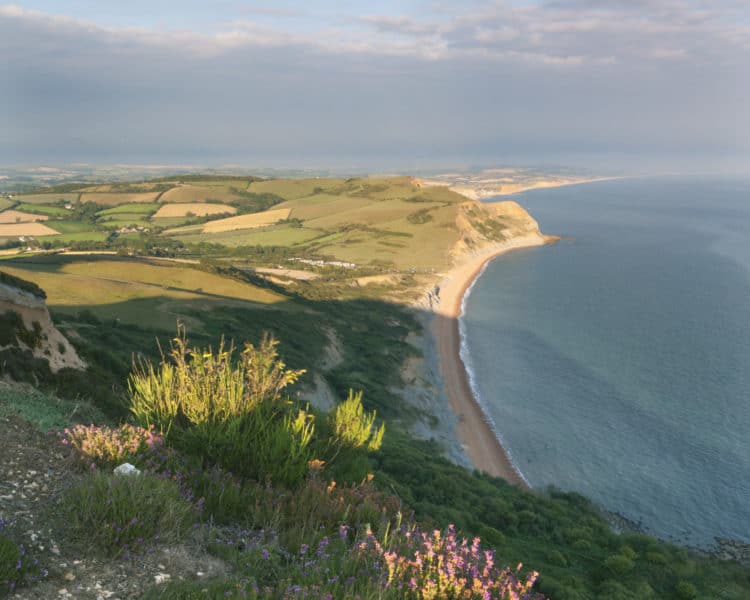 8. West Bay
West Bay covers the western end of the mighty Chesil Beach, a stunning stretch of sand that reaches around the bay. The golden cliffs that line the bay have become a favorite fossil hunting spot due to regular rock falls, so try not to get too close to the treacherous cliffs.
The rest of the shingle beach is great for sunbathing or swimming, and breathtaking views of the coastline ensure a stunning setting for your trip to the beach.
ⓘ TIP: You can find a nice display of assorted fossil sea creatures at nearby Bridport Museum.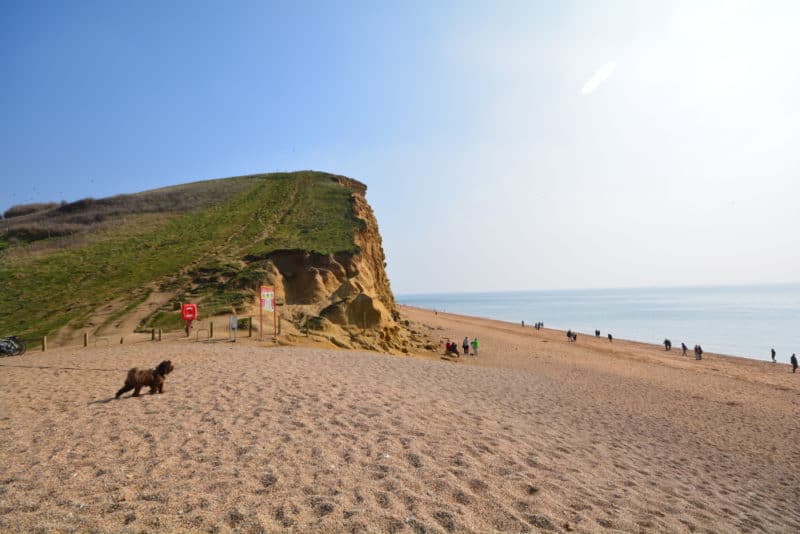 9. West Bexington Beach
Another ideal beach base for a tranquil day by the sea, West Bexington Beach is a seaside stunner. This National Trust-managed landscape is best for walkers. Sunbathers need to know that it's dangerous for swimming, as the beach shelves steeply and quickly drop to deep waters.
Back onshore, West Bexington offers idyllic sweeping views of countryside and coast. This off-the-beaten-track section of coast is a calm setting and ripe for exploration.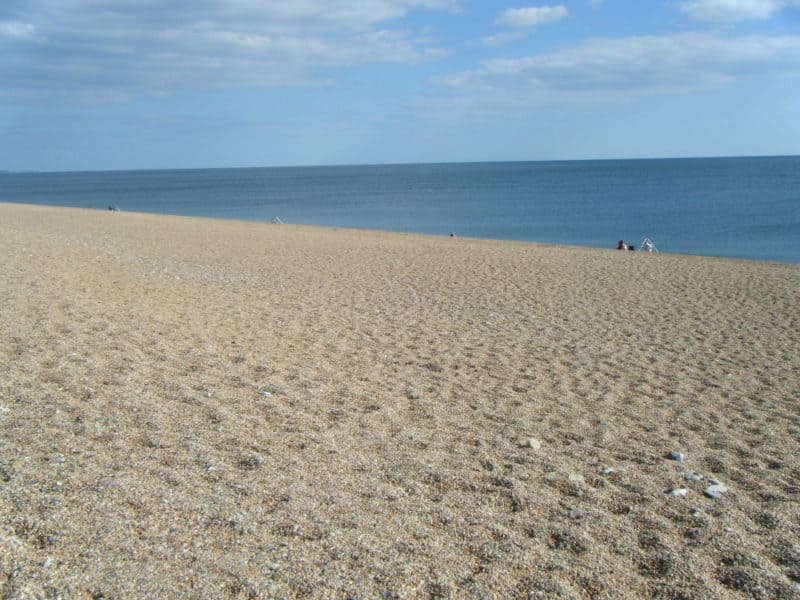 10. Mudeford Sandbank
Known for its incredibly pricey beach huts, Mudeford offers a sandcastle-worthy beach with family-friendly amenities like a cafe, shops, and public toilets. It's dog-friendly too, so you can bring the family pet along for your day out.
Mudeford Sandbank reaches out into Christchurch Bay, so you can swim in the sea on one side of you and enjoy watersports in Christchurch Harbour on the other. Watch yachts sail past while you enjoy a traditional day at the beach.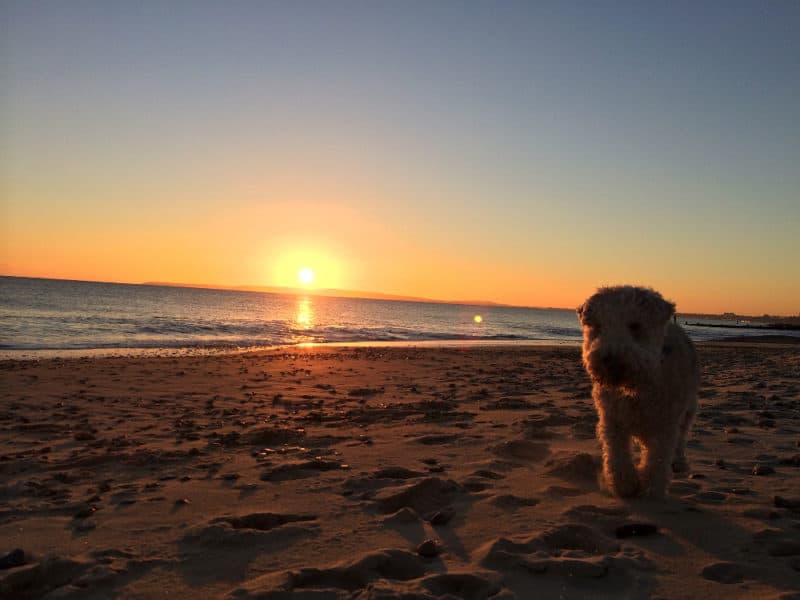 Where to stay on Jurassic Coast
You'll find a wide range of places to stay in Dorset, but some have more atmosphere than others. If you're looking for something uniquely British, the collection from dorsetcoastalcottages.co.uk includes everything from romantic cozy retreats to luxurious large holiday homes.
Best beachfront places to stay in Dorset
Beach-goers and fossil hunters will want to stay on the Dorset coast, so here are a couple of cottages with a waterside view:
For a romantic getaway, Porthole Penthouse in Swanage comes highly recommended.
Bigger groups and families will adore sea view Braeside in Studland.
Inland Jurassic Coast accommodation
If you are visiting in cooler weather and want a warm and cozy retreat after adventurous days out and about, there are also cottages with wood burners.
Families will have a fantastic time fossil hunting while staying at St Gabriel's in Charmouth.
Groups will enjoy a getaway to The Old Forge – West Lulworth (a great place to stay if you're hoping to visit the idyllic Lulworth Cove and iconic Durdle Door).
Want to save this for later? Pin it to your favorite Pinterest board!