When it comes to keeping travel details organized, we've always relied on a free smartphone app called TripIt. It's super convenient to forward all our confirmation emails to one central place. Everything is automatically compiled in chronological order, complete with maps and daily weather forecasts.
However, as helpful as it is, there's one feature that it lacks: TripIt cannot automatically compile ports of call on a cruise. (Not their fault; it's on the cruise lines' end.)
This created a problem when we took our 15-day cruise from Budapest to Amsterdam. If I wanted to see what was next on the agenda, I'd either have to enter everything by hand, or I'd have to find another solution.
So I decided to try something new.
My new analog travel "app"
Recently a new shop opened in our local shopping mall, one that drew me inside. Within its walls were a family of creative tools to be found: notebooks, planners, journals, bags, writing instruments, and more.
I have to make a confession: I have a serious weakness for beautiful notebooks, particularly when I see one that has sections and pockets (they are so hard to find!). I relish all the unexploited potential … all those empty, blank pages just waiting to be filled with someone's creative thoughts and dreams.
It seems I'm not alone, because Moleskine has tapped into this with a series of notebooks for various passions, everything from weddings to gardening, coffee, cats and babies. I could resist all but one.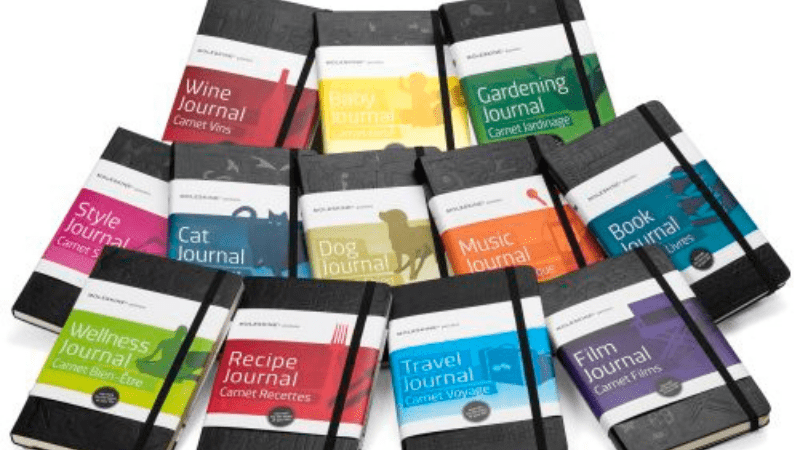 One notebook in particular seemed to call to me, thanks in no small part to the cute retro airport departure board that was embossed on its cover: the Moleskine Travel Journal.
The fact that it was called a "Passions Journal" kind of did me in. After all, travel is my passion. I even enjoy reading travel quotes, just to fuel my wanderlust.
Anyway, I managed to resist its siren song for a few weeks. Thinking about its potential eventually weakened me to the point that I succumbed to temptation. I mean, it's the first travel journal with pockets that I'd ever seen. Maybe it's the only one on the planet. Out came the wallet: I just had to try it out.
Why I decided to try the Moleskine travel journal
Our river cruise took us to five countries in 15 days, and the itinerary (you can see it here if you want) would keep us busy. We'd enjoy guided tours, cultural experiences, and lectures, along with plenty of time to explore the ports on our own.
Just trying to imagine all that could be packed into our trip completely boggled my mind.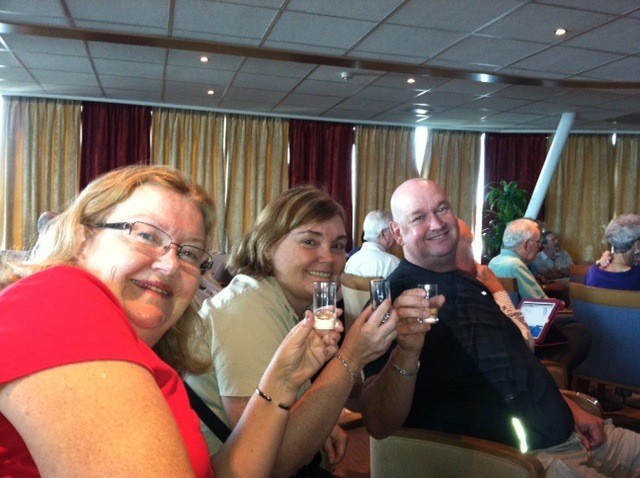 After our trip, I'd want to recall every one of the colorful people we met, the new places we were able to visit and the foreign foods we finally had a chance to sample.…
You can see how this might be useful, can't you?
It's not merely that I needed a book where I can record my travel memories, though. Not at all. There's another factor: I wanted the entire experience to be a pleasure, not just in the writing but in the reading.
There's something very satisfying about holding a hardcover book. I have lots of spiral notebooks and I have to admit that I rarely look at them once they're full of notes. Somehow they don't garner the same respect.
Not just your everyday notebook
After yielding to temptation and shelling out $19.95 plus tax, I left hoping this travel journal would turn out to be as useful as it looked. It certainly had more appeal than any of the other notebooks I have ever purchased.
Here are 3 things I like:
It's a hard-cover book, and rather than the wire spirals I've used since my school days all the pages are bound with stitching. It's highly unlikely any pages will fall out!
I'm glad that it has an attached elastic band; it was especially intended to keep the book closed in my purse and help prevent dog-eared pages. I'm also inspired by its many tabbed sections, the variety of formatted pages and the book's three convenient ribbon place holders. (Hurray! No more need to use Post-It notes to bookmark where I'm writing!)
It also has one thing that most journals fail to include, and it's the feature I most appreciate: an accordion-pleated pocket that is securely glued inside the back cover. I expect I will be using it a lot.
Here's the journal I bought: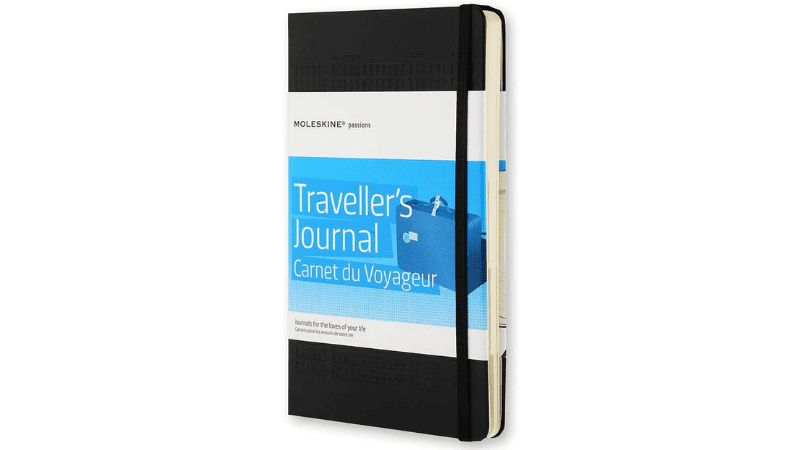 First impressions of the travel journal
The first pages in my new Travel Journal—which measures about half the size of a sheet of paper—are the usual pages for recording personal information.
These pages include space to record important details, such as contact information, vaccination, travel insurance and health insurance numbers and dates, emergency contacts and loyalty cards for hotels, car rental and airlines.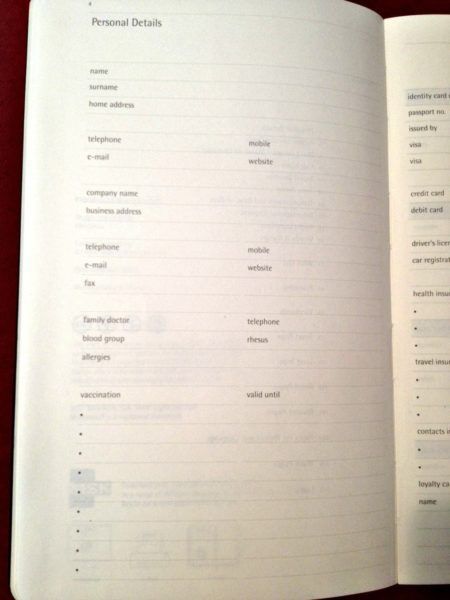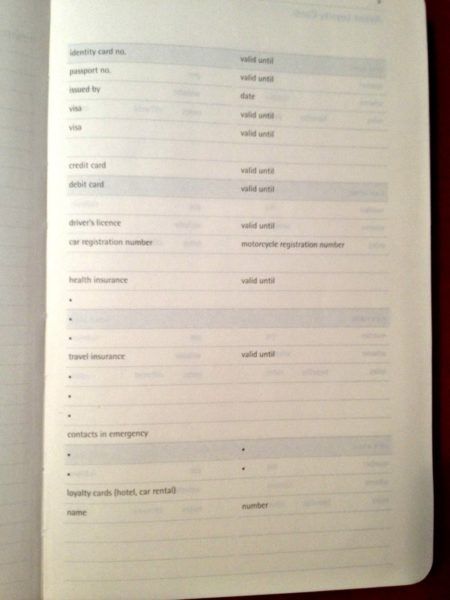 But here's what I hate
Okay, I can see why I might want to inscribe my contact information in there; if I misplace it on the boat it will be that much easier to retrieve. But on the other hand, there's the possibility I might mislay my book in an airport.
It is completely beyond me why they also included spaces for owners to record their credit card numbers and expiration dates in it. Seriously? People aren't that stupid, are they? That's equivalent to carrying one's social security card around: It's tantamount to an invitation to fraud!
That said, that is the only pointless thing that I have found in the journal. The useful parts outweigh all that.
What's inside the Moleskine Travel Journal
My new notebook begins with several handy resources to help with planning:
Section 1
the aforementioned personal details
an airline loyalty card section
standard checklist
8-year mini calendar fold-out
travel timeline
world time zones
list of local temperatures and days of rain
list of international airports and distance from city
flight duration chart
list of some "traveling terms"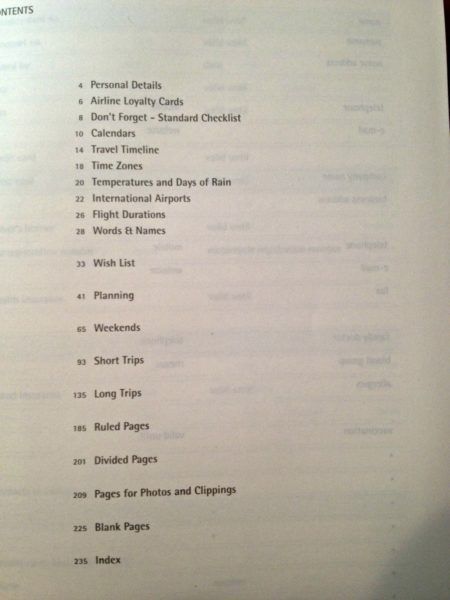 Did you notice those numbers? Get this: Every page in the journal is numbered! I never would have thought of it, but that is incredibly convenient. Whoever thought of that is absolutely brilliant!
Section 2
This second segment consists of five tabbed sections, each of which comes conveniently pre-labeled:
wish list (where you would like to travel to)
planning (including budgets)
weekends
short trips
long trips
Each one has plenty of space for planning, checklists, memorable moments, maps, photos, whatever.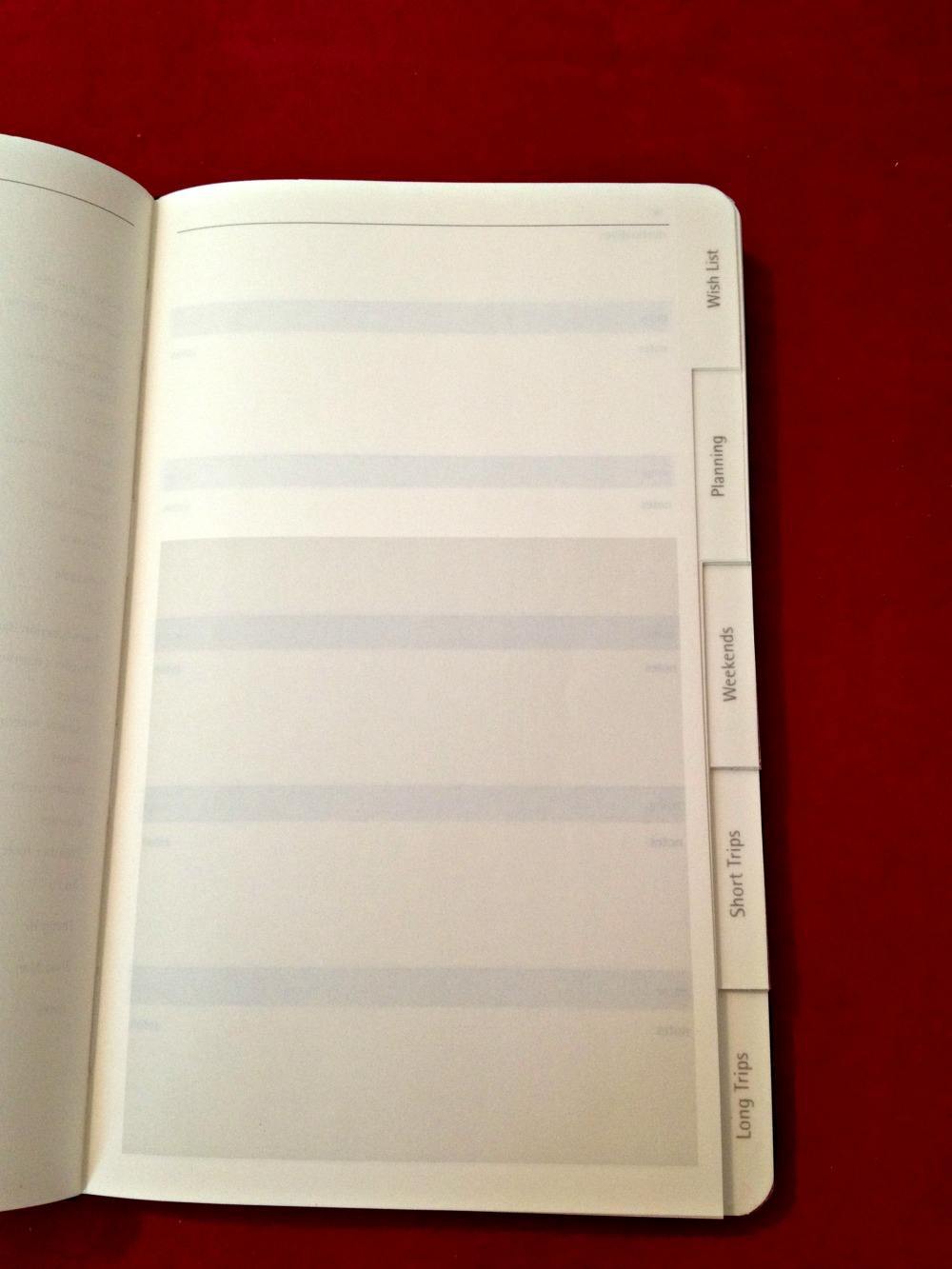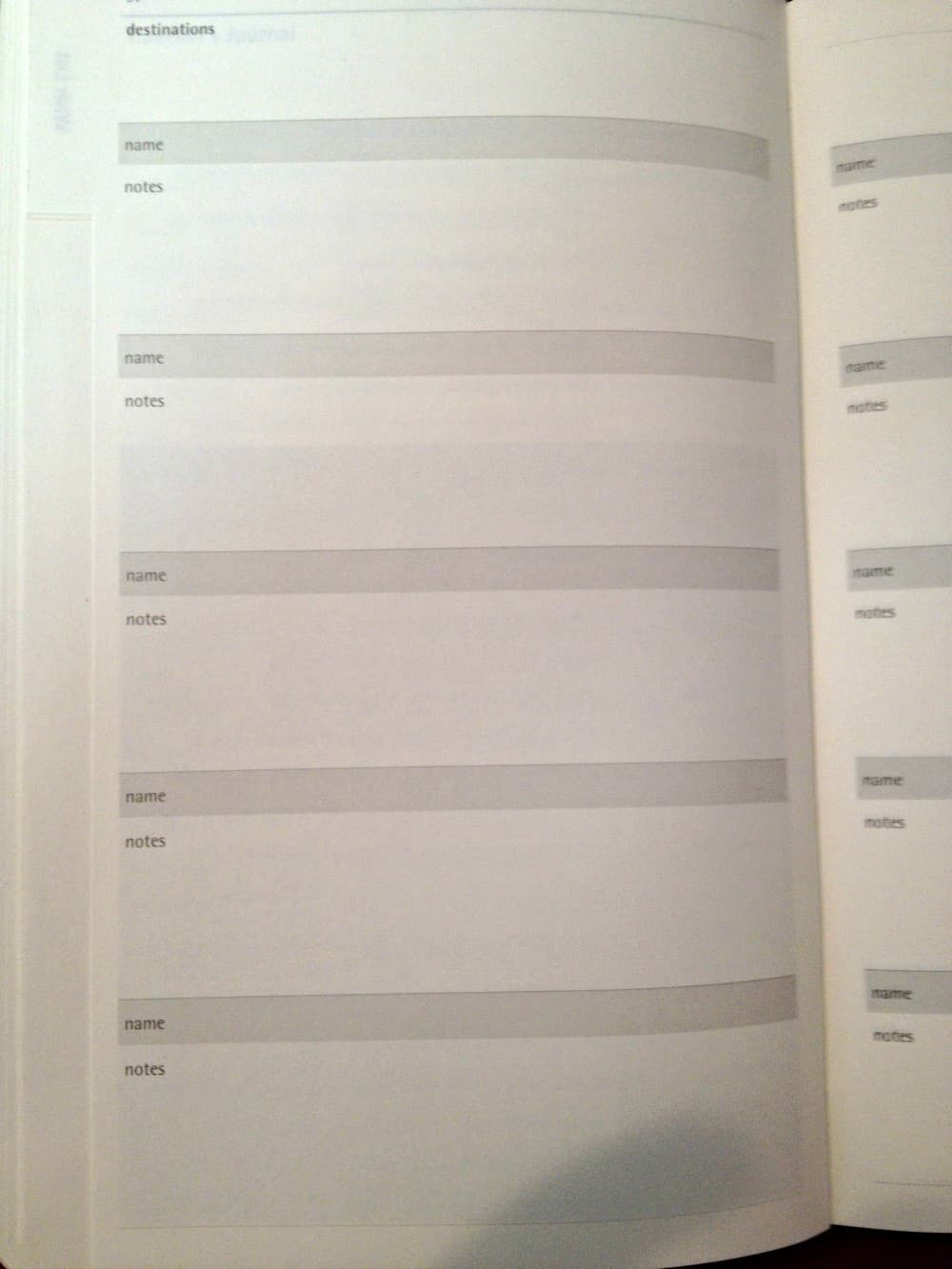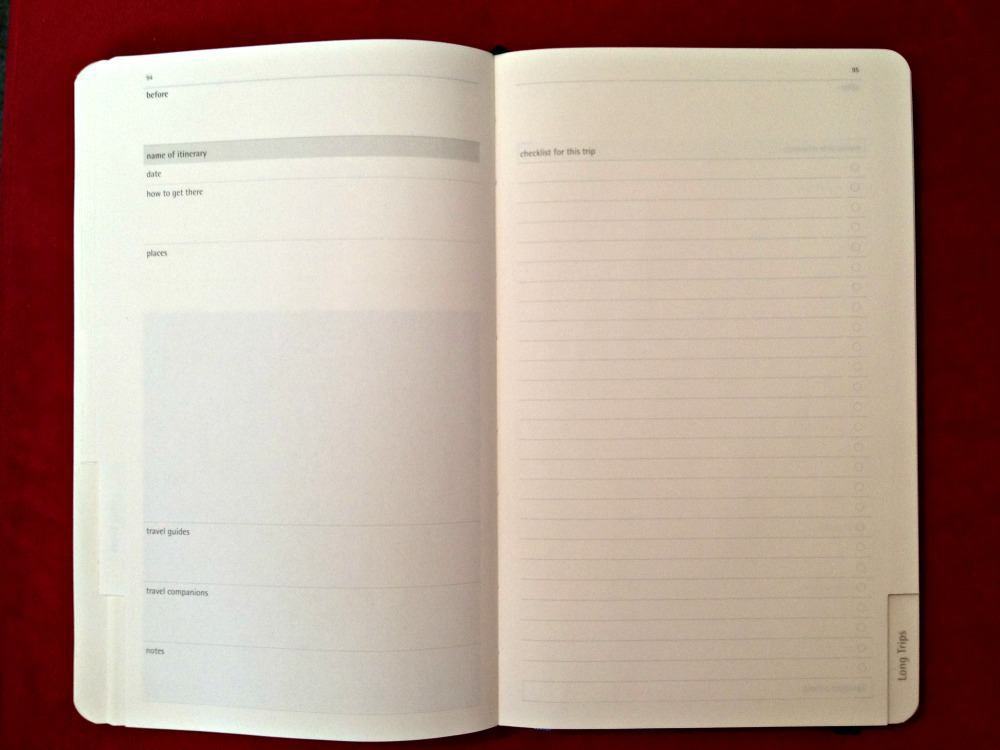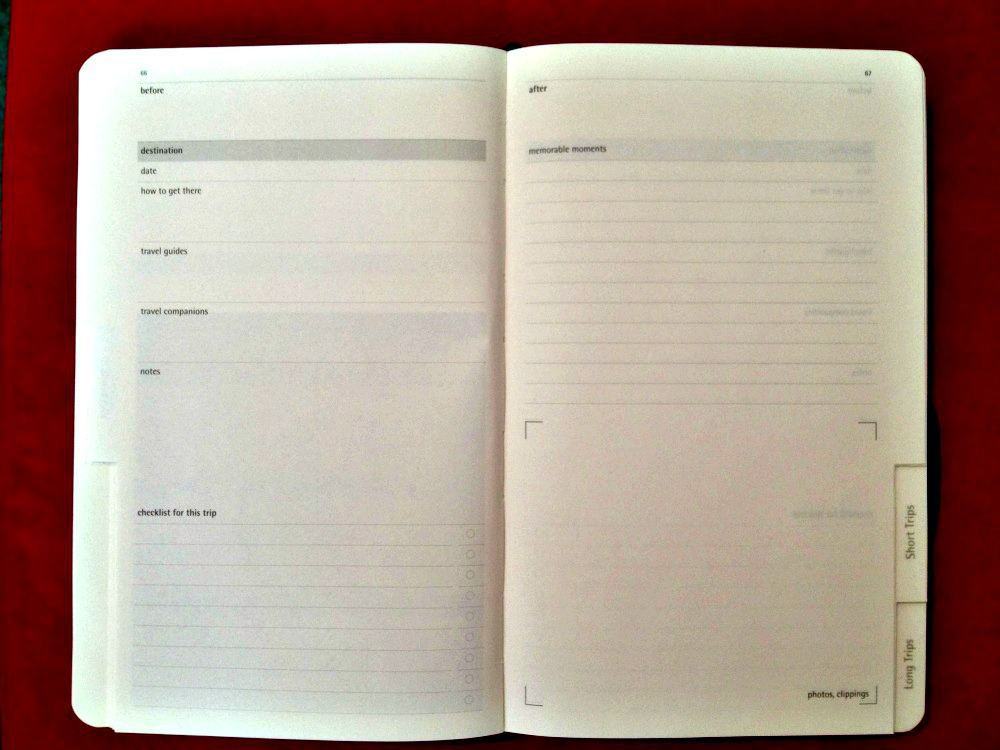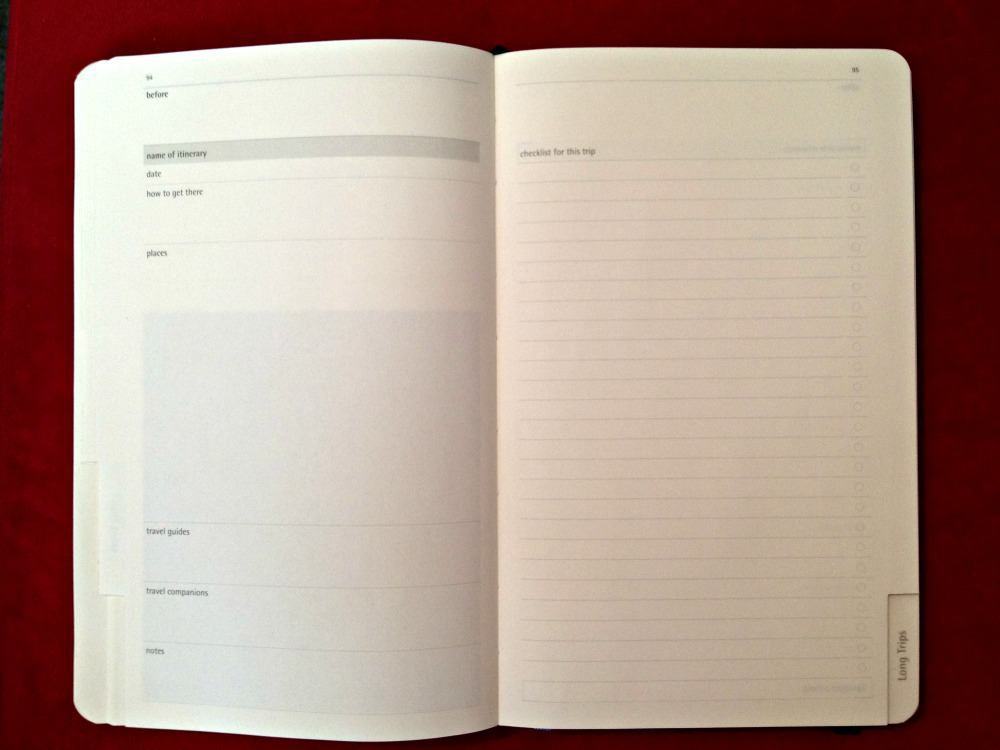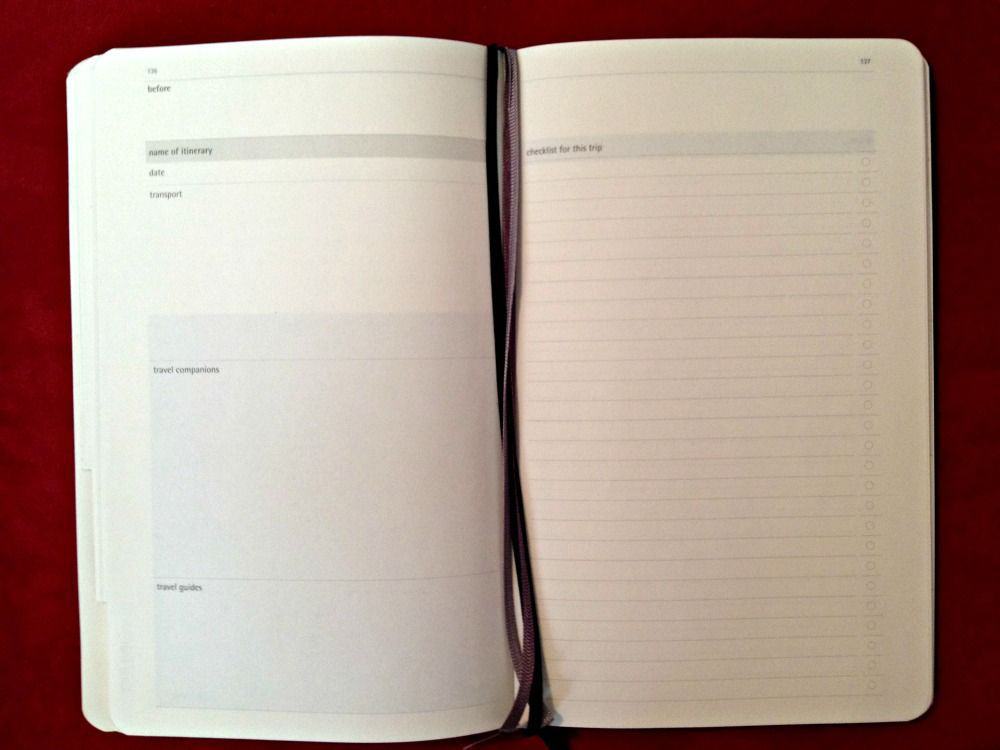 Section 3
The last part has five tabs as well. These are blank and the pages are formatted in a variety of ways, from lined to blank. I haven't decided how to use these sections yet. I'm open to suggestions so feel free to shoot me your ideas below.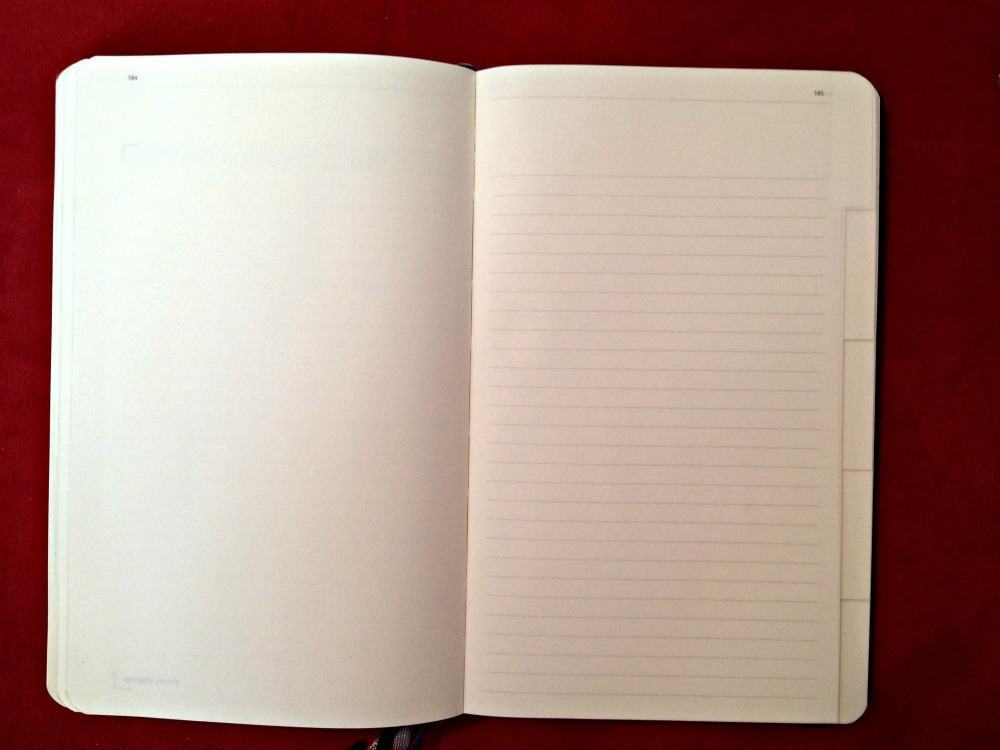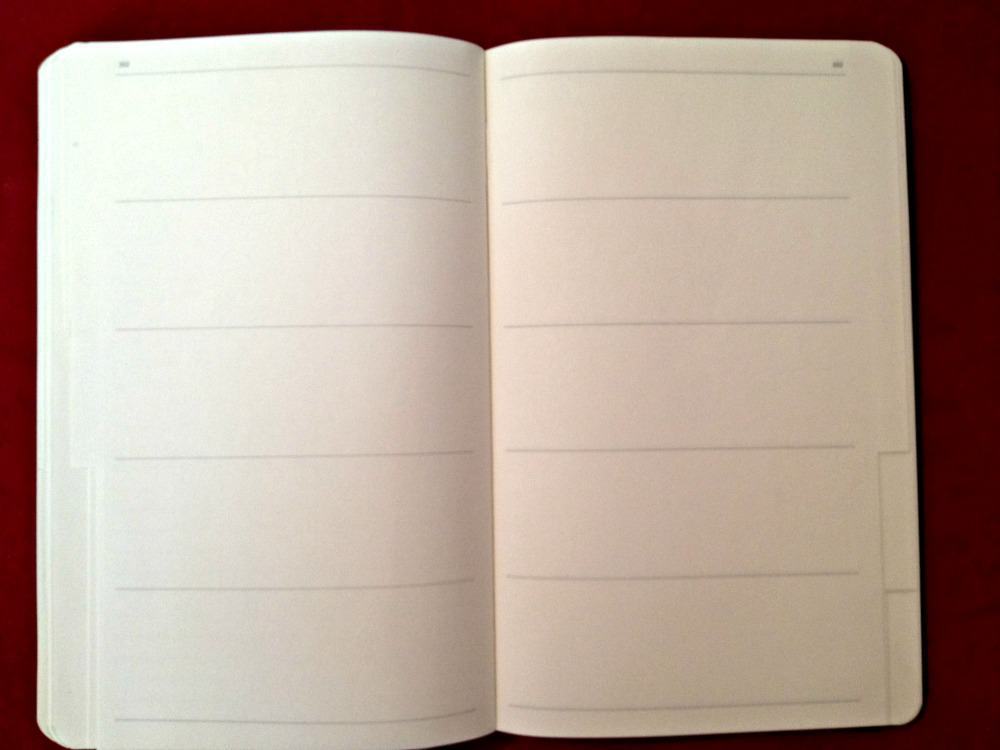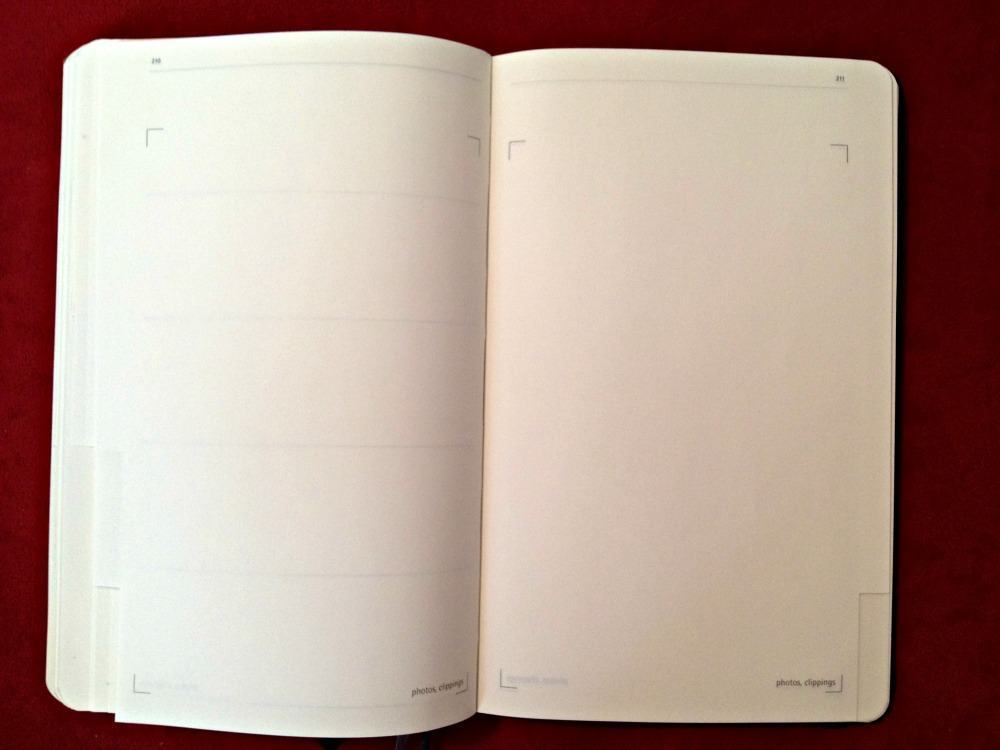 Section 4
The final five pages in my Travel Journal are an index, ready to fill in with my own page contents. So glad this thing already has numbered pages!
Gotta love the back pocket.
"Simple minds, simple pleasures," someone once sneered, derisively. I responded, "What's wrong with enjoying the simple things?" And I do.
The back pocket is an ideal spot to store any ticket stubs or maps we may collect along our journey. It didn't come empty, though;
It came with a small brochure explaining the journal's history and a sheet promoting other products.
Plus, Moleskine also included some fun and colorful adhesive labels to help me further personalize its pages.
And they also included a quality control sticker with a serial number.
Yes, my friends, every journal has a serial number. Moleskine notebooks are submitted to a very strict quality control procedure: traction test, weigh check, glue and ink examination, cover thickness measure, rubber band resistance.
And this is where the number comes in handy: "Moleskine notebooks are made through a combination of automated and handmade manufacturing, and therefore may contain small flaws and differences typical of hand made production. If, despite quality control, you still find a defect of any kind, take a picture of it and send it to us, together with the identification number, through the contact page."
Aha. Maybe that explains the cost.
Here's hoping this works well …
At the moment, I'm not sure if this journal will work for our cruise, but I sure am excited to try it out. I think it could be a good way to record memorable details as we travel—that is, if I remember to use it. It will require quite a bit of self-discipline to sit down and write, especially because we're going to be busy. If not, I'll still have used it for planning before we head out and once we return I'll use it for bucket list and other travel ideas.
I might even download more journal pages from Moleskine's website; they have all the templates I could ever want, even ones from other notebooks. Best part: They're free.
Either way, I suspect this may be only the first of many Moleskine journals I'll own. There are so many varieties to choose from: graph-ruled, lined and blank, hard- and soft-cover, large and small. And of course, there are plenty more of those Passion Journals I'll want for my own if this works out….
Inspired to journal?
Cats, home life, tea, style … Moleskine offers a varietyy of Passion Journals, each designed for a unique interest. BUY THEM HERE