If you want to know what to see in Cologne Germany in a short time, or what to see if you'll have one day there on a river cruise, this article is for you.
Open any Cologne travel guide, and odds are that Cologne Cathedral (Kolner Dom) will be the first thing it mentions. "No other Cathedral is so perfectly conceived, so uniformly and uncompromisingly executed in all its parts," UNESCO writes. Thus did this world heritage site become the highlight of most Cologne tours.
But I'm not sure it was the highlight of our one day in Cologne. There are so many other wonderful things to see that it would be hard to choose.
If you're cruising the Rhine, you'll probably stop in Cologne. It was on the itinerary of both our Budapest-to-Amsterdam cruise and our Basel-to-Amsterdam Rhine Cruise. So let's start there.
Where do cruise ships dock in Cologne?
You can skim past these parts if river cruising doesn't apply. No hard feelings.
If you're in town on a Rhine cruise, Cologne has docks along the river, right in the middle of town. That's so convenient for cruisers. However, when a lot of cruise ships are in port, you might have to dock a little bit out of town. We've experienced both.
Out-of-town dockings mean you'll have to take a 10-minute bus ride into town. Although it isn't very far, it's a long walk. For passenger convenience, many ships have buses that will shuttle between ship and city center all day. On our cruise, the last bus departed Cologne and returned to the ship at 5:30 PM.
The river cruise guided walking tour of Cologne
The nicest thing about river cruises is that they usually offer a free group tour as part of their itinerary. It takes up much of the morning, but we recommend it. You'll have free time to explore on your own afterwards.
Keep the following in mind:
Guides need to keep everyone together. A slow walker will slow down the tour. Don't be that person.
Guides try to show a variety of sights, to appeal to different interests. You'll probably enjoy it anyway.
A good guide will also show you other interesting things along the way, share his insights and tips, and answer any questions you might have.
Of course you aren't obligated to take the included tour. You might prefer to simply walk around Cologne with no particular plan. We've done that and it's fun.
On the other hand, if you want to focus on things that interest you, your best options are:
use a good travel guidebook and find just what you want. We bought a €1 book of Cologne walking tours at the tourist office after our tour. Unfortunately, our interests are all over the place, so it wasn't as useful as we had hoped.
research what you'll want to see beforehand, then arrange for a private guide to take you to those spots in the most efficient manner.
Where is Cologne's tourist information office?
River cruise or no, you should stop at the Tourist Information Office for a map. It's across the plaza from the Cathedral.
Besides offering the usual tourist maps, advice and lodging assistance, they also have a nice gift shop and restaurant. They also have working plumbing. Hurrah!
Tip: The Tourist Information Office has clean public toilet facilities. As is common in Europe, you are expected to tip the washroom attendant. The customary amount is 50 cents (half a euro). Handicap facilities are available.
What to see in Cologne if you only have one day
Before I list the best things to see in Cologne, I should mention that we've been to Cologne four times: twice while on a river cruise and twice to visit friends who live there. We've been there in the summer, and we've been there for Christmas markets. This city is fantastic year-round.
You may not be able to see everything in one day, but I want to give you some options. This way, you can tailor your day as you wish.
After all, we all have different interests, right?
Kölner Dom (Cologne Cathedral)
Let's start with the city's crown jewel, Cologne Cathedral, which has exquisite stained glass windows. It may not be the only cathedral that's taken over six centuries to build (1248 – 1880), but it is unique in one respect. Even after six centuries, the plans never changed; the builders always remained loyal to the original design.
Kölner Dom is the largest Gothic cathedral in northern Europe and its two massive towers dominate the city's skyline. That being the case, it might seem a miracle that the cathedral didn't get blasted to smithereens during World War II. Actually, it's precisely because it was so easy to spot that it was spared: Both sides preserved it because it made a good landmark for pilots on bombing missions!
Cologne Cathedral was damaged during World War II. It's easy to tell which sections were repaired because the stone is still white.
In the 1100s, the Holy Roman Emperor awarded Cologne Dom a reliquary. It's said to contain the remains of the Three Wise Men. The coveted treasure made the cathedral one of Europe's most important places of pilgrimage during the Middle Ages. Thus, it brought in a lot of donations.
You can still see the reliquary displayed in the sanctuary.
Tip: The cathedral is open from 6 am – 9 pm daily. If you would like to explore further – and your knees can handle it – you can pay €3 to climb the 509 steps to the top. There, you will get a fabulous panorama views of the city. You can also tour the treasury (€4), or simply visit the chapel (free).
Roman Gate
Cologne began as a Roman settlement called Colonia Claudia Ara Agrippinensium. You will find fragments of Roman ruins around the city, and the Roman gate that stands in the Cathedral's square is one of them. It's in good shape for being 2000 years old.
Romano-Germanic Museum
Also in the cathedral's main square, you will find the Romano-Germanic Museum. This museum holds many of the ancient artifacts they have discovered in Cologne. The museum's most notable artifact is an intricate mosaic floor that had once been part of a Roman villa's main hall. The villa was discovered during World War II while they were constructing of an air-raid shelter. The mosaic could not be moved easily, so they left the floor where it was and designed the museum around the mosaic.
We didn't visit, but other passengers told us that it was quite interesting. You can look through the windows from outside and see the mosaic on display. Apologies for the photo quality; my cell phone refused to focus through the glass.
Visiting information: Closed Mondays. Open Tuesday – Sunday 10 am – 5 pm. Tickets: €8; may change during special exhibits.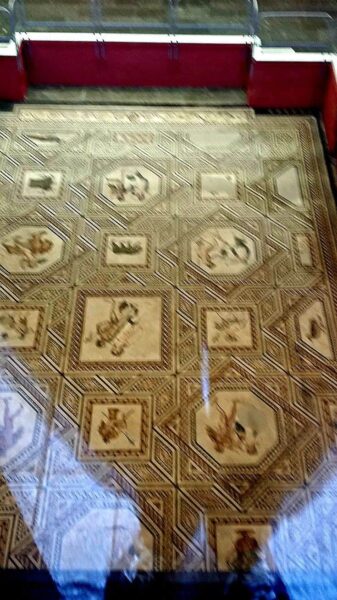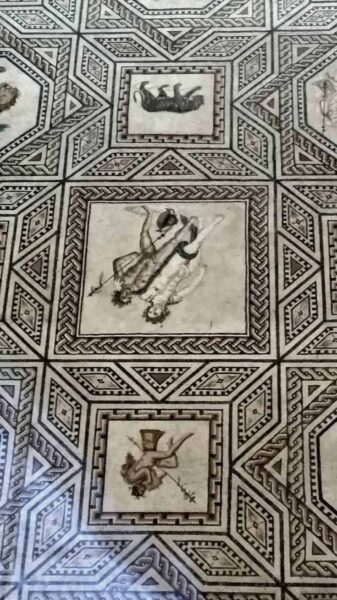 Schokoladenmuseum (chocolate museum)
Never mind the cathedral, Cologne is also home to a Chocolate Museum, and it was the highlight of our day. It's situated right on the banks of the Rhine River, only a few minutes' walk from the cathedral.
What's inside the Chocolate Museum
a fabulous gift shop of chocolate deliciousness,
a chocolate cafe overlooking the water, and
a museum of the history of cocoa around the world, chocolate uses, and more.
Museum displays teach you all about the history of cocoa and the process of turning this bitter bean into lovely bars of luxurious chocolate. That said, the most popular part of the exhibit was the 10-foot high chocolate fountain – complete with samples.
We watched the chocolate-making process and took advantage of a unique opportunity to order our own custom chocolate bar. Yum!
On our way out, we filled a sack full of colorful foil-wrapped Lindt chocolate truffles in the gift shop. At least two of every available flavor ended up in our bag, so we wouldn't need to share!
Visiting information: Open daily, 10 am – 6 pm. Rickets: €11,50 for adults; €3,50 extra for guided tour. Tours are also available for visually handicapped and persons with disabilities. See website for details.
Walking around old town Cologne
Cologne is full of Roman ruins, Romanesque churches, a Renaissance city hall, and more than its share of breweries, pubs and restaurants. It also has an archaeological zone that includes the 2000-year-old Roman praetorium and the more recent remnants of an ancient Jewish mikveh.
We spent the balance of our afternoon looking at the excavations, wandering through its twisting streets and alleyways and admiring the traditional architecture and fountains. We also read every menu we passed.
Eau de Cologne museums
Cologne, Germany may be most famous for its fragrance, because eau de Cologne means "water of Cologne." Both 4711 Eau de Cologne and Farina Eau de Cologne claim to be the true original. I couldn't resist picking up small bottles of each as a souvenir.
If you appreciate fragrance, here are two places for you:
Farina House Fragrance Museum offers 45-minute guided tours. Tickets €9, reservation required. Open Monday – Saturday 10 am – 7 pm, Sunday 11 am – 5 pm
4711 House of Fragrances has a flagship store that is open Monday – Friday 9.30 am – 6.30 pm and Saturday 9.30 am – 6 pm. Guided historical tours are also available daily at 1 pm, €7.
Eating in Cologne
What to eat. Our Viking Daily had recommended that we try Cologne's typical Halver Hahn. Oddly for a German city, the sandwich doesn't contain a single pork product. Rather, it's a buttered rye roll that has been halved and topped with Gouda cheese and mustard and comes with pickles and onions.
Unfortunately that's not for people who are on a low carb diet, nor is it gluten free. We didn't try it, so if you know how it tastes, please share your thoughts.
Where we ate. I have a "thing" for visiting Hard Rock Cafés in cities all over the world, just to say I've been there. Silly, I know, but there you have it. And there, too, was Cologne's Hard Rock. Dan didn't mind, as long as they served Kölsch, a brew unique to Cologne. He has a "thing" for that beer. So we're even.
We each had the restaurant's specialty burger and saved just enough room for our next destination.
Random photos from exploring Cologne
Here are a few highlights from our Cologne photo albums.
Tünnes and Schäl are two figures from Hänneschen-Theater, the puppet theater of Cologne. Tünnes is wearing Dan's cap and Schäl is holding Dan's camera.
Back on board
We returned to the ship just before the 5:00 presentation on Germany Today, given by a guest lecturer. It was quite interesting and especially nice to relax with a cocktail and rest our feet.
Following that, our Program Director gave the daily briefing. We didn't like the part that included disembarkation details. Nooo! I have had far too much fun on this cruise to want it to end!
Dinner on board
Viking went all out with tonight's dinner: A Taste of Germany. Staff dressed up in traditional costumes and a musical duet paraded through the dining room serenading us throughout the meal.
Between the pork and wheat, I would have preferred to order one of Viking's "always available" meals off the menu. Unfortunately, that wasn't possible tonight, so Chef Zsolt took me around personally and made sure that I didn't take anything I shouldn't eat.
The meal itself was served buffet-style, and they had choices galore. Even for me.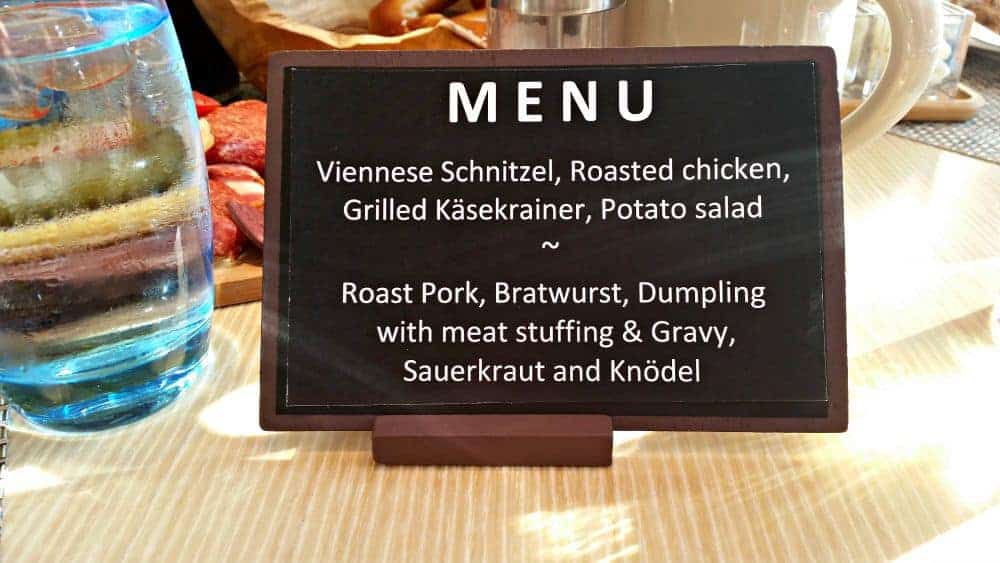 Touring the kitchen
Guests are invited to visit the galley during the dinner, so Dan and I went to see where all the food is prepared. All was so very high tech, efficient and easy to clean that I found myself wishing it were our kitchen at home.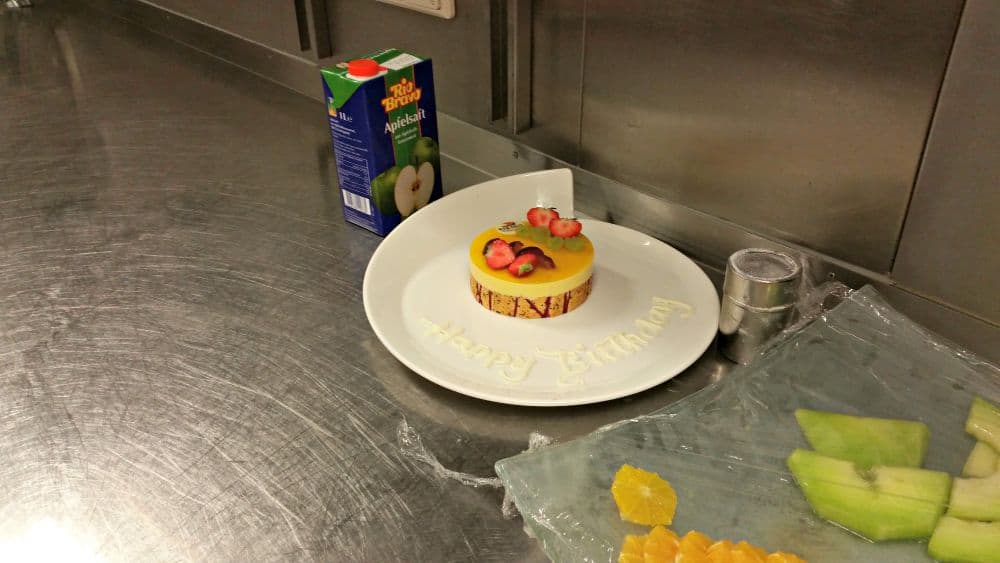 Kölsch brauhaus tour in Köln
Cologne is known for its brauhaus (pub) culture, thanks to its unique beer, known as Kölsch. Kölsch is one of the palest German beers made. It has been called Germany's answer to the British pale ale (though it's brewed from mainly Pilsener malt), and more than 20 breweries in the city make it.
Prost! is the German way to say cheers!, and we said it a lot on our evening in Cologne. Call it a German pub crawl, if you will. Viking offered a Brauhaus culture excursion so guests could experience Cologne's beer culture first hand. We had taken this optional excursion on our previous cruise and enjoyed it so much we signed up for it again. It was so worth the €29.
Sure, you can pub crawl on your own, but it's a lot more fun when you go with a bunch of people you know. It's also nice having a local provide insight into Cologne's history and culture. Even some who were not beer fans joined in, just so they could experience Cologne's nightlife.
Brauhaus-hopping
Our tour guide began by telling our group that each breuhaus (beer hall) carries kolsch from one brewery exclusively, so we would visit three beer halls and try three varieties of kolsch. We might be able to try a fourth, he promised, if we didn't linger in any of the first three for too long.
It's hard to get drunk quickly in Cologne, because Kolsch is served in .2 liter glasses. Because kolsch is top-fermented, it can lose its fizz quickly. The smaller serving size help the bubbles remain until you've finished your glass.
Waiters walk between the tables carrying trays of kolsch and keeping their eyes open for empty glasses. When they see one, they quickly replace it with a new, full glass.
Tip: In Kölsch culture, they will keep the beers coming until you place a coaster over your glass. That is the signal that you don't want a refill.
We all had so much fun that we didn't want the evening to end. We begged Dewi, who had accompanied us on the tour, to let us visit just one more brauhaus. Pretty please?
All I can say is that we were the last group to return to the ship, laughing and chatting all the way like old friends. I don't think the captain was pleased, because we left Cologne mere moments after the gangplank was raised.
Plan your Cologne visit
Cologne has many useful trip planning resources on their official website.
There is a tourist information office across the plaza in front of Cologne Dom.
Transportation – This website shows how to get anywhere by plane, train, bus, ferry and car.
For more sightseeing, see our photo album from Cologne.
Google Maps offers an aerial view of the area around Cologne Cathedral. Zoom, scroll around and explore!
Places to stay in Cologne
Travel styles and budgets differ. Whether you prefer a hotel, hostel, or vacation rental, Booking will help you find the best accommodation for your visit.
Want a private tour?
Get Your Guide offers affordable, custom tours to and around Cologne. Click here to see the list.
Read more
On Amazon
Save this for later
Share this on Facebook
Pin it to PInterest
Note: As is common in the travel industry, Dan and Linda were provided with a complimentary cruise package for the purpose of review. While it has not influenced coverage, AWSI believes in full disclosure of all potential conflicts of interest.