Places to stay
Viking River Cruises cleverly planned most of our traveling for nighttime so we could spend our days in port. Today though, we had two cities on the itinerary: Heidelberg and Rudesheim am Rhein.
We might be spending much of today on the boat, but our cruise schedule guaranteed that we wouldn't be bored.
As we returned from our morning tour of Heidelberg Castle, we were greeted with the sound of German music coming from the sundeck.
The crew had put together a fabulous lunch buffet, with stations offering an incredible assortment of various German items. We saw bratwursts, German meatball sliders, pulled pork sliders, German potato salad, and some other things that I don't know the name of.
Of course, German beer was flowing and there was plenty of Black Forest cake!
Cruising the Rhine to Rudesheim
This afternoon our ship was cruising the Upper Middle Rhine Valley, which is a UNESCO World Heritage Site. Our destination was Rüdesheim am Rhein, a typical wine-making town in the area. Of course the scenery was beautiful but we could do a lot more than just sit by the window and watch the passing landscape.
Viking also kept us entertained with on-board events, including wheelhouse and galley tours, a history lecture about travelers along the Rhine, and a demonstration of how to make a Rüdesheimer Kaffee. This spiked coffee is actually one of the main Rudesheim attractions.
We might have skipped the ship's tours in favor of an afternoon nap (yay, downtime!), but we got up in plenty of time for the lecture, which was interesting and fun.
Most passengers stayed for the demonstration on how to make Rudesheim's famous coffee. At first glance, it appears to be similar to Irish coffee (which we learned to make in Ireland), but its taste is different. This version is made with Asbach Uralt, a special local brandy. Good stuff.
Traditionally, they serve "Rudesheim Kaffe" in a special cup and saucer.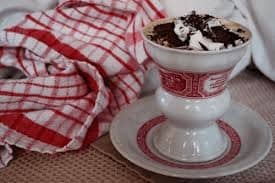 Dinner in Rudesheim am Rhein
As evening approached, we joined a group of shipmates who had also signed up for an optional dinner in town, with authentic local food.
ⓘ Where to eat in Rudesheim: We ate at Breuer's Rudesheimer Schloss, a wine restaurant and wine hotel located at Steingasse 10, 65385 Rudesheim am Rhein. Learn more at their website: www.ruedesheimer-schloss.com/en/.
It was a short walk down the Drosselgasse to get there. The town was quiet apart from us Viking passengers, but there were enough of us that the narrow, pedestrian-only cobblestone street still seemed crowded.
The sounds of an oom-pah band greeted us before we arrived. We snapped a shot before everyone was seated. This restaurant sure is full of traditional German ambiance!
Rudesheim is a pretty German winemaking town in the Rhine Gorge, a UNESCO World Heritage Site. The town is known for winemaking, particularly Riesling wines.
Thus, the best part of the meal was the generous half-bottle of local wine for each person. As to what they served, it was clearly traditional German food – pork and sauerkraut. Germans sure love their swine. If you don't, let your cruise director know ahead of time and they will prepare something else for you.
The musical entertainment continued through our dinner, and at the end of the meal I got drafted into the audience participation event: playing Edelweiss on cowbells. Being one of the youngest in the group, Dan and I were prime targets. Our tablemates tried to get us both to participate, but he opted out, claiming he needed to take photos of our fun.
Yeah, right.
After we entertained everyone with our talent on the bells, the emcee called five people to the front and told us that it was time for an after-dinner shot of kirsch.
Next thing we knew, we were being lined up and handed a long wooden board that had five metal shot glasses attached. After all, he told us, this cherry liqueur is best enjoyed with friends. So the audience counted out in German, "Eins, zwei, drei!" and watched as the board and cups went bottoms up.
As they say in Germany, Prost!
Here's what I found out: When everyone else is taller than I am, my lips have a harder time reaching the glass. Thankfully though, I managed to get most of it in my mouth.
Is the optional Viking Rudesheim dinner worth it?
While we were in town chugging kirsch shots, the passengers who had remained on board were being treated to sauerbraten for dinner. This beef dish takes days to make and is one of Dan's favorite foods. Had we known they were going to serve that deliciousness, we would have stayed on board.
What's even more disappointing was that we had such a good time in town that we got back to the ship late and missed the glass blowing demonstration that Viking had set up. Rats. I enjoy watching that sort of stuff.
ⓘ NEXT STOP: Koblenz, Germany