Regensburg is both the oldest city on the Danube River and one of the best preserved medieval towns in Europe. In fact, it is so well-preserved that the Old Town of Regensburg and Stadtamhof is a World Heritage Site, "an exceptional example of a central-European medieval trading centre."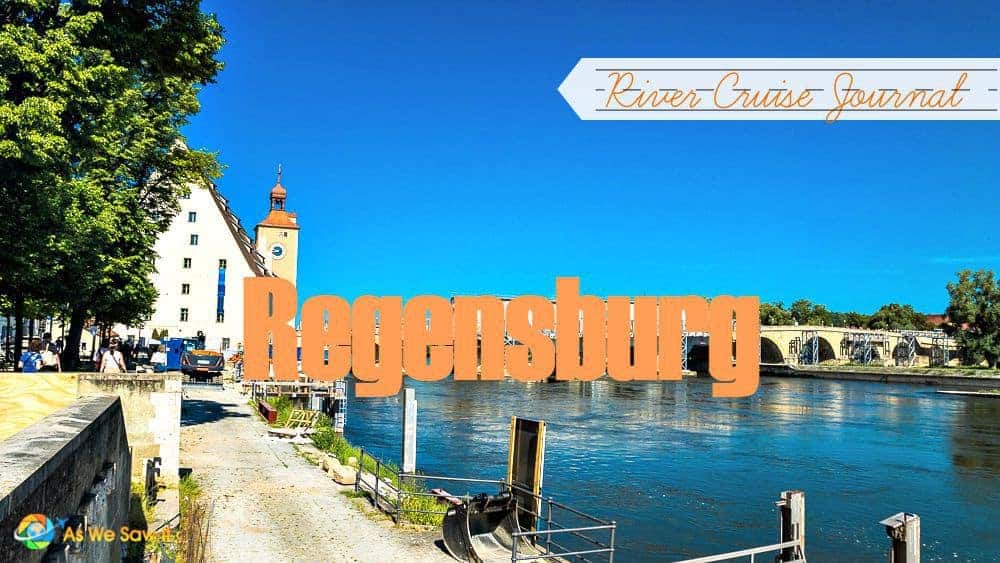 Which tour to take?
Bragi docked during breakfast but there was no rush to get off the boat: Our tours were scheduled to begin at 9:30. That gave us time to choose which tour to take. Viking offered three options:
Walking tour of Regensburg
Jewish heritage tour
Church Architecture walk.
The standard walking tour was slated to run from 9:30-11:00 while the other two were slated to run until 11:30. Dan signed us up for the Jewish heritage tour because it was 30 minutes longer. Or so he said, wink-wink. I'm thinking that it's because he wanted to be in a smaller tour group, and church architecture isn't his favorite subject.
Starting our Regensburg tour
Our guide was Sylvia Seifert, a fascinating local who knows all about Regensburg's Jewish community. She promised to include the city's most notable sites as well as reveal the city's Jewish heritage. It would be hard to do one without the other anyway. In the Middle Ages Regensburg had quite a large Jewish population, one that was essential to the city.
As a center of long-distance trade Regensburg has always had a tradition of great cultural diversity. The oldest traces of Jewish history in Regensburg date back to the Middle Ages, when the city was an important center of Jewish learning.
Actually the medieval Jewish quarter sat smack dab at the main intersection in the middle of the city until the Jews were kicked out in the Middle Ages. Considering their occupation their location is not surprising, I suppose. Because the Church had forbidden Christians from lending money and Jews were excluded from guild membership, the Jews naturally ended up doing all the money lending … and that's where the whole "Jews and money" thing started. I hadn't known that before, but it makes sense.
The stone bridge
Our walk to town began along the riverfront with a beautiful view of the city's pride and joy: a historic stone bridge that was built in the 12th century. It was the only bridge across the river for more than 800 years, until another was built In the 1930s.
With its 16 stone arches, she said, it was an incredible piece of construction for that time period. It has seen a lot of traffic over the centuries and was doing fine until engineers determined that all the cars, trucks and buses were stressing the structure too much. So now it's just a pedestrian bridge.
At the far end of the stone bridge is Stadtamhof, an old town that has since been absorbed into Regensburg. It's part of UNESCO's heritage site area. I made a mental note to see it during our free time but got so engrossed in seeing the rest of Regensburg that I forgot to.
Historiche Wurstkuche
As we approached the bridge we came to an ancient building called Historiche Wurstkuche. It is a 12th-century tavern and sausage kitchen – the oldest sausage kitchen in Europe – and still furnishes tourists and locals with beer and traditional sausages. I wonder how many sausages they have served and how many barrels of beer they have rolled through their doors over all that time.
Roman walls and gate
Although Regensburg is known as a well-preserved medieval city, it has actually been around since Roman times. Remnants of the original city wall and a gate are still standing. Still.
Yes, most of the city's medieval center was spared from damage during World War II. The ancient bridge, on the other hand, was not as fortunate: As the Nazis retreated at the end of the war they blew up a part of the historic bridge to deter the Allies. I'm glad it was repairable.
Altes Rathaus (old city hall)
The Old Town Hall (Altes Rathaus) dates from the 14th century and has a remarkably large medieval courtroom. We arrived just as a wedding party was leaving the building. Germany does not recognize church weddings so people who wish to get married must make it a legal union at the city hall. If they wish to formalize it before God with a religious ceremony, they do that the next day.
Dom St. Peter (Regensburg's cathedral)
Regensburg's cathedral is a landmark in the city. Built in the 1300s it is one of the best examples of Gothic architecture in Bavaria.
Oskar Schindler's former home
Of course our guide took us by the one-time residence of Oskar Schindler, who was immortalized in the movie "Schindler's List."
Neupfarrplatz
In 1995, the city of Regensburg dug up a large square in the Old Town called Neupfarrplatz in order to install electrical outlets for the annual Christmas Market. In a city that is 2,000 years old they should have realized that would be something of a mistake. Archaeologists were surprised to find well-preserved ruins of both a first-century Roman military camp and the city's medieval Jewish Quarter. They spent the next three years excavating it.
Site of the ancient synagogue
The Jewish Quarter had been torn down and torched after the town council expelled the Jews in 1519. As a tribute to that event the city decided to build a memorial to the Jews. The beloved synagogue has been memorialized with a sculpture that artistically reproduces the layout of the original building … on its original foundation.
The Israeli artist Dani Karavan envisioned a gathering place for people of all beliefs, with plenty of spots to reflect, or relax and enjoy an ice cream or simply people watch. He entitled his sculpture Place for Thought. Now, where the Torah ark once stood, Hebrew characters now spell out the word "Misrach" ("place of lighting up").
Stolpersteine
Then Sylvia invited us to follow her to a nearby corner so we could see an even more meaningful project: Stolpersteine (stumbling stones). These are small 10 cm-by-10 cm brass cobblestones in the sidewalks around the city that commemorate victims of National Socialism (Nazism). Each one is inscribed with the name of a person — Jewish, Roma, homosexual, disabled, etc. — who had his or her last address at that spot. If you keep your eyes open as you travel you will find these tributes all over Europe.
Inside Dom St. Peter
Our tour ended at Dom St Peter. Rather than return to the boat for lunch we decided to eat in town so we could save our feet for more exploring. After enjoying salads and a couple of espressos at a nearby Italian restaurant we returned to the Dom to see what it looked like inside.
We had a lot of fun walking through Regensburg's winding old town streets and enjoyed the architecture as usual. We were surprised to find a Golf Museum – it seemed rather random. I was especially impressed with the wide collection of antiques and the variety of collectibles, including some exquisite chess sets.

Back on Board time was approaching. the boat, stopping at the bridge to visit the UNESCO center and museum and climb to the top of the clock tower for some beautiful views.
Bye-bye, Danube!
As we left Regensburg and set sail our cruise director Devi offered a presentation on the Main-Danube Canal, the next leg of our journey. Soon the Bragi would carry us across the continental divide of Europe and water would begin to flow toward the North Sea.
We spent the evening chatting with shipmates and dancing in the lounge.
Next stop: Nuremberg.
Click here to see more photos from our day in Regensburg, Germany.
Note: As is common in the travel industry, Dan and Linda received a complimentary cruise package for the purpose of review. While it has not influenced coverage, AWSI believes in full disclosure of all potential conflicts of interest. For more information, see the Disclosure page.