When it comes to things to see in Panama, most people will immediately think of the world famous canal. It's no wonder, because it's one of the Seven Wonders of the Modern World and the country's top attraction. It's also the one thing we've always had to take our guests to.
Either way, here's our guide to visiting the Panama Canal, including the best places to view the ships and what to expect.
Places to stay
Where can you see when visiting the Panama Canal?
Sure. I mean, the Panama Canal is 48 miles long. Clearly, this means that there are plenty of great places to see it.
One of our favorite places is at the western end of Bridge of the Americas, a little-known spot where China built a monument to the many Chinese who labored to build the canal. From here, you will get a bird's eye view of ships entering and leaving the Panama Canal, and see the loading docks for the canal train. As far as we know, no buses stop here; you'll have to drive or take a taxi to the "Chinese Monument." There is no admission fee.
If you want to see ships pass through the locks though, that takes more effort.
Miraflores Locks – the most visited because it's closest to Panama City and has a beautiful visitor's center.
Pedro Miguel Locks – a single set of locks a few minutes north of Miraflores. This is the least impressive spot and not set up for visitors.
Cocoli Locks – Three larger locks built as part of the expansion, adjacent to Pedro Miguel Locks. No visitor facilities.
Gatun Locks – the three locks that are on the Atlantic side of the canal. They lie near the city of Colón, an hour's drive from Panama City.
Agua Clara Locks – the newest locks that are part of the expansion project. They are on the Atlantic side near Gatun Locks, and opened for business on June 26, 2016.
If you're in Panama City and you want to see it, it's easy to do on your own with the directions below. All of these are easy and Miraflores Visitor Center is only a short drive away.
If you don't fancy getting around on your own, a guided tour is a good option. There's a lot to be said for having someone show you around; all you have to do is sit back and let someone else manage all the travel arrangements.
Tours come in all shapes, sizes and prices, and some include more than one stop. Here are some examples:
Why does the Panama Canal need locks?
If Panama were flat, it wouldn't need locks, but the mountains in the center of the country are high enough that blasting through them would be impractical. The alternative was to lift the ships up and over the Continental Divide.
In the early 1900s, they dammed the Chagres River near Colón and created two lakes: Miraflores (near the Pacific) and Gatun (near the Caribbean). That was the easy part. They had to deal with 12.6 kilometres (7.8 mi) of mountains between them.
Long story short, the French gave up due to the difficulty, cost and immense loss of life. The U.S. took over in 1904 and finally blasted, dredged and dug a channel between the two lakes that would be wide enough to accommodate container ships. This hard-to-navigate channel came to be known as the Culebra Cut, and its creation is an incredibly dramatic story.
How the Panama Canal is laid out
Beginning at the Pacific, a series of two locks raise ships up to the water level of Miraflores Lake.
Ships then continue to the other end of Miraflores Lake, where a single lock at Pedro Miguel lifts the ships even higher.
Ships navigate the treacherous Culebra Cut to Gatun Lake.
Once they pass through Gatun Lake, a triple flight of locks at Gatun lowers them to the level of the Caribbean Sea, and they leave the canal.
Understanding how the canal operates
I could have a ho-hum, been there-done that attitude but I always enjoy visiting. The Canal has an announcer who narrates details about the current ship that's passing through – its nationality, size, cargo and other particulars – and explains how the canal system operate. He/she does it bit-by-bit, back and forth between Spanish and English. It's fun to try to understand the Spanish words.
Some of these ships are so wide that only a few inches separate them from the concrete sides of the locks. Others are small enough that more than one can fit at a time. In either case it's vitally important to protect the locks from accidental damage, so pleasure boats and small fishing boats usually transit next to a canal tug boat and they just get tied to the tug boat as they go.
A lock master on each side of the locks has ready communication with both the pilot and the control tower for the entire operation.
Canal limitations
When the Panama Canal opened in 1914, canal authroties set up a set of guidelines for the maximum size that would be allowed to enter and termed it "Panamax." The size includes the width and length of the available lock chambers, the depth of water in the canal, and the height of the bridges that span the canal. The third set of locks, which opened in June of 2016, allows even larger, "New Panamax" ships.
Though its two "lanes" of canals make it look like the ships might be able to go in both directions at the same time, the Culebra Cut makes this impossible. This treacherous area is far too narrow for large ships to pass each other. (This area was the biggest challenge when they built the canal: They had to blast and cut their way through.) So for 12 hours a day ships pass from north to south, and for the other 12 they go from south to north.
The original canal has two lanes, each with its own set of locks. The expansion project added a third lane through the construction of lock complexes at each end of the canal. One lock complex is located on the Pacific side, southwest of the existing Miraflores Locks. The other is located east of the existing Gatun Locks. Each of these new lock complexes have three consecutive chambers designed to move vessels from sea level to the level of Gatun Lake and back down again.
Avoiding accidents in the canal
Yes, you heard me right. I said pilot. The ship's captain is required to yield control of the ship while it's transiting. The Panama Canal has people who are specially trained to guide ships through safely, mainly because of the Culebra Cut. It is so narrow that only one ship can go through at a time.
What if a ship's captain, who is used to navigating the open seas, misjudged and ran aground in the canal! Imagine the havoc that would happen – not to mention how it would affect world trade! Fortunately, the pilot gives him a break.
Mini towing locomotives, called mules, will use cables to safely guide the larger ships through. Up to eight towing locomotives and sixteen cables will guide them through the canal. Line handlers are trained to be accurate in getting those wires on board the ship as fast as possible to provide a safe transit.
Visiting Miraflores Visitor Center
Make time to visit the Miraflores Visitor Center, a fascinating place that will help you understand how the entire canal operates. They have informative films, an interesting museum that even kids will enjoy (fish! bugs!), and viewing platforms where you can watch the ships pass through.
Film showings alternate between Spanish and English, so ask when the next English showing is and plan your schedule around that. If you have any questions, all the staff are bilingual and incredibly helpful and informative.
I still enjoy watching the enormous ships rise skyward as the locks fill with lake water and the 7-foot-thick gates open and close. Sometimes while they wait, the ships' crews and passengers will wave to everyone, and the platform full of people will wave back. It's a bit too far away for the crew to hear anyone shout "Hola!" or "Bienvenidos!" (welcome) – assuming that they'd understand the words – but a smile and a wave will always express what words can't.
Inside Miraflores Visitor Center
Your ticket allows access to more than just the viewing platform: The Visitor Center also features:
an ample, fully equipped theater
the observation terraces
two snack bars
a white tablecloth-type restaurant with panoramic view, and
the ubiquitous gift shop.
The products they sell at the gift shop are unique and you won't find them anywhere else. I'll confess that even though we rarely buy souvenirs, I once succumbed to its lure. I bought a cool ceramic tea mug with a historic map of the Panama Canal on its side. It came complete with a lid and basket that holds the tea leaves as they steep.
But I digress.
[amalinkspro type="cta-btn-css" ctabtn-id="" asin="" apilink="https://www.amazon.com/dp/1786574918?tag=awsi09-20&linkCode=osi&th=1&psc=1″ associate-id="awsi09-20″ addtocart="1″ new-window="1″ nofollow="1″ alignment="aligncenter"]Don't Forget Your Panama Guide on Amazon[/amalinkspro]
The Panama Canal History Museum
Even if you're not normally a history buff, there's a lot of cool stuff in the museum. The museum has historic pieces, models of ships and construction equipment, a navigation simulator, video presentations, a topographical model of the Panama Canal itself, and objects used in Canal operations.
Here's how the four-level Panama Canal Museum is laid out, floor-by-floor.
The History Hall portrays the background, technological innovations, and sanitary initiatives during the construction of the Canal.
The Hall of Water: Source of Life – the importance of water, environmental conservation and biodiversity, and protecting the Canal Watershed.
The Canal in Action – how the Canal operates, Canal improvement, modernization, and maintenance projects. You can also experience being inside one of the lock culverts and pretend you're piloting a ship through a lock.
The Canal in the World – the importance of the Canal to world trade, the trade routes it serves, its main users, the various types of vessels that what go through, and what they carry.
Visit Gatun Locks on the Atlantic side
If we have the time, we like to take our visitors to see both ends of the canal: Gatun and Miraflores. The canal locks at Gatun aren't very crowded, whereas Miraflores can be wall-to-wall people. Besides, what you lose from not having a Panama Canal museum to visit, you gain from being practically an arm's reach away from the ships.
There is a small viewing platform and live play-by-play descriptions of each ship that passes through, in both Spanish and English. If you have any questions, ask away. All visitor center employees here are bilingual and everyone is extremely helpful.
Unless you love ships, you will probably be satisfied after watching one or two ships pass through, just as our visitors are. But considering the hour-long drive to get here, we have a couple of ways to extend our trip, both of which are on the other side of the canal.
a drive to Fort San Lorenzo, a UNESCO site that's perfect for views, history and nearby beaches
a chance to visit Agua Clara Locks
Here's where the fun comes in: To get there, you can drive through the Panama Canal!
I have no idea how they came up with the idea, but yes, there is actually a roadway over the canal, at water level. We exit the parking lot and turn left, stopping at a traffic signal. It seems a bit odd to see a stop light here.
Once the massive, metal gates at Gatun Locks have closed and begun to fill with water, a one-lane metal bridge rotates to create a roadway over the canal. Soon the light turns green, a guard waves us through and we descend the ramp to the bridge. The Caribbean is only a few feet beneath our tires.
The massive doors tower overhead as our car slowly crosses the narrow bridge, so close we might count every rivet. Rivulets of water drip and spew from cracks and crevices around the doors, reminding us that a wall of water lies just beyond. Please stay closed, our minds plead, and we avert our gazes in the other direction, even though we know there's no risk at all.
There, we see a ship awaiting its turn. Yikes! It looks monstrous from down here!
Once on the other side of the canal, the drive to San Lorenzo is picturesque, with alternating views of the azure sea and dense rainforest. It is worth the time, but that's a story for another day. Today, until they build that long-promised Atlantic Bridge, there's no other route back home. We'll be driving over the canal again later.
Tip: You're not allowed to stop, so switch drivers before you drive back. Everyone deserves a chance to get this view.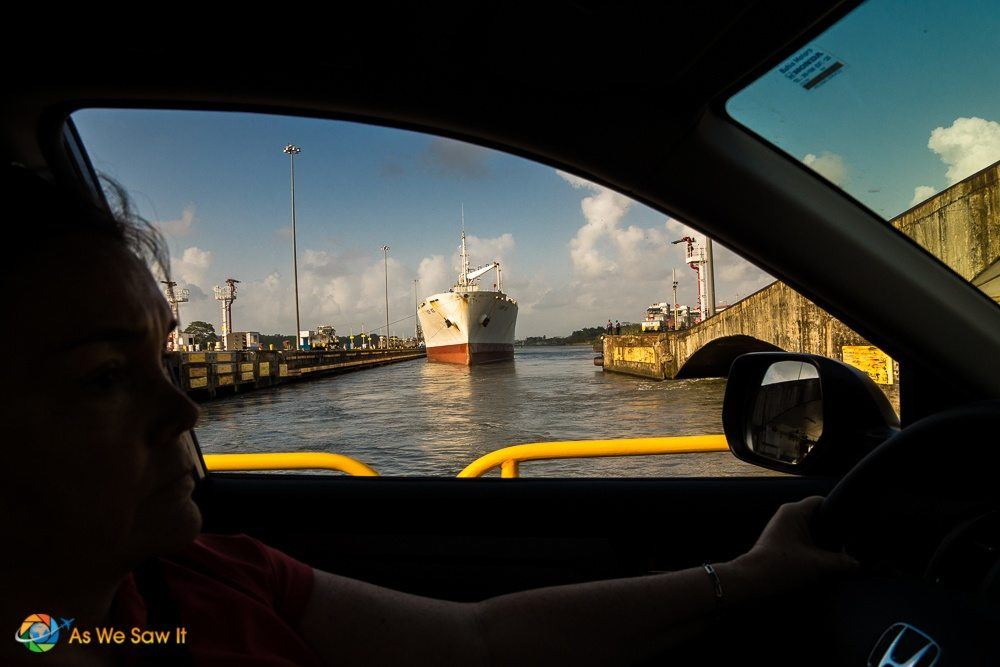 Agua Clara locks and visitor center
The Panama Canal Expansion was the largest project since the canal was built. Thanks to the new lane of traffic and larger locks, it is wide enough for even the mega-sized New Panamax ships to pass through.
To understand more about it, you'll want to visit the nearby Agua Clara Visitor Center. We don't have any first-hand knowledge because it opened after we left Panama, but what kind of article would this be if we didn't share what we know?
The Agua Clara Visitor Center offers a panoramic view of the recently-opened expansion from a viewpoint 50 meters above the canal. Depending on which way you turn, you will enjoy fabulous views of the new Agua Clara Locks or Gatun Lake.
Additionally, the Visitor Center offers a chance to learn how the newly-expanded Panama Canal works, as well as discover Panama's wildlife on an ecological trail through a tropical rainforest. Amenities include a restaurant overlooking Gatun Lake, a cafeteria, a children's playground and a gift shop.
Note: There is no ticket office at Agua Clara Visitor Center. Purchase tickets at the Gatun Locks ticket office,
Plan your visit to the Panama Canal
Here is some helpful information to help you plan your trip to Panama.
Panama Canal visiting hours
Miraflores Visitor Center admission is B/.15.00 (B/.10.00 for children between 6 and 12). (Balboas are currently equivalent in value to USD.) Hours: open daily 9-4:30.
Expect to pay B/.5.00 to visit Gatun Locks (free for anyone under 12). Hours: open daily from 8:00-4:00, including holidays.
Agua Clara Visitor Center admission is B./.15. Hours: open daily 8:00-3:15pm.
Avoid visiting Miraflores at midday (between about 10:30am-2pm). You won't see any ships in the locks during that time. This is when the canal changes directions, and it takes that long for ships to clear the canal.
For additional information on the Panama Canal or to make a reservation at Miraflores' full-service restaurant, call +507 276-8325 or -8449. You can also email [email protected]
Practical tips
Dress in layers. It can be hot outside on the platforms and cool inside. (Platforms are sheltered from the rain and sun.)
It can get windy outside. If you have long hair, you may want to bring a comb or tie it back.
If you want to eat at the restaurant at Miraflores, it's best to call ahead so you can request a table with a view. You can dine in air conditioned comfort indoors, or choose to dine al fresco. Just be aware that it can be breezy, so you may want to carry a light jacket.
How to get to Miraflores
MetroBus has a route that goes directly to Miraflores from Albrook Station. Cost: 25¢ each way.
It's also easy to get to the Visitor Center with Uber or taxi. Expect to pay $10-15 each way.
Panama City's hop-on/hop-off bus route includes a stop at Miraflores Locks.
Tip: New Uber user? Install the app on your phone and use Promo Code danb2984 to get $5 off your first 4 rides.
Book a tour
When we need tours or tickets, Get Your Guide is our favorite resource. Here are some special experiences to consider.
Read more
Panama has so much more to offer than the Panama Canal alone, and not everything is in the guidebooks.
Online
We have written a number of articles about traveling around Panama for you to enjoy, based on our experience of living there for nearly three years. Popular articles include:
On the bookshelf
Related books on Amazon: