If you're an American searching online for "things to do in Panama City," you'll get a ton of information. The only problem is, it's usually about the one in Florida. You know what? I have nothing nice to say about that. Panama is a capital city of a country, for Pete's sake. Plus, it's the financial hub for the Latin American market and a favorite foreign retirement spot for North Americans. Reason enough, I'd say, to list that one first in the search results.
The rest of the world would be shocked that Florida's Panama City ranks higher on Google. Maybe it's due to the search engine's paid ads, but still, it just seems wrong to me. More than half of Panama's entire population lives in its capital. And there are far more attractions in Panama City Panama than a Florida beach town could.
Anyway, this brings me to an apology. Although we lived in Panama City for almost three years, I never wrote an article explaining which Panama City attractions are worth visiting. I'm making up for it today with a list of the best things to do in Panama City, according to our guests.
The one in Panama. 🙂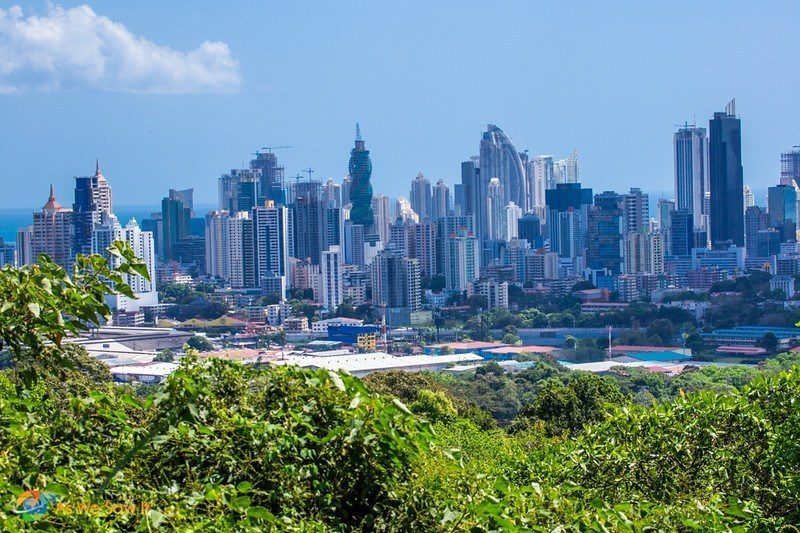 Where to stay in Panama City Panama
Your choice of where to stay in Panama City should depend on why you're visiting. The best Panama City hotels for a businessman would be in a quiet neighborhood, whereas the best places to stay for backpackers might be in an all-night party spot.
ⓘ TIP: If you value your sleep and your hotel offers a rooftop bar, don't get a room on the top floor. Guests in those rooms may hear the music until the wee hours.
Here's an overview of the best neighborhoods to stay in:
If you're here for the culture or nightlife, stay in Casco Viejo. It is full of restaurants and bars. Las Clementinas and Tantalo both have rooftop terraces and plenty of Panamanian ambiance.
If you're here for shopping or business, Marbella and Bella Visita are neighborhoods near Panama's skyscraper-filled financial district. This is also where you'll find high end boutiques, as well as some of the best restaurants. Two hotels to consider: The Bristol Hotel and Panama Marriott Hotel.
If you're here for tourism, stay at the Holiday Inn Panama Canal. Built on the site of the former U.S. base, it's just a two minute drive from the entrance to the Miraflores Visitor Center.
Save our list of things to do in Panama City for later
Add this to your favorite Pinterest travel board!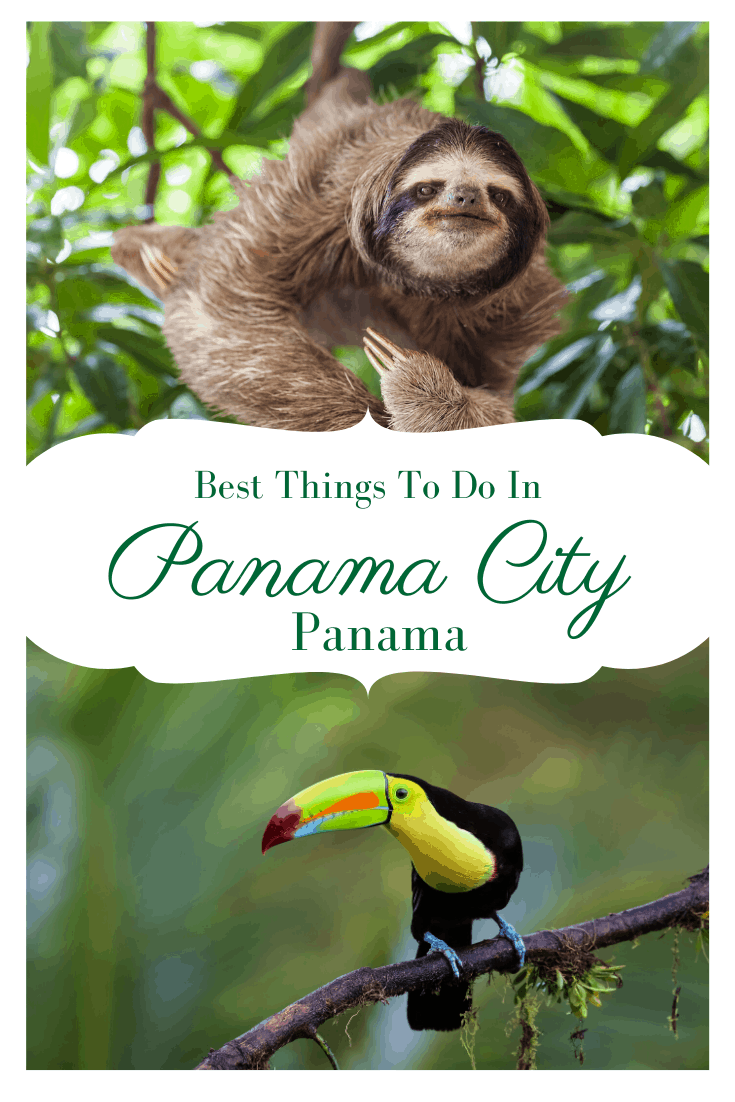 Best things to do in Panama City
Before we start, we'd like you to know that we've linked to related stories throughout this article so you can get more info.
We also need to mention that the surrounding area has a lot to offer as well. We have a separate post dedicated to the best day trips from Panama City.
Finally, if you like to book activities ahead of time, you can't go wrong with these:
1. Watch the ships at the Panama Canal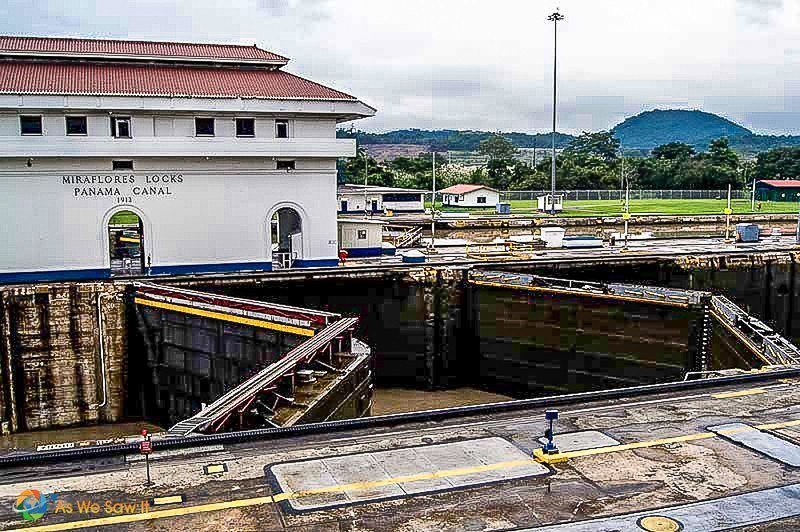 Without exception, this is tops among the best things to do in Panama. Every one of our visitors has listed visiting the Panama Canal as their one thing they absolutely had to see while they were in Panama. It's simple to see the Canal, but you need to pay admission to see the locks in action.
The best place to get your introduction of the Panama Canal is at Miraflores Visitor Center. Well worth the price of admission, you can watch ships pass through the locks from an observation platform, enjoy an informative film about the Canal, and visit an interesting museum that is full of fun displays and hands-on exhibits about the canal, the environment and its history.
The visitor center also has a good restaurant and a gift shop that will happily sell you a souvenir of your visit. I bought a couple of fantastic mugs and smile every time I use them.
ⓘ TIP: Want to cruise on the Panama Canal yourself? Local companies like this one offer partial transits, which are easy 6-hour excursions from Panama City.
2. See the original city in Panama Viejo
Most tourists don't venture to this part of Panama's capital, which is a shame because these ruins are enjoyable.
Panamá Viejo, also known as Panamá la Vieja, was the original Panama City. It has the distinction of being the oldest European settlement on the New World's Pacific coast.
When the Spanish settlement was founded in 1518, it had only 100 settlers. The village prospered as a port while Spanish conquistadors plundered the New World. Panama Viejo had grown to over 10,000 people by the time England's Captain Morgan sacked and burned it in 1671.
The archaeological ruins are so well intact that Panama Viejo was designated a UNESCO World Heritage site in 1997 ("Archaeological Site of Panamá Viejo and Historic District of Panamá"). For the price of a ticket (about B/5.00), you can walk among the ruins, explore what's left of the church, and climb the bell tower. While you're there, don't miss the nearby museum as well. It has a variety of relics—many pre-Columbian—and a model of what the original city looked like in its heyday.
3. Wander around Casco Viejo, a.k.a. Casco Antiguo
Rather than rebuild from the ruins, the survivors of the attack wisely relocated to a small, more defensible position at the foot of Ancon Hill. Their new settlement has survived to this day and is now known as Casco Antiguo, or Casco Viejo (Old Town). It is the "Historic District" part of the World Heritage site.
Casco, as it's called locally, is now the historic district of a very modern Panama City. This beautiful and charming district is made for walking, a hot spot for Panamanians and tourists alike. In this small area of only 15 or so streets, there are easily 25+ restaurants and 15+ bars, coffee shops and night clubs.
We indulge in food and drink, of course, but we also enjoy walking around and seeing the street life, from street musicians to vendors to playing children and random cats. It reminds us of the old part of Cartagena, Colombia.
There are also dozens of shops, galleries, museums, and of course, lots of Spanish colonial houses. Casco is one-of-a-kind thanks to all the street art and the colorfully dressed Guna Yala selling their brilliant, handmade molas.
It's great to see the popular attractions and all, but it's just as important to plan time to do nothing but relax. With all its restaurants, bars and sidewalk cafés, Casco is one of our favorite places for that, and our guests enjoy it as well.
ⓘ TIP: Molas are handicrafts that are created and sold by Guna Yala women. From artistic panels to clothing to kitchenware, they make a vivid and inexpensive souvenir of your Panama visit. You can find plenty of mola vendors in Casco Viejo. Some of the women are willing to negotiate a bit if you are buying a quantity to take home.
4. Hike in Parque Natural Metropolitano
Panama City is the only metropolis in the world with a rainforest within its city limits. Metropolitan Natural Park is 654-acre natural park and much of it is untouched. The park has a small nature center, plus three or four main trails, all of which are well maintained and wind easily through the tropical rainforest.
The trails we have followed all led to Cedar Hill Lookout Point. Cedar Hill offers some of the best views in the entire city. Turn one way and you'll see
the Pacific Ocean
Amador Causeway
the Panama Canal entrance on the Pacific side
In another direction, you'll see:
the Bridge of the Americas
Ancon Hill
and an incredible panoramic view of Panama City.
We recommend Parque Metropolitano as a great place to see a great variety of plants, animals, insects, and birds without leaving the city. There are dozens, if not hundreds of bird species in the park. Some of the animals we've seen there are sloths, mono titi monkeys, and basilisks ("Jesus lizards"). We've heard that there are deer in the park too, but we've never seen them.
5. Bike or jog along Amador Causeway
Have you ever wondered what happened to all the dirt and rock that was removed when they created the Panama Canal? Well, it was dumped into the Pacific Ocean, just outside the canal's entrance. All that dirt created four small islands, Naos, Culebra, Perico and Flamenco.
During the Canal Zone era, the islands were a recreational area for US military personnel. Of course, as part of the Canal Zone it was off limits to Panamanians. The one exception was Manuel Noriega, Panama's infamous dictator. He built a private house on one of the islands, which didn't survive his ouster. The Panamanians didn't waste any time looting and destroying it.
Anyway, the chain of islands became known as Amador Causeway, and Amador marks the Pacific entrance to the Panama Canal. After Panama took over the Panama Canal, they replaced the one-lane road with a beautiful, two-lane boulevard that also has an adjacent bicycle/jogging path.
They also turned Amador into an entertainment destination. Besides port facilities, marinas, shopping, nightlife, hotels and restaurants, you'll also find the huge Figali Convention Center, Punta Culebra, and a Biodiversity Museum. You'll also find some of the best views of the city. It's a great observation point for viewing the ships entering the Canal, too.
6. Meet local wildlife at Punta Culebra
Punta Culebra is undoubtedly our favorite destination on the Causeway and, when we first went, it took us by surprise.
Operated by the Smithsonian Tropical Research Institute, the only bureau of the Smithsonian based outside of the United States, Punta Culebra is dedicated to understanding biological diversity.
They describe Punta Culebra as "an open-air museum focusing mainly on marine science and education, conservation and interpretation of marine coastal environments."
Well, we didn't know all that when we discovered it. We just knew that it is a fabulous nature center, and we quickly discovered that it's the best place to see sloths close up. And as long as we're talking about things to see, it's a great observation point for viewing the ships entering the Canal, too.
Punta Culebra also has hands-on aquatic tanks, freshwater and marine aquaria, and a video room. If you have kids, you have to come here.
Another thing: If you're a World War II buff, you can wander into the woods to see the fortifications that were built to protect the canal. There's not much to see here, but it's still interesting.
Yeah. Don't miss seeing this when you visit Panama.
7. Pay a visit to Biomuseo
Designed by Frank Gehry, the Biodiversity Museum is the biggest piece of eye candy on Amador. A jumbled pile of multihued planes and angles, the famous architect offered the design to Panama at no cost – just because his wife is Panamanaian. Now that's love!
Biomuseo has eight galleries and a biodiversity park made up of the nation's native plants.
8. Watch local life on Cinta Costera
Panama City may not have a beach, but its beautiful stretch of waterfront park makes up for it. If you crave fresh air and exercise, head to Cinta Costera. Bordered by modern and expensive highrises, this ribbon of parkland has a marina and it's big enough to host city-wide festivals.
The park runs along Avenida Balboa from Multicentro Mall to Casco Viejo. It has free workout equipment you can use, as well as areas for running, biking, tennis, volleyball, basketball, soccer, and more.
ⓘ TIP: Panama is broiling hot in the daytime, so few people visit until the sun drops behind the buildings. Buy a raspao (shaved ice)then , sit on a bench and people watch.
9. Seek seafood at Mercado de Mariscos
Want a great way to see what is available in a country? Visit local markets and study the selection available. Our favorite local market here has to be the Panama City Fish Market. You'll find it at the end of Cinta Costera, right at the entrance to Casco Antiguo.
There is a new outdoor area where you can find a cheap breakfast or lunch. You can also join the locals in the restaurant on the second floor of the fish market.
We were surprised by the selection available and even some of the fish they ate, like Parrot Fish. We've seen them while diving and never knew they were edible! We even saw fish that are not sold in the United States, like snook (robalo in Spanish). Now we know what it tastes like, and yes, it's delicious. Most of all, we were impressed by the freshness and price of the offerings. Yep, we ate a lot of fish while living here. Yum!
ⓘ TIP: While at the market, try ceviche, a local specialty. You can get a cup of fresh, lime-marinated fish for a dollar or two./em>
10. Climb Ancon Hill
Known in Spanish as Cerro Ancón, this forested, 654-foot-high hill is visible from almost everywhere in Panama City. Ancon Hill was under the U.S. canal jurisdiction until 1977 as it housed the administration for the Panama Canal. You can hike up the hill in a half-hour, or drive almost all the way up in 5 minutes. No cars are allowed on the top, so you'll have to hike the last bit.
Once on top, you can enjoy some of the best views in the city: Casco, the skyline of the modern city, and the Bridge of the Americas spanning the Panama Canal.
11. Cross the Bridge of the Americas to the Chinese Memorial
The Bridge of the Americas—Puente de las Americas—stretches over the entrance of the Panama Canal. It's part of the Pan-American Highway that runs from Alaska to Patagonia – with only a slight break in the road. You can't drive through Panama's Darien Gap.
At the far end of the bridge, you will find the Mirador, which offers a beautiful, bird's-eye view of the Canal. The Mirador is part of the Chinese Memorial Monument, built to honor the Chinese who helped to build Panama's railroad.
This was always the first view of the Canal we would give our visitors. We'd take photos, and check out the local vendors' Panama souvenirs (mostly made in China, haha). Then we cross back over the bridge and head to Miraflores Locks, which is right up the road.
12. Check out Soberania National Park
A short drive away from the city center (15 miles/25km), Soberania National Park is tucked into the jungle where the Rio Chagres enters the Panama Canal. Its rainforest is mostly original growth, and scientists from around the world flock here to study the birds and animals.
Panama has a diverse collection of wildlife, including monkeys, caimans, leaf cutter ants, coatimundis, parrots, jaguars and harpy eagles. Soberania offers a spectacular opportunity to see them, though you'll need to get up early because everything takes a siesta in the sweltering midday.
The two most popular things to do in Soberania are hiking along Pipeline Road and visiting Panama Rainforest Discovery Center.
Pipeline Road is perfect for hiking (quiet, please!). It's also a world-class destination for birdwatchers. We're talking world records for numbers and variety, so if birds are your thing, you should hire a professional guide.
If your goal is to see local wildlife, Panama Rainforest Discovery Center is a must. The entry is on Pipeline Road. We enjoy getting buzzed by the hummingbirds at their feeder, and encountered a wild coatimundi while in the parking lot.
That said, an early morning walk with a guide resulted in one of our most memorable experiences in Panama. While climbing the treetop observation tower, we came across a howler monkey watching us from a nearby tree, almost close enough to touch. I guess we were his entertainment.
ⓘ TIP: Our Soberania photo gallery is full of wildlife we've seen there, including birds, bugs, and beasts.
13. Enjoy resort life at Gamboa Rainforest Resort
The Gamboa Rainforest Resort is a 340-acre resort that borders the Soberania National Park. If you're thinking of an early morning park visit, staying at Gamboa is the easiest and most convenient way to do it.
The resort is on the Rio Chagres and offers panoramic views over Soberania as well as access to a golf course. They can arrange unique activities to both guests and visitors, such as a Night Safari, an Aerial Tram, butterfly farm, a tour to meet the indigenous Emberá, or boat tours on the Canal.
14. Take a city tour
The best way to get a clear sense of a new place is to have someone to show you around. It's worth finding a local who can give you a private tour. Here's one to look at.
Private tour guides will act as translator when necessary, answer all your questions, and point out things that interest you.
15. Celebrate Carnival like a Panamanian
This one isn't so much a place as an experience. If you enjoy religious festivals, there's a huge Carnival celebration in Panama City in the week leading up to Lent. Carnival is like Mardi Gras; it's the antithesis of the Catholic Lenten season because it's full of partying, drinking, dancing, eating and the like.
Look at this photo. We went on the first day before the action was scheduled to begin and it was already mobbed!
Carnival is celebrated all over the world. Of course, the most famous one is in Rio de Janeiro, but we're told that Panama's is one of the largest.
Final thoughts about Panama City attractions
So there you have it: a list of the best things to do in Panama City Panama, according to our guests. Whether you are looking for great food, Central American wildlife, or historical landmarks, you will find it here.
We hope that this list has given you some ideas of what to do during your next visit to Panama City. If you have any questions about our recommendations or want more information, please let us know. We would be happy to help!
Getting around Panama City
Apart from Casco Antiguo, Panama is not very walkable. We've done it, but we hate crossing streets because of the crazy traffic. Better options are taxi, Uber, bus, and subway.
That said, we've had too many unpleasant experiences with taxi drivers taking us "the long way" to make more money. We have found that Uber is a more affordable option.
Outside of Panama City, you can take a public bus to many places. But unless you don't mind standing in the broiling hot sun to wait for the return bus, it's easier to rent a car. We personally book through DiscoverCars.com.
Plan your Panama City visit
Here are some resources to help you plan your own trip.
PANAMA TRAVEL PLANNING ESSENTIALS
✔ Tourist bureau: The country's official website is Tourism Panama. Besides offering tons of attraction ideas, they can tell you about special events and give you lots of travel ideas.Also check for city discount passes and tickets.
✔ Travel Guide: This book is a top seller on Amazon.
✔ Flights: Panama City's Tocumen Airport code is PTY. Check prices here.
✔ Accommodation: Tripdavisor is a massive price comparison site. Check Vrbo for apartments.
✔ Airport transfer: Use a taxi or Uber, or book an airport shuttle for a little more. They greet you in the airport, help with bags, and take you to your hotel.
✔ Visas: Find out what you need and apply here.
✔ Travel insurance covers medical emergencies, cancellations, flight delays, baggage delays, lost luggage, and more. A wise investment. Check prices here.
✔ Getting around: Panama City has buses and a metro, and the country has an extensive public bus system. You can also take Uber or rent a car.
✔ Tickets & tours: Find dozens of fun ideas on GetYourGuide and Viator
✔ Organized trips: G Adventures has insanely affordable small-group tours + guaranteed departures.
\✔ Currency. Panama's currency is known as the Balboa (/B.), but it only exists in coinage. In reality, the country uses the US dollar.
Online
We have a whole series of articles about Panama here on As We Saw It. Some of our most popular include: