While Panama's capital has a lot to offer, it's sadly lacking in beachfront. For sand and surf, the City Beaches Area is a 90-minute drive away. This stretch of white sand begins in Punta Chame, Panama, and extends up the coast for 22 miles.
Punta Chame is a long, narrow finger of a peninsula that juts into the Pacific Ocean. It makes an ideal day trip from Panama City, our local friends told us. Take a drive, they said, because few people visit its beaches, even on weekends. In other words, it makes an ideal destination for anyone needing to escape the rat race and city hordes.
Uh, maybe. With towns like Coronado and Gorgona, this is prime real estate for developers, and a popular area with expatriates. It's also the top SUP and windsurfing spot in Panama.
And yet it's still relatively deserted.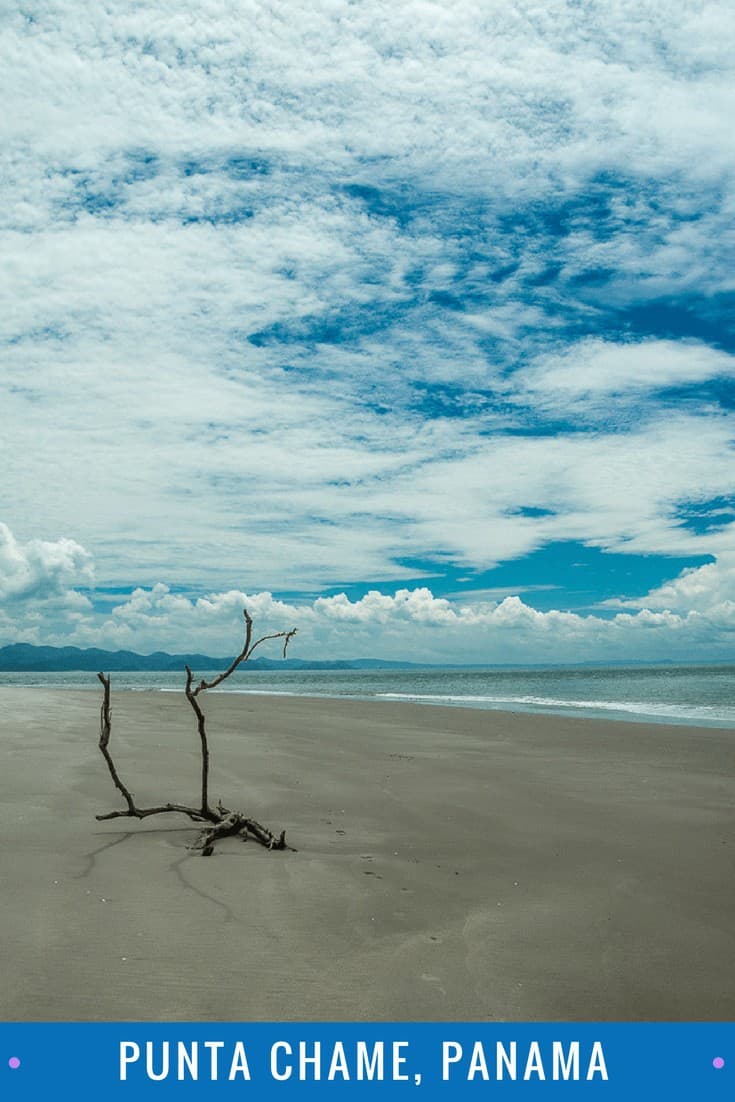 Places where you can stay
How to get to Punta Chame
Punta Chame was really easy to get to. All we did was head across the Bridge of the Americas from Panama City and keep driving west along the Pan-American Highway. About 90 minutes later, we came to the town of Bejuco, where a big green and white sign pointed to Punta Chame.
Once we turned left and quit the highway, the fun began.
The scenery turned more interesting as we navigated a small road that wound over hills and past beautiful lakes and farmland. Soon, the trees began to disappear and we started to glimpse small mountains to the west.
Then suddenly, man-made lakes appeared. They reminded us so much of the fish farms in Timor, Indonesia that we couldn't help ourselves. When we passed an open gate along the way, we just had to drive in to explore a bit. Sure enough, it was laid out just the same, and I later learned the ponds are used for farming shrimp.
Further down the road, small tidal lakes began to appear. Sun-bleached tree stumps stuck out of the still waters, reflecting the distant mountains. We knew that the surf was near and the drive was almost over.
At Punta Chame beach
With only a handful of permanent residents (mostly Panamanian), Punta Chame is more of a city getaway than a place you'd want to live full-time. That said, there are some luxury beach houses along the water, homes for Panama City residents who come out for weekends.
If you go during the week like we did, you may discover that you have the sun, sand and ocean to yourself. Once past the small collection of buildings that make up the town, the paved road comes to an abrupt end. Tire tracks in the dirt wind down to the beach, proof that if you have a good 4×4, you can keep driving!
A seemingly endless, peaceful and stunning white sand beach wraps around the point, beckoning you to walk in peace and quiet, and tempting you to drop everything onto the white sand and jump into the waves.
So we did.
As soon as we'd spread our towels on the warm sand and slathered on sunscreen, we shot a few photos and then hit the waves. The water was pleasantly warm and the views from the water were peaceful. Fluffy white clouds, piling up over the land in the distance, practically blended in with the white sand.
What's the point?
After finishing our swim and catching some rays, it was time to walk towards the point to see what we could see. Along the way, we passed small, sandy cliffs, carved into the packed sand by the Pacific's high tides. They were taller than we were!
Looking out past several distant islands from the tip of the peninsula, we could barely make out Panama City through the afternoon haze. Back toward the mainland, we also glimpsed a nearby resort, Nitro City. Yet on this quiet stretch of sand, we felt so far away from it all, standing on this secluded beach.
Lunch at Nitro City
We rejoined our kids and teased our son that he was as white as the sand. As in any other tropical country, Panama's sun can be brutal, so when he started looking a bit like a cooked lobster, we packed up to look for somewhere to eat. Not much was visible, so we ended up having lunch at Nitro City.
This extreme sport hotel is not for the budget-minded, but it's full of action-packed possibilities:
dirt biking
sail boarding
motocross
paintball
ATVs
scuba diving
jet skis
paddle boards
kite-surfing
a wakeboard cable course that pulls you across the water and over ski jumps …
and for those seeking less excitement, there's a pool with a pool bar.
As tempting as it was to just order a drink with an umbrella from one of the lounge chairs in the pool, we were just too hungry to do it. Besides, we were with our kids – and even though they were adults, having a liquid lunch would be setting a bad example. So instead, we all sipped on local beers while waiting for our grilled corvina lunches.
ⓘ EDITOR'S NOTE: Nitro City is temporarily closed. Check this food guide for dining alternatives in Punta Chame.
Punta Chame's now on our list of favorite day trips from Panama City. Go during the week and you'll have the beach to yourself … unless we are there first!

How to visit Punta Chame Panama
Punta Chame has little to offer other than a few accommodations and their adjoining restaurants. The town of Chame, near the Pan-American Highway, has a bank, an ATM, and a few basic grocery stores. Load up on snacks and water beforehand, so you can enjoy your day without getting famished.
For more sightseeing, see our Punta Chame photo album.
Google Maps offers an aerial view of Punta Chame. Zoom, scroll around and explore!
Where to stay in Punta Chame
Nitro City is closed. If you want to stay in this tiny town, this is your best option.
Where to eat in Punta Chame
If you go to NitroCity, be prepared to eat. Trust us – they don't skimp on the food, because each of our lunch platters held a whole – and very tasty – fish!
Punta Chame itself is small: only about 400 inhabitants. There is an inexpensive local bar-restaurant that serves typical meals, several seafood dishes, and highly recommended ceviche. It's located near the sign saying Taborcillo Island. It'll be a Must Try the next time we head that way.
Getting to Punta Chame from Panama City
Bus. You can take any bus in Panama City that's heading south to La Chorrera on the Interamericana. Get off at the Plaza Imperial shopping center in Bejuco (US$3, 1½ hours). Then take the bus to Punta Chame (US$1.25). The Punta Chame bus leaves hourly between 6am and 6pm daily.
Alternatively, buses leave regularly from Albrook in Panama City ($3) going toward Punta Chame. The turnoff for the beach is on the left side of the beach so be careful when crossing the highway.
Driving. Take the Panamerican Highway until you see signs for Punta Chame on the left. If you're driving, the trip takes 1½ hours. Note that if you reach Coronodo, you have gone too far.
Taxi. Taxis to Punta Chame from Panama City cost anywhere between US$70 and US$120.
This website shows how to get anywhere by plane, train, bus, ferry and car.
Other excursions from Panama City, Panama
After you've explored Panama City and spent a day relaxing Punta Chame, I've got an entire article covering even more day trips from Panama City. Two of my favorites are Isla Grande and El Valle de Anton.
However, if you're a thrill-seeker, I would be remiss if I didn't mention visiting the infamous Darien Gap. It's too far to go for a day, but if you have the time, it's the ultimate adventure!