If you've been entertaining fantasies of an epic road trip from the US to Colombia and beyond, be prepared when you get to Panama. You can't get there from here.
We're as serious as a heart attack: It's impossible.
It is true that the Pan American Highway runs from Alaska all the way down to the tip of Argentina. On paper. However, if you look at the map carefully, you will find one impenetrable, 90-kilometer gap in the road, right at the border between Colombia and Panama.
Crossing the Darien Gap jungle has been called the world's most dangerous journey.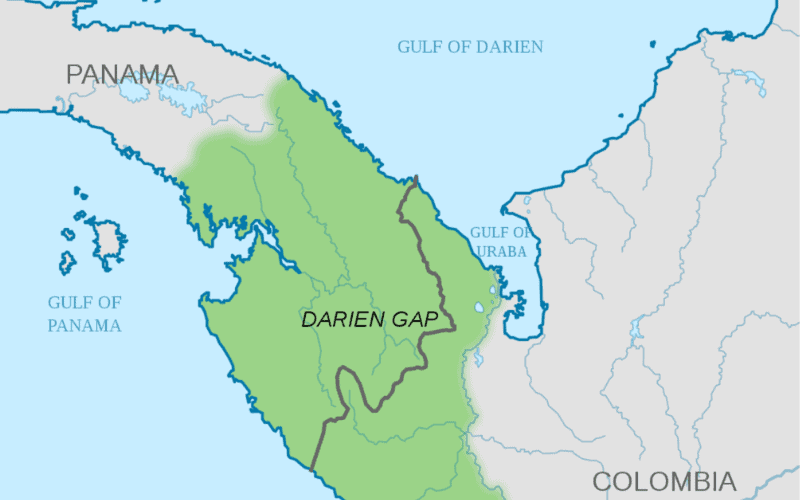 Can you drive from Panama to Colombia?
No, you cannot drive from North America to South America. Although the continents are connected by land, there is no road linking Panama and Colombia. The Pan American Highway stops at the Darien Gap, an undeveloped area that spans the border.
Building a road through the wilderness here has been discussed for over 100 years. But there are reasons why there is no road between Panama and Colombia.
The main reason you can't drive to Colombia from the US or Mexico is that authorities believe that a paved road would aid drug traffickers and illegal immigrants. There is also the fear that it will impact indigenous communities and degrade the environment.
And then, there are the logistics to consider. For one thing, the mountains and swampland in the region make road-building expensive. Rumor has it that Colombia wants to invest over $600 million in expanding the Highway up to the Panama Colombia border. However, it would basically dead end because Panama is against it.
Rebels and smugglers along the border would make any road building effort even more perilous.
So, with lots of swamps and zero roads, you're faced with either crossing the Darien Gap by 4×4 or finding a different option.
Can you hike through the Darien Gap on foot?
Yes, you can, but the trek is difficult and dangerous. Here's why you might want to reconsider.
Panama's Darién Gap has not been called the most dangerous place in the Western Hemisphere for nothing. Consider the following:
Treacherous jungle
Virtually impassable mountains
Impenetrable swamps
Overgrown, often unmarked trails
Almost totally uninhabited, so if you get lost or injured you're on your own
Unfriendly wildlife – we're talking about snakes as big as your arm, man-eating cats that are bigger than the snakes, crocodiles and caimans in the rivers, biting ants and spiders that can drop down your shirt without warning … you get the idea.
Countless mosquitoes, sometimes carrying diseases like malaria and dengue fever
Highly questionable water quality
Limited food availability (eat local plants or carry your own)
Nearly 100% humidity
Crazed drug traffickers
Desperate paramilitary Colombian guerrillas
Paranoid government police
Risk of kidnapping, rape, torture or murder
A few optimistic people brave the risks and attempt it every year. I don't know how many succeed … but we think that there are enough documented cases of people disappearing permanently to discourage any notions of our trying it ourselves. Just do a websearch on the term "darien gap missing tourist" and you'll see what we mean.
Life is precious. Besides, we have an aversion to bug bites and prefer to sleep in real beds.
Darien National Park tours
When someone warns us against going somewhere, we always wonder if they are being dramatic or if the area is truly as dangerous as they claim.
So, when we had a chance to take a four-day trip to Parque Nacional Darien, a nature reserve, we seized the opportunity with both hands. With a proper guide who knew the area, we could visit "el Darién Panama," safely.
The best part of the entire trip was a 7-kilometer hike through virgin tropical rainforest with an informative and entertaining local guide.
But that one burning question wouldn't leave me in peace. I just had to get the scoop from someone with firsthand knowledge, so I asked our chatty guide if people ever hike through the Gap all the way to Colombia.
After a surprised look, he said, "I don't recommend it. But yes, it is possible." For obvious reasons, guides who assist people in entering Colombia by land do not publicize their services.
And yet, I did manage to find a Darien local who "might know a few people who do that."
He then described the journey to us.
Omigosh. Can you say ordeal?
Tips for crossing the Darien Gap on foot
Here's the advice our guide gave.
Hire a local guide who knows the area
Travel during the dry season (December through April)
Don't do it alone
Be prepared to pay a lot for the experience (he quoted $5,000).
It will be uncomfortable and
Expect about three days of serious trekking.
How to cross the Darien Gap on foot
Before we go any further, let's be clear: All information shared on As We Saw It for informational purposes only. We cannot be held responsible for any actions taken as a result of reading our articles. You're an adult. You are responsible for your own choices and behavior.
Got that? Great. Now, let's move on.
Crossing the Darien Gap starts with a drive to Yaviza, the town at the Panama end of the Pan-American Highway.
Expect to be stopped by the police repeatedly. At each stop you will need to provide your name and a copy of your passport.
Once in Yaviza, spend a half day hiking to a river.
Then spend the next day navigating rivers in a rustic boat.
The next day involves more hiking to the border, where your guide will bid you goodbye and quietly return the way he came.
Now you're on your own.
Oh, and by the way. Now that you've entered the country, you'll still have to figure out how to get your passport stamped.
Sound like fun? We don't think so, either.
Other ways to cross the border between Panama and Colombia
Fly
Planes are obviously the fastest and easiest way to get to Colombia, but not nearly as adventurous as hiking the Darien. There are non-stop flights between Panama City (PTY) and Cartagena (CTG). You can check flight prices here.
But before booking your flight to Colombia, make sure to fill out the Colombia Pre-registration Form at least 48 hours before entering Colombia. Read more about it in our article.
Cargo ship
Cargo ships sail from Colon and/or Portobello to various Colombian port towns. Yes, you can travel by cargo ship.
Ferry
Have you heard that there's a ferry between Panama and Colombia? That was true for a short time. Ferry Xpress ran a car ferry between Colon and Cartagena, but no longer. Ferry service has been suspended.
Quick speed boat
This is not a trip for weak stomachs; the water can be very rough. You fly to the border town of Puerto Obaldia, then take a 3-hour boat ride to Turbo, Colombia. Buses run from Turbo to both Medellin and Cartagena. The trip usually takes between 8 and 10 hours.
Sail from Portobello to Cartagena
This is a fun multi-day journey as it includes a visit to the beautiful San Blas islands. Costs compare to a plane flight. Many companies offer this adventure. You can ask at your hotel/hostel or search the web.
But don't automatically choose the cheapest ride. Verify the details or you might not get all that you expect.
Do a hybrid journey
According to Runaway Guide, you begin your journey across the Darien Gap with a domestic flight from Panama City (PAC) to the city of Puerto Obaldia (PUE). After obtaining your exit stamp, you will then take a 30-minute motor boat to Capurgana. From here you take another boat across to Turbo, where you can then take a bus down to Medellin. Be prepared for rough seas.
How do I get my car across the Darien Gap?
The only way to get a vehicle past that stretch of non-road is by container ship. If you're interested in shipping a car to Colombia from Panama (or the other way around), read this article first.
Prices to ship a car to Colombia from Panama can vary, depending on your car's size, whether you can share the container with other travelers, and how quickly you want it to get there. As a rough estimate, budget about $1400.
Prices vary, so it pays to compare. IVSS is one such company.
How to visit the Darien safely
Panama's Darien province is a unique destination worthy of any curious explorer. This is probably the best place to experience indigenous Panamanian culture, but it's best to have someone who knows the area show you around. You won't see much— or get very far into the region—if you try to do it yourself.
The tour we booked was professionally run and well planned. As well, our lodgings were comfortable, and they were happy to accommodate special diets. (Except for ours. The cook had a hard time understanding that people who don't eat pork also won't eat ham or bacon. Still, we didn't go hungry.)
I would have liked to share a link so you could experience it yourself, but the tour is no longer available. To save you some research time, here are some other organized Darien tours to consider:
We had a comfortable van ride for part of the way, then took a boat the rest of the way to our lodge in the Darien.
Be prepared for a primitive experience once you arrive, though. The internet is nonexistent, cell signal is highly unlikely, and electricity is only available overnight. Spending the day without electricity wasn't as much of a problem as we had expected, though. After dark, the lights came on and we were able to charge our devices and batteries. But best of all, there was air conditioning in our bungalow!
The photos in this article were taken during our trip to the Darien, while we were hiking on (relatively) cleared paths on our lodge's property. We had it easy compared to those who trek over the border, but it was still a hot, sweaty and sticky hike.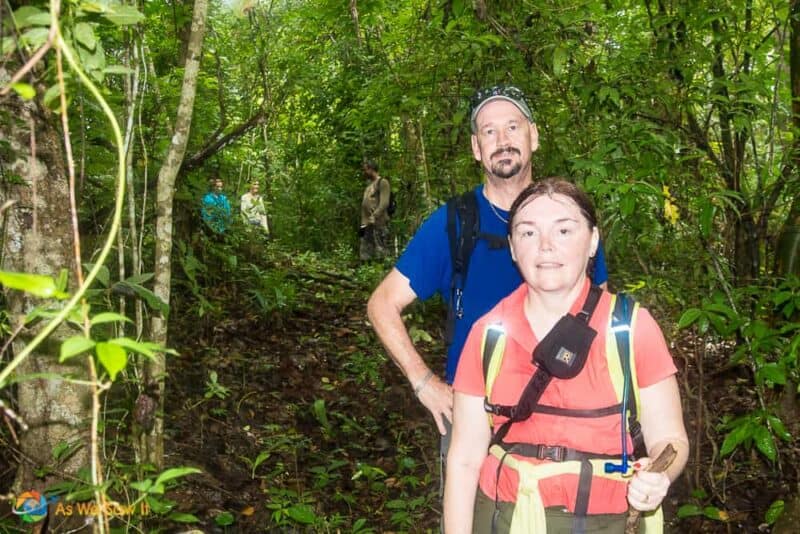 And in case you are wondering, especially after that experience, we have absolutely no desire to spend three days hiking through the steamy rainforest, fighting mosquitos, and dodging the FARC paramilitary all the way to Colombia!
Nope, not for us. Give us a quick plane ride any day!
Plan your Darien trip
To balance out so much rough activity, we highly recommend that you take some down time, both before and after this adventure. Maybe spend a week or two on a Panama road trip.
And in case you're wondering: Can you drive over the Panama Canal? Yes, you can drive across the Panama Canal with a car.
Three bridges have been built over the Panama Canal:
Bridge of the Americas, built in 1962
Centennial Bridge, built in 2004
Atlantic Bridge, built in 2019 and the only one on the Atlantic side.
Do yourself a favor: Take some time to explore Panama City before crossing the Darien Gap, and then enjoy Cartagena. Not only will you gain a better understanding of the two cultures, but these two cities will provide a nice urban before-and-after contrast to the wilderness of the Gap.
PANAMA TRAVEL PLANNING ESSENTIALS
✔ Tourist bureau: The country's official website is Tourism Panama. Besides offering tons of attraction ideas, they can tell you about special events and give you lots of travel ideas.Also check for city discount passes and tickets.
✔ Travel Guide: This book is a top seller on Amazon.
✔ Flights: Panama City's Tocumen Airport code is PTY. Check prices here.
✔ Accommodation: Tripdavisor is a massive price comparison site. Check Vrbo for apartments.
✔ Airport transfer: Use a taxi or Uber, or book an airport shuttle for a little more. They greet you in the airport, help with bags, and take you to your hotel.
✔ Visas: Find out what you need and apply here.
✔ Travel insurance covers medical emergencies, cancellations, flight delays, baggage delays, lost luggage, and more. A wise investment. Check prices here.
✔ Getting around: Panama City has buses and a metro, and the country has an extensive public bus system. You can also take Uber or rent a car.
✔ Tickets & tours: Find dozens of fun ideas on GetYourGuide and Viator
✔ Organized trips: G Adventures has insanely affordable small-group tours + guaranteed departures.
\✔ Currency. Panama's currency is known as the Balboa (/B.), but it only exists in coinage. In reality, the country uses the US dollar.
Want to read this later? Save it to Pinterest!