Do you need to know how to get to the San Blas Islands of Panama? If you're reading this, I'm taking a guess you've already heard about the islands and that you've decided it's time to visit – and it's a good decision!
If you haven't, then picture a paradise of baby blue sea and sky as far as the eye can see, full of small green islands dotted with coconut trees and pristine white sandy beaches! It's somewhere you will want to visit, it's a place of dreams.
in this article, I will tell you everything you need to know about planning your trip. I will share the different options and ways to reach San Blas from Panama City and Colombia, what I think is the best way to visit, and offer some travel tips on planning your perfect trip.
How to get to San Blas Islands (map)
How to get to the San Blas Islands from Colombia
There are primarily two ways to reach the San Blas Islands from Colombia and this is either on a speedboat or chartering a sailing boat.
There's a big difference in the price too, with the speedboat being more affordable, but the trip is shorter, (although this might be better for some of you?). There are pros and cons to both options.
To visit the San Blas islands from Colombia you will need to get to Cartagena on the northern coast, if you choose a sailing trip. This is where all of the sailing boats leave from, while if you choose a speed boat you will be leaving from Sapzurro, which is close to the northern border of Colombia and Panama.
To get to Sapzurro. The easiest way is to get a bus from Cartagena to Turbo or Necocli and then a ferry to Capurgana and from there another boat to Sapzurro.
I have created this table to show the differences in these options:
| | | |
| --- | --- | --- |
| | Speedboat | Sailing Trip |
| Cost | £297 / $350 + | £509 / $600 + |
| Duration of trip | 3 days | 5 nights |
| Duration of travel on boat | 2-3 hours at a time | 30 hour open ocean crossing |
| Island activities | Swimming, snorkelling, bonfire | Swimming, snorkelling, bonfire |
| Accommodation | On the islands in cabins | On the boat in cabins |
| Food/Meals | 3 meals included | 3 meals included |
| Additional travel | Yes. You need to reach Sapzurro and also get to Panama from Carti. | No. You will leave from Cartagena and be dropped off in Panama* |
| Additional costs | Entrance fee to San Blas Islands (£20 / $23 pp) | Entrance fee to San Blas Islands (£20 / $23 pp) |
*There are two arrival locations in Panama, one is still on the islands in Porvenir but the other is on the mainland at Puerto Lindo. You want to make sure you are on a Puerto Lindo arrival as this will save you £42 / $50 on travel.
Is a San Blas Islands sailing trip worth it?
I have personally visited the San Blas islands on the 5-day sailing trip and wouldn't do it any other way. For me, it was the best experience and I think it was definitely worth it.
I got to experience the islands at a leisurely pace, never feeling rushed with a great group of people whilst enjoying the ocean and life aboard a sailing boat.
If you are someone who enjoys the ocean and boats this is a great way to explore the San Blas islands, however, if you are prone to seasickness or don't travel well on boats this is where the speedboat option comes in well.
It also means you don't need to miss out on an amazing life experience! Catching a speedboat will make it easier for you as there is less time spent on the boat.
There are other options if you are departing from Panama too.
Travel tips for sailing the San Blas Islands
You are travelling over water so prepare to get wet, don't take anything valuable.
There are no facilities on the day tour boats, be sure to use the toilets beforehand.
Make sure your package includes snorkelling equipment.
If you have a dry bag, remember to use it.
If you get travel sick, it's best to sit in the back of the boat where it's less bumpy and take travel sickness pills.
If you have kids, make sure they're wearing their life jackets.
For the day tours, you won't really need to pack much, but be sure to pack a set of dry clothes for the journey back.
To save money take your own water and snacks.
Use a sarong instead of a beach towel to save space
Take some toys and/or educational resources for the children on the islands as gifts rather than sweets.
For more travel tips and ways to make the most of your trip click here.
How to get to the San Blas Islands from Panama
Similar to getting to the San Blas islands from Colombia, you have the same options but more if you depart from Panama. You can visit on a sailing trip, go on a speedboat, arrange a private tour, a day trip or drive yourself. You can even fly into the San Blas Islands!
The sailing trips from Panama generally leave from Puerto Lindo or Puerto de Carti and either do a round trip stopping overnight at a few of the islands or carry on to Cartagena in Colombia after a few days.
So, the sailing trips and speedboat options are the same as the above options from Colombia but in reverse.
How to arrange a sailing trip or speedboat trip
The only way to visit the islands on a sailing trip or speedboat is with a tour company. (Unless of course you have your own boat! I wish). It also makes it a lot less stressful as they will arrange everything for you. This means immigration crossings and paperwork, food prep, where you will stay, which islands you will visit and activities to keep you busy.
The company we used to book our 5-day sailing trip was with Blue Sailing who did a great job at answering my questions, and providing information on the boat and captain. We had an amazing time sailing around the San Blas Islands and I would highly recommend this company.
If you are looking at the speedboat option, we met a few people on the islands who said they had used San Blas Adventures and San Blas Frontera for their speedboat trip and were happy with the company.
Can you take a day tour to San Blas from Panama City?
Yes, you can certainly take a day tour to San Blas Islands from Panama City. However, it is only recommended if you are pushed for time and really want to visit San Blas.
The 150-mile drive from Panama City to San Blas takes about 4 hours each way, so you'll have limited time to enjoy the islands on a one-day trip. Instead, I recommend finding the time for a longer visit.
However long you decide to stay, it's best to arrange a tour that includes transportation from Panama City as part of the package. Unless you are already on the east coast, this will save you a lot of time and hassle. Plus, you'll be able to relax and enjoy the view along the way.
The day trips from Panama City to Guna Yala generally depart around 5.30 am. You will be picked up from your Panama City hotel in a 4×4 and taken to Puerto de Carti. Once in Puerto de Carti, it will be a small boat transfer to the San Blas Islands, generally visiting 2-4 different islands.
Want to read this later?
Save this pin on your favorite Pinterest travel board.
Can you drive to San Blas Islands?
Yes. You can drive to Puerto de Carti (the port for San Blas Islands) from anywhere in Panama, provided you have a 4×4 vehicle and appropriate insurance. However, a self-drive is not recommended unless it is part of a planned road trip.
The 150-mile drive from Panama City to San Blas takes about 3 hours, and if you factor in the cost of petrol, insurance, and parking, it makes more sense to join a tour. As well as this, after you exit the highway the roads become very bumpy and can be especially dangerous during the wet season due to the giant potholes.
If you are renting a car and this is part of a Panama road trip, you will need to take into consideration that you will be passing through the Guna Yala province.
The indigenous province is regulated by the Guna people (those indigenous to the San Blas Islands) and they have been known to change their entry rules with no warning. They also insist on you using a 4×4 and will not let any smaller cars pass through their checkpoint.
This checkpoint is where you will need to pay the entrance fee. (£20 / $23 pp)
Can you fly to the San Blas Islands?
You can fly to San Blas Islands from Panama City. Air Panama serves a number of airports in the Guna Yala comarca (province). However, the airstrips in San Blas are small, so you will be flying in on a very small aircraft.
El Porvenir Airport (PVE) is the largest airport in San Blas. It's located in Gaigirgordub, is the political center of San Blas and where the police and immigration buildings are located. From there, colorful motorboats will take you to the other islands and your accommodation if you are staying overnight.
Air Panama also flies to Achutupu, Carti/Garti, Corazon, De Jesus, Playon Chico and Rio Sidra.
Book your flights as early as you can, because fares increase as the date of departure approaches. Click here to check airfare prices and schedules.
Where to stay on San Blas Islands
Once you reach the San Blas islands and if you decide to get there on your own you will need to think about where to stay. Accommodation on the San Blas Islands is very limited and it's not that budget friendly — another reason why the tours are best — so, you will need to be savvy to make sure you don't get stuck if you want to stay overnight.
Hostels, hotels, beach camping, cabanas, and villas are all options for your stay. However, you will find it difficult to get anything for less than £135 / $158 per night, per couple. Here are some options we've found that have good reviews:
Budget-friendly option 1: One of the more cost-effective stays is at Discovery Gunayar on Playa Chico. What makes this a better option for the budget traveler is that you can get a flight directly to the island, which means that you'll save on transport/water taxi costs. Plus, breakfast is included.
Budget-friendly option 2: Cabañas Narasgandup (Naranjo Chico), is also a good alternative. It costs a little more but it includes all meals. Plus, there's an airstrip on the island.
When is the best time to visit San Blas Islands?
The best time to visit San Blas Islands is from January to May, Panama's dry season. The rainy season lasts from June to December, although clouds offer relief from the hot tropical sun and showers rarely last for more than an hour.
We visited in June, in the heart of the wet season. It did rain, but not for the whole trip, and only a few hours at a time. The rest of the time it was very sunny and warm.
The temperatures generally remain the same throughout the year with the wet season bringing in higher levels of humidity.
That being said, many people prefer to visit during the dry season to ensure there is no rain. This can never be guaranteed, the San Blas Islands seem to have its own microclimate and the weather is very unpredictable.
Dry Season: From December to April, expect the weather to be like a hot summer with no rain and temperatures around 29°C -35°C.
Wet Season: From April to December, expect the weather to be hot and humid, especially in low-lying regions.
Is Panama worth visiting?
Panama is a wonderful country which definitely deserves a visit! It's great for adventure sports and hiking, bird watching, wildlife treks, volunteering and discovering indigenous culture.
The country is big on preserving its rainforests and wildlife, becoming more sustainable, and educating its population. It has a large economy which in turn has made Panama a rather expensive country to visit – it's not a a particularly budget-friendly destination – so keep that in mind if you are backpacking.
Of course, with most countries, there are still areas and people affected by poverty, which is more obvious outside of Panama City. By visiting the San Blas Islands, you are contributing to Guna education, adding to their resources, and preserving their way of life and community, which is always a nice feeling.
Final thoughts about visiting the San Blas Islands
As you can see there are multiple ways to get to the San Blas Islands. It is easier to plan your trip through a tour and I really do recommend a sailing trip rather than a day tour.
This is even more true if you are heading to Panama from Colombia, or vice versa. I enjoyed the 5-day sailing trip, it was one of the best experiences of my life!
Regardless of how you get to the San Blas Islands, remember they belong to the Guna people. Please be respectful, don't leave any rubbish, and be kind to your hosts.
PANAMA TRAVEL PLANNING ESSENTIALS
✔ Tourist bureau: The country's official website is Tourism Panama. Besides offering tons of attraction ideas, they can tell you about special events and give you lots of travel ideas.Also check for city discount passes and tickets.
✔ Travel Guide: This book is a top seller on Amazon.
✔ Flights: Panama City's Tocumen Airport code is PTY. Check prices here.
✔ Accommodation: Tripdavisor is a massive price comparison site. Check Vrbo for apartments.
✔ Airport transfer: Use a taxi or Uber, or book an airport shuttle for a little more. They greet you in the airport, help with bags, and take you to your hotel.
✔ Visas: Find out what you need, and apply here.
✔ Travel insurance covers medical emergencies, cancellations, flight delays, baggage delays, lost luggage, and more. A wise investment. Check prices here.
✔ Getting around: Panama City has buses and a metro, and the country has an extensive public bus system. You can also take Uber or rent a car.
✔ Tickets & tours: Find dozens of fun ideas on GetYourGuide and Viator
✔ Organized trips: G Adventures has insanely affordable small-group tours + guaranteed departures.
✔ International SIM card: Drimsim is a great option.
✔ Currency. Panama's currency is known as the Balboa (/B.), but it only exists in coinage. As a rule, the country uses the US dollar.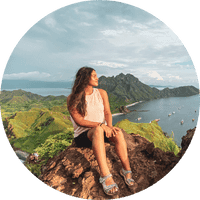 Abigail is the travel blogger behind I'm Going On An Adventure. She focuses on budget travel and adventure, giving first-hand experiences to help her readers plan their perfect travel and make the best memories.