No trip to Panama would be complete without a visit to Bocas del Toro, the Caribbean islands near the Panama-Costa Rica border.
Bocas del Toro is one of the best places to visit in Panama. Its beaches are just as stunning as those Caribbean islands you see in glossy cruise brochures. Which stands to reason when you think of it, because Bocas is a Caribbean archipelago!
ⓘ TIP: If you don't speak Spanish, no worries. English is widely spoken, so visiting Bocas del Toro is a breeze!
Back in the days when we lived in Panama, Bocas del Toro was one of our favorite city getaways. We celebrated our first Carnival holiday here, and came back to explore Bastimentos and snorkel in the warm Caribbean waters. If you want to see wildlife and don't want to rough it in the Darien Gap, Bocas is where to go.
Here is a mini travel guide to Bocas del Toro Panama. To get your planning started, we've included essential trip planning tips like how to get there and where to stay in Bocas del Toro. You'll also find a simple 3-day itinerary at the end for inspiration.
How to get to Bocas del Toro, Panama
You can't actually drive to Bocas del Toro, because there are no bridges to the islands. There are only two ways to get there: by air or by water. We've done both.
Getting to Bocas del Toro by air. Flying is the fastest, most convenient way to get to Bocas. Let me tell you, if budget allows, flying to Bocas wins the comfort competition hands down.
In Panama City, flights depart from Paitilla airport (PAC). You'll fly into the Isla Colon International Airport (BOC). The trip takes less than an hour and offers great views of Panama's interior en route.
Getting to Bocas del Toro overland. I don't recommend driving to Bocas del Toro unless you plan to be in Panama for a while. It takes 5-6 hours to drive from Panama City (each way), and much of the drive is tedious and uninteresting. Frankly, it's a waste of valuable sightseeing time.
But if that's your plan, Almirante is the closest town on the mainland, and that's as far as you can drive. You'll have to park the car in a storage lot and take a boat across to Bocas Town.
So as you're considering your options, be sure to factor in the cost of car rental, gas, storing your car in a lot at Almirante, and getting over to Bocas Town.
ⓘ TIP: Panama has long stretches of road with no restaurants, toilets, or gas stations. Be sure to top up your tank in Santiago, bring snacks, and limit beverage intake during your trip.
What is Bocas del Toro like?
As you might imagine, life is simple on these islands. They have supermarkets, but there are no mega-marts to be found. We thought cell signal and internet were fine in Bocas Town. Probably okay elsewhere too, but we didn't check either while we were on the other islands. We were having too much fun.
My biggest regret: I had a fantasy of lazing in a hammock while sipping a tropical cocktail, and we ran out of time. There are different types of hammock in that part of the world, which would have made the experience that much more memorable. (You can read about them here.)
3 day Bocas del Toro itinerary
Here's our personal Bocas del Toro itinerary to get your planning started. For more ideas, a Panama travel guide will come in handy. You'll also find some good tour options on Viator's website.
Day 1: Bocas Town
Bocas Town is a sleepy little place with a deep island feel. It's like many other Caribbean islands but without the outrageous tourist crowds. Just walking the streets put us into a less stressful mindset.
We spent most of the first day exploring Bocas Town and the surrounding area. There is so much here, yet so little pressure to do anything at all.
The houses in Bocas Town itself aren't much different from the ones in Florida. But as nice as they look, this is not a dream retirement spot. Bocas Town is built up and there are no nice beaches nearby.
We hired a taxi to take us to Starfish Beach, which is a tourist favorite. The crystal clear water is full of starfish and a highlight of many Bocas trips.
What nobody tells you: It's easy to get out of town, but finding a taxi for the trip back can be a challenge. We decided it would be quicker to walk back, and soon discovered a beautiful little reserve.
The park was pretty. And best of all, a taxi drove by just as we finished looking around!
We rounded out the afternoon drinking cocktails along the water's edge.
Evenings are meant for good food and entertainment. Our desk clerk recommended a nearby cafe, where we both ordered the same thing: an Ahi tuna steak with Asian fusion flavors. It arrived at our table perfectly seared.
That place has since closed. Check this article for updated places to eat and drink in Bocas.
While we ate, a delightful gentleman entertained everyone on guitar. With Caribbean style music filling our ears and tuna filling our stomachs, the evening was perfect.
Day 2: Island cruising, dolphin-watching and snorkeling
The next morning, we took a snorkeling tour that included dolphin watching, island cruising and snorkeling. I enjoyed the tour so much that I even wrote an article about snorkeling in Bocas.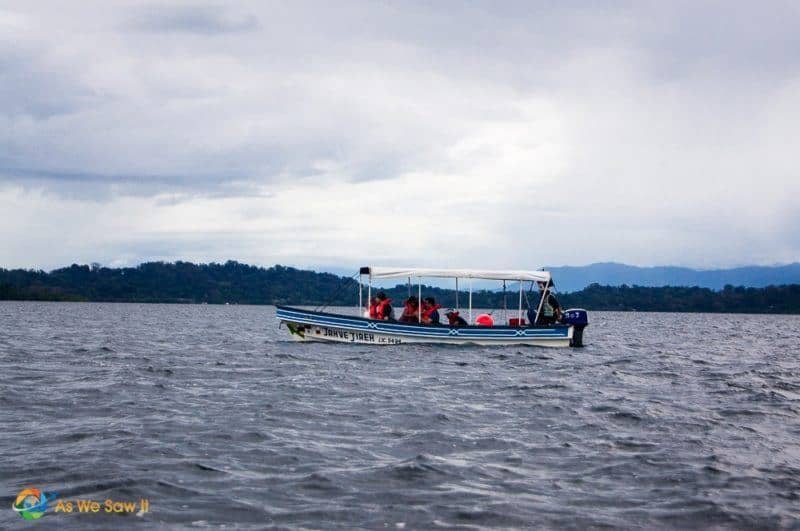 The tour included lunch. We stopped at a place called Jasmin's, and the seafood looked incredibly fresh.
They served us a delicious meal of freshly-caught snapper, rice, salad, and maduros. Those sweet fried plantains are a Panamanian staple. You would love them!
Snorkeling in Bocas del Toro
The most exciting part of the tour was getting in the water to experience the natural beauty Bocas Del Toro is famous for. We saw so many varieties of fish and and coral in colors that can only be observed.
Day 3: Island hopping
Water taxis are everywhere in the islands. With a late afternoon flight, we had time to boat to smaller islands. It was fun wandering around to see what was there.
We found restaurants …
beaches …
and boardwalks that took us over water and into the interior.
Keep in mind: Tropical Bocas del Toro has a lot of mosquitoes, so be sure to carry insect repellent. That, plus a hat and sunscreen, will give you a memorable trip!
What islands are in the Bocas del Toro archipelago?
Bocas del Toro archipelago has 9 main islands, 52 cays, and thousands of islets. However, tourists generally visit four main islands: Isla Colon, Isla Carenero, Isla Bastimentos, and Isla Solarte.
Isla Colón (Colón Island)
Most people stay on Isla Colón, which has Bocas del Toro airport and Bocas town, the largest town in the island chain. Bocas Town is connected to Colon Island by an isthmus and surrounded by water on three sides.
As the largest city in this island chain, Bocas Town is the hub for all the tours and activities on Bocas del Toro. Thus, many people stay here and then take day tours to the other islands.
If you arrive in Bocas by water, you'll see little more than a mass of docks and restaurants jutting over the waterfront. After you step off the boat though, you'll find a street full of colorful, weather-worn shops, designed to appeal to tourists.
You'll find no end of diving, snorkeling, surfing and tour outfitters based here. You can even take surfing lessons, though the waves are relatively tame.
Bocas Town has more good restaurants than you'd be able to try in a month. And there are plenty of cheap places to eat (and drink) as well.
Nightlife spots are open late into the night, if you're into that.
Therein lies the problem. Bocas Town deserves its reputation as Party Central. Every night, we vainly attempted to sleep to the full-volume beat from a nearby nightspot. This archipelago may be a great vacation destination, but it's super popular with backpackers. Bocas Town is most definitely NOT the place for peace and quiet.
We prefer local entertainment to loudspeakers. But hey, that's just us.
Where to stay in Bocas Town: Since it's a tourist destination, Bocas Town has quite a few nice hotels. We stayed at Tropical Suites Hotel because of the perfect location and a 9.0 rating on Booking.
Isla Carenero
If you want to escape the mayhem, five minutes and a $2 water taxi fare brings you to Carenero Island.
Overall Isla Carenero has a much calmer vibe than Isla Colon. The island is small and is ideal for those who want a more rustic experience than they can get in Bocas Town.
Isla Carenero has several restaurants, bars and secluded beaches within walking distance of the boat dock.
Okay, well to be accurate, the forested island has no roads, so everything is within walking distance. We found a fantastic place to eat just 5 minutes from the boat dock.
Another plus to staying here instead of Bocas Town is that there isn't nearly as much trash in the water. So this is a better option if you'd like to go snorkeling without having to pay a guy to take you around.
Where to stay on Carenero Island: El Faro del Colibri Acqua Lodge caught our eye while we were exploring. Its vivid yellow and red cabanas certainly stand out above the bright blue sky and the brilliant aquamarine water.
This would probably be our choice if we were looking for a place to unplug and unwind for a couple of days.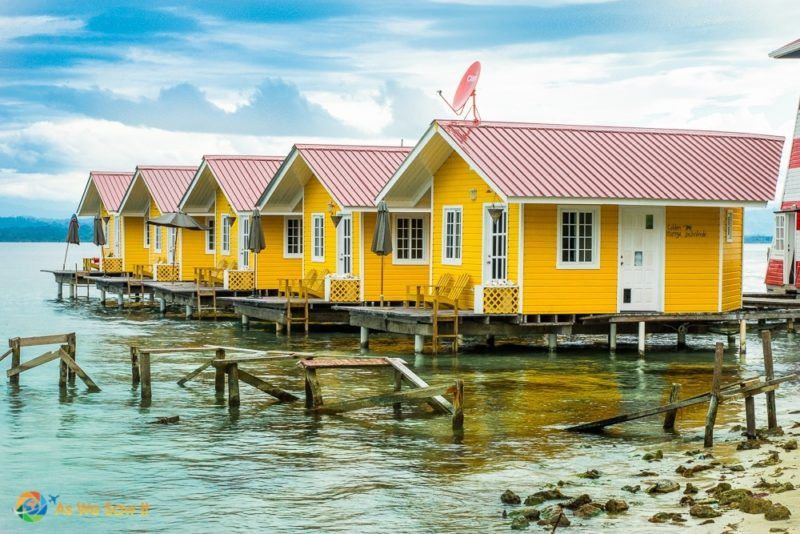 Isla Bastimentos
Isla Bastimentos is Bocas del Toro at its best, a 10-minute boat ride from Bocas Town. It's popular with backpackers, but it's also known for having some of the best resorts in Bocas del Toro.
Bastimentos' small main town feels almost Jamaican, reggae music and all. You'll get a taste of the authentic local life on its colorful streets.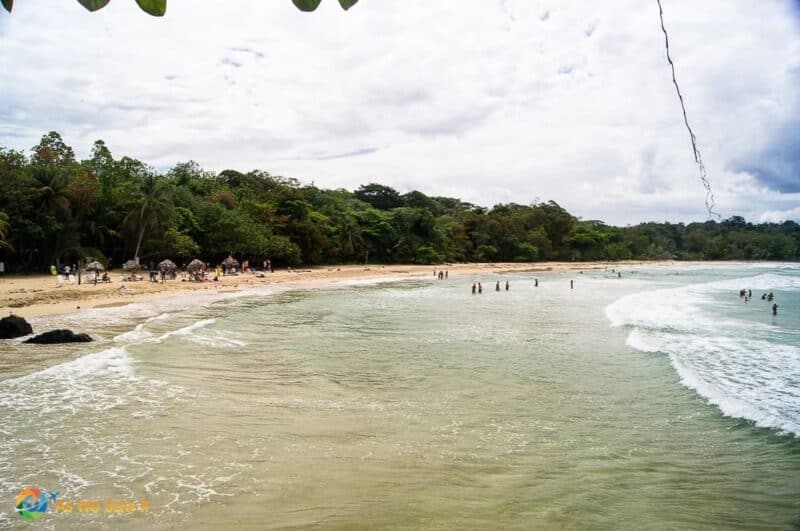 If you're a nature lover, be sure to check out Isla Bastimentos National Marine Park and the Red Frog Island Resort's Nature Preserve while you're on the island.
If you're a beach fan, head to Red Frog Beach, named for the endangered red frogs are unique to the island. Have you ever heard of poison dart frogs? Yup, these are the guys.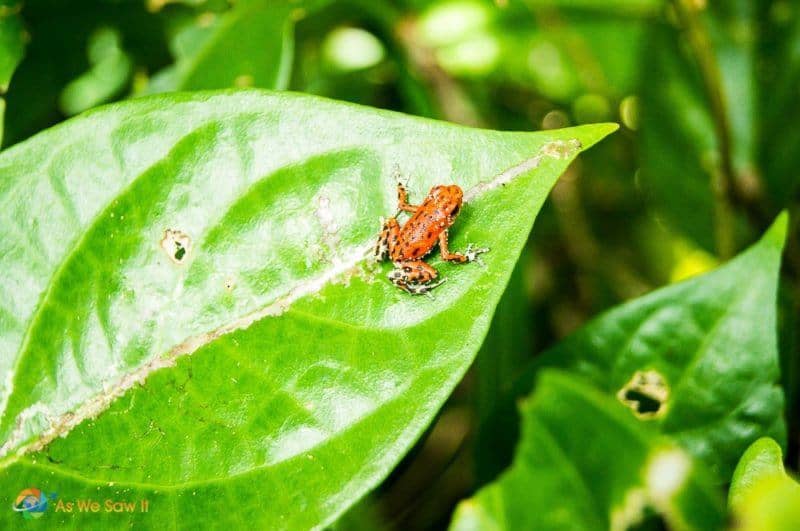 Poison dart frog skin contains a poison that protects them from predators. The secretion acts as a neurotoxin which can either kill or paralyze, depending on the size of the attacker. The Ngöbe-Buglé natives figured that out and use those secretions on their hunting darts.
ⓘ TIP: If you catch any of those frogs, you MUST avoid touching any mucus areas on your body. Once you have washed your hands afterwards, you'll be fine.
Always looking for a bit of adventure, Red Frog Beach was a must on our Bocas del Toro itinerary. Red Frog beach offers a vast expanse of white sand, but I'll admit that we spent more time catching those frogs.
Where to stay on Bastimentos: Selina Red Frog is a favorite among budget travelers. For an indulgent adventure, go with La Loma Jungle Lodge & Chocolate Farm, an all-inclusive (even your snacks) relaxing jungle resort.
Isla Solarte
Isla Solarte is a tiny island, only 3 square miles (8 sq. km) in size. We've never been, but we've heard that it has some of the best snorkeling and scuba diving spots in the islands.
Solarte is totally the opposite of Bastimentos. This island is perfect for lazing in a hammock, sunning on the beach and just plain relaxing.
Or maybe you could pretend you're in a Pirates of the Caribbean movie.
Where to stay on Isla Solarte: Bambuda Lodge gets consistently good reviews. The property features a coral reef off its dock and a swimming pool with an on-site bar and restaurant, along with kayaks for rent, snorkeling equipment for use on the coral reef, and a 150 foot waterslide from the bar to the ocean.