Ask what to see on a Taiwan visit and – even if you're only in Taipei for a day – night markets will always be on the list. Night markets are abundant throughout Taiwan. There are dozens of them in Taipei alone and Shilin Night Market, Taiwan is the best known and largest of them all.
Why we paid for a guided tour of Shilin Night Market
A layover offers little time to understand the culture or country, which is why we sprang for an actual tour of the market. Tomorrow, our one-day Taipei tour would drop us at Shilin Night Market, but we didn't want to be abandoned there without knowing where to go, Extravagant?
Actually, we think it is worth paying to have a native give us insider tips. We want a native to explain aspects of a foreign market that we might not understand otherwise.
Besides, we had a whole lot of fun.
How Shilin Night Market began
Night markets always began the same way: A small group of vendors would set up near the entrance to a temple or university because they could sell their goods and snacks to hungry students and worshippers. That was pretty smart, if you ask me.
Shilin Night Market itself began near a temple in 1899 (photo below). A few years later (1915), Japanese colonists built a little brick house as a day market where vendors could sell seafood, meat, fruit, and vegetables.
My, how things have changed. Now, hundreds of vendors fill the roads while locals hang out in the evening as they eat, browse and look for great bargains. Shilin Night Market has morphed into an assortment of stalls, each hawking things like street food snacks and drinks, clothing, and consumer goods. Sprinkled here and there between the vendors' stalls are kiddie favorites: game booths.
Those Chinese love games so much, they have even turned grilled prawns into a game. Look out for the enclosure with a bunch of people crowding around a tank full of live prawns.
Customers pay for the privilege of doing all the work. Using a simple wooden stick with a small hook attached to a piece of thread, the assignment is to catch their meal. If they weren't hungry before they sat down, they probably would be by the time they finally caught their dinner.
Not for me, thankyouverymuch.
What to buy in Shilin Night Market
In a nutshell, Shilin Night Market is broken into two different sections:
The food section – opposite the Jiantan Metro Station.
The durable goods section – next to Yang Ming Cinema on Anping Street
The food at the night market is full of all sorts of interesting things. And you don't even have to read Chinese or have a guide. The vendors speak English and most have menus with pictures.
ⓘ TIP: Don't miss the basement food court. The largest selection of Taiwan street-food favorites are hiding down there on level B1. This is a huge food court where you'll be spoiled for choice.
Xiaochi: good eats (sometimes)
Out of everything, Shilin Night Market is probably best known for its food stalls, which sell an amazing array of mouth-watering street food and authentic Taiwanese snacks.
The snacks found at Taiwanese night markets are known as xiaochi, an important category of Chinese food which literally translates to "small eats." Think of them loosely as a Chinese version of Spanish tapas. A few food stalls offer tables for noshing but these small dishes are usually served as grab-and-go take-away items.
Disclaimer: We are clean eaters. We don't consider everything these hawkers sell to be edible, especially many of those Taiwanese "specialties." We're sharing them for your information only; you bear full responsibility for whatever you eat.
That's not to say that eating Taiwanese street food will make you sick. Far from it. Taiwan enforces its food safety laws. You can be pretty sure that the vendors at Shilin Night Market are careful with sanitation because they won't remain in business if they don't.
ⓘ TIP: If you see long lines of locals at a particular stand, it's a good indication that the food there is top-notch.
How to play it safe with exotic food in Taiwan
In Taiwan, exotic food can be found almost everywhere, and Shilin Night Market food can be as exotic as anything. Sometimes, a bit too exotic.
We may be daring with many things, but food is where we draw the line. Face it: Some people will eat anything. Our tour price included five xiaochi to try, with alternatives for those of us with dietary limitations. Huge sigh of relief. We could eat without worry.
Our tour began on a street corner where a long line of people were on queue for fried chicken steak. Wisely, our guide had brought an assistant along whose job was to join the line and then bring us the items. While he stood and waited, we walked through the open market and took a look at some of the things that more daring people might eat.
Soon, we would sit and enjoy our treats together.
Famous Taiwanese street foods
Here are some famous "little eats" of Shilin night market that we were invited to try:
Fried chicken steak
These are monstrous, battered chicken cutlets, deep fried to crispy perfection until golden brown.
We had a choice between original or spicy (I'd call it aromatic; it's a not-too-hot blend of white pepper and five-spice). The meat is tender and juicy, not to mention a bit sweet. The vendor had conveniently cut the steaks into pieces and served each in a bag along with skewers for easy eating.
Stinky tofu
Omigosh. We first heard of Taiwanese stinky tofu when we watched Andrew Zimmern's Taiwan episode on Bizarre Foods. He gagged on it and declared its taste to be "even worse than it sounds."
If you haven't tried 'stinky dofu,' you're in luck. Unfortunately, it IS available at Shilin Market, so of course Dan and I just had to sample it when our guide brought it to the table.
What was I thinking?
Let me just say that Andrew Zimmern was a master of understatement. Never mind those who bemoan the smell of durian fruit, this is far worse. Think rotted garbage meets two-day-old unflushed toilet, with a gaggable inside texture to match. I felt nauseated for two days, until I finally threw it up. Literally.
On the other hand, Dan thought it was marvelous and happily accepted what I couldn't choke down. It figures. His stomach is nearly indestructible.
Fried oyster omelet
We didn't try this, but our tour companions did. Almost every night market in Taiwan sells these things, and each market has its own unique variation of sauce to smother the omelet, as well as hot sauces to accompany the dish. Shilin's oyster omelets are done up Taiwan-style, with eggs, veggies, and good handful of oysters, trucked in from the Western shores of southern Taiwan.

Shilin big sausage
Look at the size of these monstrous sausages! According to our guide this is a Shilin specialty. Just the thought of all that greasy fat turns me off. Those crazy Taiwanese sure love their pork.
Frog eggs
The direct translation of this drink's name is "Wow! Frogs lay eggs." Don't be intimidated, though, because it's not what you think. This signature beverage is a type of bubble tea, made with chewy black sugar tapioca pearls and lemon aiyu jelly.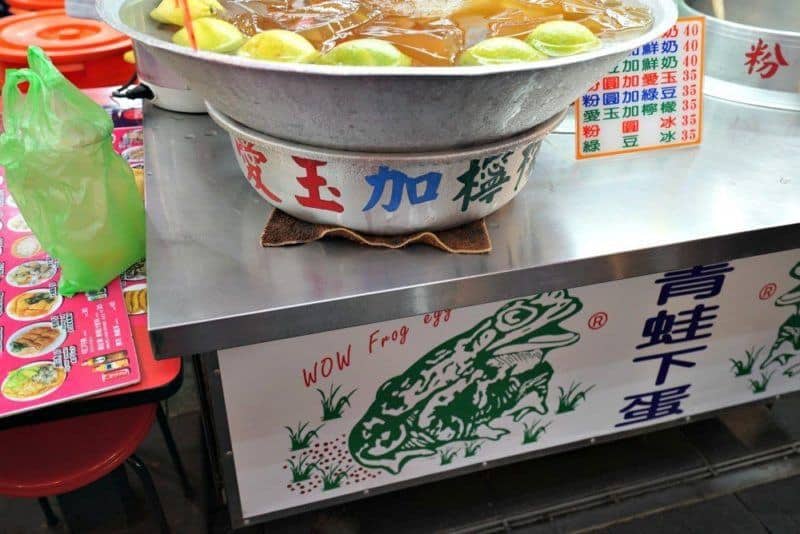 Small roll wrapped in large roll
We had a blast walking through and looking at all the options. I was sorely tempted to stop at a fruit smoothie stand but had to pass it up. Everyone was moving on to have dessert. Or what Taiwanese consider dessert, anyway.
Shilin Night Market also offers a variety of pastries, dumplings and cakes, but this might be the most authentic and tastiest of them all. A shortbread with red bean fillings is first wrapped inside a handmade crepe, and then smashed into small pieces. Your preferred savory or sweet filling will be generously scattered over the crushed shortbread, then skillfully wrapped before you know it.
Fillings range from more common ones like coconut and taro to exotic flavors like masala and curry. I found it a bit too sweet for my taste, but I'll admit that the contrasting textures of the shortbread crisp and the crepe wrap is delightful.
Pineapple cake
Our final taste for the night was Taiwan's legendary pineapple cake. It's a big deal in this country on many levels. Most interestingly, in the Hokkien dialect, "pineapple" (王梨; ông-lâi) sounds similar to a phrase meaning "to come forth, prosperous and thriving." It symbolizes the hope that many children will be born to a family.
Shilin Night Market shopping – souvenirs and more
Serious shoppers will think they have died and gone to heaven with the array of durable goods that are available in this Taiwan night market. It is truly mind-boggling to find so many shops selling everything from electronics to shoes to purses to jewelry, and the prices are excellent!
Most of the durable goods were things that are sold at similar markets worldwide. Having almost purchased one online, I succumbed to the lure of a cute and useful purse organizer. It was half the price of the one I'd seen on Amazon.

After walking for what seemed like miles through the maze of booths, we were brought into a huge shopping arcade. Dan couldn't help but capture a photograph of one of the more unbelievable things for sale: a penis cake.
Sorry, some photos are not appropriate to post – after all, we try to stay family-friendly on this travel blog. You'll have to go to our photo gallery to see it.
Want to read this later? Save it to Pinterest!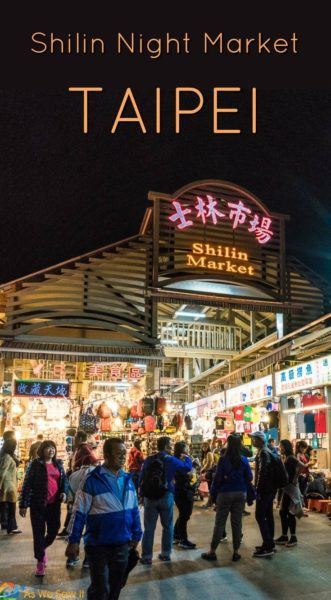 Shilin Night Market hours
The market opens in the afternoon and closes well into the early morning hours. Usually, there isn't much to see or do if you're there before 5PM or after 1AM, and its most exciting hour is 7 – 8PM.
Trip planning links
Here is some helpful information for planning your own visit.
For more on Taiwanese cooking, you may appreciate these Amazon books:
Places where you can stay
Read next