Places to stay when you visit Spain
Lessons in culture come at the most unexpected times, and sometimes they're super fun. One of our favorites came during a layover in Madrid.
You see, our long layover gave us enough time to leave the airport. Within an hour of touching down, we were experiencing the tapas culture in Spain.
Let us tell you what we learned.
Tapas: How to eat like the Spaniards do
Spaniards generally eat lunch between 1 and 3 pm, yet dinner is usually served between 9 pm and 11 pm.
It's a long time between lunch and dinner, so the locals cover their hunger at tapas bars. When they go to a local bar and order a drink, it will often come with a free tapa.
What exactly are tapas?
Tapas are a form of appetizer. Think of them as a small plate of bite-size morsels that you can savor along with your drink.
Their origins were practical, as people once used bread or a small plate of ham or olives to keep dust or insects out of a drink. The literal meaning of tapa is lid, cover, or top.
While a few tapas traditions differ throughout Spain (you can enjoy it from Barcelona to Andalucia), one thing remains the same. Tapas culture revolves around the experience of sharing small bites with friends.
Technically, you don't always get a "tapa." Some are actually served as "raciones" (plates to share) and others are served on pieces of sliced bread (which makes them "pintxos").
But you only get a free tapa with the first glass. Also, it's only one per table, which means that you'll have to share with your table mates.
If your appetite is screaming for attention or the waiter brought you a tapa that was so delicious that you want a second order, plan to spend about 2-3€ each.
Alternatively, you can order a racion (large plate) or two to share with your friends.
But there's also another option.
Bar hopping is big in tapas culture
Spanish culture includes a lot of bar hopping in the early evening. They even have a verb for it: tapear. After all, they'll get a free tapa with the first drink, so they've got it figured out. Locals generally only order one glass of wine per bar, then settle their tabs and head to the next.
Even though liquor and mixed drinks are readily available, the cervezas and local wines are so inexpensive (and delicious) that I don't recall ever seeing anything else on the table. Our go-to drink was a Spanish wine cocktail called tinto de Verano.
ⓘ TIP: Patronize the bars on side streets. Yes, the ones that look like local hangouts. Rumor has it that tapas that are prepared for locals are better quality. Besides, some bars in tourist areas have quit serving tapas.
Rather than sitting at a table, people commonly eat their tapas standing up at the bar or at small tables. It stands to reason, because tapas are informal and the bars are often busy.
When you go, expect the atmosphere to be convivial and noisy.
What are some popular tapas?
I suspect that many of the popularly-served tapas are intentionally salty — things like almonds, olives or marinated beans, to a plate of cheese or meat. Good marketing move: Salt makes patrons more thirsty, thus they will want to drink more.
Popular tapas may include cheese and olives, but tapas can be almost anything. Here are a few examples:
Espinacas con garbanzos: spinach and chick peas with olive oil and garlic
Patatas bravas: fried potato wedges served with a spicy alioli sauce
Tortilla: potato omelette
Revueltos: scrambled eggs with various fillings
Gazpacho: cold tomato soup with cucumber and garlic
Salmorejo: a thicker version of gazpacho, often used as a sauce
Bacalao: salted cod, which can be breaded, fried or stewed in tomato sauce
Montaditos: small filled buns, often served toasted
And of course, a lot of Spanish cuisine revolves around pork and seafood.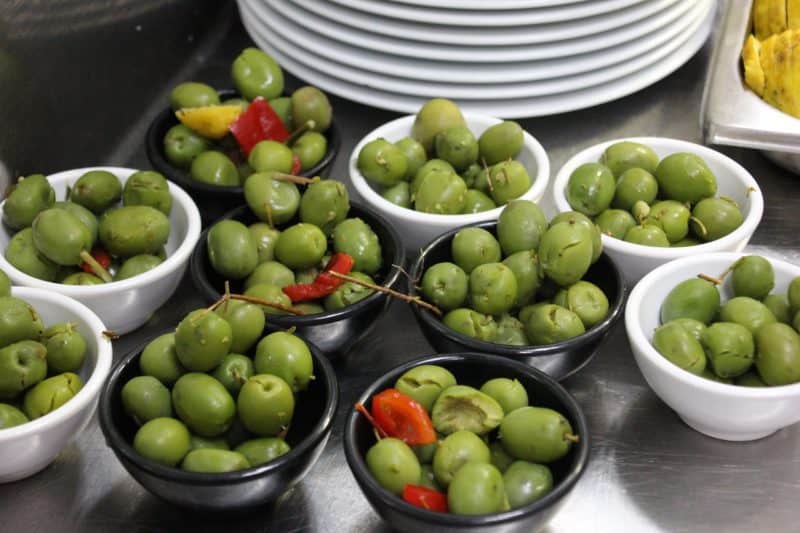 What tapas can you eat if you have a food allergy?
Whether for religious or health reasons, many people have dietary limitations. Some people have issues with gluten, nuts, or seafood. We follow a Biblical diet, meaning we don't eat scavengers like pigs and shellfish. One of us is also sensitive to grains.
These days, it's always something.
You might think Ensaladilla would be a safe vegetarian option, but this simple potato salad with mayonnaise sometimes contains tuna or prawns. And even gazpacho contains bread.
But don't let food sensitivities keep you from traveling … or eating tapas. We enjoyed the tapas tradition – and Spanish food in general – even though ham is ubiquitous all over, and they like their prawns as well. We always found wait staff eager to offer their advice.
ⓘ TIP: If your server is clueless about what's hiding in a dish, it's perfectly fine to ask him to check with the chef.
I've not figured out an easy way to avoid wheat or gluten. However, if you don't do seafood or certain meats, the least complicated way is to tell the waiter that you're a vegetarian. "Soy vegetariano/a. Que tapas no tienen carne ni pescado?" (I'm vegetarian, which tapas don't have any meat or seafood?)
I don't know if that always does the trick, but I do know that they never brought us anything that even slightly resembled meat or prawns when we said that.
We were thrilled whenever a waiter brought us a bowl of olives or a few pieces of cheese.
What if you don't speak Spanish?
Avoiding tourist areas pays off: Prices and foods are better on the side streets. But don't worry if you don't speak Spanish. English tourists have paved the way for you, as have the movies and public schools. So English is widely spoken in larger cities.
Feel free to use whatever Spanish you know, even if it's only the word gracias. It may seem minor, but it enhances the travel experience. And don't worry, because people don't mind when visitors mangle their language. They just appreciate the effort.
ⓘ RELATED: How to Overcome Language Barriers When Traveling.
In Barcelona and the surrounding area, you may overhear some people talking in something other than Spanish. They are speaking Catalan, the regional language (there's an independence movement in that region). If you only speak Spanish, don't worry; they'll understand just fine.
In Madrid, we had to adjust to the Castillian accent—they use th instead of s — but otherwise it's not too hard to comprehend.
That is, when they speak slowly enough.
Want a food tour?
Sometimes, it's more fun to have someone show you around. If that's you, consider a food tour. Your guide will take you to places that are local hangouts and will point out cultural nuances that you might otherwise miss.
Get Your Guide offers dozens of tapas tours to choose from. We rely on them whenever we book a tour (which is often). Always a great experience, which is why we recommend them. CHECK PRICES HERE.
Read more
Online
On Amazon
Save this for later

Share these tapas food and culture tips with your Faceebook friends.