Barcelona is a mesmerizing seaside Spanish town, bursting with culture, world class food and drink and – of course – magnificent architecture. With so many things to see and do, it's really hard to decide what to see, especially if you have just one day in Barcelona.
What to do with only one day in Barcelona
If you're only in Barcelona for a day, here are your options:
Follow our 1 day Barcelona itinerary, which covers the main attractions. We had a great time in the city and want to help you make the most of your visit as well. Our focus is always on squeezing as much culture, UNESCO sites, and food as you can into whatever time you have. Think of it as an "easy things to do in Barcelona" plan.
Focus on seeing only one or two attractions and take your time enjoying them.
Take a guided tour or day trip. Maybe you fancy touring the F.C. Barcelona stadium, doing a wine and tapas walking tour or sailing on the Mediterranean? Your options are virtually unlimited in Barcelona! Click here to see more ideas.
Take a hop-on hop-off bus tour. You won't find a better Barcelona in a day tour for the money. They're an easy way to get around and become acquainted with what a city has to offer. In case you're wondering, we took this one and still had plenty of time to visit Sagrada Familia.
Walk around with no plan. Take a look at the Barcelona Card. Barcelona's discount tourist card. It gives you unlimited transport, a museum pass and discounts.
Hey, it's your adventure, so read through our activities and pick and choose as you wish. Here are a few tour ideas, in case you're interested.
Getting around
The closest airport code is BCN. Check flight prices here.
If you want to explore the area, it's best to book a rental car. We use Discover Cars to compare prices and book. Their site is easy to use, and they have a good cancellation policy.
For other options, this website shows how to get anywhere by plane, train, bus, ferry and car.
ⓘ PRO TIP: If you've ever wanted to visit Andorra, here's your chance. It's just a 2½-hour drive away (and a nice weekend getaway)!
Where to stay in Barcelona
We stayed at Onix Liceo. It's in a very convenient location, next to Gaudi's Palau Guell and only 300m from Liceo Metro Station on Barcelona's Ramblas. The hotel offers a sun terrace and free Wi-Fi access.
To get from the airport to your hotel with the least hassle, use a private shuttle service like KiwiTaxi or Holiday Taxis.
One day Barcelona itinerary
Our one-day itinerary covers many of Barcelona's biggest attractions. Just keep in mind that with only one day, you'll only have a short time to spend at each of them.
Barcelona and its Catalunyan architect Antoni Gaudí are practically synonymous, partly because the creative genius hated to travel and hence built most of his works in or near the city. This turned out to be a blessing for tourists: UNESCO has recognized seven works of Antoni Gaudí for their uniqueness and artistic value and inscribed them on the World Heritage List. If you follow our itinerary, you'll see four of them.
Be sure to begin nice and early … and wear good shoes!
1. Begin at La Rambla
Shopping heaven. Sometimes called Las Ramblas, La Rambla is a mile-long street in the center of Barcelona, popular with locals and even more so with tourists. Lined with cafes and souvenir stalls, this street is the center point that leads to and connects many of the other popular tourist attractions. It runs from Barcelona Harbor to Placa de Catalunya.
Have breakfast at Mercat de la Boqueria. A highlight of La Rambla, this large public market has been going strong since 1217. This is a foodie's paradise, maybe the best place to sample some of the finest food that Catalonia has to offer. It certainly makes a great place to grab a quick breakfast or buy a picnic lunch (hint, hint)!
2. Barri Gòtic
After breakfast, stroll to Barcelona's nearby Gothic Quarter. Barri Gòtic is a maze of small streets which are closed to traffic – many of which open out into quaint town squares. While a large portion of its buildings date from medieval times, some are actually even older, dating back to the Roman settlement of Barcelona.
There are several landmarks to see here, including:
Basilica of La Mercè – which translates to 'Our Lady of Mercy', who is the patron saint of Barcelona
Plaça del Rei – where you will find the Barcelona History Museum.
Barcelona Catédral – The Cathedral of the Holy Cross and Saint Eulalia is the top sight in the Quarter, built between the 13th and 15th centuries. This cathedral is dedicated to Eulalia, the co-patron saint of Barcelona, who suffered martyrdom during the Roman times in the city.
If you're only spending one day in Barcelona, you'll need to zoom through this area. If you don't, you won't have time to see Parc Guell (which also deserves half a day). If you wear good shoes, you won't regret it.
If you plan to be in town for several days, consider spending at least half a day here. There is so much to see and take in.
3. Plaça de Catalunya
After whizzing through the Gothic Quarter, walk to the top end of La Rambla, where you will find yourself at Plaça de Catalunya (Catalonia Plaza). This circular plaza is considered the city center and the cultural hub of Barcelona.
It's also well known for the flocks of pigeons that gather in its center.
Take a breather here and rest your feet for a few minutes. Plaça de Catalunya is known as a great place to relax, take pictures, people watch and listen to buskers. If it's a festival, there will be live musical performances here, and the square will be crowded with onlookers.
ⓘ PRO TIP: Feeling peckish? Pop into nearby Café Zurich. It's a popular café and social spot.
4.-7. Illa de la Discòrdia
In the early 20th century some of Barcelona's most important Modernista architects – including Lluís Domènech i Montaner, Josep Puig i Cadafalch and Antoni Gaudí – all ended up designing radically different buildings on the same city block.
The buildings clashed with each other and the neighborhood so much that the block was nicknamed Illa de la Discòrdia (Block of Discord). As you'd expect, this city block is a major tourist attraction in Barcelona.
ⓘ PRO TIP: If you're following this one-day Barcelona itinerary, enjoy these buildings from the outside. Save interior visits for another time.
4. Casa Milá
Better known as La Pedrera (the quarry), Casa Milá was built between 1906 and 1910 and was designed by the famous Catalan architect Antoni Gaudí (1852-1926). This building earned its nickname because of its resemblance to an open quarry.
Though it was originally a house, today Casa Milá is used as the headquarters of the Catalunya-La Pedrera Foundation, which manages its exhibitions, activities and public visits.
5. Casa Batlló
is another piece of Gaudí-designed architecture and is a remodel of previously built houses. Famous for its dragon-style roof, it is now a museum dedicated to Gaudí himself. With its unusual tracery, irregular oval windows and flowing sculptured stonework, you can see why this building is branded a masterpiece.
6. Casa Amatller
Standing just to the left of Casa Batlló and striking for its stair-stepped facade, Casa Amatller was originally designed as a residence for chocolatier Antoni Amatller.
It was constructed between 1898 and 1900. It is now a museum which is often less crowded than the other Casas on the street, and has a lovely café located on the ground floor of the building where you can refresh during your one day in Barcelona.
7. Casa Lleó-Morera
Architect Lluís Domènech i Montaner remodeled the Morera family home, adding galleries and stone balconies to the façade and making it a truly modernist work of art, both inside and out. He included frequent allusions to the family's surname (Morera means mulberry in English) through the use of different materials and added symbols of 20th-century inventions.
8. Lunch
If you bought a picnic lunch at La Rambla this morning, you're covered. If not, you're going to need sustenance. Rather than send you in search of a particular restaurant, we recommend that you save time and energy and stop to eat whenever you get hungry.
Locals know who makes the best food at the best price, and here's how to find that place:
Busy waiters, full tables
On a side street
Not near the entrance to a tourist attraction
Menu is in the local language (English subtitles are okay of course!)
We had lunch at the Hard Rock Cafe, near Placa Catalunya. We know that's not a local place, but each one has a specialty "local flavors" burger, and we enjoy trying them. Plus, we like to take photos of Hard Rock Cafes around the world. It's one of our little quirks, wherever we are. If you're a fan, you can get priority entrance along with an affordable meal by using this link.
ⓘ PRO TIP: As the biggest meal of the day, lunch is a serious activity in Barcelona. Restaurants serve lunch from 1:30 to 4:00 pm, and lines can get long. If you visit a popular eatery, be prepared to wait.
9. Parc Güell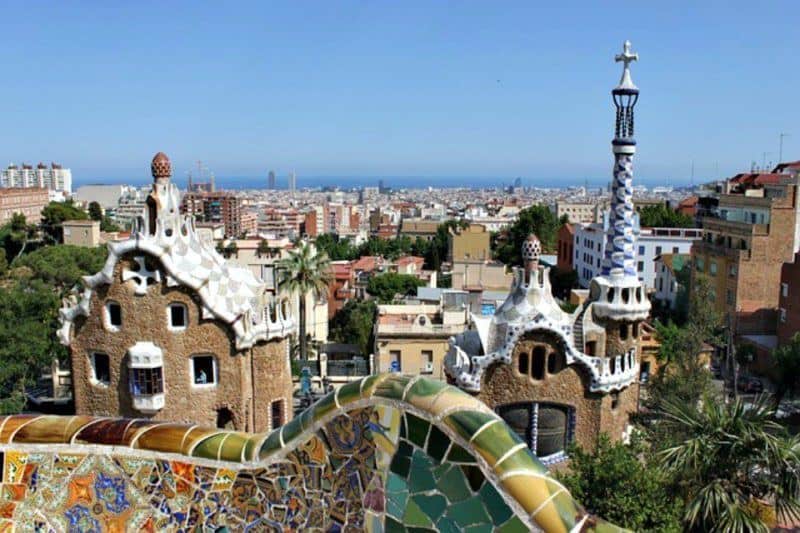 Parc Güell deserves at least a half day to really appreciate, just so you know. The park is one of Gaudí's major works, created during his naturalist phase (meaning, he found his inspiration in organic shapes). As a public park, it's a favorite with adults and children alike, partly because of its fairy tale-like Hansel and Gretel houses at the entrance (one is a small museum).
Oozing with fascinating buildings, stone structures and beautiful colored tiles, we have learned – after having missed it due to misjudging our time – that this artistic park is a top Barcelona attraction for a reason. It's not to be missed even when you only have one day in Barcelona.
How to get from Parc Güell to Sagrada Familia: Begin at "Lesseps" Metro stop (Green Line, L3) and cross the city to the "Sagrada Família" stop (Blue Line, L5).
ⓘ PRO TIP: Parc Guell is huge, so keep a careful eye on your watch. This is especially important if you have a ticket to see Sagrada Família at a specific time. It will take about 30 minutes to get to Sagrada Familia from here by Metro.
9. La Sagrada Família
The Basilica i Temple Expiatori de la Sagrada Familia, more commonly called Sagrada Família (Holy Family) is the most famous church in Barcelona. No matter where you look, the cathedral holds details of the Gospel message.
Abandoned for decades and still unfinished, the large Roman Catholic cathedral was Gaudí's crowning achievement and must be seen on your one day in Barcelona tour.
Construction started in 1882 and by the time Gaudí was killed by a tram in 1926, less than a quarter of the project was complete. The Spanish Civil War in the 1930s interrupted construction, and building resumed in the 1950s.
The cathedral's construction relies on private donations and ticket sales, so its building progress has been extremely slow. But the breathtaking cathedral finally entered its final phase in October, 2015, when they began erecting six immense towers that will make it Europe's tallest religious building. They hope to complete it by 2026, the 100th anniversary of Gaudí's death.
Interesting fact: Gaudí is buried in the cathedral; his tomb can be viewed in the downstairs crypt.
We planned this for later in the day, because there are likely to be fewer crowds in the late afternoon. As an additional bonus, the low-hanging sun will be lower at this time of day. shining through the cathedral's stunning stained-glass windows and will cast brilliant colors upon everything inside.
ⓘ PRO TIP: This is the most famous attraction in Barcelona. Buy a fast-track ticket ahead of time to avoid the extremely long ticket lines.
10. Mirador de Colom
Built in 1888, the Columbus Monument (Mirador de Colom) proudly stands at the seaside end of Barcelona's Rambla.
It is a 60-meter-high tribute to Christopher Columbus, who was funded by Spanish royalty (Ferdinand and Isabella) and chose to disembark at the port of Barcelona when he returned from his voyage to America.
ⓘ PRO TIP: For some of the best views in the city, buy a ticket to the viewing gallery at the top. You'll have an amazing vista of the harbor and surrounding area.
11. Dinner on Barcelona's waterfront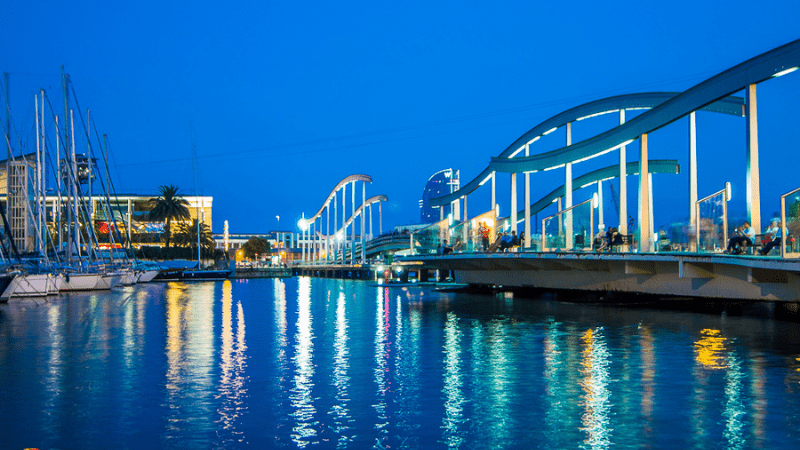 If you're not ready to call it a day after all your sightseeing, the port authority and harbor are only steps away. The area is full of cafes,
Finally, at the end of your one day in Barcelona, when your tired feet are screaming "Enough!" and your empty tummy is grumbling, head to Barcelona's harbor. (Relax: It's only steps from the Columbus Monument.) The area is full of restaurants and cafes, and bars, and clubs offer entertainment into the wee hours. it's the perfect spot to chill out.
To be honest, we've never been able to hold out long enough to eat with the locals. See, the traditional dining hour in Spain is 10-11 pm. If you're like us and don't want to wait until the locals are ready for dinner, you can either have an early dinner in the tourist area or join in a local, after-work tradition, relaxing over a glass of wine and some Spanish tapas.
Anyway, when you get there, you'll see a shopping mall jutting into Barcelona's waterfront. It's hard to miss. Not only does Moll d'Espanya-Maremagnum have a variety of shops and places to eat, but it also has an impressive aquarium—perfect for the kid in all of us.
What's with all those

Gaudi buildings

, anyway?
Hey now, wait a minute. Those are some of Spain's most famous landmarks!
Barcelona's most famous architect, Antoni Gaudí, was one of the city's most creative minds, and most of his work is here in the city. If you see a bright and colorful building that's full of odd angles, wavy lines and deep curves in town, he probably designed it.
Did Gaudi have one too many glasses of Spanish wine while designing? You might think so, but actually, no.
Gaudi's theory was that "Color in certain places has the great value of making the outlines and structural planes seem more energetic." He also said, "Those who look for the laws of Nature as a support for their new works collaborate with the Creator."
So Spain's great wine wasn't the cause of those curving and winding facades, it was actually planned. It appears that he succeeded in bringing energy and nature of the Creator to the aspects of his buildings. No wonder Gaudi's buildings have earned that coveted World Heritage status.
FAQs for a Tourist with One Day in Barcelona
Is one day enough in Barcelona?
Short answer, no. Obviously, one day in Barcelona barely begins to scratch the surface of what the city has to offer. To really get a feel for Barcelona, you'll need a minimum of three to five days.
What are the must-visit attractions in Barcelona for a one-day trip?
For a one-day visit, explore iconic landmarks like Sagrada Família, Park Güell, La Rambla, and the Gothic Quarter. These attractions showcase the city's unique architecture, culture, and history.
How can I efficiently get around the city in one day?
Barcelona has an excellent public transportation system. Consider using the metro, which is fast and convenient. Alternatively, you can hop on the double-decker tourist buses that cover major tourist spots or join a guided bike tour to cover more ground in less time.
What are some popular local dishes I should try while in Barcelona?
Don't miss the opportunity to taste traditional Catalan dishes like paella, tapas, churros with chocolate, and seafood specialties. Head to the bustling Boqueria Market for a wide variety of fresh produce and delicious snacks.
Is it possible to visit both Park Güell and Sagrada Família in one day?
Yes, it's possible to visit both sites in a day. However, keep in mind that they are major attractions that can take several hours to explore fully. Plan your time wisely and consider pre-booking tickets to avoid long queues, especially for Sagrada Família, as it can get quite busy.
What are some great places to enjoy the local nightlife in Barcelona?
Barcelona's nightlife is vibrant and diverse. For a one-night experience, head to the Barri Gòtic (Gothic Quarter) or El Raval neighborhoods, where you'll find numerous bars, pubs, and clubs. Barcelona's harbor has a variety of nightlife. La Barceloneta area is also known for its beachside bars and restaurants, perfect for a laid-back evening by the sea.
Is it possible to include a visit to the beach in a one-day itinerary?
While a beach visit is a great way to relax, including it in a one-day itinerary can be challenging. If time permits, consider visiting Barceloneta Beach, which is close to the city center. Alternatively, focus on the city's cultural attractions and reserve the beach for another visit.
Plan your trip
Here are some resources to help you plan your own one day in Barcelona trip.